Your Fort Mill, SC Real Estate Questions Answered
Posted by Preston Guyton on Friday, August 5, 2022 at 12:58 AM
By Preston Guyton / August 5, 2022
Comment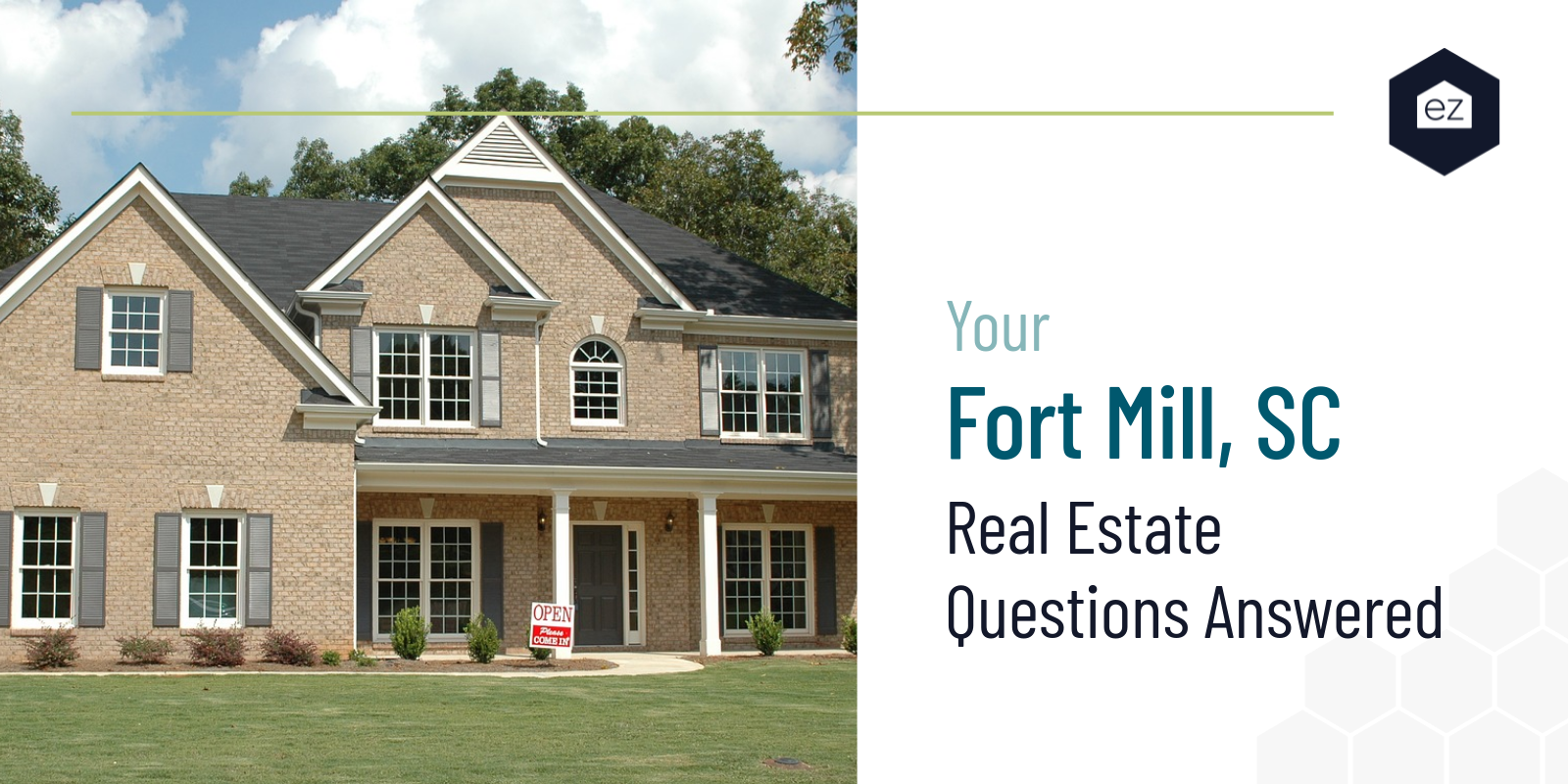 Your Fort Mill, SC Real Estate Questions Answered
Thinking of relocating? It's important to research the local real estate market to see if an area is right for you.
Fort Mill is a fast-growing community in the central part of Northern South Carolina. You might be wondering what this Charlotte suburb has to offer for prospective homeowners.
Fort Mill features an eclectic blend of rural and suburban features. To the south there are plenty of opportunities for outdoor adventures, while a short trip north brings you to the hustle and bustle of a major city.
Learn more about Fort Mill and its real estate market in this guide.
What is the average price of a home in Fort Mill, SC?
Listed home prices in Fort Mill ranged from $129,000 for a 541 sq ft suite with one bath and one bedroom to a $2.75 million five-bed, six-bath property on the Lake Wiley waterfront.
Like much of the country, the average home price in Fort Mill, SC, is trending upwards, with a 20.9% year-over-year increase in June 2022. Properties are selling for about 3% over asking price: the median list price is just over $484,000. This indicates that the market is currently positioned in favor of the seller, and there are more buyers than homes currently available.
This is a good range to keep in mind when you start looking for houses in the Fort Mill area. Do remember that the state of the real estate market and the type of home you're interested in can have a significant effect on the median home price, so this number fluctuates frequently.
Are there any condos or townhomes available in Fort Mill, SC?
Most of the housing in Fort Mill consists of traditional, single-family homes, but there is a strong supply of condos and townhomes.
As of June 2022, there were 102 homes available in the immediate area. The lowest price was $129,900 for a one-bedroom, one-bathroom, 541 sq ft condo. The most expensive was $479,900 for a three-bedroom, 3.5-bathroom townhome with 2,584 sq ft.
Some places you can look for condos are Beacon Knoll Villas, Baxter, Regent Park, Catawba Village, Masons Bend, Whitley Mills, Wellsley Ford, and Gold Hill.
If you're interested in a condo or townhome in Fort Mill, we recommend getting in touch with a local real estate agent who can help you find and consider your options.
What is the property tax rate for Fort Mill, SC?
South Carolina has one of the lowest property tax rates in the United States, but property taxes are slightly higher in Fort Mill compared to surrounding counties. The state assesses property taxes at 4% of property value for residential homes and at 6% for other homes (vacation or second homes).
York County charged 76.5 mils for incorporated areas in 2021. Fort Mill charged 75.4 mils for property tax and 393.3 mils for the school district.
What is the cost of living in Fort Mill, SC?
The overall cost of living in Fort Mill is 6.1% higher than the national average, and 17.6% higher than the state average. Particularly expensive are healthcare and housing, where spending is 11.3% and 26.3% above the national average, respectively.
While spending in grocery is 3.5 percent higher than the South Caroline average, it is actually 0.7% lower than the national average.
Conversely, the average cost of utilities and transportation in Fort Mill is lower than both the national and the South Carolina averages, but only slightly.
Overall, the cost of living in Fort Mill is higher than the immediate surrounding area and the United States as a whole.
What county is Fort Mill, SC in?
Fort Mill is a medium-sized town within York County, a 696 square-mile area of Northern South Carolina. Bordered by the Broad and Catawba Rivers on its western and eastern sides, respectively, it sits along the North Carolina state line and is included in the greater Charlotte metropolitan area.
In fact, Charlotte is just a 25-minute drive from Fort Mill. As the second most populous city in the Southeast, it offers plenty of entertainment and dining options
But if you're looking for something a little more rural, southern York County is filled with thick forests, rolling hills, steep mountains, and other natural landmarks. Some attractions include Henry's Knob, a former open pit kyanite mine, and three major mountains perfect for hiking, Joe's, King's and Nanny Mountain. The nearby Lake Wylie offers all sorts of opportunities for recreation, and there's plentiful dining options available in the area.
Is Fort Mill, SC growing?
Fort Mill has grown significantly in the years between the 2010 and 2020 censuses. The overall population more than doubled, going from 10,811 people to 24,521 in the interim. Additionally, the town grew to 6,130 households from 4,168. Finally, the number of families residing in Fort Mill increased from 2,184 to 4,854.
What neighborhoods are in Fort Mill, SC?
South Carolina boasts that Fort Mill is one of the fastest-growing communities in the state. It comprises several different neighborhoods and subdivisions that form a diverse range of living areas, from suburban to rural.
At the very center of town is the historic downtown district, home to a wide variety of attractions, from museums to restaurants and everything in between. It is also where the town hosts events, including parades, fireworks, food trucks, live music, and a week-long Strawberry Festival held in the spring.
To the northwest is the swim and tennis community of Knightsbridge, featuring around 450 homes ranging 2,500-3,500 sq ft, with typical list prices ranging from $300,000 to $500,000 in 2022. The pool, tennis and basketball courts, and clubhouse make this a perfect area if you're interested in recreation.
One of the newer developments in the Fort Mill area is Baxter Town Center, a charming downtown area featuring a quaint village center and plenty of stores and restaurants. Properties here range from 1,000 to 5,000 sq ft, with list prices in between $300,000 and $800,000.
Featuring condos, townhouses, and single-family units, Regent Park is perfect for new or established families and young professionals. Recreation includes walking trails and sports fields, as well as the nearby amusement park called Carowinds. Homes in this area are smaller, from 500 to 2,000 sq ft, with list prices ranging from $130,000 to $400,000.
The Springfield subdivision is a purely residential area, with beautiful new homes ranging from $1,500 to 4,500 sq ft and easy access to a nearby Golf Club. Typical list prices range from $650,000 to upwards of $1 million.
Finally, one of the most popular and exciting areas of Fort Mill is Tega Cay, which is situated on a peninsula that juts out into the nearby Lake Wylie. Homes here are quaint, with an average of 2,500 sq ft, but are a little more expensive with list prices ranging from $450,000 to $1 million in 2022.
Are there any waterfront properties found in Fort Mill, SC?
With three major bodies of water nearby—the Broad and Catawba Rivers as well as Lake Wylie—there are a handful of areas that feature waterfront properties in Fort Mill. Most significantly is Tega Cay, a neighborhood built on the shores of Lake Wylie.
How is golf in Fort Mill, SC?
Golfers will be happy to discover that Fort Mill has three golf courses in town: the Fort Mill Golf Club, the Springfield Golf Club, and the Tega Cay Golf and Conference Center.
Fort Mill Golf Club is an 18-hole championship golf course with the front 9 designed by Donald Ross in 1948 and the back 9 by George Cobb in 1959. The course rolls through tree-lined fairways.
Springfield Golf Club is a Clyde Johnston-designed layout with 6,906 yards and a par 72. It opened in 2001 but was inspired by classic courses of the 1920s. It has spectacular Sugar Creek views and many creeks.
Tega Cay Golf Club has 27 holes of golf on over 200 acres surrounding Lake Wylie. It has public play and memberships available.
Are there golf course communities in Fort Mill, SC?
All three local golf courses are surrounded by extensive neighborhoods with a variety of housing options available. Your best options to find homes with golf course views are the neighborhoods of Madison Green, Springfield, and Firethorne.
What areas are near Fort Mill, SC?
Situated right on the border between South and North Carolina, there are many notable landmarks that surround Fort Mill. Charlotte is the closest major metropolitan area in the region and is 25 minutes away. It is home to countless attractions, restaurants, museums, and more.
Within the town itself is the Anne Springs Close Greenway, a 2,000-acre preservation featuring numerous trails for hiking and biking and a variety of other outdoor recreational activities.
Looking to cool down on a hot summer day? Lake Wylie is home to several beaches, including Ebenezer and Spencer parks. Additionally, the nearby SouthTown Wake Park offers wakeboard and paddleboard lessons, as well as kayak rentals.
Thrill seekers will be excited to learn that the nearby amusement park, Carowinds, is home to over 50 rides and attractions, including the largest water park in the Carolinas, Carolina Harbor!
Rock Hill is about 18 minutes' drive over the Catawba River. It's the center of York county and the fifth-largest city in South Carolina. This "Boom Town" has a university, a thriving arts and culture scene, and excellent restaurants.
What to know about living in Fort Mill, SC
Overall, the town of Fort Mill, South Carolina is a fast-growing, mid-sized town with a wide variety of housing options, from suburban to rural. As a distant suburb of Charlotte, North Carolina, those looking for natural beauty will find it to the South while never straying too far from the convenience of the bustling metro.
With several attractions and entertainment options available, from hiking to amusement parks, there's something for everyone in and around Fort Mill.
Keep in mind that housing prices and the cost of living is slightly higher in Fort Mill than surrounding areas—so if you're looking at living in Fort Mill, contact a local real estate agent to find the right neighborhood for you.