Your Conway, SC Real Estate Questions Answered
Posted by Preston Guyton on Tuesday, August 23, 2022 at 4:00 PM
By Preston Guyton / August 23, 2022
Comment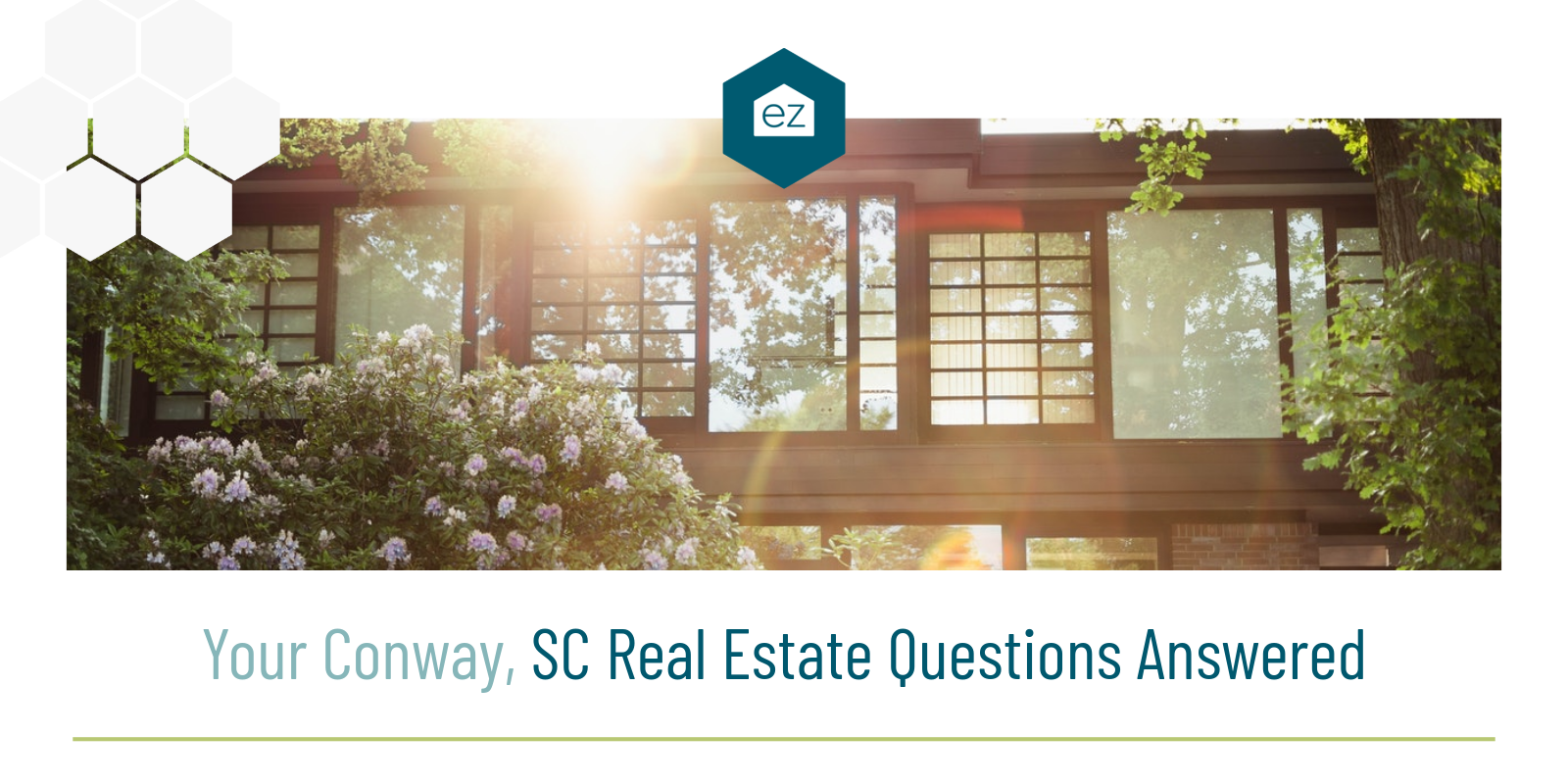 Your Conway, SC Real Estate Questions Answered
If you're thinking about making a move to historic Conway, South Carolina, you're not alone. This town outside Myrtle Beach is a popular destination for retirees and families alike, thanks partly to its revitalized business district, family-friendly activities, and natural beauty. The charm is apparent from the tree-lined streets to the Waccamaw River.
Conway has much to offer residents, like antique shops, great restaurants, and a charming downtown area. As you explore Conway as a place to live, here are answers to some of the most common real estate questions.
What is the average price of a home in Conway, SC?
The Conway real estate market is quite diverse, with something for everyone. Whether you're looking for a historic home downtown, a new construction home in one of the many subdivisions, or a condo or townhome near the river, you'll find it here.
The median price of a home in Conway was $299,900 in June 2022, with 1,185 listings. However, prices ranged from $9,000 to $20 million, so there's truly something for every budget.
The most affordable was a residential lot nearly a half-acre in size. The most expensive existing home was $2.75 million on 3.26 acres, with 5,582 sq ft, four bedrooms, and 4.5 bathrooms.
Are there any condos or townhomes available in Conway, SC?
If you're looking for a low-maintenance lifestyle near the river or downtown, then Conway has a condo or townhome for you. There are many different complexes to choose from, so you're sure to find one that fits your needs. The July 2022 market had 44 listings ranging in price from $85,900 for 744 sq ft to $303,490 for new construction.
Some places you can look for condos or townhomes include Carolina Pine, Myrtle Greens, Country Manor Estates, Kiskadee Park, Midtown Village, Burning Ridge, Fairways at Wild Wing, and Ridgefield.
What is the property tax rate for Conway, SC?
South Carolina is known for having lower property tax bills. Primary residences are taxed at 4% of property value. That means a $300,000 home's taxable value is $12,000.
Horry County charged a millage rate of 45.2 in 2022. The additional taxes were:
Horry County Schools: 130.2
Fire District: 21.2
Waste Management: 6.0
What county is Conway, SC in?
Conway is located in Horry County. It is the county seat and part of the Myrtle Beach metropolitan area.
Horry County is the largest of the state's 46 counties and one of its most historic. In the early colonial and post-revolution days, it was a center for shipbuilding, lumber, and turpentine production. The tourism industry kicked off in the early 1900s and boomed in the 1950s as Myrtle Beach became a popular family beach vacation destination.
Today, Horry County attracts people for its miles of world-famous shoreline, excellent shopping, countless golf courses, and family-friendly amusement parks.
Conway is served by the award-winning Horry County Schools district. This large, diverse district serves over 38,000 students in pre-kindergarten through 12th grade.
Is Conway, SC growing?
Yes, Conway is a growing community. According to the U.S. Census Bureau, the population increased 31% between 2010 and 2020. Still, the 2020 count was 24,839 residents. Conway has grown 3% since 2020. The Conway Census Division is projected to have 61,000 residents by 2030, compared to 50,300 in 2020. This division includes rural areas around the town.
The median resident age in Conway is 35, which is slightly lower than the state average of 39.
What neighborhoods are in Conway, SC?
Many different neighborhoods are in Conway, each with a unique feel. Some of the most popular include downtown Conway, Waccamaw Riverfront, and Red Hill.
Downtown Conway is the historic center of the town. This is where you'll find vintage homes, tree-lined streets, and a small-town feel, thanks to its walkability. The options trend towards single-family homes, although multi-family options are plentiful near Coastal Carolina University.
Ivy Glen is a well-established community located just off Main Street. It was built at the end of the 1990s. Home styles tend to be three-bedroom, two-bath with vinyl siding. Sizes are typically 1,300-1,800 sq ft. Residents are conveniently situated to visit downtown or the Riverwalk.
Rosedale is an HOA community with 85 single-family homes. Development was primarily in the 2010s, with a typical footprint of 1,116-1,332. It is near Highway 501, making commuting around the Myrtle Beach metro easy.
Aquila Estates homes run between 1,200-2,500 sq ft with typically three to four bedrooms. The lots are fairly large compared to other local communities. This HOA-free community has about 180 homes and a great location to public boat landings.
Coastal Heights is located near the university and hospital, and it has golf course views as it wraps around Coastal Carolina University's Hackler Course. The majority of homes are traditional designs made of brick or Hardie plank. Residents enjoy life in Coastal Heights because it has a peaceful atmosphere while being close to all the downtown activities.
If you're interested in new construction, many communities are under development in Conway. Heritage Preserve, Pine Forest, and Spring Oaks are some neighborhoods to explore.
Are there any waterfront properties found in Conway, SC?
Many properties are along the Waccamaw River, whether you're looking for a home, condo, or townhome. The greater Conway area had 95 listings in July 2022 with some kind of waterfront, whether it be riverfront, reservoir, or pond. Some of the listings are just outside Conway city limits, but you're never a far drive away.
One community with direct Waccamaw River access is Grissett Landing. A newer construction community off Highway 905, it has a lake, kayak storage, and dog walk. Another starting development is Old Mill Plantation, which is being converted from a former sawmill property.
How is golf in Conway, SC?
You'll feel at home in Conway if you love golf. The town is located in the heart of the Myrtle Beach golf mecca. There are over 51 courses within a 30-minute drive from downtown Conway. Some of the most popular include Tidewater Golf Club, River Oaks Golf Plantation, and International World Tour Golf Links.
Right in town, you'll enjoy playing at:
Burning Ridge Golf Club is a Gene Hamm-designed public course with a practice facility.
Wild Wing Golf Club is a 27-hole facility broken into an 18-hole and 9-hole course. It is a member of the Founders Collection.
The par-72 General James Hackler Course at Coastal Carolina University is the Grand Strand's only university-affiliated course and is adjacent to the campus.
Are there golf course communities in Conway, SC?
The Hackler course of Coastal Carolinas University is surrounded by the Coastal Heights neighborhood. It's not a formal golf course community, but it has a great location and golf course views.
Wild Wing is the ideal location for golf enthusiasts! This community is located on the 27-hole Wild Wing Golf Course, making it ideal for golf fans. Amenities include waterfront and canals for boat access, a pool, tennis, and a clubhouse. The homes in the master-planned are designed to be energy efficient and connected to natural gas.
If golf course community living is important to you, many golf communities exist around the Myrtle Beach area. A local real estate agent can help you find one near Conway with the right amenities you want.
What is Conway's cost of living?
The cost of living in Conway is quite affordable, with the overall cost coming 12% under the national indexed average. In particular, the average housing cost was 31% lower than the national average and 4% lower than the state average. Prices for food and transportation are also lower than the national average. Overall, Conway is a very affordable place to live.
What areas are near Conway, SC?
Conway is situated inland but close enough to the amenities of the Grand Strand that you're not missing out. Nearby is Carolina Forest, a growing community just minutes away with new construction homes, and it's also convenient to the beach. Another nearby community is Little River, which has its own casino boat.
If you're looking for a small-town feel, then check out Aynor. This quaint community is known for its annual hoe down and awaits exploration a few miles northeast of Conway.
Socastee is another community located near Conway. This unincorporated area to the south is full of history and is well known for its friendly people and historic swing bridge.
Of course, you can't miss Myrtle Beach and all it has to offer. Just a short drive from Conway, Myrtle Beach is home to world-class golf, dining, shopping, and entertainment. Plus, there are miles of Atlantic Ocean beaches to enjoy sunbathing, swimming, and boating.
What to know about living in Conway, SC
Conway is an excellent option for those who work in Myrtle Beach but don't want to live there. The commute into Myrtle Beach is about 30 minutes, making it an easy drive. The town is also convenient to the Myrtle Beach International Airport, which is just a 20-minute drive.
Conway is the place for you if you're looking for a small-town feel with all the amenities of a big city. This small town has something for everyone with its convenient location, an array of housing options, great schools, and affordable cost of living.
If you're looking to live in Conway, contact a local real estate agent to find the right neighborhood.