Your Clemson, SC Real Estate Questions Answered
Posted by Preston Guyton on Monday, August 8, 2022 at 9:02 PM
By Preston Guyton / August 8, 2022
Comment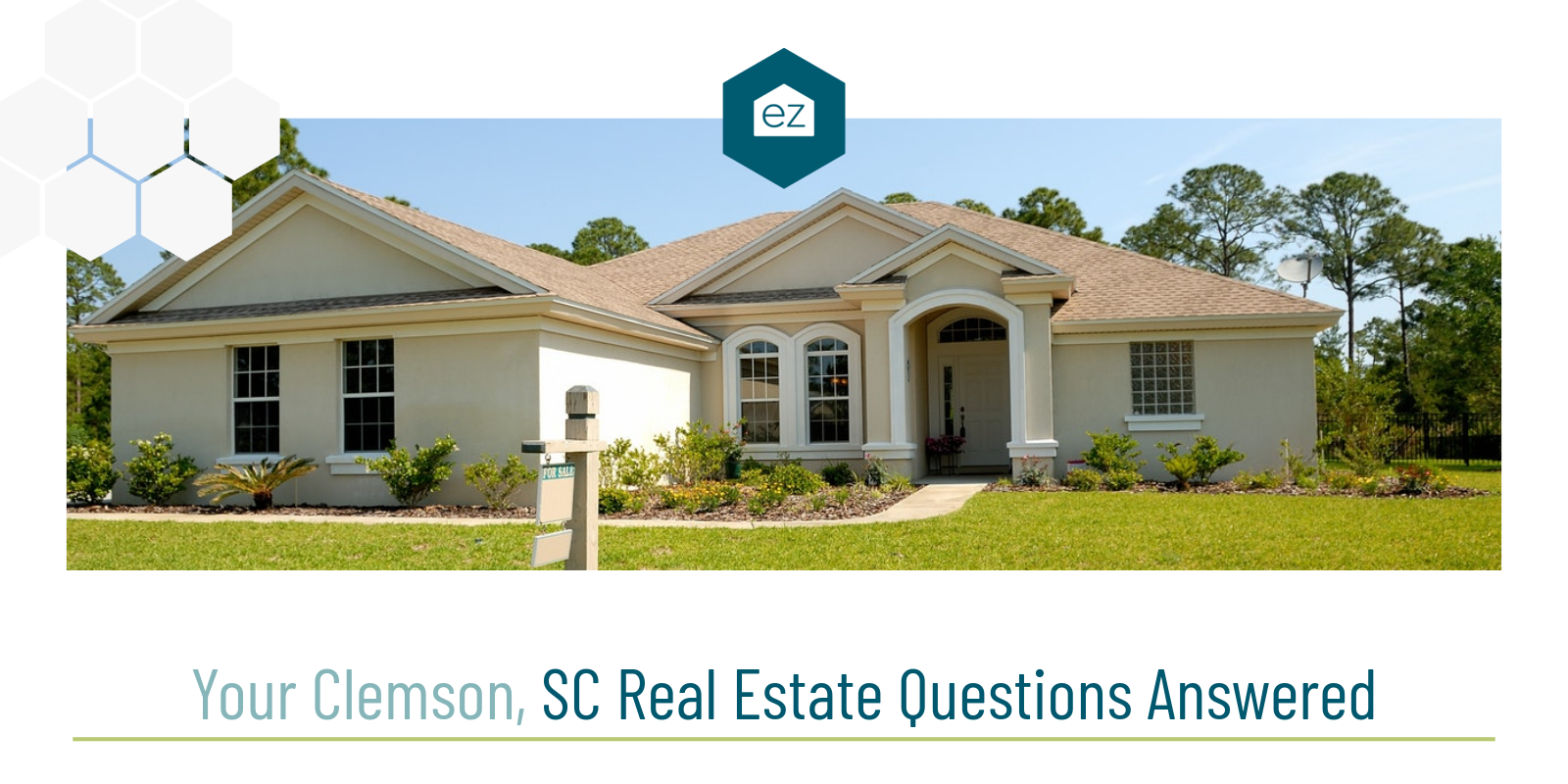 Your Clemson, SC Real Estate Questions Answered
Not many places offer a combination of mountain, lake, and urban lifestyle like Clemson, South Carolina. This college town is located in the foothills of the lovely Blue Ridge Mountains and the shores of Lake Hartwell. While the environment is a big draw, so is the university. The Princeton Review ranked Clemson University no. 1 in the U.S. for its "town and gown" relations.
If you're considering moving to Clemson, here are answers to some frequently asked questions.
What is the average price of a home in Clemson, SC?
Various housing options are available in the city's housing market, ranging from affordable townhomes to custom single-family homes. In June 2022, the average price of homes in Clemson was $469,600, with an average listing home price of $300,000 and $179 per square foot, reflecting a year-over-year increase of 11.1%. There were 67 homes on the market. During that same period, the Clemson housing market was a buyer's market, implying that the number of homes available was more than the homes demanded.
There were 70 homes listed for sale in Clemson. Prices ranged from $60,000 to $1.25 million, depending on size, neighborhood, and overall desirability. These figures are liable to change depending on housing market fluctuations and what kind of home you're searching for. However, these figures are an excellent starting point when determining your budget for a new home in Clemson.
Are there any condos or townhomes available in Clemson, SC?
Yes, a reasonable number of condos and townhomes are available in Clemson. With an impressive mix of single and family-oriented individuals residing in the town, housing options are designed to meet various needs. The July 2022 housing market was approximately half condos or townhomes and half single-family homes.
The July 2022 market prices ranged from $110,000 to $549,000. Some places you can look for condos or townhouses are The Retreat of Clemson, University Ridge, Woodlands of Clemson, Tillman Place Apartments, Fort Hill Commons, and Crawford Falls Apartments.
We recommend getting in touch with a Clemson real estate agent for assistance.
What is the property tax rate for Clemson, SC?
Although most of Clemson, SC, is in Pickens County, parts of the city can also be seen in Anderson County. Thus, property tax rates are determined by what side of the city the property is on.
The millage rate for Pickens County was 239.7 for 2021-2022 and 80.5 for Clemson. The millage rate in Anderson County for Clemson differs.
In South Carolina, a mil represents $1 per every $1,000 of home value. All South Carolina residents can apply for a residential homestead that qualifies them to be assessed at 4% of their primary home's value. All secondary homes are assessed at 6% of home value.
What is the cost of living in Clemson, SC?
The overall cost of living index in Clemson, SC, is 93.5. This figure is 6.5% less than the national index average of 100 but 4.42% more than South Carolina's. This implies that living in Clemson is more affordable than the U.S average but more expensive than the South Carolina average.
A quick breakdown of the index in 2022: transportation had the lowest figure at 77.1, followed by housing at 92, groceries at 99.2, and miscellaneous at 98.6. All of these fell below the national average, except for healthcare at 105.2 and utilities at 103.9.
What county is Clemson, SC in?
Home to the renowned and historic Clemson University, Clemson is part of the Upstate region of South Carolina, located mainly in Pickens County and partly in Anderson County. Pickens County, which is known to be one of the most beautiful areas in South Carolina, is located in the northwestern corner of the state.
Clemson and its 859 square miles include industrial, commercial, and tourist centers like Lake Hartwell, a well-known recreational area that borders the city on the west. Other sites of attraction in the area include the South Carolina Botanical Garden, Fort Hill Plantation, and Bob Campbell Geology Museum.
Pickens County was a highly active area during the American Revolution and Civil War and a primarily rural and agricultural area for most of its history. Its most substantial developments occurred after the Second World War. In addition to being centrally located between Augusta, Georgia, and Columbia, South Carolina, the county's rich historic attractions continue to entice new residents.
Is Clemson, SC growing?
Yes, Clemson is growing. As of the 2020 United States census, the population was an estimated 17,681 people, with 6,751 households and 2,571 families residing in the city. This increased 25.5% from the 2010 census population of 14,089 people, 5,823 households, and 2,474 families.
Pickens County is projected to have 139,525 residents by 2035, and Anderson County is estimated to reach 234,420.
What neighborhoods are in Clemson, SC?
A few notable neighborhoods to live in Clemson are:
Camelot
This neighborhood is growing in popularity because of its many advantages, including its quiet streets, low crime rate, and proximity to most of the amenities Clemson offers. All these attributes make it a perfect place to live or raise a family. The name "Camelot" was given to the area when Walt Disney Productions filmed some scenes for a movie titled "The Sword in the Stone" between 1963 and 1965.
Camelot offers various housing options in different sizes and prices. The prices of these homes range from $65,000 to $475,000 as of July 2022.
Ashley Estates
Ashley Estates is a well-maintained and diverse neighborhood in Clemson. Built as part of the post-war housing boom and featuring large single-family homes with spacious yards, the neighborhood's rich history is highlighted by the distinct architectural style characterized by several classical Georgian Revival-style houses. The homes in Ashley Estates are some of the most expensive in this part of South Carolina due to their central location and the luxurious amenities it makes available to residents.
Calhoun
Calhoun is a predominantly student-populated area due to its proximity to the Clemson University campus and the cluster of multi-family, student-housing oriented housing complexes. However, you can find some single-family homes. For instance, Calhoun Forest is a highly desirable single-family community near central Clemson.
Dellwood
The early history of Dellwood is closely associated with the development of Clemson. It was here that the first homes in Clemson were built, and Dellwood was the first neighborhood to be established in the city. The first lumber and shipbuilding companies were established in Dellwood, and the area was home to many of the early businesses and leaders in Clemson. Dellwood has undergone many changes over the years and today is known for its upscale suburban residential neighborhoods and extensive oak-tree-lined streets.
Woodland Heights
Woodland Heights is a neighborhood in Clemson, South Carolina, known for its incredible views of the surrounding nature. The area is home to many families and young professionals who enjoy the quiet atmosphere and the proximity to all that Clemson has to offer. Woodland Heights is an excellent option if you're looking for a peaceful and welcoming community to call home.
Are there any waterfront properties found in Clemson, SC?
Yes, waterfront properties are in and near Clemson. Most waterfront properties are located on the shores of Lake Hartwell, with other options available along the creeks and rivers that are part of the Lake Hartwell watershed. Clemson is a great place to live if you enjoy being near the water.
How is golf in Clemson, SC?
Golf is a popular sport in Clemson. The climate is perfectly conducive to play all year round, and the area has several courses in and around the city. Golfers of all skill levels can practice their swings and enjoy games where the college team plays. The local golf courses include:
The Par 3 at Woodhaven, a nine-hole executive course
The Walker Course at Clemson University, a public 18-hole course near the campus
Boscobel Golf Course, a par 71 championship course in nearby Pendleton
What areas are near Clemson, SC?
Clemson is part of the Upstate, a region of rolling hills and the foothills of the Blue Ridge Mountains. Numerous small towns, like Central, Pendelton, Anderson, and Pickens, are scattered around the area.
Greenville, the heart of the Upstate, is about 30 miles northeast of Clemson. The state's fourth-largest city has a thriving arts and culture scene. Main Street is the hub, with art galleries, murals, and festivals held throughout the year.
Additionally, Clemson is close to the following tourist attractions:
Oconee State Park in Oconee County
Lake Keowee in Oconee County
Hanover House in Berkeley County
What to know about living in Clemson, SC
Clemson is a great place to live. The mild weather and temperate climate encourage spending time in the great outdoors. Blue Ridge Mountains views, Lake Hartwell's miles of waterways, and proximity to other outdoor areas are a plus.
Clemson has a reasonable cost of living and a robust school system, not just for its university. Nearby Anderson District 04 was the 5th Best School District in 2021, while Daniel High School in Pickens District 01 was no. 16 in the state.
A reasonable cost of living combined with all these attributes make Clemson an excellent place to call home whether you're retiring, a young professional, or a growing family. If you're considering relocating to Clemson, we advise contacting a local real estate agent to learn more about the community and the local home market.