Your Clemmons, NC Real Estate Questions Answered
Posted by Preston Guyton on Saturday, May 7, 2022 at 2:34 PM
By Preston Guyton / May 7, 2022
Comment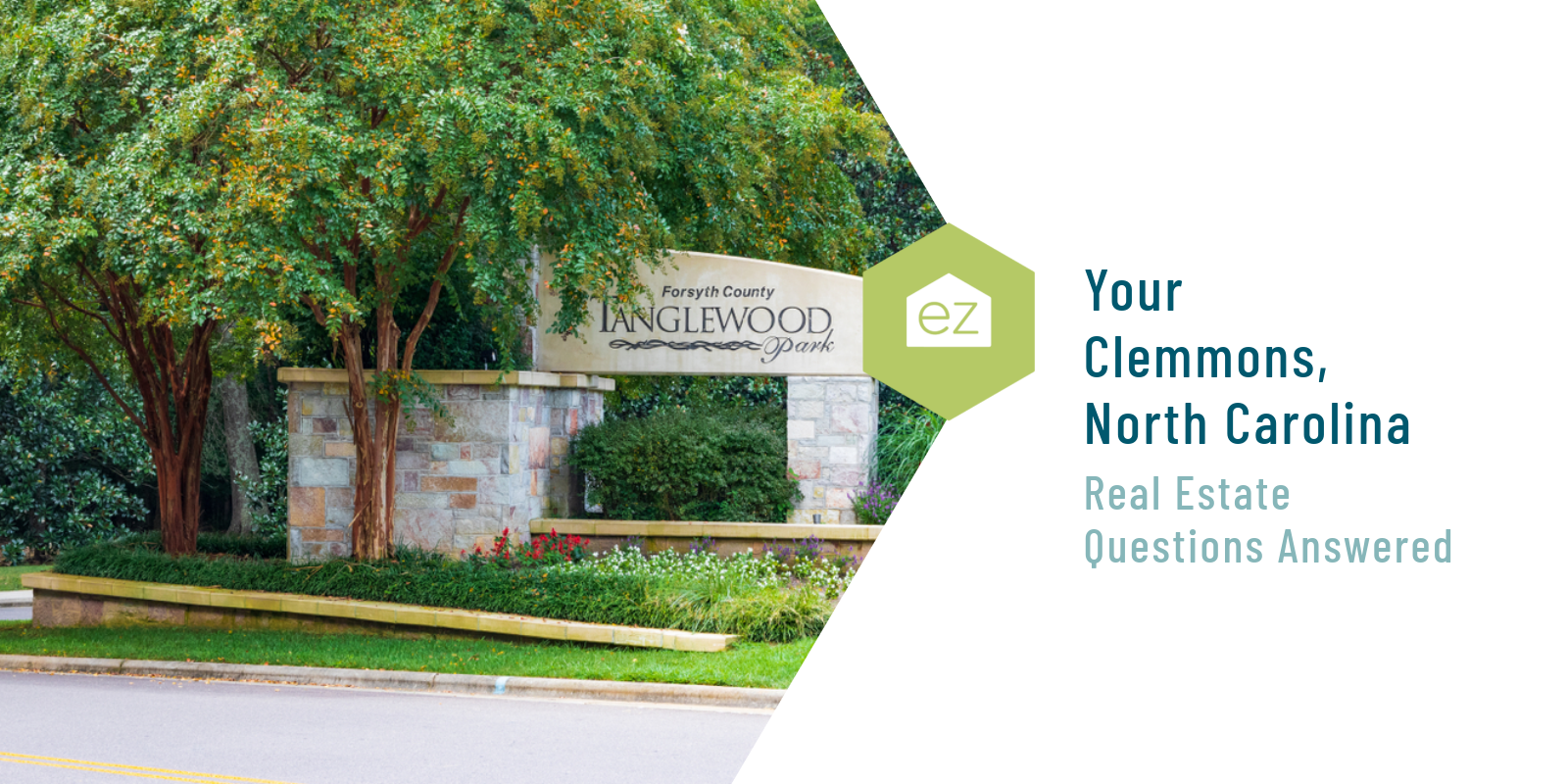 Your Clemmons, NC Real Estate Questions Answered
Clemmons, NC, is a historic town located in Forsyth County. From its roots as a Moravian settlement to a modern suburb of Winston-Salem, Clemmons offers an enriching community experience. Activities to do include festivals, golfing, fishing, and hiking. Nearby Winston-Salem adds to the available lifestyle amenities, making Clemmons a great place to call home.
Clemmons is a great escape from the Winston-Salem activity, with a local farmers' market, Tanglewood Park, and numerous local eateries and shopping options despite its modest size.
If you're thinking about moving to Clemmons, NC, you probably have many questions about the town and the real estate market. Here are some answers to common Clemmons real estate questions:
What is the average price of a home in Clemmons, NC?
The Clemmons housing market is strong and growing. Home values have gone up in recent years, and there is a healthy mix of both buyers and sellers in the market. Whether you're looking for a starter home or a luxurious estate, you'll be able to find it in Clemmons.
Clemmons had 186 houses for sale, ranging from $5,000 to $3 million, in March 2022. The median list price was $364,000.
The most affordable listing was a condominium for $152,500. The most expensive was a 15,800 square-foot estate home on over four acres listed at $2.95 million.
Are there any condos or townhomes available in Clemmons, NC?
More growth is anticipated in the condo and townhome market. In April 2022, Clemmons had nine condo or townhome properties available. Several of these were new construction homes.
The most expensive available listing was a new construction duplex for $414,900 with three bedrooms and three bathrooms. The most affordable listing was a two-bedroom, two-bathroom condominium for $152,500.
What is the property tax rate for Clemmons, NC?
The Clemmons property tax rate in 2021-2022 was $0.15. This means that for every $100 of assessed value, you will owe $0.15 in property taxes. You will pay an additional $0.06-$0.08 fire district tax depending on your address. Forsyth County's property tax rate was $0.6778. Expect to pay at least $0.8917 per $100 in property value for taxes.
What is the cost of living in Clemmons?
The cost of living in Clemmons is very reasonable, coming in at 7% below the US average. You'll be able to find affordable homes and apartments, and there are plenty of grocery stores and restaurants to choose from. The town is also close to Winston-Salem, so you'll have access to all the city amenities without paying city prices.
The only expenditure above average was health care, 3% more expensive than the national average. Transportation costs were 23% below the national average. Housing was 6% less expensive.
What county is Clemmons, NC in?
Clemmons is located in Forsyth County, much of which is actually the Winston-Salem metro. Clemmons is located in the southwestern corner of Forsyth County. Davie County borders the area to the west, Yadkin County to the south, and Davidson County to the east.
In Forsyth County, North Carolina, the first settlement was established in 1753 as a Moravian community when Bishop August Gottlieb Spangenberg purchased a 100,000-acre tract of land from Lord Granville, one of the lord proprietors of North Carolina. The area was named after the Austrian estate of Count Nicholas Lewis von Zinzendorf, an early supporter of the Moravian Church. Their influence is still evident today. Clemmons itself had a Moravian Church and school established in its early history.
Winston-Salem has a rich 260-year history, is nationally renowned for its walkable downtown, and offers various activities. The former tobacco town is reinventing itself as a center for arts, culture, and entertainment. The food and craft brewing scene is growing while paying homage to the area's roots.
Is Clemmons, NC growing?
Forsyth County had a population of 385,374 in 2020, while Clemmons had a population of 21,163, up about 3,000 residents since 2010. Forsyth is expected to grow by 8.5% to 412,451 residents by 2030.
In 2020, Clemmons made up 5.3% of Forsyth County's population. As evident in the new construction communities around town, the area is growing. Clemmons is one of the fastest-growing towns in Forsyth County. The median resident age was 41 in 2019.
What neighborhoods are in Clemmons, NC?
Meadowbrook is an established neighborhood with many homes built in the 1970-1980s. You'll find mature landscaping and spacious lots. Many homes have pond or lake views.
Waterford was established in 1985. Its homes are typically newer with larger than average square footage. There is an HOA, and private pool memberships are available.
Asbury Place is a community of over 180 homes, typically with 3-5 bedrooms. Most of these houses were constructed in the mid-to-late 1990s and have had numerous improvements since. Asbury is located east of Tanglewood Park, giving it a rural atmosphere.
Clemmons West is a mature neighborhood that offers location as its primary draw. It's close to many lifestyle amenities and has a playground and a private pool inside the community. Homes were primarily built in the 1970s-1980s, but newer homes are in the area. It's possible to find pond and water views here.
For new construction, look at The Landing at Rocklyn by DR Horton. Homes started at $332,990 in April 2022.
Fair Oaks is master-planned with three new home communities: The Enclave at Fair Oaks, The Estates at Fair Oaks, and The Village at Fair Oaks. The communities overlook the Yadkin River.
Are there any waterfront properties found in Clemmons, NC?
There isn't an extensive waterfront, but many pond or lake view homes are scattered throughout Clemmons. One larger lakefront option is around Lasater Lake. Otherwise, look in Meadowbrook, Clemmons West, Salem Glen, and Bridgewater. Some Fair Oaks properties overlook the Yadkin River.
How is golf in Clemmons, NC?
Tanglewood Golf Club is Clemmons' public golf course. It was initially built in the 1960s and has since been updated. The course is fair and challenging, with many doglegs.
If you're looking for a private club, Salem Glen is a beautiful golfer's paradise. A Nicklaus-designed course, it has received national acclaim and is rated four stars by Golf Digest's Best Places to Play. The 18-hole course weaves through the community and has spectacular views.
More courses are nearby Clemmons, such as the Oak Valley Golf Club and the Bermuda Run Country Club. These are across the Yadkin River in the Bermuda Run area.
Are there golf course communities in Clemmons, NC?
The community of Salem Glen features golf course vistas and scenic lake views. A walking path, a communal pool, and a clubhouse are also available in this neighborhood. Golf, pool, and social memberships are all available through the club.
What areas are near Clemmons, NC?
Clemmons is a suburb of Winston-Salem, located to the southwest. Clemmons is about 20 minutes from downtown Winston-Salem and Wake Forest University. Enjoy attractions like the Reynolda House Museum of American Art, the Steven Tanger Center for the Performing Arts, and Winston-Salem Dash minor league baseball.
Clemmons is also close to Hanes Mall, one of the largest malls in North Carolina.
Bermuda Run is Clemmons' southwestern neighbor across the Yadkin River and is home to several golf courses, including the Bermuda Run Country Club and the Oak Valley Golf Course.
Muddy Creek is Clemmons' eastern neighbor, which offers many outdoor activities like hiking and fishing.
Lewisville is Clemmons' northern neighbor and another suburb for Winston-Salem.
The Yadkin River borders Clemmons on the west and offers outdoor water recreation activities. At Tanglewood Park, you can fish, canoe, and kayak. Clemmons is also home to the Tanglewood Festival of Lights, a 2.5-mile drive-through holiday light display.
What to know about living in Clemmons, NC
Clemmons is a great place to live! The town has a low crime rate, good schools, and plenty of things to do. There is also a strong housing market with both active buyers and sellers. Whether you're looking for a starter home or luxurious estate, you'll be able to find it in Clemmons.
If you're looking at living in Clemmons, contact a local real estate agent to find the right neighborhood for you.