Your Bluffton, SC Real Estate Questions Answered
Posted by Preston Guyton on Friday, August 5, 2022 at 1:49 AM
By Preston Guyton / August 5, 2022
Comment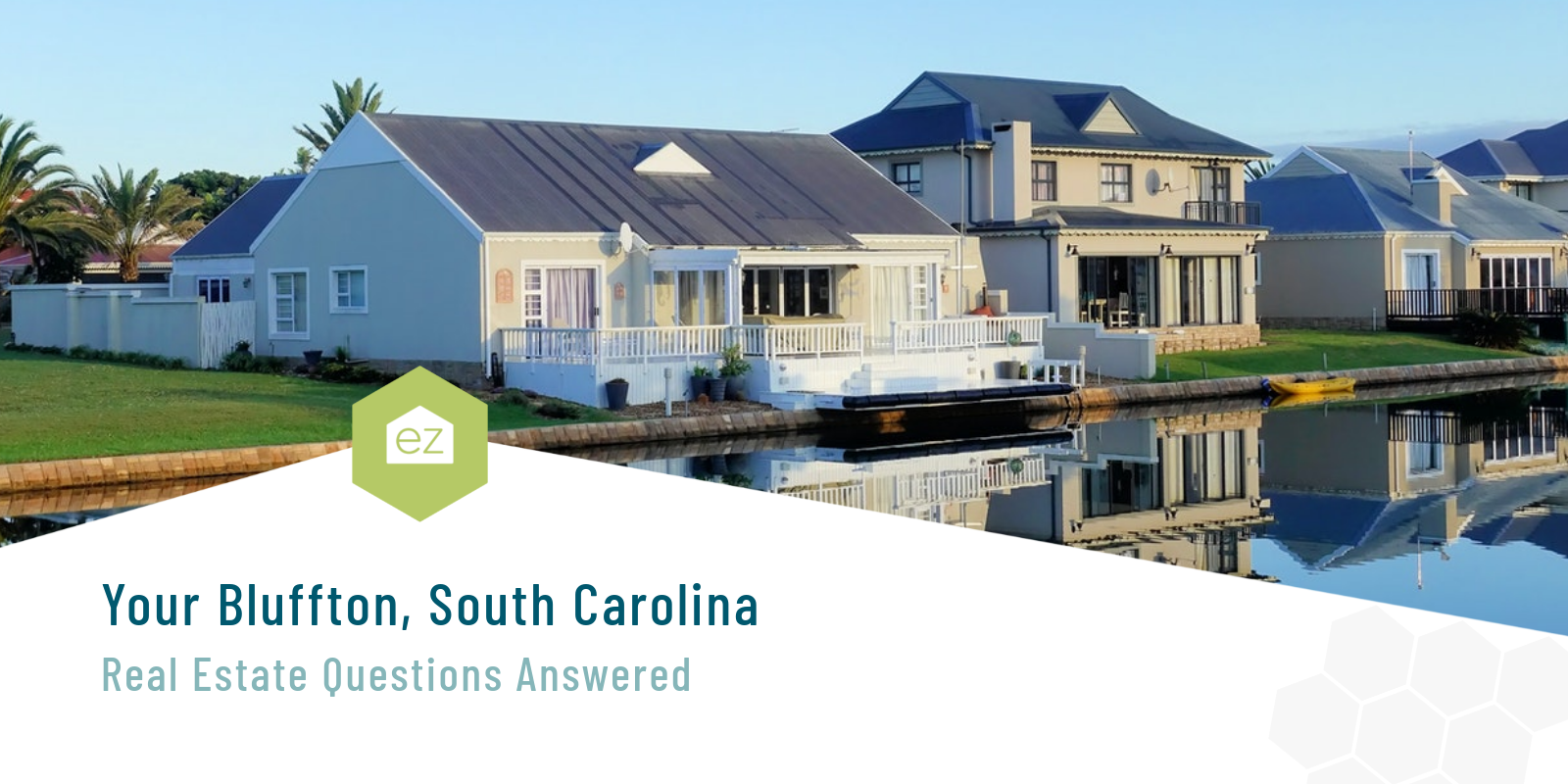 Your Bluffton, SC Real Estate Questions Answered
For generations, people have come to "The Bluff" to escape the Lowcountry heat and enjoy life on the May River. Its strategic location between Hilton Head Island and Savannah,has made Bluffton, SC, the "Heart of the Lowcountry" since the rice production era.
Today it is a true coastal town with an eclectic flavor. Bluffton is the fifth largest municipality by land area in South Carolina. It also has a rapidly growing population, and for good reason too. People come for the rebellious spirits, the thriving art community, and to enjoy a rich life on the coast.
If you are looking to move to Bluffton, SC, then chances are you have many questions regarding the town's real estate market. Here are some answers to frequently asked questions about Bluffton real estate.
What is the average price of a home in Bluffton, SC?
The Bluffton house market consists of several housing options, ranging from ranch and craftsman houses to villas and sprawling mansions. As of June 2022, the median price of homes was $585,500 with 550 homes on the market. The median listing price of homes per sq ft was $355.50, reflecting a year-over-year increase of 26.6%.
There was a wide range in the real estate prices. The market started at $38,000 for a vacant residential half-acre. A $13.8 million six bedroom, 6.5-bathroom custom home with over 20,000 sq ft was the most expensive.
In June 2022, the Bluffton real estate was a seller's market, as a result of the higher demand for than supply of houses. This high demand explains why the sale-to-list price ratio ranked at 100%, signaling that homes sold for approximately their listing price or more.
Are there any condos or townhomes available in Bluffton, SC?
The summer 2022 market had many condos and townhomes available in Bluffton. There were 82 listings ranging from $159,900 for a 774 sq ft one-bedroom, one-bathroom, to $899,000 for a penthouse condo with 3,706 sq ft on a lake.
Some places you can look for condos or townhouses are Hampton Lake, The Estate at Westbury, Plantation Point, Bridgepointe, Bluffton Village, Lake Estates, Lake Linden Garden, The Villas at Old South, and The Reserve at Woodbridge.
If you are looking to live in a condo or townhome, we advise that you get in contact with a real estate agent in Bluffton to help you with your search.
What is the property tax rate for Bluffton, SC?
The property tax rate in Bluffton was 165.3 mils for primary residences in 2021-2022. Secondary residents were charged 286.9 mils.
Those millage rates are on top of the Beaufort County total of 176.5 for primary residences. Secondary residents were charged 298.1.
In South Carolina, a mil represents $1 per every $1,000 of home value. All South Carolina residents can apply for a residential homestead that qualifies them to be assessed at 4% of their primary home's value. All secondary homes are assessed at 6% of home value.
What is the cost of living in Bluffton, SC?
The overall cost of living index in Bluffton, SC is 104, which is slightly higher than the national average of 100. This signifies that living in Bluffton is more expensive than the US average.
Breaking it down, transportation has the lowest cost with an index of 79.2, followed by healthcare, with an index of 96.8. The highest cost is that of housing, with an index of 122.1, followed by the cost of groceries, with an index of 102.7, and utilities with an index of 101.1.
What county is Bluffton, SC in?
Bluffton is in Beaufort County, with the county seat in the CIty of Beaufort. Thanks to the development of the Broad River along the US Highway 278 corridor, Beaufort County is one of the fastest-growing counties in the state.
About 38% of Beaufort County's total area is water, with many of its towns situated on or around water. This makes the county an ideal place for people looking to live on the waterfront, and people who indulge in water activities such as fishing and surfing. Other recreational activities in Beaufort include shopping, hiking, dining, and golfing.
This county has a deep history of war and wealth. It saw fighting during the American Civil War, when several towns were decimated. Today it has several vacation destinations, like Parris Island, Hilton Head Island, Fripp Island, and Habersham. There are many natural attractions in the county, including Huntington Island States Park, Cypress Wetland Park, Parris Island Marine Corps Depot, and the Beaufort National Cemetery.
Is Bluffton, SC growing?
Yes, Bluffton is growing. The population of this town in 2020 was 23,176, which is an increase of about 85% from the recorded population of 12,530 in 2010. This rapid population growth makes Bluffton one of the fastest-growing boroughs in South Carolina.
The racial composition of Bluffton consists of 80.66% white and 6.77% black or African American, with the remaining percentages shared amongst races including Asian, Native American, and Native Hawaiian.
Beaufort County is projected to have 248,860 residents by 2035.
What neighborhoods are in Bluffton, SC?
Some noteworthy places to live in Bluffton include:
Belfair
Belfair is a gated community with an abundance of nature, in the form of oak trees and lakes. Residents in this community enjoy a lot of fishing and water activities, but perhaps the most prominent activity in this neighborhood is golfing, as the neighborhood is home to two acclaimed golf courses.
Amenities in this neighborhood include indoor and outdoor swimming pools, fitness facilities, restaurants, and a clubhouse. Belfair is only five miles away from Hilton Head Island, where there are lots of shops, restaurants, and places of interest. Home prices in this neighborhood started from the low $300,000s in 2022.
Berkeley Hall
Berkeley Hall was named one of the best places to retire by Forbes Magazine. As a private golf club community, it features two golf courses, a clubhouse, a spa and fitness center, and miles of trails. The courses were designed by Tom Fazio.
It is located close to Hilton Head Island and Savannah, Georgia. This neighborhood has low country cottages and custom homes, with homesites still available.The prices start at $400,000.
Colleton River Club
Colleton River Club is a gated community that is most popular for its three renowned golf courses by Jack Nicklaus and Pete Dye. These golf courses have hosted eight USGA qualifiers since 2005. Colleton River measures 1,500 acres of land surrounded by miles of rivers, scenic shorelines, walking trails, and trees. Amenities here include two clubhouses and a pool. Enjoy a fitness class at the fitness center, or join one of the social clubs.
Homes are on a private peninsula with varied architecture. Homesites are still available and ready for a custom build. Homes can have golf course, riverfront, or marsh views.
Hampton Hall
The Hampton Hall neighborhood is a private community home ranked by IdealLiving as one of America's Top 100 Best Places to Live. It has a golf course, a lakefront clubhouse, tennis and pickleball courts, indoor and outdoor swimming pools, and a health and fitness center. Thanks to its unique location in the middle of Bluffton, residents enjoy proximity to the great shops, restaurants, and entertainment facilities that Bluffton has to offer.
Homes are spread across 1,100 acres. While each is customized to its owners, there are covenants and an HOA.
Hampton Lake
Many consider Hampton Lake to be a top gated community in Bluffton, as well as the best lake community in South Carolina. This neighborhood has severally won the Best in American Living Award (BALA) awards for "Best Community in America" and "Best Community Facility." It has a 221-acre freshwater lake, a nature reserve, shorelines, beaches, parks, and trails, thus providing its residents with several recreational activities.
The community is divided into distinctive neighborhoods. There are wooded and waterfront homesites available. You can choose from pre0-designed or custom homes.
Old Town Bluffton
Old Town Bluffton is the oldest neighborhood in Bluffton and boasts a peaceful and delightful environment. Its closeness to May River gives its residents ample opportunity to indulge in several water activities. This neighborhood is also home to many shops, restaurants, and art galleries.
In July 2022, Old Town had five listings ranging from $790,000 to $1.85 million.
Are there any waterfront properties found in Bluffton, SC?
Yes, there are many waterfront properties in Bluffton. A vast number of homes in the town are close to lakes and rivers and have great water views. Due to the sheer number of waterfront properties in Bluffton, contacting a local real estate agent might make your search for the best home easier and faster.
How is golf in Bluffton, SC?
The majority of neighborhoods in Bluffton are golf communities, with some having as many as three golf courses each. Most of these golf courses were designed by renowned golf architects, such as Tom Fazio, Pete Dye, Jack Nicklaus, and Bruce Borland.
Additionally, quite a number of official USGA tournaments, as well as other states, regional and local tournaments are hosted yearly in Bluffton.
Your golf course communities include:
Belfair
Berkeley Hall
Colleton River Club
Hampton Hall Club
Palmetto Bluff
Rose Hill Plantation
Sun City Hilton Head (also 55+)
The Crescent
What areas are near Bluffton, SC?
Bluffton is located near Hilton Head Island, Port Royal, Beaufort, Okaatie, and Hardeeville in South Carolina, and Savannah, Rincon, Tybee Island, Wilmington Island, and Garden City in Georgia.
Bluffton is also close to the following places of interest, including:
Harbor Town Lighthouse, located on Hilton Head Island
Heyward House Museum and Welcome Center, located in Bluffton
Haig Point Club, located on Daufuskie Island
What to know about living in Bluffton, SC
There is no denying that Bluffton is altogether a great place to live, especially for people who love to be surrounded by nature. The rivers, lakes, trails, parks, and golf courses provide several opportunities for many kinds of recreational activities including hiking, golfing, fishing, swimming, and other water activities.
The climate in Bluffton is pretty predictable, with October, April, and May as the most pleasant months weather-wise. Its hottest month is July, with an average high temperature of about 91F degrees, and its coldest month is January, with an average low temperature of 39F degrees.
If you are considering living in Bluffton, SC, we recommend that you contact a local real estate agent to assist you in finding the right neighborhood and perfect house.