Where Are Home Prices Correcting the Most?
Posted by Preston Guyton on Friday, May 26, 2023 at 1:55:04 AM
By Preston Guyton / May 26, 2023
Comment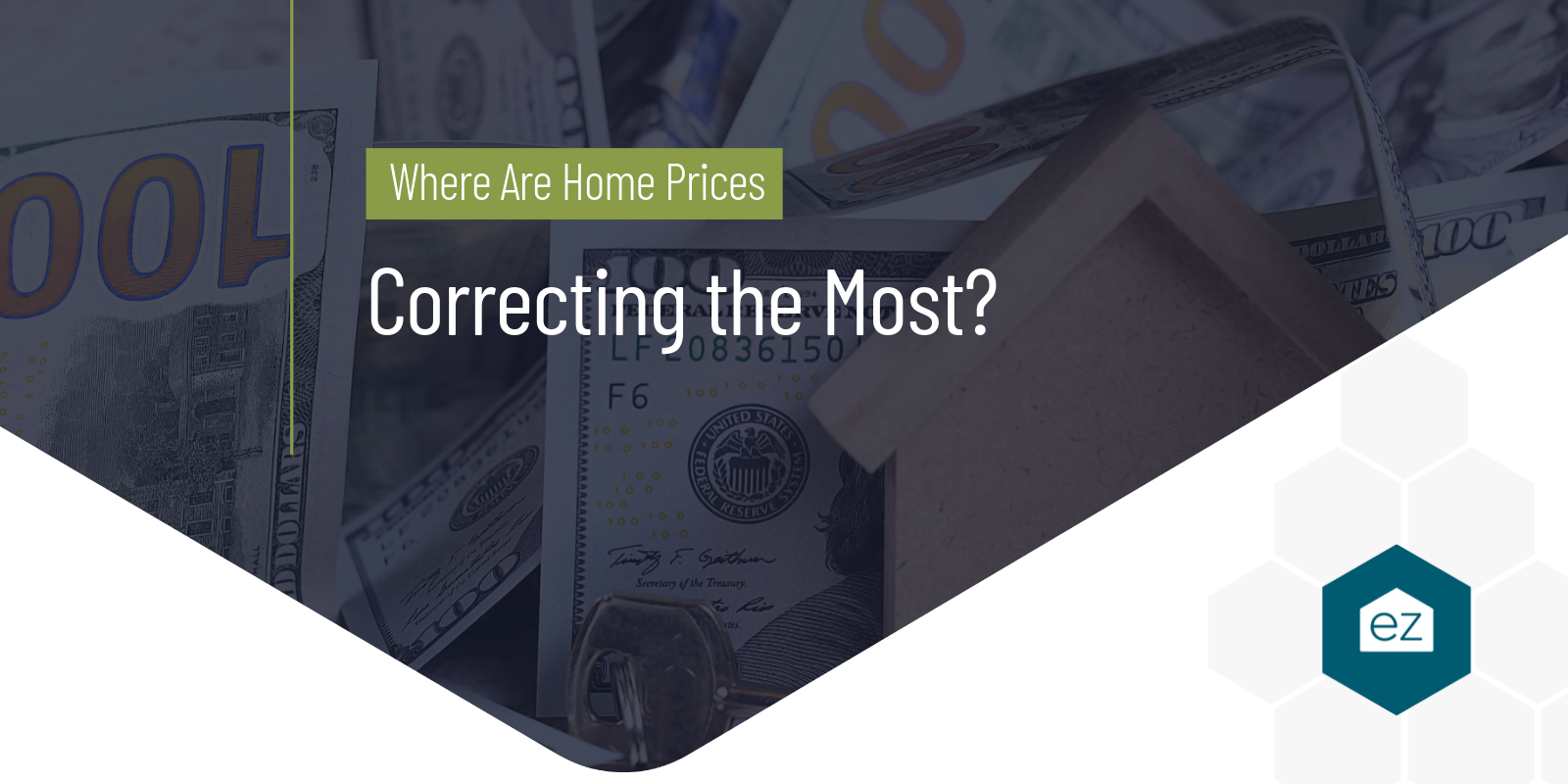 Where Are Home Prices Correcting the Most?
Good news for home buyers: housing markets are showing signs dramatic price growth is slowing and, in some cases, declining! A May 2023 analysis revealed a growing uptick in large markets where housing prices are declining, which was now at 38%.
Ups and downs in housing prices significantly affect the price buyers pay for their homes and the value owners gain over time. A local real estate market can fluctuate considerably, so homebuyers need to understand the market they're entering to ascertain if they're getting a good deal or setting themselves up to be underwater on the home.
Two factors are at play when it comes to the housing price correction: pandemic-era overpriced markets and easing demand.
Overpriced markets dominate in the South
Despite the overall cooling of the nationwide housing market, some markets remain what experts consider overpriced. It should come as no surprise that many of these markets are in the South or coastal areas.
Five of the top ten overpriced markets identified by a Florida Atlantic University analysis were in Florida. This evaluation looked at the expected home values based on historical appreciation trends compared to the actual average list prices. The top five overpriced markets were:
Lakeland, FL
Lakeland's beautiful landscape proves there are hills in Florida. Its location, halfway between the entertainment centers of Tampa and Orlando, has made it an affordable option for commuters for years. That affordability has now vanished as the secret got out and increased demand. There was a 45% difference between expected prices and the average list price.
Memphis, TN
Memphis' rising economy, world-renowned barbecue, and entertainment options have wooed buyers. Still, housing prices have fluctuated in recent years, and buyers may overpay by as much as 46% for their homes.
Charlotte, NC
Charlotte, North Carolina, is a major financial hub. The city's job opportunities and entertainment options attract many professionals, but the influx of buyers and investors has caused housing prices to rise. It's estimated to be 47% overpriced.
Cape Coral, FL
Cape Coral in Southwest Florida is well known for its golf courses, waterways, and outdoor recreation. However, with the growing population and limited housing options, not to mention 2022's devastating Hurricane Ian, Cape Coral's housing shortage has turned it into one of the nation's most overpriced housing markets.
Atlanta, GA
In the FAU analysis, Atlanta, Georgia, is currently 52% overpriced. The increasing demand for affordable housing sent prices skyrocketing and led to issues like gentrification. With the city's entertainment options, collection of universities, and strong job market, Atlanta remains an attractive place to live for many people.
Where are home prices declining?
Nationwide, home prices as of February 2023 were down 2.9% from their June 2022 peak, as measured by the Case-Shiller National Home Price Index. This correlated with the economic changes when inflation and rising mortgage rates caused home buyers to change their plans.
According to the Home Values Index updated as of March 2023, 102 markets are expected to see home prices fall over the next 12 months. Interestingly, many identified markets are out West or in Florida, with the Western half of the US being the most sensitive to price declines. That's because many of its markets are tied to fluctuating industries, particularly technology. Here are their identified top five markets seeing price corrections.
San Francisco
The city's high home prices may finally be catching up with it. Long considered an overvalued market–median home prices were at $1.4 million–San Francisco's month-over-month home prices dropped 1.8% as of March 2023. By another measure, one source reported the city's single-family home prices were down 21% in the fourth quarter of 2022.
Seattle
The strong tech industry presence sent Seattle's housing values skyrocketing through the 2010s. The pandemic fueled the demand even further. Now its month-over-month numbers dropped 1.8%. In the King County region, in March 2023, median home sale prices were down 10%. Some of the activity slowdowns are related to uncertainty in the market, as tech workers are reluctant to buy, given how major companies have been laying off their employees.
Las Vegas
Fortune analysis found the "Sin City" housing prices dropped 2.8% in the first two months of 2023. Fewer homes are being sold, too, and inventory in Southern Nevada in January 2023 was creeping up to a four-month supply of homes.
Portland
Portland's monthly price drop was 1.9% in March 2023. Many local experts feel the sluggish market directly results from higher mortgage rates. Home sales were down almost 33% in the first quarter of 2023, so if owners want to sell, they'll need to price correctly.
Phoenix
Now attracting retirees and young professionals, Phoenix has seen phenomenal growth in recent decades. That demand may be on the wane, as Phoenix home prices dropped 2.2% in the first two months of the year. During the two years of the pandemic, local home prices jumped nearly 40%. But high-interest rates and inflation are putting the brakes on activity, and only 39% of homes sold for above asking.
Other cities economists are expecting declines include Boulder, Denver, and Reno. Boise and Austin also cropped up as cities reporting notable price drops in recent months.
These price drops are part of a nationwide trend that began in September 2022, when month-over-month home prices declined in 79% of the major markets.
But most markets aren't price correcting
Unfortunately, while buyers in these high-demand areas may see some reprieve in housing price gains, it's not all equal. Most markets actually reported home prices increased month-over-month and year-over-year, despite the challenging economic conditions.
Among the highest price jumps were the following:
Scranton, PA (+4%)
Morristown, TN (+4%)
Jackson, TN (+4.7%)
The tracked markets showed that of the markets with increased home prices, around 218 were around their all-time high or set a new record in March 2023.
The list of the most overpriced housing markets in the United States is subject to continuous change. Work with a local real estate agent to get a sense of what's happening. While the factors affecting each market's housing prices may vary, understanding the current state of each city's real estate market can inform your purchasing decisions.