What to Know About Retiring to Colorado
Posted by Preston Guyton on Friday, February 3, 2023 at 12:10:01 PM
By Preston Guyton / February 3, 2023
Comment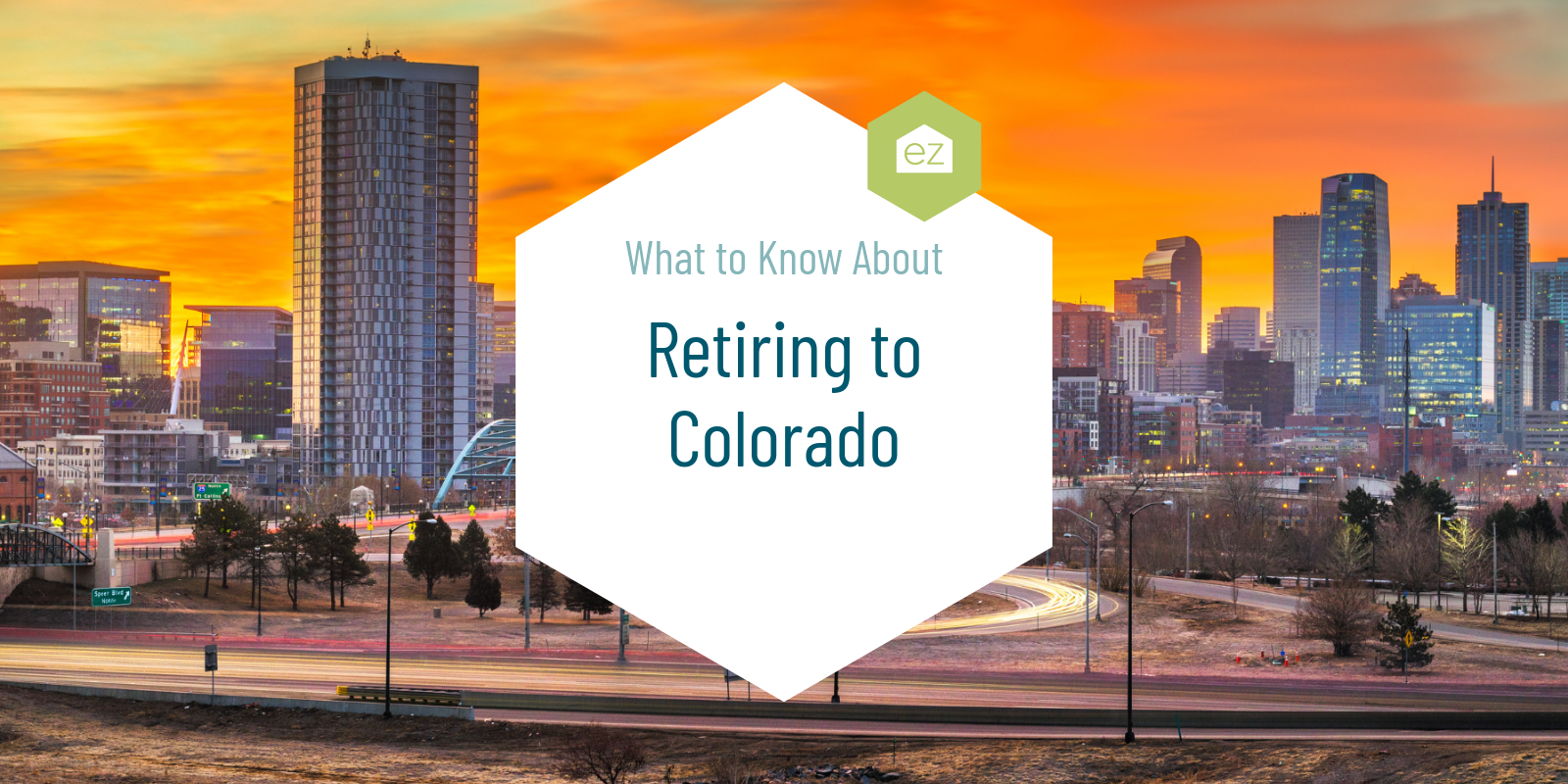 What to Know About Retiring to Colorado
While many people think of Florida or Arizona as retirement destinations, there's a new contender on the map, and it might surprise you. Ranked no. 3 by Bankrate, Colorado is now a top retirement destination and has been for a few years. Retirees are finding living in Colorado delivers many benefits, like some of the nation's best healthcare. And while you may not have the beach, you're surrounded by a beautiful natural landscape with things to do all year round.
Let's explore the advantages and disadvantages of retiring to Colorado to see if it's the right state for your golden years.
Colorado Pros
Great weather
The conditions vary across the state, but Colorado generally provides retirees with warm days in summer and cool winters perfect for outdoor activities like hiking, biking, fishing, golfing, or skiing! Plus, the climate is dry, so when it's 90F, it doesn't feel as hot because of the lack of humidity. That same dryness leads to more days of sunshine so you can live life to its fullest.
Of course, if you live at higher elevations, expect more snowfall and colder winter temperatures. Conversely, if you're in southern or eastern Colorado, prepare for hotter summers.
Natural beauty
Nature has been proven to lower stress levels, and in Colorado, you're surrounded by parks, forests, and outdoor lands. The majestic Rocky Mountains have over 58 peaks topping 14,000 feet, leading to snow-capped peaks long into the summer months.
Across the scenic deserts in the south and east of the state, find stunning rock formations, hot springs, and winding canyons. Truly, Colorado is one of the most beautiful states in America. It did inspire the patriotic tune, "America, the Beautiful," after all.
Tax advantages
Colorado wins over retirees with plenty of tax incentives. There are no state income taxes on Social Security. Other retirement income up to $24,000 can be excluded for taxpayers aged 65 and up. That includes government and military pension plans. If you need to pay individual income tax, the rate is a flat 4.4% as of 2023.
Sales taxes are high, but groceries and prescription drugs are exempt. There is no estate or inheritance tax.
Additionally, Colorado provides a property tax homestead exemption for seniors 65 or older that can save you up to 50% for the first $200,000 in assessed value. The caveat is you must have owned and lived in the home for at least ten years. A deferred property tax payment option delays payments until the property is sold or transferred.
Colorado residents age 65 and older could qualify for a property tax/rent/heat rebate if their single filing income is under $15,831 or their married income is under $21,381.
Exceptional medical care
Colorado has an excellent healthcare system with some of the country's best hospitals and medical providers. On US News and World Report, it rounds out the top ten states. Healthcare quality ranked fifth, and public health initiatives seventh. Colorado has high marks for healthcare outcomes, although its costs are average.
Retirees can find top-notch doctors and specialists for their specific needs, plus numerous community clinics for those on limited incomes or without insurance.
The top-ranked hospital is in Aurora, the UCHealth University of Colorado Hospital, which is nationally ranked in pulmonology, rheumatology, and diabetes care. Its geriatrics care is considered high-performing among US hospitals.
Other top-ranked healthcare centers are UC Health Medical Center of the Rockies in Loveland and SCL Health St. Joseph Hospital in Denver.
Center for the arts
Colorado has a tradition of excellent visual and performing arts programs. From renowned museums to art galleries, retirees can enjoy the best of classical music as well as modern entertainment.
The Denver Performing Arts Complex is the second-largest arts complex of its kind in the nation. From here, you have the state's symphony orchestra, opera, theater company, and ballet. Another destination is the Colorado Springs Fine Arts Center. Museums across the state exhibit various works and historical treasures. The Museum of Contemporary Art in Denver is particularly well known.
The state is no stranger to the art festival, with huge, crowd-drawing events throughout the year. As there are many, it's hard to decide what top festivals to feature, but to give you a sampling of what's available:
Cherry Creek Arts Festival, Denver
Aspen Music Festival, Aspen
Colorado Shakespeare Festival, Boulder
Estes Park Fine Arts and Crafts Festival
Telluride Bluegrass Festival, Telluride
These are just five, but rest assured, wherever you end up, an arts festival is sure to be in a community nearby at some point in the year.
Many retirement communities
Believe it or not, Colorado is home to numerous retirement communities. Since 2010, there's been a big jump in the number of retirees, so the market has quickly catered to their specific needs.
These communities include independent living centers, assisted living centers, and nursing homes with various amenities and activities. Find 55+ communities with amenities like golfing, walking trails, and social clubs near high-demand locations across Colorado.
Colorado Cons
With tax advantages, excellent medical care, and plenty of cultural events, it's no surprise that many people are packing up for Colorado. However, there are also some downsides associated with retiring in Colorado.
High living expenses
Although Colorado offers plenty of advantages for retirees, it is a high-cost-of-living state. Sure, it may not stack up as high as cities in the northeast or the California coast. Still, prices for goods and services are high here, rising as much as 12% above the national average. The average amount spent on living expenses in Colorado in 2021 was $46,642, with housing being a significant outlay.
Housing prices can be steep in some areas, particularly in larger cities like Denver or Boulder. The average single-family home cost $568,601 in 2022, while townhomes and condos averaged $420,000. The average housing costs ran $1,068 to $1,744 per month. Still, there are affordable communities outside the Front Range cities that may be worth taking a closer look at for buying a home in Colorado.
Additionally, groceries and other necessities can come at a premium due to the state's remote location. In 2021, groceries averaged $332 per person per month, while transportation varied from $4,900 to $13,317 per year.
City traffic is congested
Colorado's major cities, like Denver and Colorado Springs, can be heavily congested with traffic at peak times. In fact, Denver ranks among the nation's worst for congestion and getting around. This can make getting around town a challenge for retirees without vehicles, as the city's public transportation is lagging behind cities of a similar size. However, it is working to improve by adding light rail, rail, and buses.
Even if you don't live in Denver, getting around can be tough without a car. Colorado is a big state with wide, open spaces. The next city or town can be further away than you think, with fewer resources in between them. Plan wisely when you need to travel.
Severe weather
While the climate is generally pleasant in Colorado, it can come with some harsh conditions. Weather can change dramatically within a day, which is why you see many residents layering up during the seasons. Don't be surprised when it's bitterly cold in the morning and perfect golfing weather by afternoon.
Retirees need to be prepared for severe thunderstorms, intense hail storms, and even snow in the winter months. Snow can fall by the foot in some parts of the state. The other extreme is drought, which is increasingly common and challenging the entire state.
Damaging wildfires
Due to its dry climate, Colorado is prone to wildfires that can cause massive destruction and put lives at risk. This risk is growing as the state's climate keeps drying out. The lack of rain is making fighting these fires even more challenging. In 2020, over 600,000 acres burned during wildfire season, killing two and burning 1,000 structures.
If you live in a high-risk area, learn that information ahead of time. Retirees must stay up-to-date on wildfire warnings and be prepared with an evacuation plan.
Altitude sickness
At an average elevation of 6,800 feet above sea level, Colorado can cause altitude sickness in some people who are not used to higher elevations. Symptoms may include headache, dizziness, and exhaustion. It's a good idea to visit for an extended time, perhaps a month or so, to see if it impacts you long-term.
Tourism destination
As one of America's most popular lifestyle destinations, retirees may compete for resources with tourists. This can include crowded restaurants, busy roads, and overbooked attractions – all of which can make retiree life more difficult.
Some of this tourism is seasonal, as with ski season at the mountain resort towns. If you end up living in a tourist area, just be aware and ready for the influx of visitors.
Water challenges
Colorado is a drought-prone state, and its water resources are limited. The state relies on the snowpack for water, but this has to a) be brought in and b) is increasingly unreliable in recent years.
If you're used to frequently watering the lawn or gardening, your consumption may be more limited. Before you go, learn the importance of conserving water and what steps you'll need to take to reduce water consumption.
Another thought: if you enjoy water sports, keeping them up in this dry state will be challenging. Rivers and reservoirs are far apart and few.
Should you retire to Colorado?
All in all, retirees should carefully weigh the pros and cons of retiring in Colorado before making a move. With its stunning scenery and active culture, it can be a great place to get the most out of your retirement years – but some drawbacks must be considered. But ultimately, it's up to each retiree to decide if the benefits outweigh the potential challenges.