What to Know About Metairie, LA
Posted by Preston Guyton on Thursday, March 30, 2023 at 1:50:58 PM
By Preston Guyton / March 30, 2023
Comment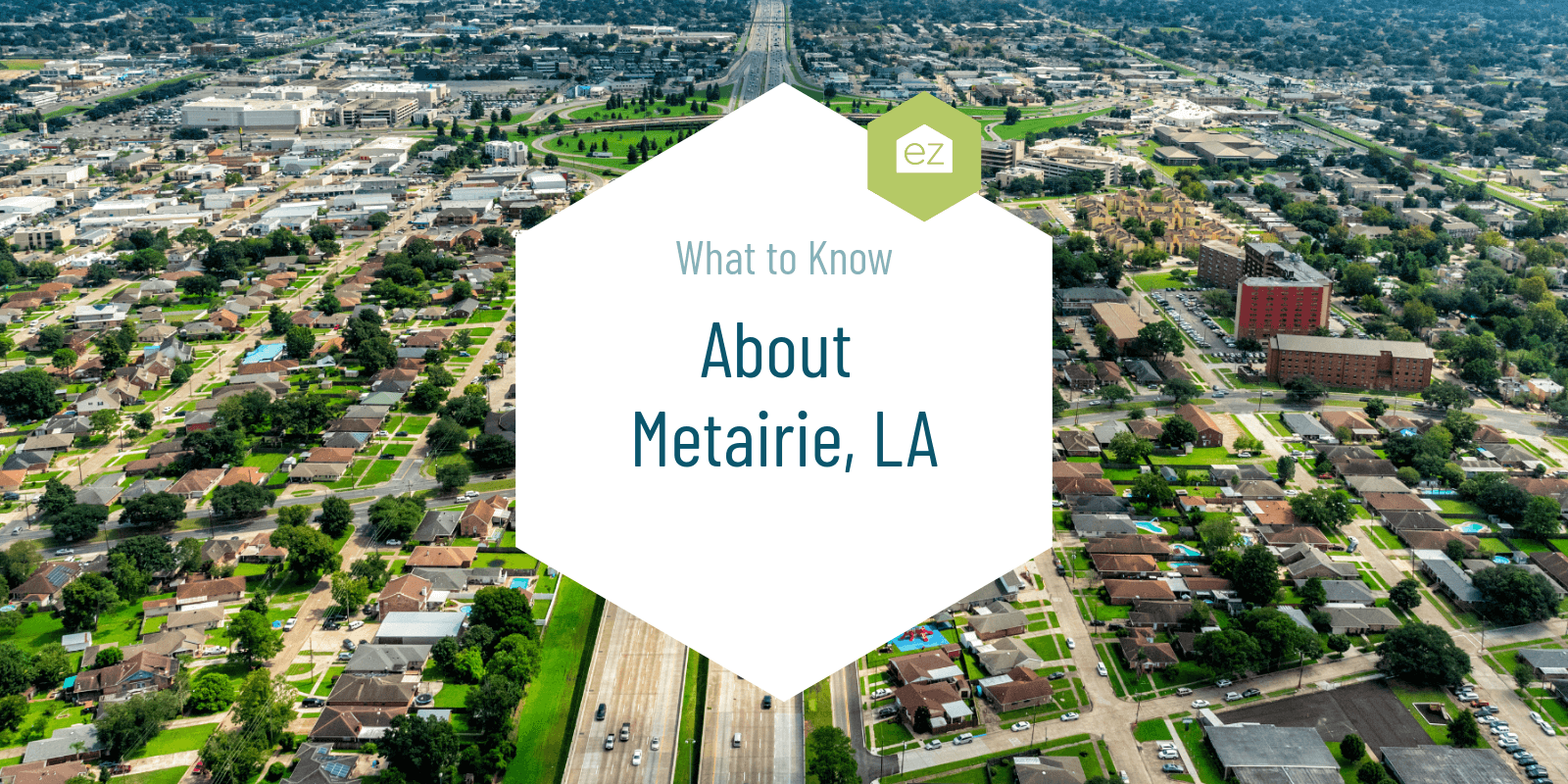 What to Know About Metairie, LA
Not everyone wants to live in central New Orleans. If that sounds like you, learn about this Metairie, a lakeside suburb of New Orleans. With its fascinating history, modern Metairie is a dynamic residential community with a strong sense of pride and tradition. And it's undergoing revitalization, meaning its charms will only keep improving.
Come learn why Metairie has made it to top places to live lists published by 24/7 Wall St. Our profile of Metairie includes the advantages of living here and some of its best neighborhoods.
Where is Metairie, LA?
Proudly marketed as New Orleans's first suburb, Metairie is a Jefferson Parish community directly on the south shore of Lake Pontchartrain between New Orleans and Kenner. Metairie is home to Historic Old Metairie, a prestigious area with distinctive architecture and one of few remaining villages in suburban Louisiana that dates back to the 1800s.
Wherever you live in the suburb, you have a great location to other parts of New Orleans. Residents can be in the French Quarter in 20-30 minutes or the New Orleans airport in 10-15 minutes.
What to know about Metairie, LA
Interestingly enough, Metairie is not an actual incorporated city. It is a Census-Designated Place, even though it is one of the most populated communities in Jefferson Parish and Louisiana, with over 140,000 residents.
The name "Metairie" comes from a French term referring to sharecropper farmers, the predominant first settlers. The community was built on a sandy ridge back in the 1760s by French colonists. The land was given over to the Spanish during the Treaty of Paris, but it was returned to French control before the Louisiana Purchase in 1803.
Today, you'll see influences from the various cultures in the building designs and Cajun roots.
The main commercial district lies along Veterans Memorial Boulevard and Causeway Boulevard. At Lakeside Shopping Center, you have dozens of shops, from grocers like Whole Foods to high-end retail like Macy's. Other restaurants, hotels, banks, and office buildings are concentrated around these avenues, but you'll have service providers sprinkled along other major roads, like Esplanade Ave.
What is there to do in Metairie?
While much of Metairie is residential, plenty of things inside the community will keep you busy. Participate in the active nightlife scene along Veterans Boulevard, or do some peaceful golfing at the Indian Hills Country Club.
Metairie is sprinkled with pocket parks, but the largest is Lafreniere Park off I-10. The 155 acres include lagoons, a carousel, playgrounds, baseball fields, covered shelters, Frisbee golf, and a two-mile path. Shop the Farmer's Market hosted here every Wednesday afternoon.
Life in Metairie provides access to Lake Pontchartrain, a stunning inland estuary that surpasses all others in size. For beautiful lake views, take a stroll or bike along the Lakefront Trail, accessible at Clearview Blvd, Ridgelake Rd, and several other quiet residential streets. The trail runs on for miles connecting other lakeside communities.
Metairie is home to various family-oriented festivals, such as the annual and ever-popular Family Gras, the Old Metairie Irish Festival, and Bucktown Seafood Fest!
You'll find excellent dining establishments and ample shopping choices in "Fat City" and the surrounding retail centers.The eclectic Fat City also has a high concentration of nightclubs.
For New Orleans Saints supporters, catch a glimpse of the team in action at their practice facilities. The AAA New Orleans Zephyrs baseball team is also based at the stadium in Metairie.
Spanning 23.9 miles from the South Shore to St. Tammany Parish on the North Shore, the Lake Pontchartrain Causeway is one of America's longest bridges. It connects residents directly to Mandeville and I-12 on the lake's north shore.
What is the cost of living in Metairie?
While most of Louisiana is a highly affordable place to live, Metairie actually ranks among its most expensive. Living in this community is about 3% more expensive than the national average and 13% more expensive than the state average.
Transportation costs are higher than the typical expenditure rate, but housing was only 2% more expensive. In March 2023, the suburb had 594 homes on the market at a median list price of $345,000.
Neighborhoods in Metairie
Metairie neighborhoods vary from traditional to urban living, providing residents with walkable suburbs, tight-knit historic communities, and waterfront views of Lake Pontchartrain. Most of the suburb is highly developed and dense, but with old trees lining the historic sections, it feels a world apart. Here are a few of the notable neighborhoods in Metairie.
Old Metairie
The Old Metairie neighborhood is one of the most sought-after in the area. With numerous historical sites and homes dating to the 1920s, this community has an old-world charm with easy access to modern-day attractions inside Metairie and New Orleans.
Living in Old Metairie affords residents the convenience of finding all the necessities within a few blocks: coffee shops, banks, restaurant options galore, unique retail stores, and local markets. Sidewalks made getting around to the locally-owned business on Metairie Avenue easy.
Old Metairie is also beside the private Metairie Country Club, established in 1922. Members partake in golf, tennis, fitness, and social amenities.
The Pontiff Playground has sports fields, a walking trail, and a dog park. The facilities have been revamped since they were destroyed in Hurricane Katrina. Another attractor for families is the Metairie Park Country Day School, a historic private school on a mature landscaped 15-acre campus.
Old Metairie had 202 homes for sale in March 2023. The median list price of $459,000 ranged from $110,000 for a condominium to a $3.6 million custom home built in 2016.
Airline Park
Another residential section of town is on the west side of Metairie and south of Lafreniere Park. Besides its magnet school, Airline Park is predominantly housing, with around 4,000 residents. Metairie Avenue runs east-west, dropping residents into the shopping district.
The Mike Miley Playground is inside the community, and LaSalle Park is on the other side of Highway 64. So residents have three nearby parks to play and enjoy being outside. Families have the convenience of two elementary schools, a middle school, and two private schools. Try the Airline Skate Center or the Green Acres Country Club for more recreation.
Airline Park had 46 homes for sale at a median of $289,900 in March 2023. The styles here are slightly newer, but only in comparison to sections like Old Metairie. You'll find some classic cottages but many mid century ranches or homes from the 1960s and 1970s.
Bucktown
Bucktown is a waterfront community located on the shore of Lake Pontchartrain. Historically a fishing town, it has been destroyed and rebuilt several times. Today this neighborhood has an interesting mix of many different cultures and lifestyles. Visitors often come for the waterfront restaurants serving all types of cuisines, particularly fresh-caught seafood.
Residents can stretch their legs along the Bucktown Marsh Boardwalk. There's also a marina and boat launch within the neighborhood.
Bucktown had 18 homes for sale at a median of $392,000. Prices ranged from $229,000 to $1.2 million.
Fat City
The Fat City area spans 40 square blocks and is home to dozens of nightclubs, live music venues, and shopping centers.The vibe here tends to be more urban, but the colorful buildings certainly do lend it a character.
Fat City has gone through its ups and downs. Right now, it's attracting those interested in redeveloping the area into a live-work-shop center as it was first imagined. Residents live beside the Lakeside Shopping Center, one of the prime shopping and dining areas in New Orleans with names like Ruth's Chris Steakhouse, P.F. Chang's, and Drago's Seafood.
Bonnabel Place
A few blocks east of Lakeside Shopping Center is the highly residential subdivision of Bonnabel Place. The name dates back to the 1830s when the land was owned by a chemist who purchased it to become a development. Today it borders I-10 and has essential stores conveniently placed along Veterans Blvd. Lakeshore Playground is the public park in the community's northeast corner.
The historic neighborhood is now lined with old cypresses and oaks, shading the predominantly pre-World War II homes and cottages. Some intersections delight with springtime flowers, but most of the neighborhood is narrow, grid-like streets with sidewalks.
Bonnabel Place had 84 homes for sale at a median list price of $449,000 in March 2023. Their sizes and styles ranged widely, from 740 sq ft brick homes from the 1970s to custom homes on a half-acre lot.
Living in Metairie, LA
Metairie is a great place to live, with varied housing options, outdoor parks, playgrounds, and easy access to shopping, dining, and entertainment options. People who live in Metairie enjoy the convenience of being near New Orleans but have access to quieter and more peaceful living. These are just a few neighborhoods that makeup Metairie, but there is much more to explore in this diverse and historic New Orleans metro community. Let a local real estate agent be your Metairie guide.