What to Know About Living In Alexandria, LA
Posted by Preston Guyton on Friday, March 17, 2023 at 12:47:58 PM
By Preston Guyton / March 17, 2023
Comment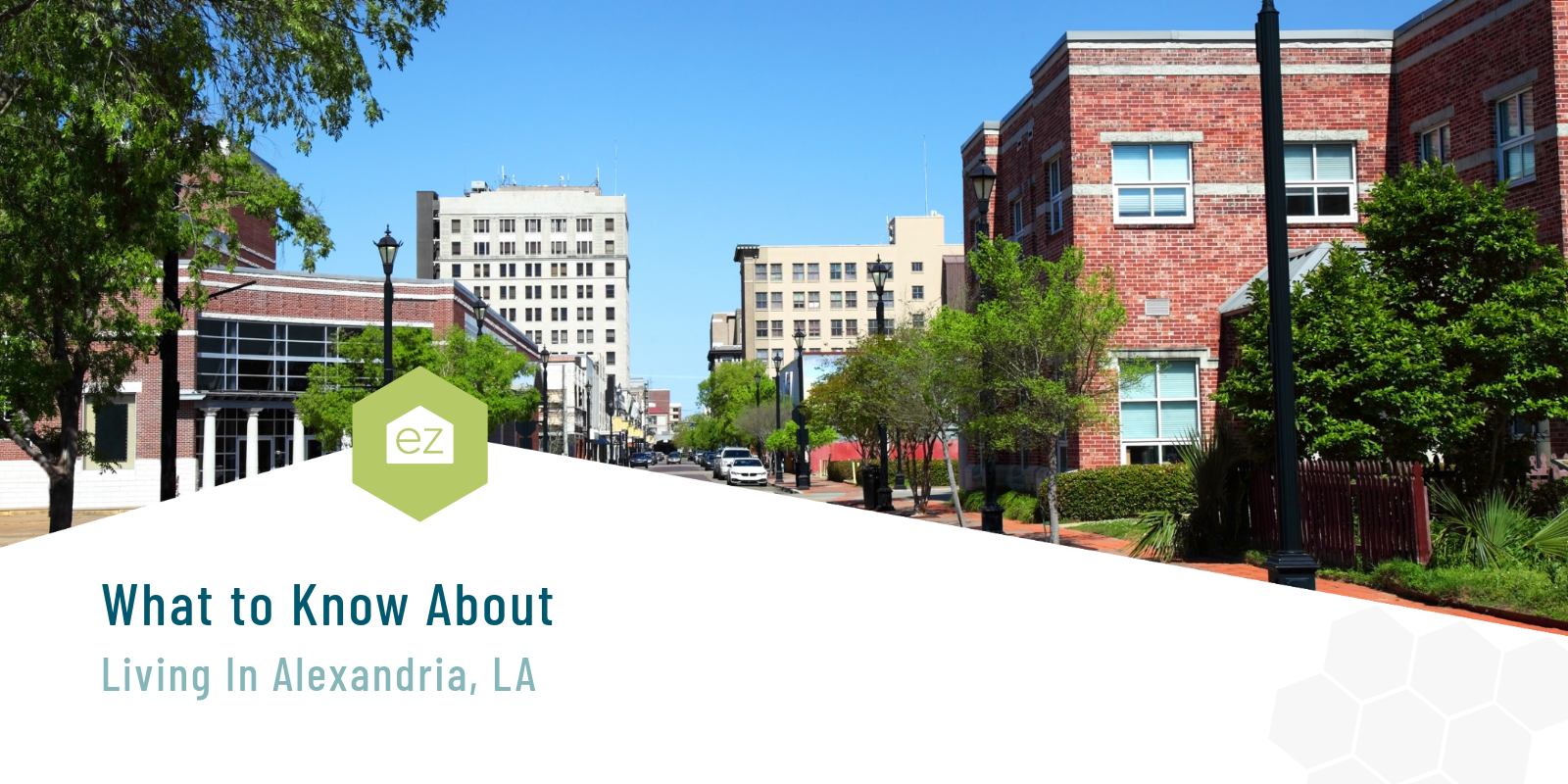 What to Know About Living In Alexandria, LA
Welcome to our guide on the best places to live in Alexandria, LA! Known as the "Heart of Louisiana," Alexandria is a charming city in the state's center. Alexandria has become a popular destination for those seeking a high quality of life because of its rich history, diverse culture, and southern charm.
Whether you're looking for a quiet suburb, a trendy urban neighborhood, or a waterfront retreat, Alexandria delivers with affordability. Take a closer look to see what you can expect from living in this part of Rapides Parish. We'll also profile some of the best places to live in Alexandria, LA.
Where is Alexandria, LA?
Alexandria is pretty much the central point geographically in Louisiana. It is the largest city in Rapides Parish, which covers an area of approximately 1,362 square miles. It is bordered by Grant Parish to the north, Avoyelles Parish to the east, Evangeline Parish to the south, and Allen and Vernon Parishes to the west. With its central location and I-49 running north-south, Alexandria and Rapides Parish are easily accessible from major cities like Baton Rouge, New Orleans, and Houston.
What is the cost of living in Alexandria, LA?
Good news if you're trying to stretch your dollar– living in Alexandria is highly affordable! According to Sperling's Best Places Index, the overall cost of living here is 17% less than what you pay across the nation and about 7% less than what you pay across Louisiana. Its most expensive category was healthcare, where spending was above the national average. However, you get big savings and housing, which is 50% under the national rate and 15% less than the state. You also pay less for groceries, utilities, and transportation.
MIT's Living Wage Calculator estimates a family of four in Alexandria with one adult working would need to bring home $64,430 after taxes to meet all their essential expenses.
What is the population of Alexandria, LA?
As the state's ninth-largest city, Alexandria had 45,275 residents as of the US Census in 2020, which was about 2,000 residents fewer than the decade before. It reportedly lost 1.4% of its population from 2020 to 2021.
Looking at Rapides Parish, the state believes its population growth is slowing and may decline marginally by 2030.
What is the real estate market like in Alexandria, LA?
Alexandria is part of the greater Central Louisiana Real Estate Association. Its data shows that housing prices have risen since mid-2020, although the prices in the larger market have stabilized since the start of 2022 around the $180,000 median mark.
In March 2023, Alexandria had 340 homes for sale at a median list price of $170,000. Again, these home prices have been relatively stable. Looking at February 2023 year-over-year, median prices were actually down almost 13%.
The most affordable listing was a vacant lot for $5,000. The most expensive existing single-family home was for $1.1 million with around an acre of land and five bedrooms, 5.5 bathrooms, and 6,000 sq ft under roof.
Are there condos in townhomes in Alexandria, LA?
You can find these kinds of properties in the city. This is not a big market, so you won't have a huge selection. March 2023 had six properties listed. The most expensive was a duplex for $170,000 that included a one-car garage, two bedrooms, and two bathrooms. The least expensive was a townhome with two bedrooms and two bathrooms, listed at $129,900.
Is there waterfront real estate in Alexandria, LA?
You can find some water view or waterfront real estate in Alexandria. However, most of these will be pond, lake, or swampy bayou properties. That's because most of the Red River access in town is dedicated as a park or to commercial ventures.
If you're looking for boating access out your door, most of these lakes and bayou runs are probably not what you want. At most, you may be able to launch a kayak or a paddleboard for a short paddle around your lake or down the bayou. March 2023 had eight listings with waterfront as a feature in Alexandria.
However, if you zoom out on Rapides Parish, your choices instantly increase. Oden Lake and the Kincaid Reservoir, with its Kincaid Recreation Area, is just 15-20 minutes outside of town. Across the river in Pineville are several lakes and bayous near the Red River, like Williams Lake and Beaver Lake.
Are there golf course communities in Alexandria, LA?
Again, this isn't a huge town, so your choices will be limited. However, if a golf course lifestyle appeals to you, you have one choice: the Saint Andrews Links Estates on the Links on the Bayou Golf Course. Here you can find homes with views of the greens and fairways.
What are some of the best communities in Alexandria, LA?
Alexandria and the entire Rapides Parish provide a laid-back lifestyle that may appeal to you. It has many choices for you to buy a home, from being near the downtown core, one of the surrounding suburbs to perhaps a house out in the bayou.
Downtown Alexandria is the place to live if you want to be near an arts district, local events, shopping, and dining. Many homes here are part of the town's historic districts, so you can find a place to live with a lot of character.
Like many Louisiana cities, Alexandria has its own Garden District. Listed on the National Register of Historic Places, this community has a friendly neighborhood feel. You'll find stately homes in styles common for its main development period, 1905-1950, like Colonial Revival and Craftsmen. The Garden District National Foundation runs community yard sales, Mardi Gras, and block parties.
Tennyson Oaks is a subdivision of 200 single-family homes in southern Alexandria with an active HOA association. It promotes community through neighborhood events. Shopping and a high school are nearby.
For new construction, Olde Towne is an option. The master-planned community has single-family homes with nine floor plans ranging in size from 1,447-2,772 sq ft. It includes smart home and energy-efficient features.
The Lake District is a luxury home community prized for its generous lot sizes—most are half-acre and above—and spacious custom homes. Lots are still available if you want to build. Residents have offices and shops convenient on Highway 28W.
Pineville is a small town across the river from Alexandria and part of its overall suburban area. It promotes itself as a place of tradition, family values, and pride. The city touts a business-friendly environment that has attracted many employers, retail stores, and locally-owned businesses. The VA Medical Center is here, and the city is beside Camp Beauregard, so it's attractive to veterans and military families.
Ball ranked as Niche.com's best place to live in Rapides Parish. Situated north of Pineville and northwest in the Parish, the small town of 4,000 residents is 20 minutes from Alexandria. The west side borders the Camp Beauregard Wildlife Management Area with the Little Creek Trailhead access.
What is near Alexandria, LA?
Alexandria is at the heart of its own statistical area, which includes the surrounding towns of Pineville, Well, Willow Glen, and McNutt. I-49 runs northwest-south through town for drivers, eventually connecting to Shreveport and Lafayette. It has a small International Airport with regional carrier service from Delta and American Airlines.
Across the Red River is the US Army Camp Beauregard, now a training center for the Louisiana National Guard. Louisiana Christian University, a private 81-acre college with undergraduate and graduate programs, is also in Pineville.
Besides the Red River, several large lakes and extensive bayous dot the Rapides Parish landscape. These include the Kincaid Reservoir, Cottle Lake, and Lake Rodemacher, which have enjoyable recreation areas. A vast forest and wildlife area in the Kisatchie National Forest has the prized Wild Azalea 23-mile hiking trail, plus horseback riding trails, off-roading, camping, fishing, and hunting lands. National Geographic has called Alexandria a top "wilderness town" because of its access to expansive forests and protected lands.
Head up I-49 to Natchitoches, a small city about an hour away. Louisiana's oldest city has an interesting European-styled downtown along the riverfront, another university, attractions like the Beau Jardin Water Features and Gardens, plantations featured in the movie "Steel Magnolias," and a packed calendar of events.
Lafayette is just over an hour south on I-49. The larger town bursts with Creole culture and has more museums, traditional music festivals, and exceptional places to try Cajun cuisine.
Why live in Alexandria, LA?
One of the main attractions is Alexandria's how the small-town feel is complemented by amenities you'd find in a larger city, like the concentration of visual and performing arts centers downtown. River Oaks Square Arts Center and Coughlin Saunders Performing Arts Center are just two venues promoting culture and hosting events in the town.
Despite being relatively small, the charming downtown area stays busy with an array of restaurants, local shops, and entertainment venues. A pathway winds around downtown and the Red River, forming a circuit for easy exercise or getting around.
The town features a few parks, including its own Zoo with over 500 animals, and recreational facilities for all kinds of sports. Museums and historic sites document its past as a center of plantation culture and the Civil War conflict.
Living in Alexandria, LA
With its affordable cost of living, a strong sense of community, and friendly locals, "Heart of Louisiana" is a great place to call home for those who value a slower pace of life without sacrificing modern conveniences. Alexandria might be a "wilderness town," but it has access to your essential needs, an arts community, and modern perks that make life enjoyable. Before packing up, learn more about moving to Louisiana.