What to Know About Gatlinburg, TN Real Estate
Posted by Preston Guyton on Friday, December 2, 2022 at 11:19:19 AM
By Preston Guyton / December 2, 2022
Comment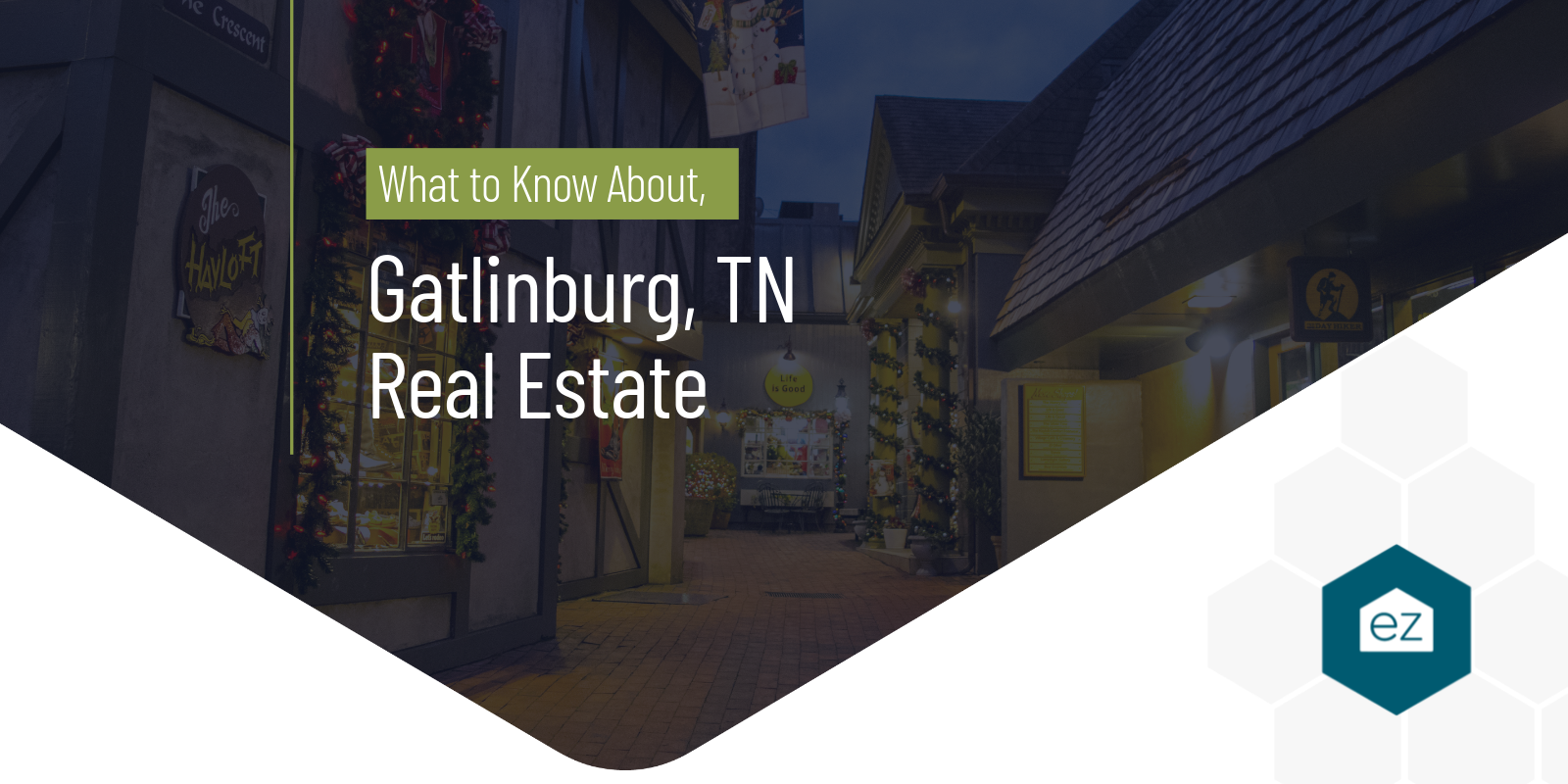 What to Know About Gatlinburg, TN Real Estate
If you know anything about southern Appalachia, chances are you've heard of Gatlinburg, TN. Known as a mountain resort town, people come to Gatlinburg to have fun and to launch their visit to the Great Smoky Mountains National Park. Gorgeous mountain views surround the city, and residents and visitors appreciate the small-town look paired with plentiful shopping amenities.
Millions visit Gatlinburg each year, but why just be a visitor? You can own a slice of your mountain paradise while living near Gatlinburg's many entertainment attractions.
Whether it's a timeshare, second home, or full-time residence, we're here to answer your Gatlinburg real estate questions. With this market profile, get to know more before moving to Gatlinburg, TN.
What is the average price of a home in Gatlinburg, TN?
The Gatlinburg, TN, real estate market is diverse in its offerings. Not only do you have cozy log cabin vacation retreats, but you have luxury custom homes with stunning Great Smoky National Park views. As a vacation destination, it has ample condos, townhomes, and cottages that cater to the second home or investment market. It equally has properties ideal for full-time living.
November 2022 had 409 homes for sale with a median list price of $699,900. The prices ranged from $25,000 for a vacant lot to over $8 million for 37 acres with seven vacation rental cabins and room to build. In terms of existing, non-income-producing real estate, the top of the market was a $2.7 million new construction single-family with 5,600 sq ft.
There is a prevailing log cabin or farmhouse aesthetic, but you can find other architectural styles, too.
Are there any condos or townhomes available in Gatlinburg, TN?
As a vacation town, Gatlinburg has many condo and townhome complexes. These are popular among those who want to own a Gatlinburg property but don't want the hassle of maintaining a single-family home or large piece of land.
One example is The Highlands of the Smokies, a 2022 new construction condo complex building 95 luxury condos with delivery scheduled for 2023. Prices ranged from $672,000 to $1.53 million. Another is LeConte Towers which overlooks the Great Smoky Mountains National Park.
The lowest-priced listing in November 2022 was $110,000 for a 455 sq ft studio condo. Many condominiums are near the downtown area, as it provides convenient access to Gatlinburg's tourist attractions and shopping options.
What is the population of Gatlinburg, TN?
The city of Gatlinburg has a permanent population of just over 3,000 people. However, the population swells significantly during peak tourist season (particularly in summer and fall) as visitors come to enjoy Gatlinburg's many attractions. This means the city can feel much larger.
Around 14.1 million people visit the Great Smoky Mountains National Park, and many will pass through Gatlinburg. Over 10 million people visit or pass through Gatlinburg each year.
What is the property tax rate for Gatlinburg, TN?
All Tennessee residential property taxes are assessed at 25% of the property's value as determined on January 1 each year. So if a home was valued at $200,000, it would be taxed on $50,000.
In 2022, Gatlinburg's property tax milage rate was $0.12570 per $100 assessed value. Sevier County charged $1.48 per $100 assessed value. That's a combined rate of $1.6057 for local property taxes.
What is the cost of living in Gatlinburg, TN?
The Gatlinburg cost of living is 3% higher than the US average, and Gatlinburg's housing costs are 13% higher than the Tennessee average. Those figures are based on Sperling's Best Places Index, which places the national average at 100.
That said, housing is the most significant expenditure, at 32% above the national average and 52% above the Tennessee average. Otherwise, Gatlinburg's overall costs are lower than other well-known resort towns, especially in transportation and miscellaneous expenses.
What's the job market like in Gatlinburg, TN?
Tourism is king in Gatlinburg, meaning that many jobs will be in the hospitality industry. Lodging and restaurants are significant economic drivers for the region. However, there are also many opportunities for outdoor enthusiasts, as Gatlinburg is a gateway to the Great Smoky Mountains National Park.
According to data from the Bureau of Labor Statistics, Gatlinburg had an unemployment rate of 3.8%, when Tennessee had 4.6% and the nation 4.7% in September 2022.
What county is Gatlinburg, TN in?
Gatlinburg is in Sevier County, home of Tennessee's Appalachian mountain resort towns. Historically, it was a rural and highly agricultural area. The formation of the national park in the 1950s changed its fortunes.
Sevier County's major towns are Gatlinburg, Pigeon Forge, and Sevierville. About 1/3 of the county is inside the Great Smoky Mountains National Park; visitation to the park is a significant economic driver for the county. Visitors bring in over $1 billion each year.
Sevierville is the county seat. While Gatlinburg is small, the total permanent population of the county is 99,500. It can feel much larger during peak tourism seasons.
Is Gatlinburg, TN growing?
Gatlinburg has grown 8.1% since 2000, but its recent growth has been much slower. Part of this might be the highly developed city limits. If we look at the greater Gatlinburg and Pigeon Forge areas, there is some population growth.
What neighborhoods are in Gatlinburg, TN?
Gatlinburg is actually a pretty small town, all things considered. And as much of it is commercially developed, either with retail and entertainment or for the hospitality industry, there are few distinct neighborhoods around.
If you are looking for that suburban or small-town feel, you can look to Cobbly Nob, Mynatt Park, Norton Creek, and Shelbyville. Downtown will have that high-energy urban feel, but also many visitors.
Your best bet is to contact a local real estate agent who can help you find the right area, depending on if you want a second home, vacation investment property, or a full-time residence.
Are there any waterfront properties found in Gatlinburg, TN?
Most people come to Gatlinburg for the mountains, not a waterfront lifestyle. There are no significant bodies of water in Gatlinburg. Still, you can find some properties with charming mountain creeks and runs. Some places, particularly resorts and condominium complexes, will have pools as an amenity.
How is golf in Gatlinburg, TN?
Golfers will find Gatlinburg to their liking with a few courses to choose from. Gatlinburg Golf Course is a public 18-hole, par 72 course located nearby in Pigeon Forge.
In town awaits the Bent Creek Golf Course, an 18-hole, par 72 course that is Gatlinburg's only in-town course. A three-time Masters and British Open champion designed the course, which Southern Living Travel Guide named in its "Top Fifty Golf Courses in the South."
Are there golf course communities in Gatlinburg, TN?
Cobbly Nob is a community that includes the Bent Creek Golf Village. The gated residential area was established in 1971. It has an HOA, three pools, and 24/7 security personnel. There's also a cabin rental community.
What areas are near Gatlinburg, TN?
The Gatlinburg-Pigeon Forge metropolitan area includes Gatlinburg, Pigeon Forge, and Sevierville. Gatlinburg is the southernmost and most commercialized of the three.
Pigeon Forge to its north has its own major tourist attractions. The most famous is Dollywood, the theme park launched by country music icon Dolly Parton. The commercial districts of Pigeon Forge cater directly to tourists, with vendors like Ripley's Believe It or Not, The Island in Pigeon Forge, Dolly Parton's Stampede, and zipline courses.
Sevierville is the county seat and is famous for being the home of the country music star. It's slightly less touristy, but a statue of Dolly is in the town square. Several museums and a zoo are in the city limits.
The Great Smoky Mountains National Park is Gatlinburg's backyard. Hiking, fishing, and camping are all popular activities that take place in the park.
Gatlinburg is about an hour's drive from Knoxville, one of Tennessee's major cities and the largest in the eastern part of the state. There's the University of Knoxville, the airport, and job opportunities.
The city is near the North Carolina border and its mountain towns like Cherokee and Bryson City. Asheville is slightly over an hour and a half by car.
What's the climate like in Gatlinburg, TN?
Gatlinburg has a humid continental climate with four distinct seasons. The area sees about 43 inches of rain per year. May through July are the rainiest months. Gatlinburg's July highs average in the mid-80s. Winter temperatures average 49F/26F.
What's Gatlinburg, TN like?
Gatlinburg is a small resort town nestled in the foothills of the Great Smoky Mountains. To live here, you must be content dealing with many out-of-town visitors all year long, particularly in the summer and fall.
The town has an energetic downtown area with many shops and restaurants catering to the tourist scene. There's a busy arts and crafts community, with local artisans selling in local art galleries and roadside shops. Gatlinburg is also a popular destination for weddings and honeymoons.
Some of Gatlinburg's most popular events are the Gatlinburg Craftsman's Fair, Gatlinburg Winter Magic, and Gatlinburg Smoky Mountains Wine Festival.
But don't let its reputation as a vacation destination fool you. Gatlinburg is also a great place to raise a family, with a strong public school system. The kids will enjoy all the activities to do in the area.
Living in Gatlinburg, TN
Gatlinburg is a popular destination for retirees, second-home owners, and real estate investors. Still, it has advantages for full-time residents, too. The town has a laid-back, small-town feel with all the amenities of a larger city. Gatlinburg offers a variety of housing options, including condos and townhomes in Gatlinburg's neighborhoods.
If you're looking to live in Gatlinburg, contact a local real estate agent to find the right neighborhood.