What is an FHA 203K Loan?
Posted by Preston Guyton on Thursday, February 18, 2021 at 5:24 AM
By Preston Guyton / February 18, 2021
Comment
When a home is in your dream location but needs a renovation, you're probably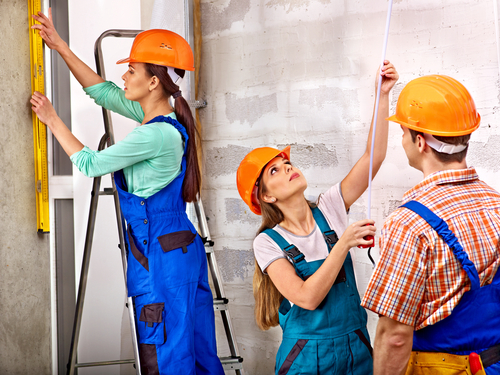 looking into your financing options. An FHA 203k rehab loan could be your best bet. Here's what you need to know about this type of financing and how you can use it.
How FHA 203k Loans Work
The most important thing to understand about this type of loan is that it's exclusively used for homes that need work to improve their attractiveness and/or livability. A few ways a homeowner might use their loan include:
Flooring replacement
Plumbing improvements
Energy-efficiency
Accessibility improvements
The loans are typically used to finance both the purchase of the home and the process of rehabilitating the property. They can also be used to solely finance a home improvement project, although there are many other options for this type of loan.
As you might expect by the name, these loans are backed by the Federal Housing Authority. Because of this, they are less risky for the lender, and the borrower can expect to enjoy lower interest rates. These loans are offered because they incentivize buyers to purchase homes that could use a little help. Buyers may ordinarily not look twice at these kinds of properties. But with the financing that these loans provide, properties that need a little extra TLC can be purchased and transformed to enrich the communities they're in.
Qualifying for an FHA 203k Loan
To qualify for one of these loans, you must be choosing to occupy the home after you purchase it and the repairs are completed. You cannot purchase the home as an investment. Nonprofits also have the option of using an FHA 203k rehab loan to buy a home. The home itself can be anywhere from one to four units, and the lending limit varies based on the location.
The good news is that like with other FHA-backed loans, you can usually qualify for one of these without having exceptional credit. Typically, the requirement is only a score of 500, but some lenders may require more. The higher your credit, the lower the down payment you'll have to make. If you've had a foreclosure in the past three years, you usually won't be able to qualify for one of these loans.
If the repairs are too major—such as structural ones—you will not qualify for an FHA 203k loan with that particular property. The needed repairs must only account for $35,000 at the most. You are also forbidden from making any adjustments to the property that aren't necessary. For example, adding a pool will definitely not be covered by one of these loans.
If you use this type of loan, you'll need to hire a Housing and Urban Development consultant who can supervise the renovation process. The repairs cannot take any longer than six months total.
Learn More about What an FHA 203k Rehab Loan Can Do for You!
If an FHA 203k loan is right for you, talk to the Carolina Mortgage Team at Revolution Mortgage. Our superior level of expertise when it comes to mortgages is exactly what you need to help you make the best decision that's right for your situation. Make an appointment today!