EZ's Ultimate Guide to Lake Greenwood SC
Posted by Preston Guyton on Friday, July 16, 2021 at 3:58 PM
By Preston Guyton / July 16, 2021
Comment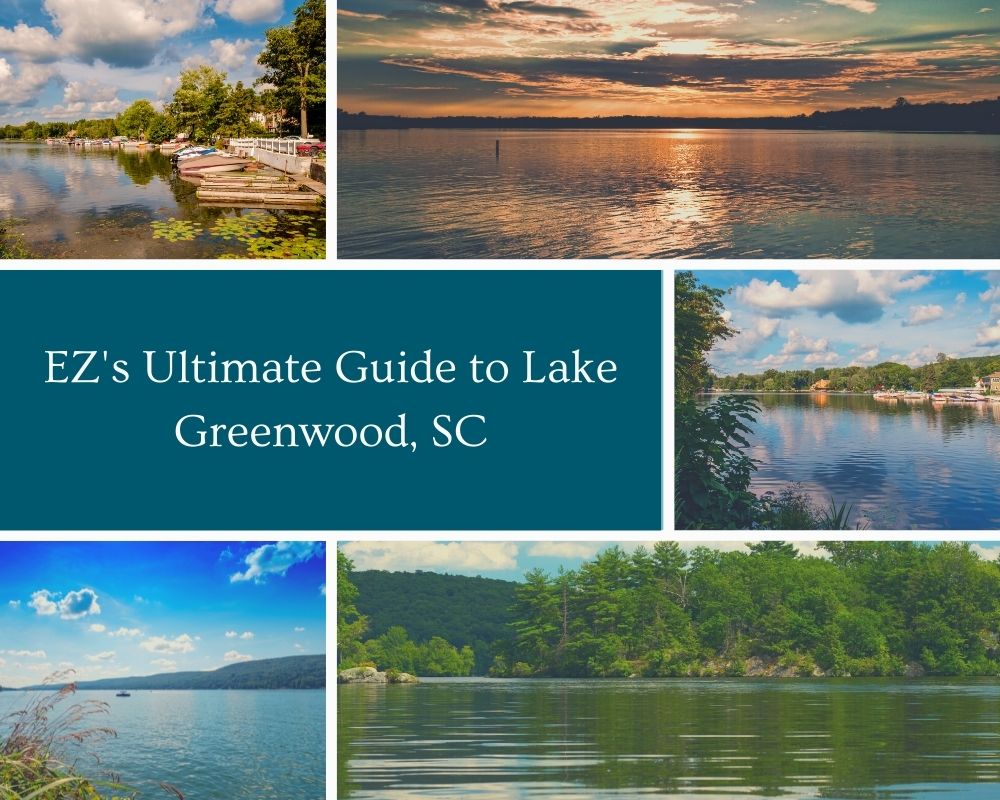 With homes for sale on Lake Greenwood, SC ranging anywhere from $195,000 to $759,000, quaint and simple to large and luxurious, there's a waterfront home eager and waiting to feel your footsteps.
If beautiful weather, a welcoming suburban town, and waking up to sunshine dancing off the water in your Lake Greenwood home sounds appealing, then stick around to learn more about what life is like when you're living on the lake!
About Lake Greenwood SC
Welcome to our guide on Lake Greenwood.
Here you will learn every detail regarding this wondrous South Carolina gem, and why there is such a high demand for Lake Greenwood real estate.
A Brief History on Lake Greenwood, South Carolina
Built between 1935-1940 in conjunction with the Buzzard's Roost Dam construction, Lake Greenwood SC is a made-made, recreational lake with endless activities.
But aside from just waterfront fun, Lake Greenwood acts as water storage for the Buzzard Roost Dam, which powers many homes in Greenwood county and provides clean drinking water to the communities that border the lake.
Currently, Duke Power is working to renew its license with the Federal Energy Regulatory Commission to continue utilizing this lake as a source of hydroelectric energy and further implement measures to protect the flourishing ecosystem.
Where is Lake Greenwood?
In the northwest portion of upstate South Carolina, located off of the Saluda and Reedy Rivers, Lake Greenwood SC spans between three counties, including:
Newberry
Laurens
Greenwood
The most notable is Greenwood, specifically Ninety Six's historic town, founded nearly 300 years ago in 1730.
Lake Greenwood Size
If you're on the hunt for homes for sale on Lake Greenwood SC, then rest easy knowing you'll never run out of room for yourself and your family to enjoy the many water-based activities popular in this relaxed, waterfront town.
Lake Greenwood is quite large, featuring 212 miles of calm coastline and a massive length of over 20 miles for a total of 11,400 acres of water, a seemingly endless lake haven.
How Deep is Lake Greenwood?
Lake Greenwood, at its deepest point, measures a respectable depth of nearly seventy feet, with an average depth of twenty-two feet.
Lake Greenwood SC Weather
When looking at homes for sale in Lake Greenwood, one of the most notable and well-loved aspects of this area is the overall mild year-round climate.
Summers are, of course, the hottest months, averaging over 83 degrees Fahrenheit, perfect for a refreshing dip in the lake.
For those who enjoy a slight change of season, the winters (end of November to the beginning of March) in Lake Greenwood generally fall below a high of 61 degrees Fahrenheit for a much needed-cool off after a sun-filled summer.
And for moderately lovely spring and fall, you will find yourself relishing the epitome of weather perfection, choosing if you will spend your time boating on the water, golfing at nearby courses, or simply enjoying a morning on the deck of your waterfront property during this prime weather time.
Things to Do In & Around Lake Greenwood SC
There are a plethora of fun things to do both in the water and out. Boating, restaurants, fishing, camping, you name it. Here's how you can stay busy after finding your dream waterfront home on the lake.
Lake Greenwood SC Boating
If you enjoy boating, then there's more than enough water to go around for any water sport activity you can imagine. Many residents of Lake Greenwood spend their free time on their boats, using the 11,400 acres of clean water as a boating playground.
Some of the most popular boating activities in Lake Greenwood SC include:
Wakeboarding
Wakesurfing
Waterskiing
Windsurfing
Fishing
If you're looking for a lively boating community, find your place among the friendly locals in the popular marinas and boating clubs surrounding the lake.
And for the paddling enthusiasts, the mild and crispy mornings/evenings are the perfect time to enjoy a sunrise or a sunset as you cruise along the vast shoreline of this beautiful lake.
Swimming in Lake Greenwood SC
By no means do you have to own a boat to enjoy all that this pristine location has to offer.
A simple jump off the dock and quick refresh are all you need to capitalize on the many benefits of your new waterfront home.
Is Lake Greenwood SC Clean?
Fed by two major rivers, it is well known that Lake Greenwood is extremely clean and thus a safe, great place to swim and enjoy the water.
Does Lake Greenwood SC Have Alligators?
It might be a freshwater lake, but it sure isn't a swamp! Lake Greenwood is known for its alligator-free, clean swimming environment. Alligator sightings are infrequent at best, so families can enjoy the water without worry.
Fishing in Lake Greenwood SC
We mentioned the vast Lake Greenwood size and the 212 miles of shoreline, and when combined with multiple fish species to catch (and plenty of them!), make this a more than ideal location for avid anglers.
For those less experienced, the Fishing Tackle Loaner Program is an excellent way to get the hang of this common community pastime in South Carolina before investing in your own equipment.
Waterfront houses for sale in Lake Greenwood SC often feature special fishing spots of their own, and if you are more inland, you can find a small fishing pier located near shelter #1.
Whether tossing a line from the shore, the pier, or your boat, you're all but guaranteed to reel something in.
What Kind of Fish Are In Lake Greenwood SC?

There exist a wide variety of different kinds of fish to catch in the lake, including:
Largemouth bass
Channel catfish
Flathead catfish
Bluegill
Pumpkinseed sunfish
Black crappie
White crappie
Warmouth
White perch
Yellow perch
Redbreast sunfish
Redear sunfish
Striped bass
Chain pickerel
It's no wonder that this lake is home to multiple fishing competitions, further promoting the desire for Lake Greenwood SC real estate, specifically for avid outdoorsmen/women.
Golf in Lake Greenwood SC
With weather like this and people looking to find a home on Lake Greenwood to retire, golf has taken a prominent seat next to fishing and boating as one of the most common activities in this area.
After all, the weather here caters perfectly to this outdoor activity.
For those who enjoy a pleasant par-3, Par-3 West is a very well taken care of, classic South Carolina course. Should you seek more than a par-3, we highly suggest visiting the Links At Stoney Point Golf Club or calling it your new home course.
For the true golf aficionados, check out the multitudes of available places to play both in and near Lake Greenwood to realize just how endless the greens really are in this alluring area.
Camping in Lake Greenwood SC
Even though you might not ever want to leave your waterfront home, there's a ton of incredible local campsites to spend a night under the stars.
For both primitive tent campers and RV camping alike, Lake Greenwood camping (both on and off the lake) provides excellent nature escapes.
We highly suggest the Lake Greenwood State Park for camping, but that's just one of many other great spots, including:
Hiking in Lake Greenwood SC
Hiking in Lake Greenwood is super mellow and easy, a perfect means to get outside and soak up some fresh air.
The most popular trail is found at Lake Greenwood State Park, a small 0.8-mile loop with views of the water- great for kids, trail running, or those retiring in the area.
For families who seek a little more adventure, the 4.4-mile scenic shoreline trail loop near Ninety Six is guaranteed to satisfy.
Restaurants Near Lake Greenwood SC
Lake Greenwood is famous for dining with a breathtaking view of the water. If you've done enough grilling on your dock for the week or simply need a nice place to go out with family or on a date night, here's a list of our top 5 favorite restaurants on Lake Greenwood SC:
Between affordability, A+ aesthetics, and multiple restaurants to choose from, the dining scene for restaurants on Lake Greenwood SC will forever withstand the test of time, seemingly never getting old.
And that's just the waterfront! There's a whole world of dinding in nearby Ninety Six, so have a blast meandering the historic streets and getting to know the town.
Bird Watching
Grab your binoculars because Lake Greenwood SC (specifically the state park) is home to some fantastic species of birds to watch.
Bird watching is becoming increasingly popular within this area, and it seems pretty clear why considering there are hundreds of bird species to view.
For the entire list of bird species near the lake, visit this webpage, and just imagine coffee on the porch as the sun rises over the lake.
Lake Greenwood Waterpark
There might not be much for waterparks, but how about a jungle float?!
If you need to keep the kids busy for a day while you sip margaritas on the deck of your new waterfront home, look no further than the Lake Greenwood Jungle Float. This mobile (that's right, it can go anywhere on the water) float is a waterpark on the water, featuring Tarzan swings, trampolines, waterslides, and more for hours of smiles under the South Carolina sun.
Other Activities and Attractions
Lake Greenwood doesn't just stop there in terms of fun, exciting things to do to keep you occupied. If you still lust for more and want to learn more about this area by experiencing it first hand, then stay up to date on all sorts of activities and attractions that the community constantly hosts.
Things like the SC Festival of Flowers, the SC Festival of Discovery, and the Catfish Festival are just a few of many family-friendly events to keep you entirely occupied all summer long.
And for attractions that never leave, we highly suggest a visit to the Ninety Six National Historic Site, the Emerald Farms farm, or the Museum and Railroad Historical Center to soak up the rich history (dating back to the American Revolution) of this quaint southern community.
Homes and Land in Lake Greenwood SC
Homes for sale on Lake Greenwood SC are in high demand, and with all the recreation, tight-knit community, and other outstanding accommodations, it's clear to see why.
We mentioned that prices generally range from $294,000 for large townhomes to $675,000 for houses just steps from the lake, with a current average home listing price of about $182,000. Although this is a generally more expensive area in South Carolina to purchase a home, the otherwise low cost of living and free outdoor activities make it a haven for families and retirees alike.
Browse current listings of Lake Greenwood houses for sale, and learn for yourself why this location is the absolute perfect place to call your waterfront home all year round.