The Pros and Cons of Retiring in South Carolina
Posted by Preston Guyton on Wednesday, July 21, 2021 at 5:23 PM
By Preston Guyton / July 21, 2021
Comment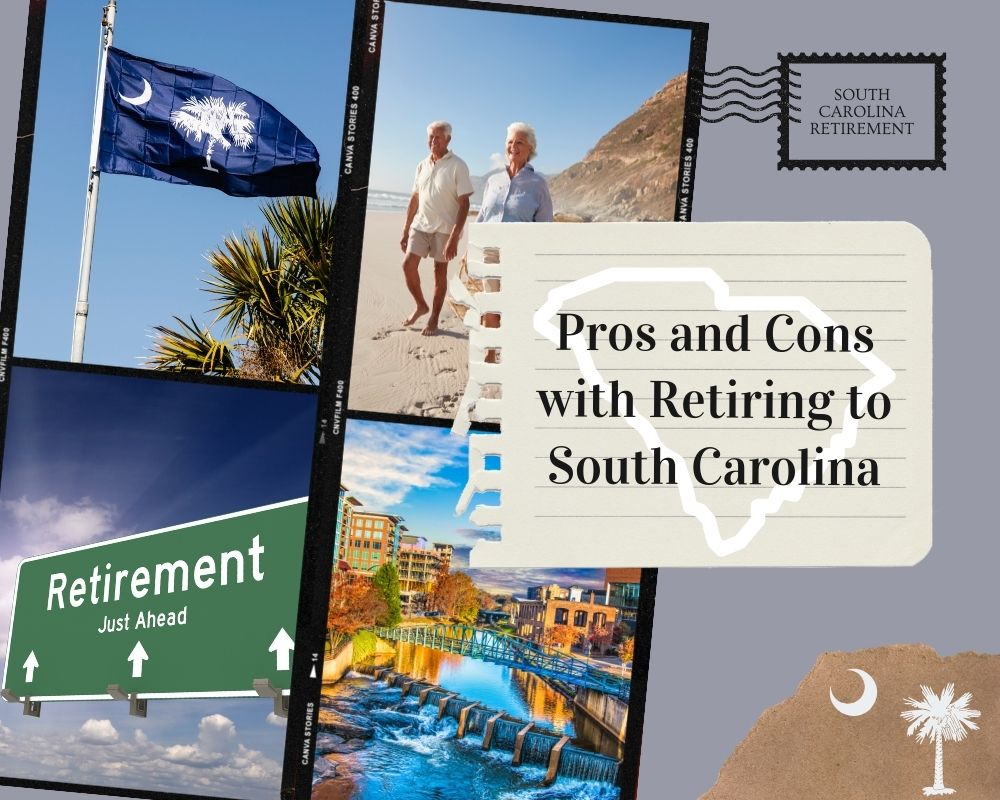 The Pros and Cons of Retiring in South Carolina
Nestled in the Southeast corner of the United States, South Carolina is one of the most charming and welcoming parts of the country. Not only is it famous for its generous Southern hospitality and miles of tranquil coastline; South Carolina is an attractive destination for those looking for a special place to retire.
From the scenic beach towns to peaceful mountain communities, South Carolina offers retirees plenty of alluring perks to enjoy without worrying about requesting time off work! This vibrant array of landscapes provides residents with access to a wealth of vacation resorts and destinations without ever leaving the state!
Starting off with one of the most important perks of living in South Carolina is the inherent, natural beauty that the state has to offer. Forests, mountains, lakes, and the neighboring ocean are all visual reminders that South Carolina is not only a beautiful place to live, but it is also a naturally vast one too. Playing host to this naturally spectacular scenery, South Carolina boasts some of the most magnificent sunsets in the USA that drape around the iconic mountains. The palmetto tree (which gives SC its nickname as the 'palmetto state'), is paved along the renowned coastline, and the state is also home to the 'Angel Oak Tree'. This is one of the oldest living things in the United States at over 400 years old and represents the historical, natural beauty surrounding this part of the world.
Pros of Retiring in South Carolina.
The Great Outdoors
Those already living in South Carolina get to experience the beauty and charm that others fantasize about. With its beautiful, scenic trails, sunny beaches, and historical significance, there is never a dull moment for those who love the outdoors. Making the jump to move to South Carolina will instantly upgrade your quality of life as you will have no shortage of postcard-worthy, natural beauty all around you.
If the coast is calling your name, South Carolina has plenty of beaches that welcome that deep blue, Atlantic Ocean to their shores. Myrtle Beach is a vacation resort in SC known for its golf, entertainment, and boardwalk. Visitors can enjoy attractions such as the Skywheel, Aquarium, or enjoy a sunset stroll along the promenade in the evenings. To experience some Southern historical charm, Charleston is high on the must-visit list. Known for its historic pastel antebellum architecture, horse-drawn carriages and famous cobbled French quarter, Charleston is the jewel of South Carolina. Residents can enjoy attractions such as the Sumter National Monument or the historic Charleston City Market, just to name a few.
Those who wish to stay active can experience an array of scenic hill walks, forest trails, or hikes throughout South Carolina. There are many beautiful waterfalls in the state, such as the Issaqueen falls or the Whitewater falls and some fantastic forests such as the Congaree National Park and the Francis Marion National Forest. If being by water brings you the most joy, there is also an abundance of lakes that look like they have fallen straight out of a movie. Lake Hartwell and Lake Greenwood are examples of lakes designed to be enjoyed by those who call South Carolina home.
Golf is another major attraction to South Carolina. The Harbour Town Golf Links on Hilton Head Island or The Ocean Course on Kiawah Island are two examples of high-end, world-renowned golf courses hailed as some of the best in American golf. Both of these courses continue to host PGA Tour events, with The Ocean Course hosting the Ryder Cup, and PGA Championship.
Healthcare
"Your health is your wealth," as they say, and it could not be further from the truth. Health and wellness rank high on the list of Pros when choosing South Carolina as a home. There are numerous leading healthcare systems throughout the state that concentrate on a wealth of specialists, areas from cardiology to rheumatology.
South Carolina is home to some of the best, world-class hospitals such as the Medical University of South Carolina (MUSC) and the Spartanburg medical center, offering first-class, quality healthcare. South Carolina is an extremely desirable place to live, which also attracts top medical professionals to the area. Having access to medical treatments or wellness checks is an integral part of growing older, so by choosing SC as a place to live means never worrying about receiving important medical care.
Taxes
Taxes are an important part of the retiring process and should be a chore rather than a burden.
Several financial pros come with retiring in South Carolina. Compared to the rest of the country, SC has comparatively low property taxes, and social security benefits are exempt from taxation, offering attractive deductions on retirement income for residents.
Senior homeowners may qualify for a homestead exemption that allows the first $50,000 of a property's fair market value to be excused from local property taxes. This is a fantastic opportunity for those moving to the state to enjoy a relaxed life rather than worry about financial issues.
South Carolina's tax code is great for retirees as there are also some substantial deductions for other kinds of retirement income. Residents can claim a $3,000 deduction if they are under 65 or $15,000 if they are over 65, making it exceptionally welcoming for senior citizens who are receiving income from sources other than social security. Additionally, there are no inheritance or estate taxes which often affect widows and widowers; another benefit when dealing with some of the trickier times that life can bring.
Education
When reaching retiring age, most people already have a first-class degree in life. However, learning never stops. Whether it's years spent in full-time employment or the university of hard knocks, senior citizens do not have to hit pause on knowledge seeking. When life starts to slow down, it doesn't mean the mind has to as well, and with some extra time to enjoy the finer things in life, why not choose education? Or at least have the option…
By choosing South Carolina as the place to live out the golden years, residents over 60 can sign up (on a space-available basis) to any state-funded college tuition-free! Seniors can take any class offered and have access to specialized learning programs, all for just a small registration fee.
Tuition may be waived, but there may be small fees for resources or course materials; however, this is just a small price to pay for valuable learning.
Cons of retiring in South Carolina
Like everything in life, there has to be a balance, and whilst South Carolina has it's many, many Pros, there are also some cons that need to be taken into consideration when moving to this colorful state.
The Weather
South Carolina has beautiful hot summers and mild winters, but the temperature during the summer months can reach well into the 90's throughout July and August. The humid, subtropical climate can be a struggle for those sensitive to the heat. It can make those warm, long days a little uncomfortable.
With humid, sub-tropical weather brings the threat of hurricanes. Embedded along the Eastern seaboard, the state is subjected to at least one hurricane per year. With so many coastal towns, there is a constant threat that some will be hit with some freak weather during the year, bringing power shortages, flooding, and potential evacuations.
The disruption caused by hurricanes such as high winds and structural damage can have a long-term effect on property. Most homeowners in the Carolinas opt to incorporate wind damage into their homeowners' insurance. Flood insurance is a separate cost, depending on what flood zone your property falls in the cost of flood insurance will vary.
Major weather events are part and parcel of living so close to the coast…its no surprise the local hockey team is aptly named 'The Hurricanes!'
House Prices
Although South Carolina has some of the lowest property taxes in the US, those toying with the idea of coastal property in a popular city will need to dig deep into their pockets. Of course, there are plenty of options for housing, whatever the budget, but to live close to places like Myrtle Beach or Charleston will naturally hold a higher price tag. There are many communities and neighborhoods to suit every need, but location pricing is definitely something to take into consideration when planning the big move.
Wildlife
Each part of the country has its own story to tell when it comes to scary encounters with local wildlife. From rattlesnakes in the deserts of Arizona to moose running wild in Alaska, the US is home to some fascinating creatures. South Carolina is no different! Mosquito invasions and alligators infiltrating residential backyards are just a few examples of creepy critters to watch out for. Of course, the beautiful scenery definitely outweighs the risk of non-human encounters, but having a good knowledge of local wildlife will help along your journey when relocating to South Carolina.
Retiring in South Carolina: Conclusion
It is safe to say that the pros of retiring in South Carolina outweigh the cons. The charming, coastal cities saturated in history cannot be replicated, and the financial perks that senior citizens receive are remarkable. Other areas of interest to note when thinking about moving to SC is the state's rich culinary reputation for not only seafood, but for good old-fashioned Southern comfort food.
Together with its Southern hospitality makes South Carolina an extremely appealing place to live out those later years. Whether it's tree-lined streets filled with boutiques and eateries or world-class golf resorts, the 'Palmetto state' appears to have it all. It seems as though South Carolina has its arms wide open for those willing to relocate.