The Five Best Dog Parks in Wilmington, NC
Posted by Preston Guyton on Friday, June 25, 2021 at 5:41 AM
By Preston Guyton / June 25, 2021
Comment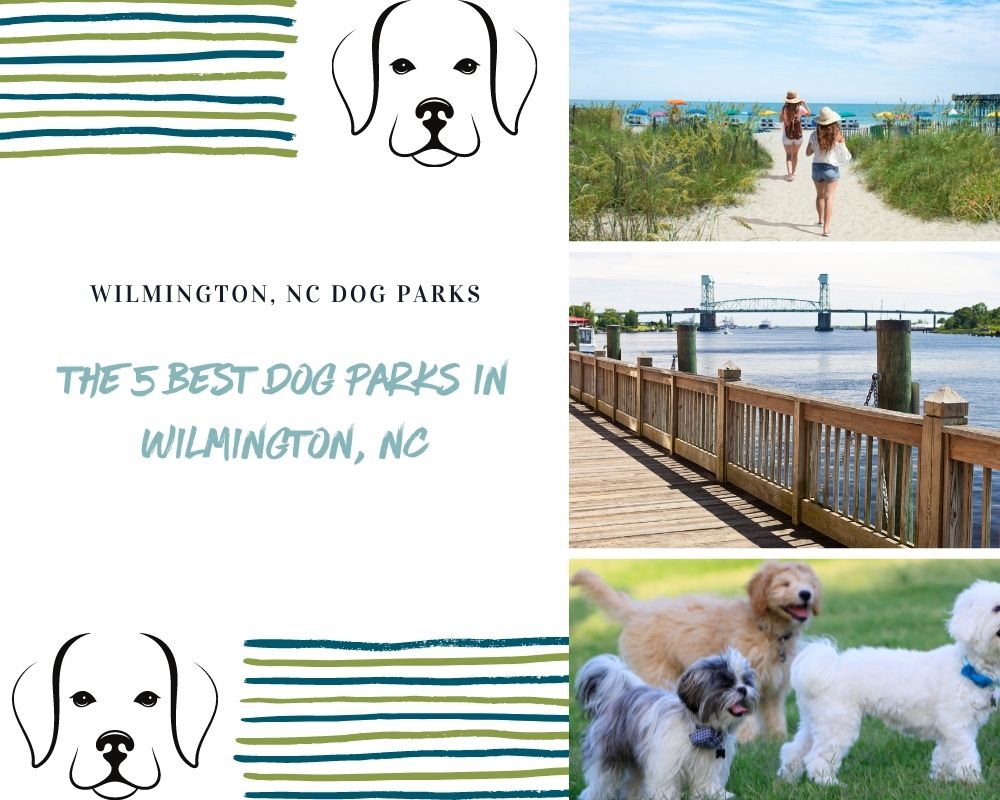 The 5 Best Dog Parks in Wilmington, NC
Are you looking to set your beloved pup on an adventure through some of the best dog parks in Wilmington, North Carolina? For a small city, Wilmington has plenty of nice options for dogs to roam around freely with their owners. With the cooler temperatures present here, it's the perfect place to go for a walk with your dog or to take them on a playdate. If you're not too sure where the best dog parks are, here are just a few places that your dog shouldn't miss out on.
1. Ogden Dog Park
Located at 615 Ogden Park Drive in Wilmington, Ogden Dog Park offers two fenced areas where small dogs are separated from big dogs. Many residents love this park for this safety feature, ensuring that your little pup is safe, even if he thinks he's one of the big boys. Ogden Park also has fresh water and shade, making it a suitable option for hot summer days.
It also provides owners and their fur babies with three picnic shelters, a playground, restrooms, and a one-mile paved walking trail along with an outdoor special event rental space and an exercise station. If you want to get some exercise too, there are athletic facilities available here, such as:
Nine tennis courts
Three soccer/football fields
Three baseball fields
A full-size basketball court
One softball field
A youth football stadium
All of these facilities are equipped with lights, while you can also enjoy a state-of-the-art 10,000 sq. foot concrete skate park complete with rails, steps, and a skate bowl. The park is open from 8:00 AM to 10:00 PM while the skate park is open from 8:00 AM until sunset.
2. Long Leaf Park
Another local favorite, Long Leaf Park was previously known as Hugh McRae Park and is located in New Hanover County, just a brief drive from UNCW and the historic downtown. It's easily accessible located at 314 Pine Grove Drive, offering plenty of natural pine straw spread out around the play areas, offering a lot of shade. There are also two separate areas for small and large dogs, along with freshwater to keep your pups hydrated.
Long Leaf Park offers visitors six picnic shelters that can be used for reunions and picnics. There's also a gorgeous garden space with a gazebo and a pond that can be reserved for outdoor special events, wedding ceremonies, photos, or other activities. Some of the athletic facilities found here include:
Four lighted tennis courts
Four Little League baseball fields with lights
A full-size basketball court with lights
A sand volleyball court
This off-leash dog park also has an exercise station, an equestrian ring, a fully accessible playground, a splash pad, and a 1.55 mile paved walking trail. Its open hours are between 8:00 AM to 10:00 PM, so be sure to come early for healthy doses of vitamin D.
3. Empie Dog Park
Empie Dog Park is located in the heart of midtown and is spread over two acres on the corner of Independence and Park Ave, at 3405 Park Ave in Wilmington. It is the city's first functional off-leash dog park and has two separate areas for small dogs and big dogs. Because of its convenient location, many locals and visitors love this great park.
Furthermore, there's plenty of shade here, along with a freshwater station and conveniently located bags for proper waste disposal. Numerous benches are also located here, where you can sit and watch as your pooch plays with others. Lastly, the big dog section has a new gazebo for more shade and is also handicap accessible.
4. Halyburton Park
Located at 4099 17th St in Wilmington, Halyburton Park may not offer a fenced area for off-leash play, but it's still worth a visit. This park has a 1.3 mile shaded nature trail that both owners and their four-legged pals will enjoy. Halyburton Park also provides a freshwater fountain to keep your precious dogs hydrated through your activities.
This memorial park also contains a 58-acre nature preserve, playground equipment, and picnic shelters that you can use for various kinds of gatherings. Furthermore, it is home to unique events and an environmental education center where both locals and visitors can learn more about this beautiful outdoor area. The park also offers a wide array of fitness classes and special events, all of which have a schedule of programs on their website.
5. Greenfield Lake Park and Gardens
Greenfield Park consists of 250 acres of land and is one of the best places in the city for outside activities. Located at 1739 Burnett Boulevard and situated next to Greenfield Lake, this park features boat rentals, an outdoor amphitheater, and a stunning five-mile walking trail that winds through beautiful gardens. This trail is an excellent place for walking the pup while taking in the sights and sounds that this gorgeous lake has to offer.
Furthermore, this park is full of other biking and walking trails that you can enjoy, while blooming azaleas add a touch of a sweet aroma to the air. The park has full amenities including restroom facilities, age and ability-specific playgrounds, water fountains, grills, picnic shelters, and an accessible fishing dock. It also features other facilities for outdoor activities such as the Greenfield Grind Skate Park and two unlit tennis courts. As such, Greenfield Park is one of the best places to spend any day of the year with your family and canine family members.
Dog Park Rules in Wilmington
As a responsible dog lover and owner, you need to know the specific rules that apply around the various parks found within the City of Wilmington. These are also great rules to keep in mind should you visit other places with your dog to ensure the enjoyment and safety of all pups and their owners.
Children under the age of 12 aren't permitted to enter the dog park.
Be sure to clean up after your dog.
All dogs must have a current license and current vaccinations.
Dogs that behave in an aggressive manner need to be muzzled or removed.
Dominant behavior such as persistent mounting isn't allowed inside.
Owners must be responsible for any injury inflicted by their dogs.
Food and toys aren't allowed inside the dog park.
Active supervision of your dogs is required at all times.
Owners must not leave their dogs unattended.
Dogs must always be on a leash when entering or leaving the dog park.
Female dogs in heat aren't allowed inside the park.
Puppies which are less than four months of age aren't allowed in the park.
Ball playing, running, and riding a bike should be carefully observed.
Because dogs are social animals, being around other dogs can be a happy and exhilarating experience for them. While you might think that they'll simply play the whole time, dogs can find various things to do such as sniffing the trees, the ground, and other dogs. It is for this reason that we need to be responsible dog parents and always keep an eye on them to ensure that they will always enjoy and love going to dog parks.
First Time Lessons for Dog Owners
First-time dog owners may find it overwhelming to take your pup to the park for the first time. Apart from the fact that there are plenty of parks to choose from, we aren't always sure if a particular park will be a safe choice for our dogs. If your dog has never experienced going to a dog park yet, know that it's completely normal for them to be a little nervous at first, and some may try to stay by your side.
If this happens, try not to pick them up. However, if you've noticed that your dog is aggressive, it's imperative that you don't bring them to a dog park. It wouldn't be fair to other dog owners and may cause big problems to other dogs in the park. If it is your first time bringing your dog to the park, make sure that they stay close to you and that you watch their behavior.
Conclusion
Walking with your dog should be a great experience, and this can be achieved by looking for some of the best dog parks that Wilmington has to offer. Any of the choices above are worth the visit, and your dog might just fall in love with the great environment they have to offer while making new friends. Furthermore, owners will also enjoy their visit, as many of these choices also have plenty of other outdoor activities to enjoy. So, if you're new to Wilmington and are looking for a park to enjoy with your four-legged buddy, be sure to check out the excellent choices above.