The Best Golf Course Communities in Myrtle Beach, SC
Posted by Preston Guyton on Friday, April 30, 2021 at 1:54 PM
By Preston Guyton / April 30, 2021
Comment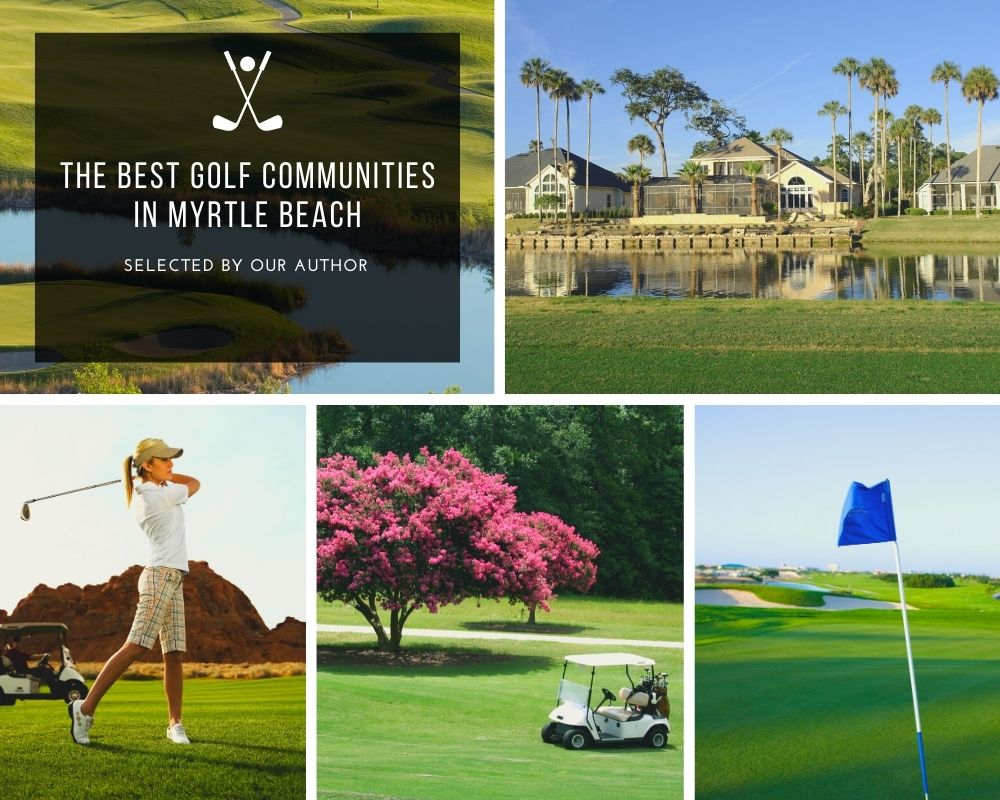 The Best Golf Course Communities in Myrtle Beach
Myrtle Beach is one of the premier places to live in South Carolina, where 60 miles of beautiful coastline provides refuge from the hustle and bustle of the city. Here, you can discover breathtaking views as the sun rises over the Atlantic Ocean and savor the warmth and generosity from its Southern residents. However, these aren't the only things you can look forward to in Myrtle Beach. With plenty of country clubs to choose from, we've put together the ultimate list of the Best Golf Course Communities in Myrtle Beach, all of which offer prestigious neighborhoods for you to choose from.
DeBordieu Club
At the DeBordieu Club, you can expect to see world-class amenities amidst your coastal retreat, made exclusively for you. The community combines a never-ending stretch of sandy beaches, quiet marshes, tennis courts, and golf courses that makes this an extraordinary place of rest and play. You can expect to land a piece of this paradise for yourself for $500,000-$4,000,000 based on the sales from October 2020 to May 2021.
The Club itself features an 18-hole championship golf course brought to life by P.B. and Pete Dye. It has been designed to be enjoyed by golfers of all levels and has consistently ranked within the top private golf clubs in the state. Initially opened in 1987, the whole golf course was resurfaced in the summer of 2014 which was supervised by P.B. Dye himself. Other additions include Celebration Bermuda in the roughs and fairways, MiniVerde Bermuda greens, brand new tee complexes, and fresh sand in the bunkers.
Throughout the years, DeBordieu Club has become host to several regional championships such as the Carolinas Mid-Amateur, Carolinas Senior Amateur, Men's State Amateur, Women's State Amateur, U.S. Junior Amateur Qualifying, U.S. Open local Qualifying, and the U.S. 4-Ball Qualifying. According to golfers who've had the pleasure of playing in this excellent golf course, it has garnered an average rating of 4.8 out of 5 stars — a true testament to the finesse that went into its design.
Pawleys Plantation
This gem is a cut above the rest — set in the coastal region of South Carolina, Pawleys Plantation is enveloped in moss-draped oaks that are easily 200 years old. A calm, yet homey environment creates the perfect setting for all kinds of events such as family vacations, business retreats, or a quick golf getaway. Guests of this club can choose from one- to four-bedroom villas, where you can enjoy views of the golf course. However, you can also find your own home for prices between $250,000 to $1,000,000 based on the active and sold properties recently.
Pawleys Plantation is part of the Prime Times Founders Collection, an exclusive group of courses along with 21 others, all of which represent the best that Myrtle Beach has to offer. It all started in 1988 when Jack Nicklaus went to work meticulously designing this Lowcountry course, where golfers will need to play multiple times and will never get the opportunity to have the same shot again. This is because he cleverly placed unique obstacles, sand bunkers, and water-bordered fairways that creep ever-closely to the Bermuda grass greens. The challenges this course presents have easily given it a rating of 4.5 out of 5 stars according to the many golfers that have played here.
Willbrook Plantation
This golf community lies in Pawleys Island, South Carolina where the cool breeze makes its way through a century-old forest and the city meets nature. Inside this gated community are the Willbrook and Litchfield rice plantations, along with beautiful ponds, willow trees, and charming wildlife. Because the area has kept close to its original state, residents can appreciate the beauty of its past life as a plantation site. Using the last 6 months data, owning a house on the Willbrook Plantation will set you back $350,000 to $900,000 depending on what you're looking for.
Its golf course was designed by Dan Maples and consistently provides players of all levels a challenge since it is also a part of the Waccamaw Golf Trail. As such, the course has been consistently rated as one of the top golf courses in Myrtle Beach and has established its reputation as one of the most popular courses for women in South Carolina. It winds through the plantations and through 18 holes where you'll find low country marshes, natural grass, and peaceful wetlands. It's because of these features that the Willbrook Plantation has received a consistent rating of 4.5 out of 5 stars from all who get to experience its beauty.
Litchfield Country Club
Litchfield Plantation is a centrally located island community that's within reach of Georgetown Harbor, Brookgreen Gardens, and Huntington Beach State Park. It's also just minutes away from shopping spots, beaches, and restaurants on Pawleys Island. Those who are lucky enough to be homeowners in this area enjoy amenities such as a tennis club, a golf course, a pool, and a plantation-style clubhouse. However, the amenities can only be accessed if you have a membership, which is also optional. Homes around this area are priced between $300,000 to $849,900.
The country club is a famed member of the Waccamaw Golf Trail. It first opened in 1966, yet its continued popularity has helped it last through the years. This is attributed to Willard Byrd's design, which isn't just well-rounded but has been designed specifically for more precise play, measuring in at less than 6,700 yards. It has been this way for the past 50 years. As such, this course is highly regarded by both seniors and women, but it is still just as popular with everyone else. Plenty of people have come here to play, and none have been disappointed which is reflected in its constant score of 4.5 out of 5-star rating.
Heritage Plantation
This gated community is located between the stunning beaches of Pawleys Island and the Waccamaw River. Heritage Plantation is surrounded by long-lived oaks, marshes, and freshwater lakes, with 500 custom homes all waiting for you. Apart from boating, you can also look forward to the award-winning golf course inside the community, as well as a pool, four tennis courts, and the owners' clubhouse. Sitting less than three miles from the nearest beach, this area offers nature in all its glory. If you're looking for a home in Heritage Plantation, properties here can cost around $325,000 to over one million, depending on what you're looking for.
Designed by Dan Maples, the Heritage Club was built alongside the Waccamaw River Trail and features 600 acres of huge magnolias, transforming it into a golfer's dream. Because of this, Golf Digest has ranked as one of the "50 Best Public Courses in America." It has been designed to follow the land's natural contours while boasting its spacious fairways and huge greens embraced by the bountiful camellias, azaleas, and myrtle. It's also been heavily landscaped to incorporate flowering shrubs and wildflowers to ensure that its beauty will also be present for future players. Its nearly 5-star rating of 4.9 out of 5 is all it takes to prove just how near-perfect this course is.
The Reserve
The Reserve is an exclusive and gated community in Litchfield which offers wet boat and dry dock storage and an access point to the Waccamaw River. Homesites in this area can span between half an acre to 5+ acres, some of which have golf views. Some of the amenities that residents can enjoy include a pool, tennis courts, clubhouse, and other places for recreation. While golf cottages are available through the Huntington Mews Villas and Harbor Club Villas, you can have your own home here from $420,000 to a couple of million for waterfront property.
Known as the fifth-best course along the Grand Strand, the Reserve's Golf course was designed by Greg Norman as a formidable test for every skill level. This 7,200 yard, par 72 tract offers a fast and fun run, along with obstacles in the way. As a result, players and evaluators around the country drop by and also see a pleasant surprise in the course's design which uniquely captures the natural, low-country wetlands. It makes use of the 160 acres of natural wetlands, while it also welcomes you to cross its lovely wooden bridges. With a course that was inspired by nature itself, it has a 4-star rating, making it easy to come back for more.
Wachesaw Plantation
The Wachesaw Plantation is located in the same area as 18th-century rise plantations. This gated community includes 700 acres of land and is covered by moss-draped oaks, while homes are placed to overlook the Waccamaw River, giving it an old, yet familiar setting. It offers visitors an 18th century-style clubhouse for relaxation, along with locker rooms, a tavern, and a golf shop. There are also tennis courts and a swimming pool to elevate your country club lifestyle. Homes and condos can be found here for an average price of $250,000, but they can cost as high as $2,000,000.
The mastermind behind Wachesaw is Tom Fazio, who opted to take advantage of the area's natural beauty by combining it with components you won't usually find in South Carolina. You'll encounter surprising rolling fairways which have been designed to run through the giant oaks, carefully laid out through the course. It provides a challenging, yet memorable experience for golfers of all skill levels, thus leading Golfweek and Golf Digest to recognize it in their list of "Top 100 Residential Golf Courses in America." It's also just as popular with players, getting constant ratings of 4.6 out of 5 stars for its beauty and lasting impression.
Wachesaw East
Located in Murrells Inlet, Wachesaw East came into the scene in 2002, making it a relatively new community, but it offers plenty of excitement for residents and golfers alike. It also hosts less expensive homes, with properties ranging between $200,000 to $500,000 for large homes with great views. It also offers a large lake, a modern landscape, and walking trails for those with fitness in mind. While the amenities are on a membership basis, these are some of the most luxurious around, while keeping the HOA fees affordable.
Wachesaw East was also named the Myrtle Beach Golf Course of the Year the Myrtle Beach Golf Course Owners Association in 2007. Furthermore, it's also received many honors for its customer service, playability, and fairways. Designed by Clyde Johnston, it uses five sets of tees and will take you anywhere between 4,995 to 6,933 yards. Players often reward this course with high praises; many give it a rating of 4.4 stars.
Prince Creek - TPC of Myrtle Beach
Prince Creek is the kind of place where you go straight to breakfast or lunch after the game, where Grille offers gorgeous views of the 18th green. TPC Grille also has a bar inside the restaurant to provide all your favorite drinks. The area of Prince Creek is also home to the prestigious Dustin Johnson Golf School, where students can enjoy a professional, yet luxurious layout of TPC Myrtle Beach, for a truly memorable learning experience. Buying a home in Prince Creek costs between $225,000 to $1,000,000, which will provide you with a piece of this beach haven.
Once the host of the Senior PGA Tour Championship, TPC Myrtle Beach became witness to Hall-of-Famer Tom Watson's triumph and is the only golf course in the entire Grand Strand area to ever receive a 5-star rating from Golf Digest magazine. This near-perfect course was designed by none other than Tom Fazio, a world-class architect of golf courses. He has designed 120 courses, many of which rank in the top 100 golf courses around the country. As such, Fazio has earned numerous awards from Golf Digest, the Golf Course Superintendents Association of America, and more. This course is no doubt another hit and has been highly rated among players, with a score of 4.5 stars.
Blackmoor
Blackmoor isn't just famous for its golf course — it's also known for its stunning community inside Murrells Inlet. With homes dedicated to quality construction, it is currently one of the most popular destinations in the area. Another plus to living in the Blackmoor area is that homes range from 1600 up to 4000 square feet, providing families with ample living space. These homes are also well spread: from the golf course to the lake inside this community. Of course, there's also a beautiful clubhouse just a few minutes away from these houses, so you can enjoy an exclusive swimming pool. Homes can range from $250,000 for a 3-bedroom house, or up to $300,000 to $430,000 for a 4- or 5-bedroom house.
Gary Player designed the Blackmoor Golf Club and opened it in 1990, but he never would've guessed how much of an impact it would have through its three decades of service. Its design begs players to use their imagination and even crosses the boundary of tradition sometimes. Those who have experienced playing in this 18-hole gem are often left in awe of its great beauty and character. For years, it has remained to be one of the most player-friendly golf courses on the Grand Strand. A rating of 4 out of 5 stars reflects all that it has to offer.
Prestwick Country Club
Known as one of the best mixed-interest recreational communities within Myrtle Beach, the Prestwick area supports both excellent tennis facilities and a lavish golf course. The community is also fully gated, has 24-hour security, and offers beautiful condos and homes located in or near the Prestwick Golf Course. Condos can cost around $200,000 while houses can range between $250,000 to $500,000 or more.
The distinguished Prestwick Country Club is nestled right in the heart of the Myrtle Beach area, and while it feels and looks like a private club, it's actually available to the public. Designed by P.B. & Pete Dye, this course has some of the most beautifully-sculptured holes anywhere in the state. This gorgeous Par 72 plays for more than 7000 yards and has six sets of tees to challenge every golfer's level. With a rating of 4.6 stars, it is a strong competitor for those wanting a challenge.
Legends Golf - Heathland, Parkland, Moorland
Designed by Tom Doak, the Heathland course pays tribute to "Old Country" golfing traditions. Having been molded after the British Isles links courses, it has holes like that of St. Andrews, Lahinch, and Cruden Bay. Because the holes don't have high vegetation, the course provides an incomparable visual presentation unlike others in the area. Challenges present themselves in the form of deep rough bordering all fairways along with bunkers placed strategically. Furthermore, its greenside bunkers run deep and will need an imaginative mind to escape from them.
Alongside the Moorland and Heathland courses, Parkland has also established itself among the top courses found in Myrtle Beach. It offers a distinct contrast to the other two Legends courses, as it showcases the beauty and diversity of its natural surroundings, making use of vast natural areas, tree-lined fairways, huge, multi-level greens, as well as deep-faced bunkers. It was designed by architects Alister MacKenzie, and George Thomas and was opened in October 1992.
Moorland is considered to be a par 72 triumph and one of the hardest courses found on the East Coast. Created by celebrated golf architect P. B. Dye, Moorland opened in 1990, highlighting its vast expanses of growth, water, sand, and waste areas combined with bulkheads and undulations to present you with a course that's similar to the PGA West Stadium Course. With a rating of 4.5 stars each, any of these golf courses is sure to give you a good thrill. Homes in the Legends will cost anywhere between $300,000 to $600,000.
Pine Lakes
The Pine Lakes Country Club has been a favorite among golfers in the Myrtle Beach area since 1927 — for good reason. Designed by Robert White, Pine Lakes has been able to transcend through time and become new again after an extensive renovation was given to both the course itself and the clubhouse. Today, golfers can experience this course in the same way as it was back in the 1920s. While the front nine has been renovated to improve the experience, the back nine has stayed true to its original design, making it a unique feature throughout the course, which is reflected in the 4.5-star rating it currently holds.
The area of Pine Lakes is a historic, stunning, and high-class neighborhood. Just as its name suggests, the community of Pine Lakes is surrounded by lush and large pine trees, along with homes in shady lots. Utilizing the refined Southern architecture, the Clubhouse instantly paints the deep-rooted tradition and history of the Grand Strand. This community provides residents a refuge away from the big city lights while keeping them just minutes away from the gorgeous Atlantic Ocean. Furthermore, its quaint neighborhood is close to dining, shopping, and other attractions. To get your own piece of Pine Lakes, you can expect to invest anywhere between $250,000 to $1,175,000.
Wild Wing Plantation
The Wild Wing Plantation is an upscale, yet secluded retreat that offers its residents spectacular homes and 5-star amenities. Your home would only be minutes away from restaurants, shopping, and the ocean. Situated on the legendary Wild Wing Golf Course, this strategically located community is within reach of Myrtle Beach's best dining, shopping, attractions, and entertainment experiences. You can hook an energy-efficient, smart home with three bedrooms starting at around $300,000 - $700,000.
If you're looking for a great day on the greens, the Wild Wing Golf Club is sure to give you a great experience. With two courses to give you a memorable day, you can start at the Avocet course which was designed by Jeff Brauer and Larry Nelson, a must-play in the Grand Strand. On the other hand, the recently renovated Hummingbird Nine is also quickly establishing its name among the great courses on the Grand Strand. The Wild Wing Plantation currently has a rating of 4.5 out of 5 stars.
The Dunes Club
The Dunes Club community carries plenty of lavish and luxurious homes, most will start around $500,000, but there are also multi-million dollar houses up for grabs, if you're interested. The neighborhood is reserved for the highly wealthy and is well suited for those who demand privacy and prestige from one area. However, most homes will need to be scheduled for an appointment before you can see it, so be sure to call well in advance should you find a home with your name on it.
However, the homes aren't the only thing to love about this community. In 1948, the Dunes Golf and Beach Club was designed by Robert Trent Jones, one of the greatest golf course designers to ever grace the earth. After seven decades of play, this golf course has played host to plenty of events such as Collegiate, State, National, PGA Tours, USGA Championships, and more. While the course has seen minor renovations over the years, it has essentially kept its original design. With a rating of 4.4 stars, it is worth your time to get on the green.
Grande Dunes
Providing the Grande Dunes Resort Club is the Roger Rulewich Group, which purposely designed this course to be positioned high up to deliver stunning views of the Intracoastal Waterway, the Marina Inn at Grande Dunes, and the Grande Dunes Marina. This golf course is also known for its large Bermuda grass fairways, along with modestly contoured greens covered with Champion Bermuda. This golf club has steadily grown its accolades in recent years, including "National Golf Course of the Year" from the National Golf Course Owners Association of America in 2009 in recognition of this spectacular 18-hole golf course. With a score of 4.5 stars, this is a gem not to miss.
When you're finished with your session, members and visitors alike can hang out by the Mediterranean-styled clubhouse, where you will find amenities such as lockers for men and women, dining and pub areas, a full-service golf shop, and a veranda that looks into the 18th green. It's also hard to miss the gorgeous homes throughout the neighborhood since most homes just exude luxury and prestige. No other community in the Grand Strand even comes close, and as such, housing costs are also up high. You can expect homes here to range from $350,000 in some of the Grande Dunes neighborhoods and get as high as $3,000,000 in the most exclusive communities.
Tidewater Plantation
Sitting right in between Cherry Grove and the Intracoastal Waterway, the famous Tidewater Golf Club provides a marriage of challenging play and natural beauty, thanks to architect Ken Tomlinson. In this design, he expertly brings out the majesty of this top venue whilst delivering an experience that you simply can't miss. When creating Tidewater, Tomlinson drew inspiration from some of the best courses around the world, taking apart venues such as Pine Valley and Merion. He wanted to honor the tradition of incorporating a layout that works with the natural landscape and vehemently refused to use any artificial elements. By doing so, he was able to achieve what many fail to: a course that guarantees a great experience every time, which is seen from its current rating of 4.5 stars.
The properties outside are equally as ravishing, as residents are constantly surrounded by a wide variety of social and recreational amenities. The community boasts a fitness and exercise center, five pools, tennis courts, a restaurant, an amenity center, and a beach house cabana. Furthermore, its roadways are designed for walking, jogging, and bicycling, so you can always enjoy the view of the stunning vistas, as well as the boats on the waterway. To get your own piece of Tidewater, you can expect to see homes around the $250,000 to $1,000,000 price range.
Barefoot Resort
The Barefoot Resort is home to the most celebrated multi-course golf resort in the whole Myrtle Beach area. Designed by architects and hall of fame players Davis Love III, Greg Norman, Pete Dye, and Tom Fazio, they have perfected the setting for some of the best golf layouts on the east coast. Each designer also contributed a visually striking and unique course, all of which have been ranked by all of the major golf publications. As a group, they were able to snag titles such as the "Golf Course of the Year" and the number one "Top 50 Courses of Myrtle Beach." This success can also be seen from reviews by players themselves, and have deemed that the Barefoot Resort Golf Club should be given a rating of 4.6 out of 5 stars.
Houses in Barefoot range from $250,000 to over a million in the exclusive Dye Estate community. This area offers a sanctuary away from the bright lights and noisy traffic of the city and brings you inside a neighborhood of pristine wetlands, and lakes so pure, you can only dream of it.
The Surf Club
After having a shared vision, friends Roy Harrelson and Tom Roberts contacted Charlie Tilghman. It wasn't soon after that they also brought Bill Hussey into the mix, and all drove to the proposed development. George Cobb, a visionary golf architect, was hired on August 15, 1959, to breathe life into the Surf Golf and Beach Club. The group then hired more citizens to join the project, and on July 20, 1959, a formal declaration of incorporation was achieved. The next year, the course opened for play and in 1992, John LaFoy had renovated the course. Today, it currently holds an approval rating of 4.7 stars, making it a must-play course.
Outside, the community of Surf Club awaits, where there's no place better to enjoy the good life that South Carolina living has to offer. With its new luxury homes, the Surf Club is one of the more desirable places to live within the city of Myrtle Beach, especially inside the highly coveted Cherry Grove section. Because it's less than a mile from the beach, it is accessible to all your essentials such as dining, shopping, golf, and other amenities. Most homes here also feature 2,000 up to 6,000 square feet, homes with golf or lake views, granite countertops, stainless steel appliances, and more.
Shaftesbury Glen
Because Conway is only minutes away from all the fun — the theaters, beaches, shopping, and dining experiences — people are naturally drawn to this area. The town also offers a bakery and local restaurants for you to explore, as well as various retail options. If you're looking for housing options, there's no shortage here as Shaftesbury has five floor plans for you to choose from, with prices starting from $245,000 up to $350,000 depending on your preferred size and options. You'll be fascinated with the features of these luxury houses, ranging from granite countertops, recessed lighting, vaulted ceilings, and more.
When you feel like having a session, head over to Shaftesbury Glen Golf & Fish Club in Conway to experience a traditional English-style golf course brought to life by Clyde Johnston. This course not only brings the beauty and drama of a national championship venue but also gets you acquainted with the origins of golf through the Shaftesbury Glen English manor clubhouse, so be sure to pay a visit. There's also a bar, restaurant, and pro shop here, which is why it gets a score of 4.5 from those who've had the chance to visit this top golf course.
View all the Available Golf Course Homes in Myrtle Beach