The Best Dog Friendly Restaurants in Greenville, SC
Posted by Preston Guyton on Wednesday, July 14, 2021 at 4:39 AM
By Preston Guyton / July 14, 2021
Comment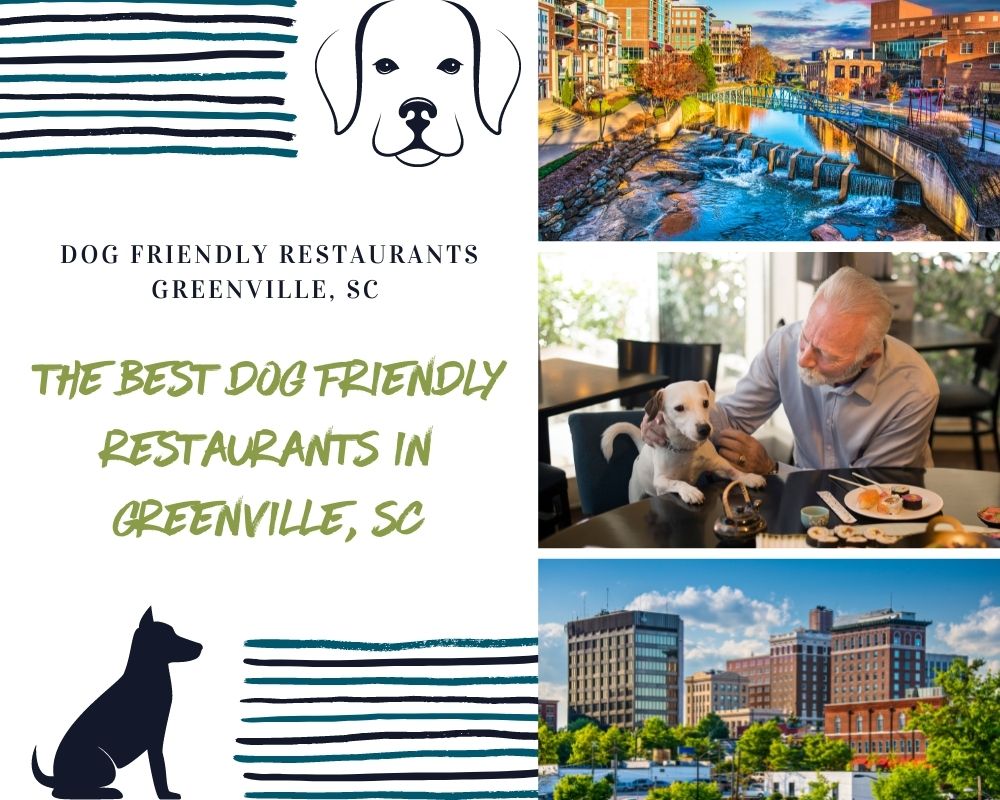 The Best Dog-Friendly Restaurants in Greenville, SC
Greenville may look like your run-of-the-mill city at first, but don't be fooled — this fun and vibrant town offers plenty of things to do for humans and their canine companions. With a wide range of cuisines and restaurants to choose from, Greenville offers some of the best dog-friendly dining options in South Carolina. In this article, we'll take you through the best places to grab a bite or drink you can enjoy with your much-loved pets.
Dog-Friendly Restaurants
Here are some of the top picks in Greenville, SC when it comes to dining out with your puppy dates:
The Nose Dive
This modern gastropub sits along Greenville's Main Street and offers several outdoor tables for you and your pups to enjoy. There's plenty of room for everyone at The Nose Dive, and the wide open space makes it a favorite for families and all kinds of pet-loving people. Waiters serve your dogs water throughout your stay, making sure they are comfortable and never go thirsty.
This restaurant features a good selection of wine, cocktails, and local craft beers, as well as some crowd-favorite comfort food and entrees with a Southern twist. The Nose Dive serves lunch, dinner, and weekend brunches. They also offer a special menu just for your pets, including beef, salmon, chicken, eggs, and even beer for dogs!
The Nose Dive has private and semi-private event spaces — perfect for all your entertainment needs. Many patrons also appreciate the warm neighborhood feel of the restaurant and its amazing customer service. The Nose Dive is open Mondays to Fridays, from 11 a.m. until closing, and Saturdays, from 10 a.m. until closing.
Mac's Speed Shop
Mac's Speed Shop is known for great service, its convenient location, as well as their excellent food and beer selection. It has a wonderful outdoor space featuring a heated patio and TVs for your sports-viewing pleasure. The outdoor area also allows your canine friends to tag along — and they'll even be served with fresh water and complimentary treats!
This place is a favorite among locals thanks to their daily drink specials, which include wine and local craft beer. Furthermore, they have an extensive liquor menu that specializes in bourbon, cocktails, and whisky, so you have plenty to choose from. They also have more than 100 bottled and canned options, and 50 draft beers that are updated daily to keep options fresh.
Mac's Speed Shop's menu consists of sports bar staples like brisket, BBQ chicken, and other finger foods. You'll also see elevated versions of classic comfort foods, such as mac 'n' cheese. This restaurant makes everything from scratch every day, including their dressings and BBQ sauces.
Willy Taco Feed & Seed
At Willy Taco, you can munch on the best tacos in town while spending time with your beloved pups, provided that they're on a leash. You'll find this restaurant has plenty of space for humans and their dogs since there are both indoor and outdoor spaces for pets. The friendly staff won't just provide you with margaritas and tacos, but they will also give your pooch a nice bowl of water to sip on.
Willy Taco Feed & Seed features a menu that consists of burritos, tortas, nachos, and quesadillas. It all started when the owners of Willy Taco decided to throw out boring, browning guacamole and were inspired to swap them out for fresh flavors that combined like a fiesta in people's mouths. Next, they had the idea to work with an organization that shared their love for local produce and local food.
As a result, Willy Taco formed an alliance with the Feed & Seed to create a unique restaurant in South Carolina. Both companies have been around South Carolina long enough to know just what people want and have even reached other parts of the state.
They have since formed a great duo — one where Willy Taco works their way around the kitchen and serves up drinks at the bar, while Feed & Seed provides fresh produce and a wide range of ingredients. But, no matter where you choose to dine in Greenville, you can be sure that Willy Taco Feed & Seed is the place to get your Mexican food fix. This restaurant is open Tuesdays to Sundays and serves lunch, dinner, and weekend brunches.
Smoke on the Water
This great spot offers amazing food and customer service, along with a comfortable outdoor setting. Pups and their owners are more than welcome to dine al fresco while the staff greet all dogs with a bowl full of water to keep them hydrated. Due to its popularity, diners are encouraged to arrive early to secure a spot. The outdoor patio quickly fills up, especially during peak hours.
Located next to Falls Park in downtown Greenville's Reedy River, Smoke on the Water is a family and dog-friendly barbeque restaurant and tavern have a lot to offer to each customer. Their menu features a wide selection of hearty food, including classics like baby back ribs, pulled pork, burgers, fried catfish, and oyster po'boys. This restaurant also offers private label wines by Walter Schug to ensure that every guests' dining experience is one to remember.
Smoke on the Water began operating in 2004 when owners Mike Shuler, Hurdle Lea, and Chicken Lea came together to offer a Southern restaurant unlike those before it. The idea was to create a welcoming environment, one where their guests will always feel at home while close to the refreshing waters of the Reedy River. As it continues to be popular to this day, be sure to call ahead of time to confirm table availability or if the patio is open during extreme heat or cool weather.
Sidewall Pizza
One of the best places to take your dogs for a bite is Sidewall Pizza, where the whole family can enjoy scrumptious brick oven pizzas, delicious craft beverages, homemade ice cream, and fresh salads daily. Sidewall Pizza offers comfy outdoor seating for you and your dogs. It also makes for an excellent pitstop for those hiking the Swamp Rabbit Trail as it's only a few steps away.
Described as a neighborhood gem, Sidewall Pizza serves locally brewed beer, wines, and sodas. This stylish and comfortable restaurant, located in downtown Traveler's Rest, provides diners with excellent service and exceptional food. Whether you'll be dining in or taking your food on the go, you can look forward to discovering a welcoming place that can be you and your dog's new favorite restaurant.
Grill Marks
Anyone who's been to Grill Marks knows just how well-loved this restaurant is. This dog-friendly spot not only makes it a point to provide your canine friend with a bowl of water, but can also provide them a treat to savor while their humans dine. While this treat is not complimentary, it comes with a frisbee that your pup can take home — the perfect gift to take with you for a game of catch at nearby Falls Park.
You'll find great food and drink here — from delicious burgers, tasty shakes, and homemade ice cream, there's something for all to enjoy. If you really want to spoil your dog, you can get the "BONEafide" burger, which comes with a side of bone marrow for your canine buddy. There are also two seating areas for you to choose from, and, because Grill Marks is right on Main Street, getting there is convenient for everyone!
Other Dog-Friendly Restaurants in Greenville, SC
While they're not featured like the choices above, there are plenty of other dog-friendly options around Greenville, such as:
Soby's
Universal Joint
Passerelle Bistro
Barley's
Broad & River Pub
The 05 Bar
Mellow Mushroom
The city is actually so dog-friendly that most restaurants provide outdoor seating areas that allow dogs. While the inside of restaurants is typically off-limits, this isn't because business owners don't like pets. It is because of regulations imposed by the DHEC (The South Carolina Department of Health and Environmental Control). As a result, only service animals are lawfully allowed inside establishments.
Dog-Friendly Bars and Breweries
Generally, breweries and bars are the easiest places for owners to bring their dogs. As food isn't usually served in such establishments, dogs are allowed to come in. However, it's still a good idea to ask staff if you can bring your pup inside since this rule varies from one establishment to the next.
Thomas Creek Brewery
This family-owned brewery has been around since 1998 and had its first beginnings as Henni's Brewpub in 1994. Its father and son duo of Bill and Tom Davis have taken the reins on brewing the best hand-crafted beers in the state. Their passionate pursuit of creating great craft beer has won them the favor and hearts of many beer enthusiasts throughout the southeast.
Head over to Thomas Creek Brewery for a pint or growler or two. You can also get your hands on 6-packs you can knock back at home, as well as home-brew supplies! You'll find that their homebrew shop can offer you everything you need to create your own brew — from grain milling, malted and flaked grains, liquid & dry yeast, hop pellet varieties, caps, bottles, chemicals, fittings, draft equipment, and more. This brewery is also committed to serving its community and gives back to various charitable organizations while working to reduce their impact on the environment.
WXYZ Bar
Located in Aloft Hotel, WXYZ Bar lets you experience a terrific night out. With cocktails and live music, its stylish outdoor patio offers guests and their pups great views of downtown Greenville. You can also enjoy classic American snacks and dishes, refreshing beers, signature drinks, and high-quality wines. Additionally, the hotel itself offers a dog adoption program that lets you play with a puppy while you stay in the bar — and you can even take one to your room for the night.
WXYZ has an extensive menu that offers snacks, such as antipasto skewers, and bigger meals like their signature burger or fish tacos. While WXYZ may be situated in a hotel that's geared towards the city's visitors, it's also a favorite spot among locals.
Other Dog-Friendly Bars and Breweries
You can also check out the following pet-friendly establishments:
Pour Taproom
Grateful Brew
Community Tap
Quest Brewing Co.
Swamp Rabbit Brewery
Upstate Craft Beer Co.
Birds Fly South
Brewery 85
With the sheer amount of dog-friendly restaurants available, there's no denying just how much Greenville loves dogs and their owners. So, if you're ever visiting Greenville County or you already live in Greenville, you can be sure there's a restaurant near you where you can relax alongside your beloved pets. Dining at a restaurant with your pup is a great way to relax after visiting one of the great dog parks in Greenville, SC.
From Mexican, American fusion, and classic Southern cuisines, you'll find a great restaurant that's fully decked out with an outdoor patio, ready to sate your hunger while making sure your dog has a great time, too. So, what are you waiting for? Check out these excellent restaurants and embark on a culinary adventure with the whole family today!