The Best Dog Friendly Activities in Spartanburg, SC
Posted by Preston Guyton on Sunday, July 4, 2021 at 7:03 AM
By Preston Guyton / July 4, 2021
Comment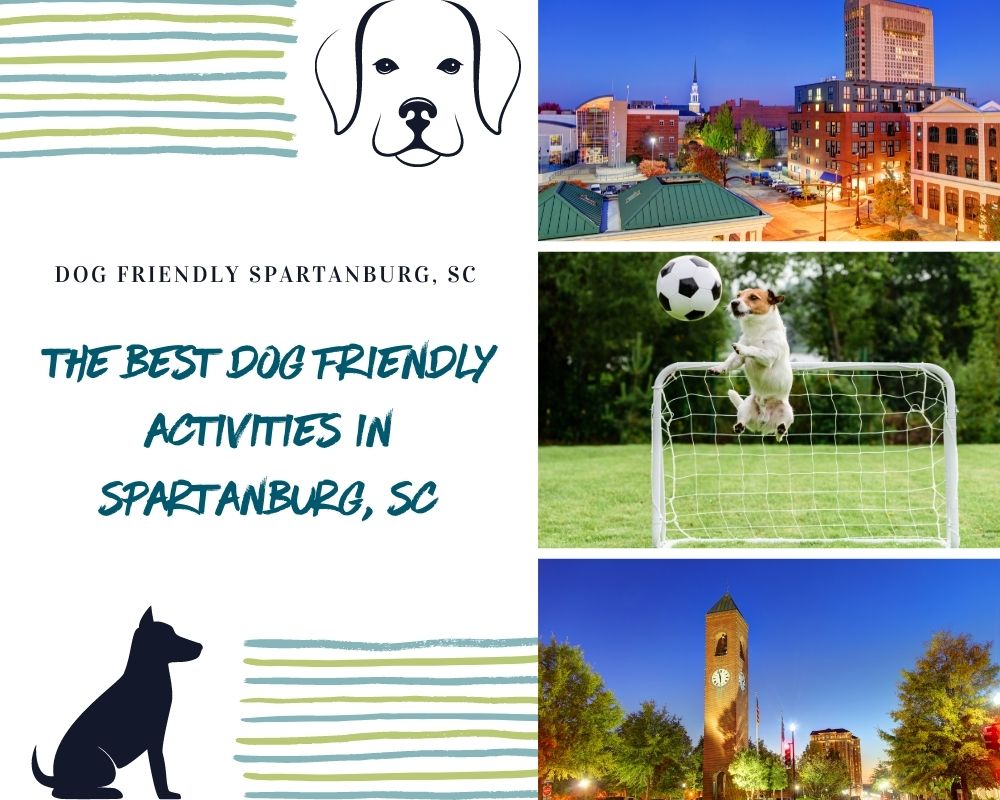 Dog-Friendly Activities in Spartanburg, SC
More than ever, pets are an important part of any family; you go on walks together, play together, take pictures together, and we even call them our fur babies now. It's no surprise that we need to bring them with us wherever we go on our weekend getaways or full-blown adventures.
So if you plan to take a trip to Spartanburg, it's worth taking a look at some of its most pet-friendly places. Lucky for you, we've compiled a list of all the dog-friendly activities in Spartanburg, along with the only designated dog park in the city.
Rail Tail Dog Park
The Rail Tail Dog Park is the only designated dog park in Spartanburg and is conveniently located adjacent to the Mary Black Rail Trail. Since opening in 2012, this park has represented a partnership between local non-profit Partners for Active Living and the city. This spacious, off-leash park offers visitors and their pets picnic tables, water fountains, and benches. Furthermore, it sits right on Union Street, just across the main entrance of Duncan Park.
There is parking available in the lot next to Ray's BBQ Restaurant, as well as the Rail Trail lot at the Forest Ave entrance. This parking is free to use for all visitors, but dogs will need to be accompanied by their owners. Before entering the park, owners will need to ensure that their pups have up-to-date vaccinations and will also need to clean up after their dogs with the plastic bags provided.
Croft State Park
Covering over 7,000 acres of wooded and rolling terrain a few miles from downtown Spartanburg, Croft State Park once served as an army training base. Here, you'll find more than 20 miles of hiking and biking trails, camping and picnic grounds, a playground, and fishing and boating in one of the two lakes. There's also a skeet shooting range just outside the park gate.
Horseback riding is popular at this park, and it is well-known throughout this region for its excellent equestrian facilities. Croft State Park regularly hosts shows inside the arena and boasts over 20 miles of equestrian trails. Nestled in the foothills region close to Spartanburg, this natural area is both beautiful and full of adventure.
Additionally, the park offers great water activities, with boat rentals available by the gorgeous lakes found here. There are public restrooms for your convenience, along with facilities for groups or individuals to rent, including three picnic shelters able to accommodate 30 to 100 people. They may be reserved for $25.00-$44.00 per day.
Best of all, the whole area is accessible to dogs, so you can bring the whole family to have fun.
Cottonwood Trail
The Cottonwood Trail Preserve is a 116-acre trail system and urban preserve located just minutes away from downtown Spartanburg. Inside the property is a 1.5 mile protected stretch of Lawson's Fork Creek and other feeder streams. A 550 ft boardwalk was recently completed, providing visitors with the opportunity to walk across the immaculate wetlands and enjoy the opportunity to do so for years to come.
With over 4 miles of trails, this preserve offers naturalists and runners an escape from the city. It also provides clear water in this fast-growing region and a habitat for a wide range of animals and plants.
You may enjoy various activities here, such as walking, running, kayaking, canoeing, and other forms of recreation. Furthermore, you'll also find open spaces, wetlands, geological formations, and animals like wild turkey, beaver, deer, raccoon, fox, birds, and reptiles here.
While dogs are welcome to roam around with their humans, they must be leashed and be under control at all times to ensure everyone's safety and enjoyment.
Located along Lawson's Fork Creek and near Spartanburg High School, Cottonwood Trail can be accessed from Beechwood Drive or the tennis courts at Spartanburg High School. Be aware that there are TRAFx trail counters spread throughout the area to gather data on pedestrian and bicycle use of the trail, so if you happen to come across one of these small devices, it's best to leave it alone.
Here are some rules to follow while inside the preserve:
The preserve is only open from dawn to dusk
Littering is not allowed; there are trash cans available
Motorized vehicles are not allowed
No camping
No campfires
No hunting
No firearms
No paintball
There should be no cutting of plants, flowers, or trees
Climbing on bridges is not allowed
Swim at your own risk; shoes are recommended
Pets must always be on a leash and under their owner's control
Mary Black Rail Trail
The Mary Black Foundation Rail Trail is a short segment of the future 12-mile Hub City Connector of the bigger Palmetto Trail, a proposed 425-mile trail that will run across South Carolina. This paved trail is flat and passes through a part of the city's industrial neighborhood. It can be accessed from many of Spartanburg's community plazas, such as on Forest Avenue and at Country Club Road.
The Mary Black Rail Trail is one of the most popular walking and cycling trails in Spartanburg County and will soon get an upgrade, thanks to the $2.3 million planned streetscaping enhancements for Downtown Spartanburg. This two-mile trail will also get an extension by its current end, which starts close to the intersection of E Henry and Union streets all the way downtown to Barnet Park. This route will make use of an improved crosswalk that will become South Carolina's first curb-protected bike lane.
There's parking and trail access at various points, all of which are easy to get to. Lastly, dogs are welcome here, but owners will need to be responsible and keep their pets on a leash for an experience that everyone can enjoy. So, if you're looking for a place to walk or bike with your dog, head to the Mary Black Rail Trail for some fun and exercise.
Tips to Safely Walk Your Dogs at Any Park
Taking your pup for a walk can be a fun and healthy activity, and it's also a great time to bond and create memories together.
However, no matter how much we love our pets and how much we think we know them, we can't always control how they or other dogs behave. Something unexpected may upset your dog or trigger uncharacteristically aggressive behavior. Unfortunately, this is the case for any dog, so we need to remember that they are still animals.
Here are a few things that you can do to navigate through a scary situation that you may encounter while walking through the park.
Tips for Prevention
Always keep your dog on a leash. Doing this will help prevent fights while giving you more control of your dog should any problem arise.
Be aware of your surroundings. Always survey the area whenever you walk your dog. If you spot a dog that's off-leash, stay clear and move out of the way.
Practice walking your pup around the neighborhood. This is an excellent technique for puppies and can help them get used to walking with a leash. Start the process by going on short walks close to your home.
Tips for Desescillation
Always have a bottle of water ready. Should a dog attack and latch itself to another dog, quickly shove some water up the dog's nose. This cuts off the dog's breathing for a few seconds, forcing them to release their hold.
If you see any sources of water, such as a hose, use it to help you break up the fight. You may also use a spray bottle, which is a safe technique where the dogs won't be harmed.
Keep a blanket handy. To help break up a fight, throw the blanket over the dogs to cut their line of sight.
If two dogs are already fighting, make loud noises to get their attention and take them away from the vicinity.
Whatever you do, there are things that you must never do when dogs are fighting:
Grabbing the dog or dogs
Getting hold of their mouths
Pulling on their legs
Kick or punch the dogs
Conclusion
While there aren't many dog parks in Spartanburg, many of their open spaces, trails, and preserves are suitable for various activities, including walking, jogging, and biking with our beloved canines.
While it may be exciting and fun to spend quality time with our pooches, it's also our responsibility as owners to make sure they are safe and protected during these walks. Ensure that everyone, including our pups, will have a good time exploring these dog-friendly places by following the guidelines outlined above.