Tennessee vs. South Carolina: Which is the Better State?
Posted by Preston Guyton on Friday, October 28, 2022 at 10:08:01 PM
By Preston Guyton / October 28, 2022
Comment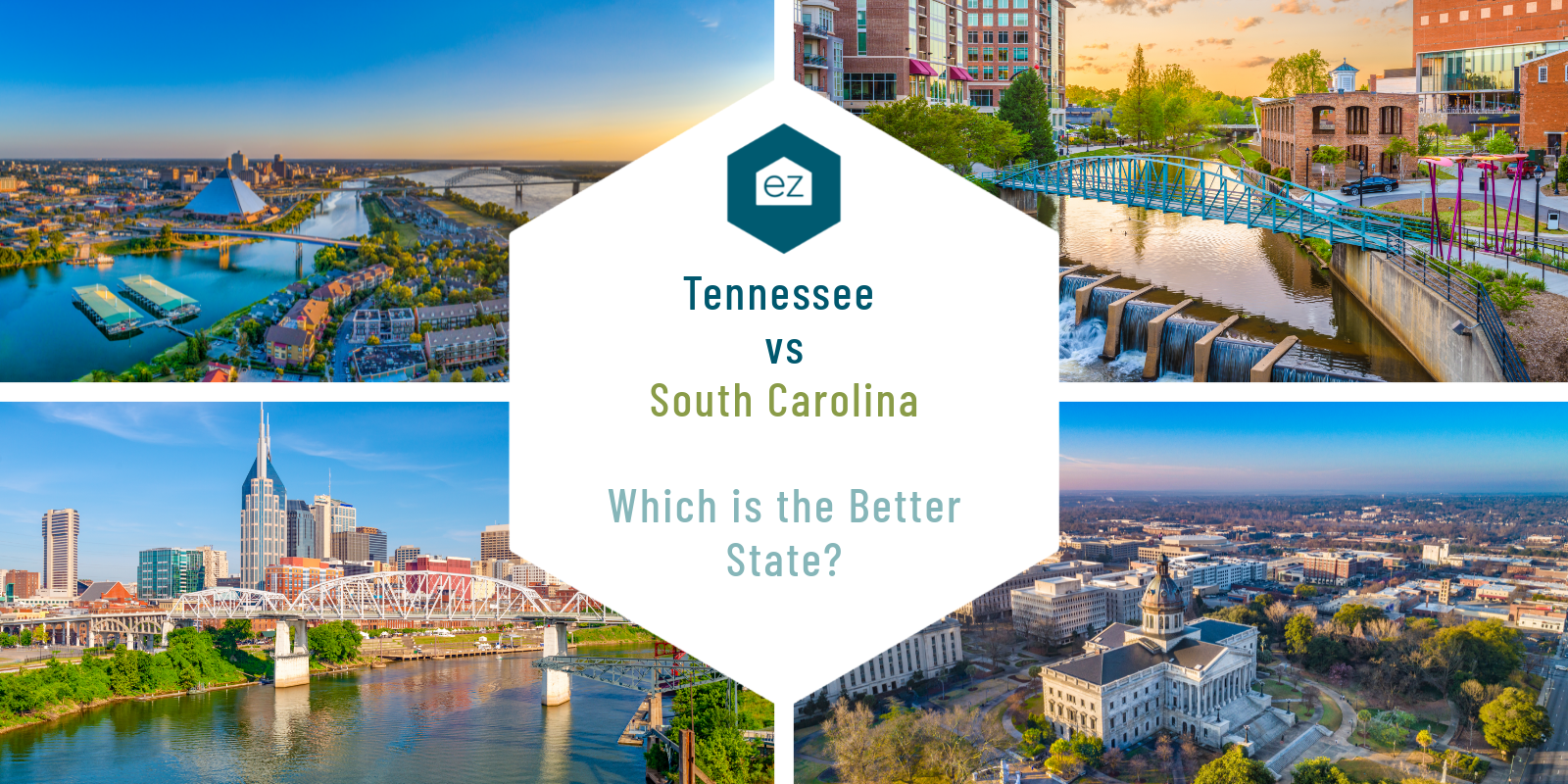 Tennessee vs. South Carolina: Which is the Better State?
More people are deciding to call the Southern United States home. The weather is excellent, the people are friendly, and there's always something to do. What's not to love?
When deciding which state is the best for Southern living, it depends on what you're looking for. To help you decide, this guide compares key factors for Tennessee and South Carolina, like their cost of living, real estate market, and education systems.
Both states have unique benefits and drawbacks, so it's essential to do your research before making a decision. Which one is better for you? Let's find out!
Cost of Living
If you're looking for a more affordable cost of living, both states come below the national indexed average of 100. So is Tennessee or South Carolina better? While both are over 10% below the national median for expenditures, South Carolina has the edge here.
As the following chart shows, South Carolina's average is overall 11.5% lower than the national average. It beats Tennessee in key areas, like average housing costs and transportation. Tennessee fares better for health care, utilities, and miscellaneous expenses.
Still, with most costs under national expenditures, you're getting a great deal in each state.
| | | |
| --- | --- | --- |
| | South Carolina | Tennessee |
| Population | 5.1 million | 6.7 million |
| Median Property Value | $265,000 | $305,613 |
| Median Household Income | $54,864 | $54,665 |
| Homeownership Rate | 70% | 67% |
| Overall | 88.5 | 89.9 |
| Grocery | 95.8 | 95.4 |
| Health | 102.3 | 100.4 |
| Housing | 73.6 | 79.4 |
| Utilities | 103.9 | 96.7 |
| Transportation | 86.8 | 90.2 |
| Miscellaneous | 95.6 | 84.7 |
Population growth
The consequences of population growth can be seen as either good or bad, depending on your point of view. A more robust economy leads to more buildings and progress. But at the same time, a larger population means inflation. It may make living conditions more challenging for people already having difficulty making ends meet.
South Carolina ranked no. 10 in the nation for population growth. The state added just over half a million residents from 2010 to 2020. In total, it reported 5,118,425 residents. Demographically, it reported:
18 and under: 21%
65 and older: 19%
63% identified as white alone
27% identified as black or African American
6% identified as Latino
South Carolina has a slightly older and somewhat more diverse population than Tennessee.
Although Tennessee's growth may not be as pronounced, it was still no. 19 overall. In only 10 years, the state gained around 700,000 residents and had a total of 6.9 million by 2020. And one of its suburbs, Nashville, was in the top 10 fastest-growing cities of 2021.
Some demographic breakdowns for Tennessee:
18 and under: 22%
65 and older: 17%
78% identified as white alone
17% identified as black or African American
6% identified as Latino
Tennessee has a slightly younger and less overall diverse population than South Carolina. The Boyd Center Population Projections suggest that in the next 20 years, Tennessee's population could reach close to 8 million residents.
Education
Tennessee and South Carolina have room for growth when it comes to education. US News and World Report does favor Tennessee, as it came in at no. 31, while South Carolina was no. 42 during the 2021 evaluation cycle.
Some more information to compare the two systems:
| | | |
| --- | --- | --- |
| | Tennessee | South Carolina** |
| No. of Students | 998,000 | 766,819 |
| No. of Schools | 1,700+ | 1,239 |
| No. of School Districts | 147 | 80 |
| Graduation Rate | 90% | 83% |
| No. of Teachers | 66,406 | 53,689 |
| Avg Teacher/Student Ratio | 15:1 | 15:1 |
| Amount Spent per student | $9,619 | $8,168 |
**Figures are from 2019.
Low independent rankings doesn't mean you can't find quality education in these states. For example, check out these top school districts in South Carolina.
Tennessee's Vanderbilt University ranks among the nation's top schools. Students can also choose from the University of Tennessee, Middle Tennessee State University, East Tennessee State University, Belmont University, and Rhodes College. Notably, the state has a program providing free two-year community college or technical schools for its high school graduates.
While South Carolina's higher education overall ranked no. 45, it does have some well-regarded colleges and universities like Clemson University, Medical University of South Carolina (MUSC), The Citadel Military College of South Carolina, and the University of South Carolina.
Outdoor Recreation
When it comes to outdoor recreation, both states have a lot to offer. There are countless options for hiking, camping, swimming, fishing, and more, from the Appalachian Mountains to the beaches.
South Carolina is the obvious choice if you want to live near the ocean. With miles and miles of coastline, you have many beaches to choose from. Myrtle Beach is a popular tourist destination, but there are also smaller, more relaxed beaches like Pawleys Island.
The state is also famous for its golfing resorts and championship courses. It's hard to resist playing a round or two of golf with over 100 courses concentrated around the Myrtle Beach metro. Not to mention, the renowned Pinehurst Golf Resort has internationally acclaimed courses.
South Carolina's coastal lowlands, many rivers, and lakes create ample opportunities for boating and fishing. These lowlands give way to the rolling Piedmont region and, eventually, the Appalachian foothills.
So, while South Carolina does have some elevation, Tennessee is the state for you if you love the mountains. The Appalachian Mountains run through 18 counties in the eastern part, giving residents plenty of opportunity to hike, camp, and explore. The Great Smoky Mountains National Park is also a huge draw for tourists from all over the world.
The activities you can do in this state are just as diverse as the landscape. You could go whitewater rafting and rock climbing in the mountains, spelunking in incredible caves, or boating or water skiing on one of the immense reservoir lakes or rivers. Hiking, bicycling, and camping are available at numerous parks. In terms of state parks, Tennessee has 56, while South Carolina has 47.
City Living
If you prefer city living, both states offer great options. South Carolina's are concentrated along its coastline but spread across metro areas, while Tennessee's choices have a denser population.
Memphis, Tennessee, has over 650,000 residents. It's well known for its music scene, being the home of Elvis Presley and many other famous musicians. The city also has a rich civil rights history and some excellent barbecue.
Nashville, now the state's largest city, is another fantastic option. It's sometimes called "Music City" because of its large music industry and live music scene. The city has a population of over 670,000 and is growing rapidly.
Charleston, South Carolina, is the state's largest city, with nearly 800,000 residents in the greater metro area. It's a historic city with a beautiful waterfront and plenty of southern charm. The city is also home to the renowned Spoleto Festival USA, an annual performing arts festival.
Columbia, the SC state capital, is another choice for those who want to live in a South Carolina city. It has a population of over 133,000 and is the state's center for government and business.
Climate
The climate in Tennessee and South Carolina can vary quite a bit depending on which part of the state you live in. South Carolina has a higher average temperature and ranks as the no. 8 hottest state.
South Carolina has a humid subtropical climate in the lowlands and a humid continental climate in the higher elevations. However, the state is generally warmer than Tennessee, with an average high of 92F in summer and an average high of 61F in winter. Another consideration is its exposure to tropical systems moving in from the Atlantic.
Tennessee is generally considered to have a humid subtropical climate, with a humid continental climate in the mountains. The state experiences all four seasons, but the temperatures are usually mild. The average high in summer is around 87F, and the average high in winter is about 45F. The southern and western regions receive more annual rainfall. They are known for windy, strong storm systems during the transitional parts of the year.
Real Estate Taxes
No one likes paying taxes, but it is a necessary part of life. When considering moving to a new state, it's important to factor in the cost of real estate taxes.
South Carolina's effective property tax rate was 0.57% in 2021. South Carolina's property taxes for primary residences are charged at 4% of the assessed market value. Homeowners must apply for this rate with their county assessor; otherwise, they will be charged at 6% of property value. Any non-primary residences are assessed at a higher value. The local counties and cities set the millage rate.
Tennessee's average effective property tax rate was slightly higher at 0.64% in 2021. In Tennessee, homeowners are taxed at 25% of their home's market value. The counties set the property tax rates, and the local tax administration is responsible for assessment and collection. Local cities may also have a property tax.
Taxes for Retirees
After years of working, those on a fixed income definitely want to make sure every dollar is stretched as far as it can go. Bankrate placed Tennessee no. 8 in the nation for retirees, whereas South Carolina placed no. 16.
Tennessee does not have a general retirement income tax, but some investment income from annuities and pensions may be taxed. Social security benefits are not taxed either. Tennessee does have a state minimum sales tax of 7% on most purchases. However, many items are exempt from sales tax, including prescription drugs. Those 65 and older can also apply for a "tax freeze" on their home, keeping their property taxes low.
South Carolina offers several tax breaks for retirees. Property taxes can be reduced by $50,000 of a home's value, lowering the overall bill. There is also no inheritance or estate tax in South Carolina, nor is social security taxed. However, certain kinds of pension income may be taxed.
Job Markets
When looking for a new place to live, the local job market will impact your quality of life and cost of living. After all, you'll need to be able to support yourself and your family.
Tennessee's unemployment rate was 3.4% in December 2022, slightly under the national average at that time. The state's unemployment rate and job prospects vary widely across the state. In fact, Nashville has one of the nation's fastest-growing job markets in 2022. Tech companies are flocking into the area, with the industry growing 51% from 2015-2020. Top statewide employers by size are FedEx, DolgenCorp, HCA Healthcare, Dollar General, and Community Health Systems.
South Carolina's unemployment rate was 3.2% in June 2022, which was lower than the state and national averages. The hospitality and leisure industry is a significant employer in South Carolina, followed by agriculture, trade, transportation, and aviation. Major employers in South Carolina include BMW Manufacturing Company, Boeing South Carolina, Michelin North America Inc., and Walmart.
So which job market is better? Here's a side-by-side comparison.
| | | |
| --- | --- | --- |
| | South Carolina | Tennessee |
| Current Employment | 2,401,251 | 3,399,200 |
| Unemployment | 3.2% | 3.4% |
| Average Wage | $27.93/hr | $24/hr |
| Median Household Income | $54,864 | $54,665 |
| 10 Year Job Growth | 11.9%** | |
Sets of figures are from August 2022. Hourly wage data is based on average hourly earnings of private employees from the FRED.
* From Workforce Trends from 2018 to 2028
** From WIOA state plan from 2016 to 2026
Sports
Not everyone is a sports fan, but for those who are, it can be nice to have a professional team to root for. In this regard, Tennessee is the clear winner. South Carolina has no professional sports teams!
Tennessee is home to the NFL's Tennessee Titans, the NHL's Nashville Predators, and the MLB's Memphis Redbirds. The state also has several minor leagues. Two collegiate teams play in the competitive SEC, with football being a big deal in the state.
South Carolina has several minor baseball league teams and collegiate teams.
Southern hospitality
In the Southern states of Tennessee and South Carolina, you'll find kind and hospitable people. Southerners are known for their strong sense of community and tradition. And they make a mean cup of sweet tea and barbecue! Don't be surprised to hear people saying "y'all" or "ma'am" in either of these states.
Condé Nast Traveler ranked Greenville, SC, the friendliest city in the US in 2022, and Charleston was on its heels at no. 5. Nashville also made an appearance at no. 9.
Tennessee's culture revolves more around music, with deep bluegrass and country music traditions across the state. South Carolina has a distinct low country tradition, with its unique drawl, Gullah culture, and coastal cuisine.
Should you live in Tennessee or South Carolina?
So, which state is the better place to live? It really depends on what you're looking for. Consider your priorities and make the decision that's best for you! If you're looking for a bustling job market with plenty of opportunities, then Tennessee is the place for you. South Carolina is the state for you if you want a laid-back lifestyle with southern hospitality. Learn more about living in South Carolina or Tennessee.