Tennessee vs North Carolina: Which State is Better?
Posted by Preston Guyton on Thursday, October 20, 2022 at 12:44:17 PM
By Preston Guyton / October 20, 2022
Comment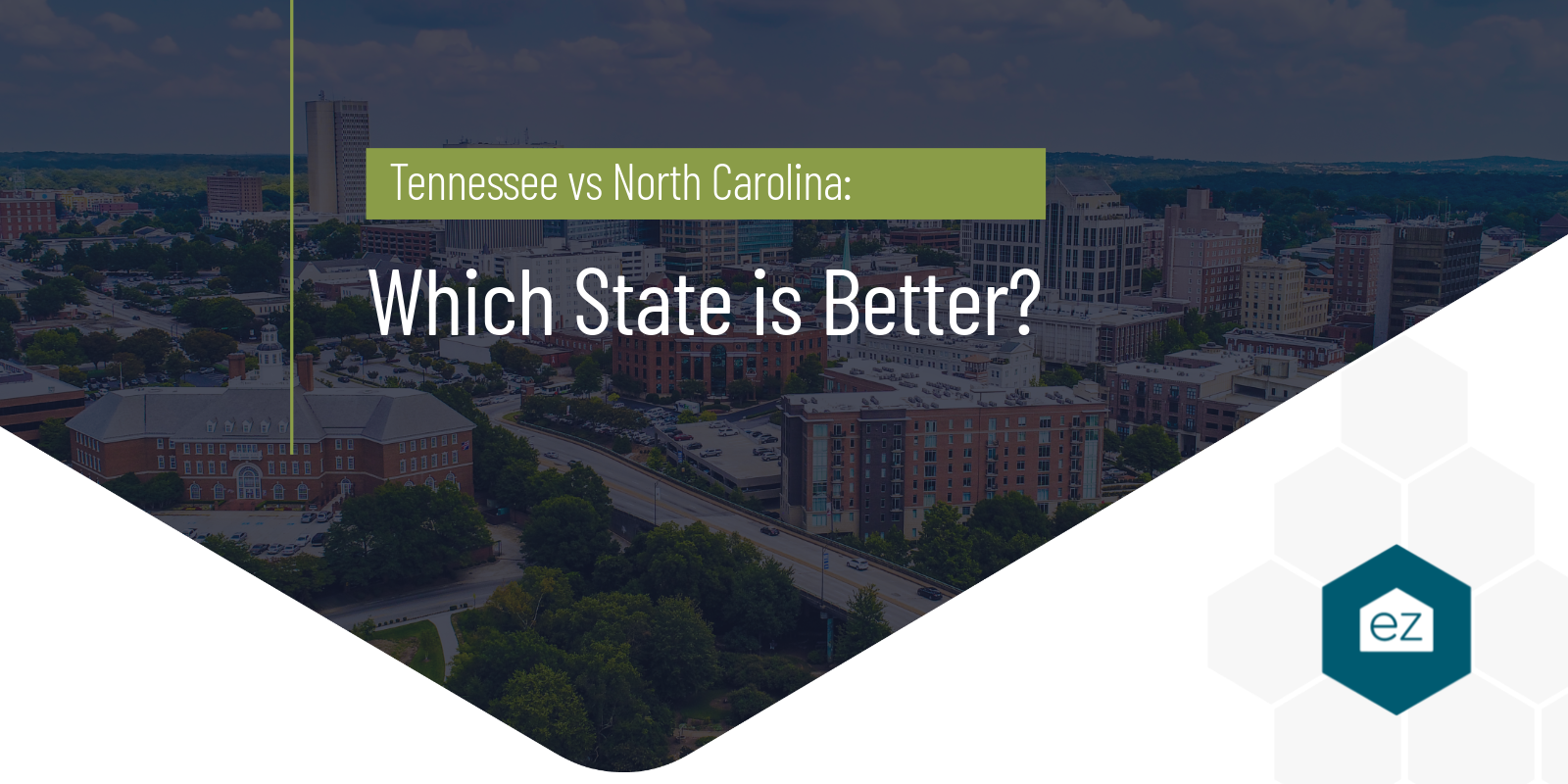 Tennessee vs North Carolina: Which State is Better?
Picking the best state and location to call home. is not easy. The choice really comes down to your personal priorities. Consider the balance between the cost of living, modern services, weather, and how developed a community you want to be in. For many people, the Southern states are especially desirable for their warmer climate, waterfront access, and growing economy. But which southern state is best for you?
One helpful tactic is to compare living in one state to another. In this article, we'll compare living in Tennessee to living in North Carolina. According to Forbes, North Carolina and Tennessee are no. 4 and 6, respectively, when it comes to where people were moving in 2022. These next-door neighbors share advantages like a beautiful climate, friendly people, and plenty of outdoor recreation options.
So which is right for you? Our guide lists different factors to weigh when deciding which state to call home. Hopefully, this information can shed some light on which state is best for you.
Cost of Living
Sperling's Best Places establishes a benchmark for cost of living, with the national average set at 100; any scores above 100 mean an area is more costly, while any score below means less costly.
Based on this index, Tennessee has a slight edge over North Carolina. Both have an overall cost of living about 10% below the national average.
Tennessee has an overall score of 89.9, while North Carolina is 90.6. This means that, on average, living in Tennessee is slightly more affordable than living in North Carolina.
One key area is housing. In this regard, both are similar, with North Carolina being 2% more expensive. North Carolina's cost savings come in transportation; in all other categories, Tennessee was slightly cheaper.
| | | |
| --- | --- | --- |
| | North Carolina | Tennessee |
| Population | 10.4 million | 6.7 million |
| Median Property Value | $320,291 | $305,613 |
| Median Household Income | $56,642 | $54,665 |
| Homeownership Rate | 66% | 67% |
| Overall | 90.6 | 89.9 |
| Grocery | 96.5 | 95.4 |
| Health | 107.5 | 100.4 |
| Housing | 81 | 79.4 |
| Utilities | 99.2 | 96.7 |
| Transportation | 83.9 | 90.2 |
| Miscellaneous | 96.1 | 84.7 |
Remember that both are large states, and the cost of living varies widely. For example, the cost of living in Charlotte, NC, is much higher than in Boone, NC.
Population Growth
Population growth has two sides: the positives of stimulating the economy, construction, and amenities, and the negatives of more expensive goods and higher housing costs.
Both states are growing rapidly, with North Carolina at no. 7 in the nation and Tennessee at no. 19. That said, North Carolina is the more populated state by about 3.5 million residents.
Although Tennessee's growth may not be as exciting, one of the suburbs near Nashville was in the top ten fastest-growing cities of 2021. In only ten years, Tennessee added an extra 700,000 residents to reach 6.9 million people.
Its population breaks down:
18 and under: 22%
65 and older: 17%
78% identified as white alone
17% identified as black or African American
6% identified as Latino
Tennessee has a slightly less overall diverse population than neighboring North Carolina. Its most populated counties were Shelby (Memphis), Davidson (Nashville), and Knox (Knoxville).
Boyd Center Population Projections say Tennessee could add nearly a million people over the next 20 years and have 7.87 million residents by 2040.
According to the Census, North Carolina had a population of 10,439,388 in April 2020. This is an increase of over 900,000 people from 2010-2020. The state has:
18 and under: 22%
65 and older: 17%
62% identified as white alone
22% identified as black or African American
10% identified as Latino
The average age of a North Carolina resident is slightly higher than in other states, and its diversity index among residents is lower. However, its most populated counties - Wake, Mecklenburg, Guilford, and Forsyth - are split between the bustling Raleigh-Durham metro and Charlotte metro.
Outdoor Recreation
Both states have a lot to offer in terms of outdoor recreation. The Appalachian Trail runs along the border of the two states, and they share the Appalachian mountains and Great Smoky Mountains National Park.
North Carolina has a long list of great outdoor activities with more than 41 state parks and natural areas. Mount Mitchell State Park is the highest peak in the Eastern United States, and its mountains are perfect for winter skiing, rock climbing, fly fishing, camping, mountain biking, and other activities.
North Carolina cyclists have access to over 100 miles of trails, including the state-spanning Mountains-to-Sea Trail.
Are you someone who loves the water? If so, North Carolina is the perfect state for you! With over 50 lakes, there's plenty of opportunity to get out on the open water. Lake Mattamuskeet is the largest, but Lake Murray and Kerr Lake are also popular destinations for bass fishing and sailing enthusiasts.
Besides lakes, North Carolina has something Tennessee doesn't: over 300 miles of sandy beaches, saltwater fishing, kiteboarding, and deep-sea adventures. The Outer Banks and Wrightsville Beach are two popular stops on the North Carolina coast.
Tennessee is home to several national parks, over 50 state parks, and forests. Residents have over 800,000 acres of public lands available for exploration.
Go whitewater rafting, rock climbing, and fly fishing in the mountains. Get underground spelunking in some stunning caves. Spend the day boating or water skiing on one of the big reservoirs or waterways. Hiking, cycling, and camping are all options at parks throughout the state.
Education
Both states have robust public school systems, but North Carolina exceeds Tennessee regarding education. US News and World Report ranks North Carolina's public K-12 schools as the 15th best in the nation, while Tennessee came in as no. 31.
| | | |
| --- | --- | --- |
| | Tennessee | North Carolina* |
| No. of Students | 998,000 | 1,429,275 |
| No. of Schools | 1,700+ | 2,523 |
| No. of School Districts | 147 | 115 |
| Graduation Rate | 90% | 87% |
| No. of Teachers | 66,406 | 94,328 |
| Avg Teacher/Student Ratio | 15:1 | 15:1 |
| Amount Spent per student | $9,619 | $11,651 |
*Figures are from 2021-2022, except the graduation rate which is from 2020.
According to the NEA, North Carolina spent $11,651 per student in K-12 education in 2021-22. The state had 1,429,275 enrolled students and 94,328 teachers. The four-year graduation rate was 87% in 2021-2022.
Tennessee has approximately 998,000 children enrolled in public schools, split into 147 districts with large urban and rural populations.
Both states have many prestigious colleges and universities in higher education, but again, North Carolina exceeds Tennessee. US News and World Report ranked North Carolina no. 7 for its higher education. Some notable institutions in North Carolina include Duke University, UNC Chapel Hill, and Wake Forest University.
Tennessee isn't lacking in quality higher education. Vanderbilt University ranks among the nation's top schools. The state has a program providing free two-year community college or technical schools for its high school graduates, which is notable.
City Living
Both states offer big-city living, but it's worth noting that North Carolina's cities are generally more diverse and more extensive than Tennessee's.
Nashville, also known as Music City, is home to numerous entertainment venues. It's a center for healthcare and technology businesses, too. Memphis, located on the Mississippi River in the southwestern corner of Tennessee, has over 650,000 people. Memphis is the birthplace of blues music and has a long history in rock 'n' roll, gospel, and soul.
Raleigh is North Carolina's capital, and its greater metropolitan area has a population of over 1.4 million people. The Research Triangle Park and several world-leading universities give Raleigh-Durham its reputation as a leading research center.
Charlotte is the largest city in North Carolina, with a population of more than 2.6 million. Many Fortune 500 companies have offices in Charlotte, as do many financial institutions. Outside of Wall Street, it's the second-largest financial center. Residents enjoy visiting museums and art galleries while also watching professional sports teams. Charlotte is also known as the home of NASCAR.
Wilmington is a gorgeous historic city on the coast, with a population of over 282,500. This city's attractions include a two-mile Riverwalk, beautiful beaches, a historic downtown area, and the film industry. The University of North Carolina at Wilmington is also situated here.
Asheville is the western terminus of North Carolina. The mountain metropolis has over 500,000 residents in its metro area. The city is recognized for its avant-garde art scene, live music, and outdoor activities.
Climate
The climates in the two states are overall similar, but it isn't easy to make broad statements about them, as the mountains, coastal, and lowland regions have different climates.
North Carolina encompasses two different climate regions- a moderate continental region in the mountains and a subtropical region in the southeast corner. The overall state experiences four distinct seasons, but conditions can vary widely depending on where you are.
The summers in the Appalachian Mountains are usually cool, and the winters are often chilly. January temperatures average around 40F, while July temperatures average around mid-80F. In the mountains, winter snowfall is common, but it seldom lasts more than a few days on the ground. The higher you go up in elevation, the colder it will be.
The climate in the North Carolina coastal lowlands is more subtropical. The summer temperatures in this region are hot and humid, while the winters are mild. January's average temperature is around 54F, while July's is around 90F. There is a lot of rain here, especially during the summer when Atlantic Ocean storms hit directly.
Like North Carolina, Tennessee has four distinct seasons. The average temperatures in Tennessee during the summertime range from 86F to sometimes upwards of 100F degrees. The humidity can be difficult to bear, but hot summers ease into colorful autumns and cooler winters, with January averaging around 35F degrees.
The state's climate is most commonly described as humid subtropical, but temperature extremes are more common in the southern and western parts than in the mountainous eastern region. The average annual temperature across the state ranges from 46F near the top of Mt. LeConte in the Great Smoky Mountains to 62F closer to the border with Arkansas.
Real Estate Taxes
Both states have a system where the counties assess and collect property taxes. Millage rates will vary across the state.
Property taxes in North Carolina are based on fair market values, which are set every four to eight years. Each county has a different value reappraisal timetable. One mil equals $1 for each $100 of appraised value in this state. Higher property values and a higher overall millage rate make Tennessee more favorable for real estate taxes.
North Carolina has a homestead exemption for those 65 years old or older who suffer from a permanent disability and earn less than $38,000 annually. The exemption is set at either $25,000 or 50% of the assessed value. A disabled veteran may qualify for an additional $45,000 exemption.
Tennessee's overall property burden ranked it the 15th lowest in the nation. It assesses property taxes at 25% of the home's market value. The local tax administration assesses and collects the taxes. Local cities may also charge a property tax. You'll want to look at the tax rates for the specific county and town you want to live in. The average effective property tax rate in Tennessee was 0.64% in 2021.
Taxes for Retirees
Retirement income is taxed in nearly every state, including Social Security payments. On the other hand, a few select states do not tax the most frequent types of retirement income: 401(k), IRAs, and pensions. Obviously, retirees benefit greatly from no-taxation states.
Tennessee is one of those states that ended up at no. 8 on Bankrate's list of states favorable for retirement in 2022. Not only does Tennessee not have an estate or inheritance tax, but prescription drugs are also exempt from sales taxes. Furthermore, with a lower average property tax rate and a "tax freeze" program for seniors 65 and up, retirees can rest easy knowing they won't be breaking the bank by living here. Learn more about the advantages of retiring to Tennessee.
On the other hand, retirement in North Carolina is less favorable. The state's flat income tax applies to all income; however, the income tax rate is decreasing over the next decade. Personal withdrawals from retirement accounts are taxed, as are pension incomes. There is no tax on social security, and an estate tax does not exist.
Job Markets
The job market is strong in North Carolina and Tennessee, reporting the unemployment rate under national averages and new job growth. The unemployment rate in North Carolina was 3.5% in August 2022, while the unemployment rate in Georgia was 3.4%.
Healthcare, retail, education, finance, and manufacturing are the top sectors in North Carolina. The furniture industry is well-known throughout the state, as is the automobile sector. The Research Triangle attracts leading talent in biotechnology, pharmaceuticals, and other industries. Charlotte is well known as a financial hub, while energy is another significant industry. Bank of America, Lowe's, Duke Energy, Wake Forest Baptist Health, and Home Depot are some of the major employers.
The job market in Tennessee is mixed, with specific areas seeing more robust growth than others. Nashville's employment snowballed over the past decade and benefited from the city's strong employment opportunities. The city had the second-best job market in the country, according to The Wall Street Journal and Moody's Analytics. The region has become a tech center, with technology expanding by 51% between 2015 and 2020. FedEx, DolgenCorp, HCA Healthcare, Dollar General, and Community Health Systems are among Tennessee's top employers by size.
| | | |
| --- | --- | --- |
| | Tennessee | North Carolina |
| Current Employment | 3,399,200 | 5,101,800 |
| Unemployment | 3.4% | 3.5% |
| Average Wage | $24/hr | $29.23/hr |
| Median Household Income | $54,665 | $56,642 |
| 10 Year Job Growth | | 6% |
Sets of figures are from August 2022. Hourly wage data is based on average hourly earnings of private employees from the FRED.
* From Workforce Trends from 2018 to 2028
Sports
Both North Carolina and Tennessee are sports-crazy states. Diehard fans of all the major league teams can be found in both states, but each state has its own unique sporting culture.
In North Carolina, college basketball is king. The state is home to some of the most storied programs in the history of the sport, and fans pack into arenas to watch their favorite teams battle it out. Dude and UNC Tar Heel games are intense and often packed. Some of the best players in the NBA have come through North Carolina schools.
The state's professional teams are also popular, with the Carolina Panthers and Charlotte Hornets both having a large following. NASCAR is also headquartered in Charlotte and has a loyal following.
Tennessee, on the other hand, is a football state. The Tennessee Titans are one of the most popular teams in the NFL, and fans pack into Nissan Stadium to watch them play. College football is also huge in the state, with the University of Tennessee Volunteers having a large and loyal fan base. The rivalry with Vanderbilt University is intense.
Both states have strong followings for baseball, hockey, soccer and other sports.
Local culture
North Carolina and Tennessee have rich cultures, with each state having its own unique history and traditions.
North Carolina is known for its Southern hospitality, while Tennessee is known for its music and food.
In North Carolina, visit the Wright Brothers National Memorial. The first powered flight occurred in Kitty Hawk, and the memorial commemorates this event. There is also the Biltmore Estate, the largest privately owned home in the United States. The estate is open to visitors and features a winery, gardens, and much more.
Country music fans flock to Tennessee to visit the Country Music Hall of Fame and Museum and the Grand Ole Opry. Icons like Dolly Parton have strong roots in the state; the country music icon runs the Dollywood amusement park in Gatlinburg.
Nashville gave us Hot Chicken, a new trending southern food. Memphis BBQ is renowned, but North Carolina is no slouch. NC also has Cheerwine, a cult-following soft drink, and fast food restaurant Bojangles. Both are distinct styles of slow-roasting meat with particular spices and sauces.
There is no clear winner when it comes to culture. It really depends on what you're looking for in a state.
Choosing between Tennessee and North Carolina
Deciding where to nurture your roots is tough, but we hope this guide has helped give you a picture of each state's advantages. Tennessee is the clear choice if you're looking for a state with a low cost of living, lots of live music, and warm weather. North Carolina is the place for you if you're looking for a state with a robust economy and strong education program. No matter what you're looking for, both states have a lot to offer. If you're still not sure, why not compare to South Carolina?