South Carolina vs. Georgia: Which is the Better State?
Posted by Preston Guyton on Monday, August 15, 2022 at 8:06 PM
By Preston Guyton / August 15, 2022
Comment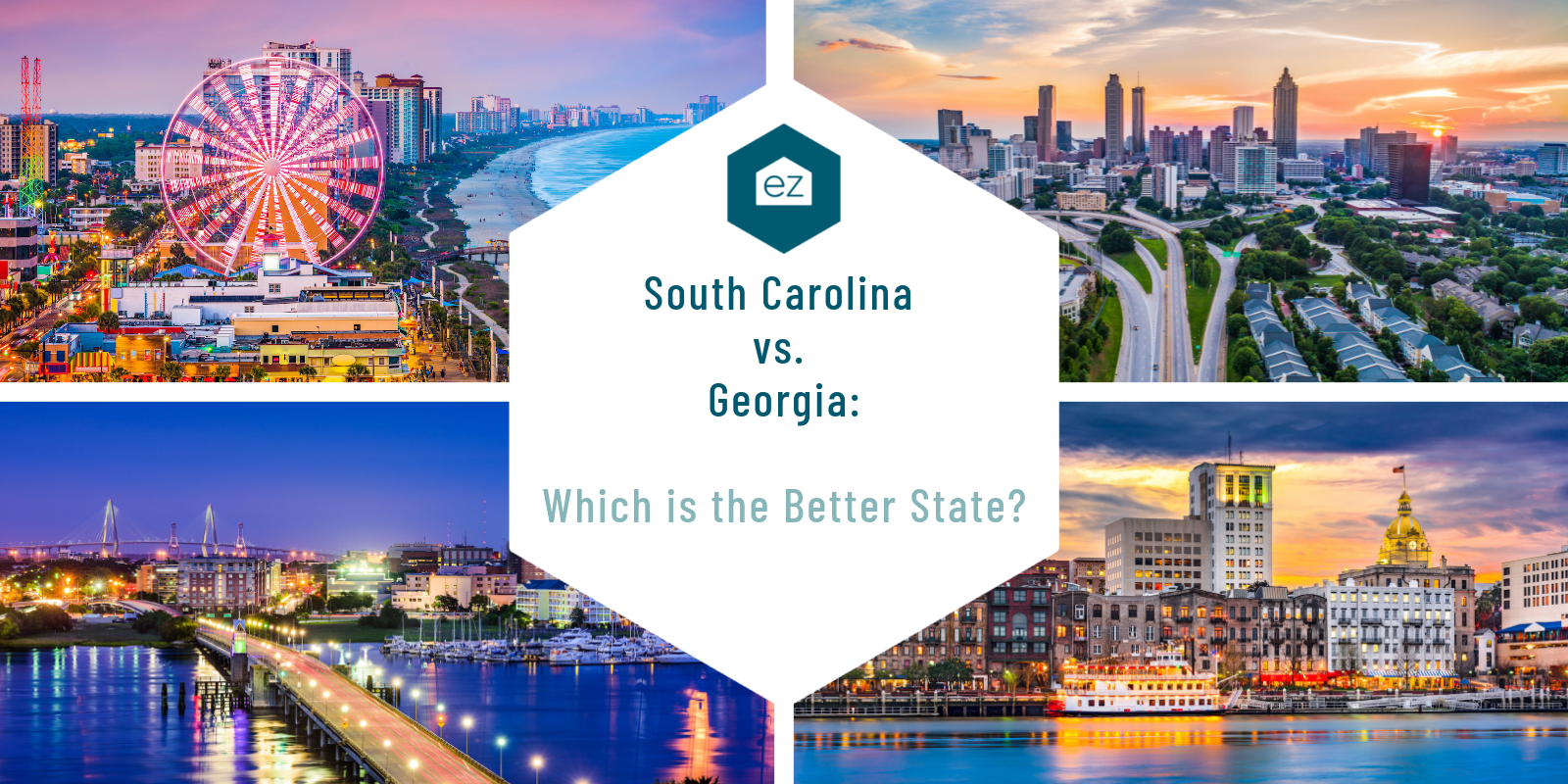 South Carolina vs. Georgia: Which is the Better State
People are flocking to the Sunbelt, the stretch of states in the southern United States. And why? It depends, but generally, reasons include its more affordable cost of living, better climate, and job migration. Georgia and South Carolina are two popular states and are known for their southern culture and hospitality. Just think of "Savannah" and "Charleston."
When it comes to choosing between living in Georgia and South Carolina, it really depends on what you're looking for. These colonial cousins share similarities, but each has unique characteristics that may lead you to prefer one over the other. Let's break them down.
Cost of Living
If you're looking for a more affordable cost of living, both states come below the national indexed average of 100. So which one is better? The following chart shows that South Carolina may be the better choice based on overall scores. It's overall 11% lower than the national average. Regarding housing, it beats Georgia by seven points, and in transportation, by almost 19%.
However, Georgia's health care costs were more affordable than South Carolina's. All other spending categories were relatively on par.
You also need to consider how population plays a role; the more people in an area, the higher the demand for goods and services. Location can equally impact the cost of living; South Carolina has more coastline, but Georgia has a larger concentrated metro area.
| | | |
| --- | --- | --- |
| | South Carolina | Georgia |
| Population | 5.1 million | 10.7 million |
| Median Property Value | $265,000 | $306,113 |
| Median Household Income | $54,864 | $61,224 |
| Homeownership Rate | 70% | 64% |
| Overall | 88.5 | 93.4 |
| Grocery | 95.8 | 95.5 |
| Health | 102.3 | 95.5 |
| Housing | 73.6 | 80.7 |
| Utilities | 103.9 | 103.2 |
| Transportation | 86.8 | 105.1 |
| Miscellaneous | 95.6 | 94.8 |
The cost of living can vary widely based on what region you are in. For example, living on Hilton Head Island, SC, will be more costly than living in Columbia, SC. The same is valid for Myrtle Beach, SC, versus Macon, GA. Don't let the cost of living be your determining factor between the states, as each has different benefits specific to various regions.
Population Growth
Population growth is definitely two-sided. On the one hand, increasing population means a strong economy, new construction housing, and more amenities. On the downside, it also means rising prices, more urbanized development, and a higher cost of living. Whether population growth is good or bad is in the eyes of the beholder.
Both states ranked in the top ten in the nation for population growth, with Georgia at no. 8 and South Carolina at no. 10.
Georgia added 1.1M residents from 2010 to 2020. In total, it had 10,711,908 people in the April 2020 Census. The state had:
18 and under: 23%
65 and older: 15%
51% identified as white alone,
33% identified as black or African American
10% identified as Latino
Georgia has a slightly younger population and more diversity among its residents.
South Carolina added a little over 500,000 residents from 2010 to 2020. In total, it had 5,118,425 residents, for an overall less densely populated state. The state had:
18 and under: 21%
65 and older: 19%
63% identified as white alone
27% identified as black or African American
6% identified as Latino
South Carolina has a slightly older population and somewhat less diversity than neighboring Georgia.
Education
Georgia and South Carolina have made great strides in education in recent years. Both operate similarly, with elected school boards and superintendents. To help you with comparing the two states, here's a comparison of some basic data.
| | | |
| --- | --- | --- |
| | Georgia* | South Carolina** |
| No. of Students | 1,686,318 | 766,819 |
| No. of Schools | 2,306 | 1,239 |
| No. of School Districts | 219 | 80 |
| Graduation Rate | 84% | 83% |
| No. of Teachers | 119,492 | 53,689 |
| Avg Teacher/Student Ratio | 15:1 | 15:1 |
| Amount Spent per student | $9,015 | $8,168 |
*Figures are from 2021-2022, except the graduation rate which is from 2020.
**Figures are from 2019.
In 2019, South Carolina had around 43% students meet or surpass reading standards, while 37% met or exceeded math standards.
Many colleges and universities provide higher education opportunities in both states. Some of the more popular ones in Georgia include the University of Georgia, Georgia Institute of Technology, Augusta University, University of North Georgia, Emory University, Georgia State University, Kennesaw State University, Mercer University, Morehouse College, and Oglethorpe University in Georgia.
Some popular colleges and universities in South Carolina are Clemson University, Coastal Carolina University, Furman University, Medical University of South Carolina, The Citadel Military College of South Carolina, University of South Carolina, University of South Carolina - Upstate, Wofford College, and Charleston Southern University.
As you can see, both states offer many public and private higher education options.
Outdoor Recreation
When it comes to the outdoors, each state has unique offerings. Georgia is home to the Appalachian Mountains, while South Carolina boasts beautiful lakefront living and stunning beaches.
Georgia meets your needs if you love hiking, camping, and being in nature. The Appalachian Mountains in the High Country provide a beautiful backdrop for all your outdoor adventures. The Appalachian Trail kicks off in northeastern Georgia. With over 60 state parks and preserves, including the popular Kennesaw Mountain National Battlefield Park, there's no shortage of places to explore. Activities in the High Country and Northeast Georgia mountains include fly-fishing, hiking, and hunting.
The Georgia landscape changes from the Atlantic Ocean to mountains, streams, and everything in between. With wetlands, grasslands, and forests, there's an environment to suit every person. By the ocean is Cumberland Island, where the horses roam wild. The rolling midland hills are a hunter's paradise.
South Carolina may be better suited for those who enjoy water activities. Lake Marion is the largest lake in the state and a popular recreational spot. With nearly 200 miles of coastline, including the famous "Grand Strand" and ten state scenic rivers, there's endless opportunity for swimming, fishing, kayaking, and more.
That's not to say South Carolina doesn't have hills. Upstate is the foothills of the Blue Ridge and Appalachian mountains. You have whitewater rafting, bouldering, hiking, and backpacking trails.
The Grand Strand is world famous for its golfing. With over 100 courses concentrated around the Myrtle Beach metro, it's hard to resist a game or two (or three). Then there's the renowned Pinehurst Golf Resort with its internationally acclaimed courses.
Whether you're looking for mountains or beaches, both states have plenty to offer for outdoor recreation. So if you're trying to decide between living in Georgia or South Carolina, consider what kind of outdoor activities you enjoy.
City Living
If you're looking for a big metropolitan area, then Atlanta in Georgia or Charleston in South Carolina may be perfect for you.
Atlanta is Georgia's capital. Nearly 500,000 people live inside the city limits. Many Fortune 500 companies have headquarters in the greater metro, including Coca-Cola, Delta Air Lines, Home Depot, and UPS. Atlanta's museums, parks, sports teams, music venues, and attractions will keep you busy all year round. Georgia Aquarium, Centennial Park, and the World of Coca-Cola are two famous landmarks.
Charleston is the largest city in South Carolina, with just over 150,000 people living in its dense urban core, and even more in surrounding suburbs like North Charleston and Mount Pleasant. Unlike Atlanta, it has ample waterfront with stunning views from its peninsula. The downtown's historic buildings and cobblestone streets give the city its southern charm and character. Charleston is also home to many colleges and universities, as well as Fort Sumter National Monument and Magnolia Plantation and Gardens.
So if you're looking for city living, both Atlanta and Charleston offer a lot to see and do.
Climate
When it comes to climate, both states generally have a humid, subtropical climate with mild winters and hot summers. Spring and autumn tend to be their best seasons to be outdoors.
Georgia does tend to see more humidity than South Carolina. In southern Georgia, daytime temperatures can exceed 95F in the summer, making it the fifth hottest state. The Atlantic impacts the climate in the southern and eastern regions, while the Hill Country benefits from higher elevations and cooler temperatures. Winters tend to be short with little snowfall. The state as a whole typically sees 45-75 inches of rain. It can be impacted by tropical weather and tornadoes.
South Carolina ranks as the country's 8th hottest state. Summers typically see thunderstorms in the afternoon, with July average highs hitting 92F. Temperatures are milder in the Upstate region, where the Blue Ridge Mountains and elevation moderate the climate.
The general area receives between 40 to 80 inches of rain. It's also at risk for direct hits from Atlantic hurricanes and cyclones.
Real Estate Taxes
Real estate taxes are relatively similar between the two states. In general, property taxes in Georgia are slightly higher than in South Carolina.
South Carolina assesses property taxes at 4% market value for primary residents. Homeowners must apply for this primary home rate with their county assessor; otherwise, they are charged at 6% property value. Any non-primary residential homes are assessed at a higher value.
Property taxes are set by the county and administered by their tax administration. Municipalities may also charge a property tax rate. You'll want to look at the tax rates for the specific county and town you want to live in. The average effective property tax rate was 0.57%
Georgia property taxes are assessed at 40% of the property's assessed value. Homeowners can qualify for a $2,000 homestead exemption for a primary residence. Tax rates are set each year by the local Board of County Commissioners. One mil equals $1 per every $1,000 in value, or $0.001. The median tax rate was 0.83%.
Taxes for Retirees
For those on a fixed income, every dollar in taxation matters. After years of working and paying taxes, many retirees look to relocate to a state with more favorable tax laws for seniors.
Regarding retirement taxes, Georgia is generally more favorable than South Carolina. Bankrate said it was the best state for retirees in 2021, and part of the reason was its tax regulations. In Georgia, Social Security benefits are not taxed. There is a maximum deduction of $65,000 on all types of retirement income for those 65 and older. So if your annual income from all sources is less than $65,000, you won't pay taxes. In addition, those 65 and older can double the homestead exemption if their annual income does not exceed $10,000.
Georgia residents age 62 and older can take advantage of a partial exemption on all property value accrued after a "base year." That year is established in the year a senior age 62 or older applies for the exemption. Once that base year is established, homeowners are taxed at the base year home value, even if it gains appreciated value. Household income must not exceed $30,000 to qualify.
In South Carolina, Social Security benefits are not taxed. However, pension income from public sources is subject to taxation, while private pension income may be exempt depending on the amount withdrawn. Withdrawals from retirement accounts are also subject to state and federal taxes. You can deduct $10,000 in retirement income from pensions and IRAs and up to $15,000 in state taxes. The state also has no inheritance or estate tax.
South Carolina homeowners 65 and older may qualify for a homestead exemption of $50,000 off fair market value if they have lived in the home as a primary residence for at least one year.
Bankrate placed South Carolina as no. 16 on its best states for retirees.
Job Markets
The job market is strong in both Georgia and South Carolina, and both states offer a variety of industries and job opportunities. However, Georgia's job market is slightly stronger than South Carolina's.
In June 2022, the unemployment rate in Georgia was 2.9%, the first ever it dropped under 3%. The rate has hovered around 5% for the past few years and is slightly lower than the national average of 6.3%. The state's economy is driven by transportation, manufacturing, information technology, education, and health care. It also has a strong film-making sector. Significant employers in Georgia include Delta Airlines, Coca-Cola, Home Depot, and UPS.
South Carolina's unemployment rate was 3.2% in June 2022. The state's economy is driven by agriculture, manufacturing, aerospace and aviation, and tourism. Major employers in South Carolina include BMW Manufacturing Company, Boeing South Carolina, Michelin North America Inc., and Walmart.
Here's a side-by-side look at the Georgia and South Carolina job market:
| | | |
| --- | --- | --- |
| | Georgia | South Carolina |
| Current Employment | 5,134,566 | 2,401,251 |
| Unemployment | 2.9% | 3.2% |
| Average Wage | $29.09/hr | $27.93/hr |
| Median Household Income | $61,224 | $54,864 |
| 10 Year Job Growth | 11.8%* | 11.9%** |
Sets of figures are from June 2022. Hourly wage data is based on average hourly earnings of private employees from the FRED.
* From Workforce Trends from 2018 to 2028
** From WIOA state plan from 2016 to 2026
Sports
Georgia and South Carolina both have strong college sports programs. The University of Georgia (UGA) Bulldogs and the University of South Carolina (SC) Gamecocks have a long-standing rivalry in football, basketball, and other sports.
The UGA Bulldogs football team won national championships in 1942 and 1980. They have also won 14 conference championships, the most recent being in 2017. The team plays its home games at Sanford Stadium, which has a capacity of 92,746.
The SC Gamecocks football team has not won a national or conference championship. However, the team did win 11 straight bowl games from 2006 to 2016, the longest streak in NCAA history. The team plays its home games at Williams-Brice Stadium, which has a capacity of 80,250.
When it comes to professional sports, Georgia has the Atlanta Braves (MLB), the Atlanta Falcons (NFL), the Atlanta Hawks (NBA), and the Atlanta United FC (MLS). South Carolina does not have any professional sports teams. Residents tend to root for North Carolina teams like the Carolina Hurricanes (NHL) or Carolina Bobcats (NBA).
Southern hospitality
Both Georgia and South Carolina are known for their Southern hospitality and charm. However, some say that Georgia has a more genuine form of Southern hospitality. Condé Nast Traveler ranked Greenville, SC, the friendliest city in the US in 2022, with Charleston coming in at no. 5. No Georgia cities made their list.
People in the South are generally known for being friendly, hospitable, and welcoming. They are also known for their sense of community and tradition. Some traditions unique to the South include eating black-eyed peas on New Year's Day for good luck, attending church on Sundays, and spending time with family. Southern hospitality is often considered to be one of the best things about living in the South.
Picking Georgia or South Carolina
So, which state is the better choice? It really depends on what you're looking for! Georgia may be the better choice if you're looking for a more affordable cost of living, a great place to retire, or an urban lifestyle. However, if you're looking for a state with more room to spread out, waterfront living, and low property taxes, then South Carolina may be the better choice.