Selling my House - Am I Required To Use A Real Estate Attorney?
Posted by Preston Guyton on Saturday, April 24, 2021 at 5:50 AM
By Preston Guyton / April 24, 2021
Comment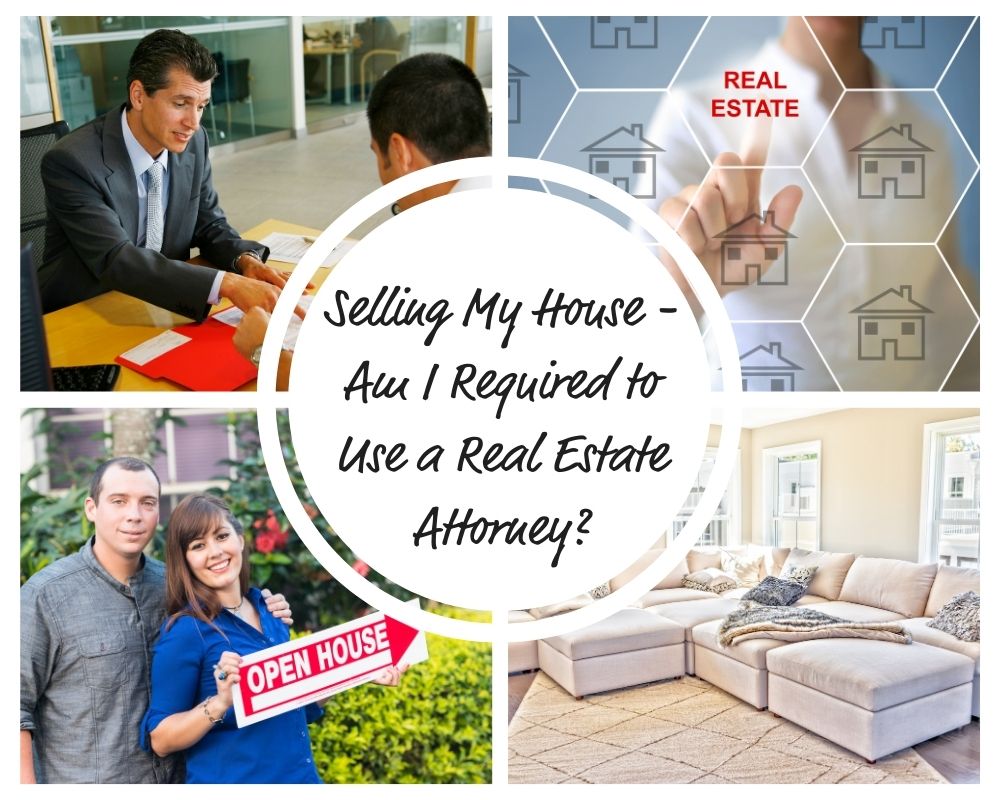 There's one main reason why you're looking for answers to the question: "If I'm selling my home, am I required to use a real estate attorney?" It's because you're selling your house or in the middle of thinking about it. But you've already got a great agent, so what's all the fuss about the need to hire a real estate attorney? While it might sound like just another expense to worry about, there are real benefits to having a real estate attorney. Lucky for you, we've done all the research and placed everything all in one place for your knowledge.
Do You Need a Real Estate Attorney?
The truth is, getting an attorney to represent you, especially during the closing, can protect you from costly lawsuits, titling errors, and documentation issues. Even if most states don't require sellers to get legal representation, it would still be reckless not to have a lawyer by your side in certain cases. If you're still unsure of whether or not to get a real estate attorney, ask for advice from the top attorneys and real estate agents who know how to tie up every loose end in a deal.
How Can a Real Estate Attorney Help?
Real estate attorneys work to protect your interests during the whole sale. They go through piles of paperwork needed in your home sale to catch any mistakes or inaccuracies. During the early stages of your sale, you may ask them to check the listing agreement with your real estate agent to ensure that the terms will favor you.
In the next phase, your real estate attorney will draft contracts such as the mortgage and transfer documents and review titles. They will then go on to write the deed, then check the final breakdown of funds during closing. Furthermore, should any unexpected complications like a judgment on the title or a lien throw a wrench into your transaction, your real estate attorney will handle it professionally, so the deal can continue.
Which States Require a Real Estate Attorney?
As mentioned, not every state requires a real estate attorney to get involved in the real estate transaction process. However, if you live in any of these states, you may be required to obtain an attorney when selling your home. Moreover, the laws change every year, so it's best to double-check local regulations whenever selling a home.
Real Estate Attorney States
Alabama
Connecticut
Delaware
District of Columbia
Georgia
Kansas
Kentucky
Maine
Maryland
Massachusetts
Mississippi
New Hampshire
New Jersey
New York
North Carolina
North Dakota
Pennsylvania
Rhode Island
South Carolina
Vermont
Virginia
When Should You Call For An Attorney?
Because some real estate transactions are more complex, you might find yourself in situations when you need to call for an attorney, even if it's not required in your state. Here are a few circumstances where you will need an experienced real estate attorney to keep your deal on track.
If You're in Financial Distress
Risk of Foreclosure:

If you receive a notice of foreclosure, the first thing to do is to get in touch with an attorney. With a real estate attorney, you can save the foreclosure using an injunction, but this will take time — the more time you have, the better.

If You're Considering a Short Sale: A short sale is when your house is sold for a lower amount compared to what you owe on the mortgage. A short sale needs to be approved by the lender once you show them that you're no longer financially capable of paying the mortgage because of hardship. Getting the approval is something that a real estate attorney can help with.
Are There Judgments and Liens on Your Title? A lien is a reminder from a creditor stating that you owe them money. Voluntary liens (otherwise known as mortgages) are easy to settle in escrow since you signed a contract to get started. On the other hand, involuntary liens (such as unpaid construction, child support, or lawsuits) won't help you sell your property.
Furthermore, creditors can place involuntary liens on your property if you have any debt owed to them. The county may also place liens against your home for outstanding debts such as property taxes. Because these liens are attached to your property's title, you won't be able to close a sale until they're paid off or they will be paid from the closing proceeds.
If You're Selling a Property on Behalf of a Deceased Owner
If you're left with a property after the death of its owner, and the owner wasn't able to settle a living trust, you'll have to undertake probate to sell the property. Probate is a legal process that allows for the selection of a representative to manage the estate along with distributing any assets to its beneficiaries.
In this case, having an experienced probate attorney will be a key player. Once the rights to the property have been turned over to you, your attorney can help with the administration of any taxes, debt, or complications the property may have.
If You're Going Through a Separation or a Divorce
You'll need an attorney if you co-own a house and want to sell it. This is especially true if the other party isn't interested in selling. Having a real estate attorney to represent you and your rights is essential when facing tough negotiations against an uncooperative co-owner. Some factors that will be considered when selling a house during a divorce are:
If you were married during your purchase of the property
The state's laws regarding property division
Your prenuptial agreements (if any)
Your finances
The names listed on the mortgage and deed
The terms highlighted on your divorce agreement
If Tenants are Renting Your Property
The property can become tricky to manage if there's a tenant living in the property you're trying to sell. As tenants, they have legal rights which you will need to address before selling your property. Having a real estate attorney is vital to help you determine the next best step depending on a few important details:
The lease agreement you entered with the tenant
The state's laws on the required notice to vacate
Moreover, your real estate attorney can protect you from any possible legal action from your tenants if there's a violation of the lease agreement. They can also assist you with settling any outstanding balances to ensure you receive accurate payments.
Real Estate Attorney vs. Title Company
People often ask: What's the difference between a real estate attorney and a title company? The answer is that there are a lot. First of all, a title company makes sure that the legal title to your property is legitimate. Furthermore, they look through the public property records to verify a property's chain of title. They also check if there are any liens on the property as well as ensure the past and present ownership interest on your property.
The title company will then issue an insurance policy for your property, usually waiting for the amount of the mortgage or the purchase price. The title insurance is placed to protect the lender or the new owner of a property. Owners get this done to counteract against any claims or lawsuits in the future which can involve disputes over the property's ownership.
Even so, issues regarding the correct chain of title can still pop up. While a title agent may have enough experience to correct minor issues, they don't have law degrees and won't be able to give you legal advice in transactions when more pressing issues arise. This is when real estate attorneys come into play.
Buyers, sellers, lenders, and realtors can all benefit from working with an attorney as attorneys don't just review purchase agreements; they can also address legal questions regarding the contract and the negotiations. An attorney is the only professional who can give a legal standpoint on how someone can keep hold of a property's title. There are also plenty of questions that a real estate attorney can answer that a title agent can't, such as:
What is an acceptable exception to a title policy?
What are your legal obligations to the lender once you close a transaction?
What are the seller's and the buyer's legal rights?
What happens if a title to a property is clouded?
Will an escrow affect the legal rights of one or both parties?
As long as you don't live in the states mentioned above, getting a real estate attorney is optional. However, it is a good idea to do so anyway, so you can prevent any legal problems from springing up in the future. Whether you're buying or selling a property, it's best to have a real estate attorney by your side.
The Home Selling Process of Real Estate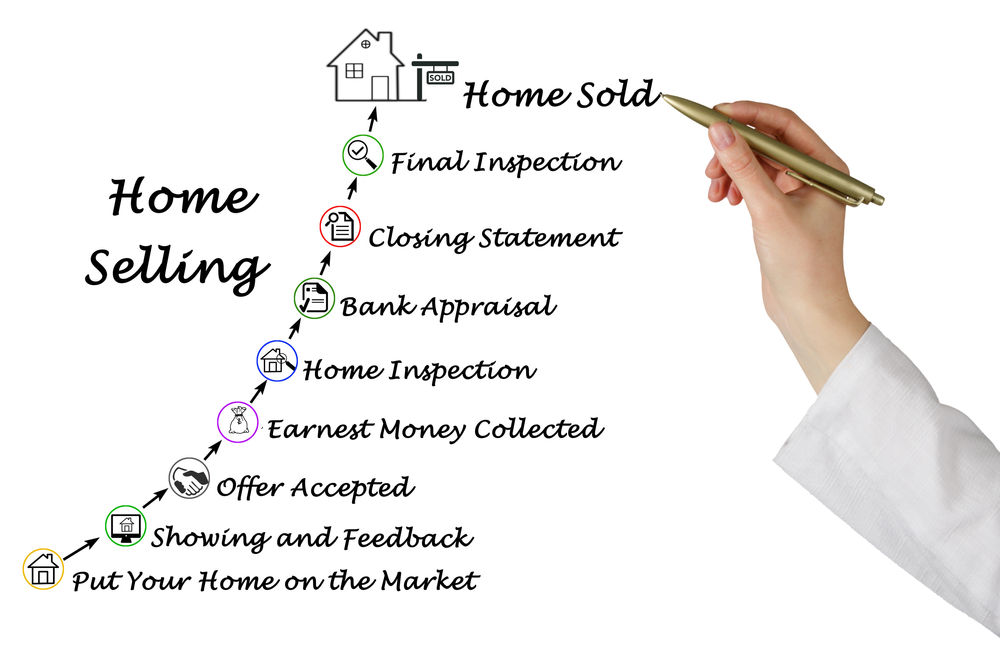 If you are in the home selling process and aren't in a rush, you'll have plenty of time to prepare. But the home selling process is much like the buying process, and there are plenty of steps and pieces involved. If you remember how things went when you bought your first home, you could reverse-engineer those processes to get an idea of what's in store during the selling process. Here is a simplified, step-by-step guide to the home selling process:
Look for the Right Listing Agent: The process of selling a home can take a long time, so you should always look for the right agent who will serve your best interests. Make sure you have the best chance of getting connected to the right listing agent by talking to your family, friends, and coworkers. You can also ask for referrals, review agent websites, and interview some of the best in the industry.
Choose a Competitive Listing Price: Quickly selling your home comes down to competitive pricing. However, there's a fine line between pricing just above market value versus pricing low enough for your property to sell. But don't panic too much, your listing agent will be responsible for performing a market analysis to provide you with the best possible price to help your property sell as quickly as possible.
Devise Your Marketing Plan: Your listing agent should also present you with a marketing strategy that's concise and on point. This can include hosting open houses, a listing on the MLS (multiple listing service), as well as sending out targeted campaigns. You also need to participate in this process; you can opt for virtual tours, professional photography, or tapping into various networks to locate interested buyers.
Provide Your Property With a Makeover: While you may appreciate your home the way it is, new buyers are always looking for a fresh new look. Spend some time preparing your home by applying a fresh coat of paint, or giving the interiors a deep cleaning. You can also get help from your agent who can give you advice or a referral that can help with getting rid of pet odors, removing personalized effects, decluttering around the rooms, staging, and much more.
Prepare for Open Houses: Working with your listing agent can help you get ready for scheduled open houses. Generally, you don't need to be there; the agent can show your home professionally to interested parties in your absence.
There's Nothing Wrong With Negotiating: While most people are afraid to do it, most seller's market has room for negotiation. If you know your property is priced well and is situated in a desirable location, you'll likely get plenty of competing offers. Be sure to ask your agent to negotiate on your behalf to ensure that you get and accept the best offer.
Wait During the Escrow Period: When a seller and a buyer settle on a purchase agreement, they will start the escrow period. This is a time when the seller and the buyer will wait on standby for the closing and move-out date. This period also addresses important things like scheduling an appraisal, ordering a title report, and performing an inspection on the property.
Meet the Property Appraiser: Generally, the buyer's lender will need a property appraisal to ensure the negotiated price was fair and equal to the property's actual value. During this time, it's best to keep your home organized and clean before the appraisal schedule and remember to cooperate with the appraiser. Furthermore, ask your agent regarding your rights should the buyer choose to terminate the deal based on the results of the appraisal.
Assist With Property Inspection: Inspections allow buyers to confirm that the home they are purchasing is really in the condition it's claimed to be. Should the property inspector find any serious underlying issues, which may range from plumbing that needs replacing to cracks in the foundation, the buyer has the right to back out if they're not happy with the results. Once every contingency has been met, ask the buyer to lift them in writing.
Prepare to Close: Both sellers and buyers can breathe a sigh of relief at this point since they can cross off everything on their checklists and wait for the closing date. Your listing agent will also need to prepare you for the paperwork and documentation that you'll need to read and sign in the closing meeting. Once everything has been verified and signed by all parties, you can celebrate because the property has been officially sold.