Road Trip - Driving to the Beaches in South Carolina
Posted by Preston Guyton on Thursday, July 8, 2021 at 4:40 AM
By Preston Guyton / July 8, 2021
Comment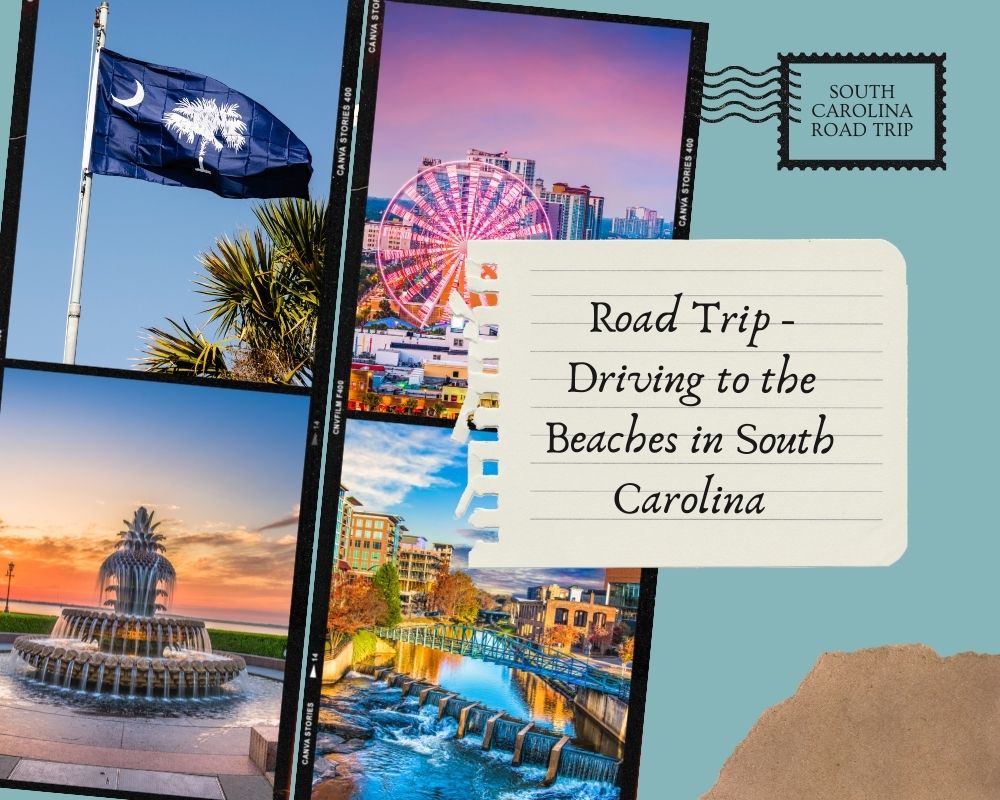 Road Trip - Driving to Beaches in South Carolina
If you've ever wondered how long it takes to drive from your South Carolina city to some of the most beautiful beaches in the South Carolina, you've come to the right place. In our previous blog post, we spoke about some of the must-visit cities in South Carolina and explored the beautiful areas it has to offer. This time, we'll take you on a road trip, driving to the best beaches in South Carolina.
Here, we'll discuss driving to South Carolina beaches from the coastal region, midland area, as well as upstate South Carolina.
Coastal South Carolina
Along coastal South Carolina some of the cities you will find are North Myrtle Beach, Myrtle Beach, Charleston, Kiawah, Beaufort, and Hilton Head. Because these areas are located right by the beach, they provide a great escape from the bustle of bigger cities further inland. If you live in one of these cities, you are fortunate as your beach commute could only be steps away or a very short drive.
North Myrtle Beach
More than 50 years since its founding, this nine-mile-long beach community has continued to thrive. The four existing communities of Cherry Grove, Crescent Beach, Ocean Drive, and Windy Hill were combined to form this city in 1968. This small town is full of charm, offering a wide range of entertainment, restaurants, and shopping options.
If your driving along the coast, driving from North Myrtle Beach to Charleston will take around 2 hours and 18 minutes to drive the 119.3 mile stretch of the US-17 S road.
In North Myrtle Beach you will find soo much to do. There are bait and tackle shops should you want to spend the day on Cherry Grove Pier and try your luck at catching fish. If you'd rather spend the day in the water, you can go parasailing and glide over the ocean for a fun day out. If you're in the Cherry Grove area and looking for somewhere to eat, you must try The Shack Restaurant along Sea Mountain Highway.
You'll also find Barefoot Landing and the Myrtle Beach Safari Preservation Station close by, where you can enjoy the company of tiger cubs and baby gibbons.
Myrtle Beach
Serving as the anchor to the Grand Strand, Myrtle Beach has attracted the attention of tourists from all over the country for over 70 years. Listed as one of the country's top ten summer vacation destinations on TripAdvisor, it offers visitors golf courses, beachfront hotels, shopping areas, and many different places to eat. A lot of its residents report that living in Myrtle Beach is like living in a small town with the amenities and convenience of a big city.
Driving to Myrtle Beach from Charleston will take around 1 hour and 58 min via the US-17 S road, which is a total of 98.4 miles.
While the beach is definitely a highlight of this city, other must-see attractions include the Myrtle Beach Skywheel, which is located right at the heart of the beach. This 200-foot Ferris wheel features 42 air-conditioned glass gondolas where you can experience an extraordinary birds-eye view of the Grand Strand. Every ride is around 12 minutes long with tickets costing $14 for riders who are 12 and older, and $9 for kids aged 3 to 11.
Just a short walk away from the SkyWheel is Peaches Corner, a Myrtle Beach restaurant located at 900 North Ocean Blvd. While many attractions have come and gone throughout the years, Peaches Corner has stood the test of time and still serves foot-long hot dogs, double cheeseburger baskets, and beer to locals and visitors alike.
Kiawah Island
Kiawah Island is the closest place to paradise on Earth and is a private island that features 10 miles of pristine beaches surrounded by sand dunes, maritime forestry, and lush marshes. All of these combined translate to beach scenery that can't be compared.
A mere 25.5-mile stretch via State Rd S-10-20, Kiawah Island is just a stone's throw away from Charleston.
While many of Kiawah Island's beaches are private — making them accessible only to property owners, renters, and their guests — Beachwalker County Park is available to the public, where you can expect a great beach with access to restrooms, as well as lifeguards on duty.
The island's landscape is also home to various scenic trails and waterfront golf courses. One such example is the Ocean Golf Course, which is home to the 2021 PGA Championship. So, if you're an avid fan of golf, be sure to have at least one round here and experience great, unforgettable views of the ocean during what many consider one of the most beautiful golf courses to walk in the world.
Hilton Head
Hilton Head, located roughly 97.8 miles away from Charleston via the US-17 N, features gorgeous beaches, as well as popular spots like Alder Lane and Coligny Beach Park.
Hilton Head island is known for offering a wide range of recreational activities, such as tennis and golf. Many spas also call this island their home, making it one of the top places for tourists who want a luxurious, relaxing getaway.
Beaufort
Beaufort has always ranked at the top among lists for the best retirement cities and was also named the "Best Small Southern Town" according to Southern Living. At just 70.1 miles away from Charleston, you can drive to Beaufort via the US-17 N, which should only take about an hour and 20 minutes. This city was chartered in 1711, making it the state's second-oldest town, after Charleston.
For a great time at the beach, head over to Hunting Island State Park, which provides tourists and locals with plenty of things to do apart from swimming by the beach. Its vibrant and welcoming atmosphere draws millions of visitors every year, making it one of the most popular destinations in the state. You can experience a bit of everything here, including diverse wildlife, scenic locations, film festivals, amazing restaurants, and more.
This park boasts a 130-foot-tall lighthouse, which serves as a landmark and can be climbed for the best views on the island.
The beach itself is both unspoiled and stunning and is made up of five miles of white sand leading to the Atlantic, while 5,000 acres of woodland and marsh habitats occupy other areas. Hunting Island State Park is also an ideal place to enjoy a wonderful camping experience with numerous campsites to choose from.
Midland South Carolina
This area includes the cities of Columbia (which serves as the region's main center and the state capital), Rock Hill, Aiken, and Florence. It is called the Midlands as it sits at the halfway point between the Lowcountry and Upstate.
These areas are much farther from the ocean, so driving to the areas listed above can be a long drive depending on traffic.
Columbia
This great city is the capital of the state and is host to a population of 131,674. The second-largest city in South Carolina, it's often seen as a "young and vibrant" town. This is because the University of South Carolina is located here, where the students provide the city with a liberal and progressive attitude compared to those of other cities in the state.
If you're looking to travel from Columbia to Charleston's beaches (such as Folly Beach or the Isle of Palms), the trip would take around 2 hours over a 119.3-mile stretch via the I-26. However, once you do get there, you'll see that there are plenty of things to see and do while in downtown Charleston. Many people spend the day exploring the city and getting acquainted with the many wonderful restaurants the city has to offer. On King Street, you'll find 167 Raw, a popular choice for the lunch crowd. For dinner, The Ordinary, Hall's ChopHouse, and Husk are always a good idea.
But, if you're looking for other beach options, Columbia also has access to other beach cities not to far, such as:
Myrtle Beach, which is a longer drive at 2 hours and 41 minutes and is 152.2 miles away via the I-20 E and US-501 S
Kiawah, which is 142.8 miles away via the I-26 E and will take 2 hours and 43 minutes to drive to
Hilton Head, which takes around 2 hours and 35 minutes on a 157.5 mile-long trip via the I-26 E and I-95 S
Rock Hill
The city of Rock Hill has a population of 75,048, making it the fifth-largest city in South Carolina. With more than 30 parks, four recreation centers, and the Rock Hill Outdoor Center, it's a popular destination for tourists who love the outdoors. This city is also host to Winthrop University, which gives the town an energetic and youthful atmosphere.
This city comes alive in spring, when it celebrates the Come See Me Festival, bringing in around 125,000 visitors from around the country. There are also plenty of other celebrations and cultural events that the city hosts throughout the year. But, if you're looking to escape from the city and are looking for crystal clear waters that beach cities have to offer, then expect long drives.
Charleston is within reach via the I-77 S and I-26 E. However, the drive will take 2 hours and 49 minutes and is 185.2 miles away.
Myrtle Beach will take around 3 hours and 24 minutes to drive. The shorter distance of 164.0 miles doesn't help as the US-501 S experiences heavy traffic during rush hour in the mornings and in the afternoons.
Kiawah is accessible through the I-77 S and I-26 E roads but will take 3 hours and 25 minutes to cross. You should also expect some traffic on the 208.7-mile trip, especially during rush hour.
Hilton Head, which is approximately 223.4 miles away, will take approximately 3 hours and 25 minutes via the I-77 S and I-95 S.
Aiken
Because of its beautiful equestrian training facilities and appealing climate, Aiken has become known as a horse-country town that's full of tradition. This city also boasts plenty of outdoor activities and has a rich history. With plenty of scenic views and gorgeous parks, it's no wonder plenty of tourists come to this city for a taste of country living.
Its thriving downtown scene has many activities for you to choose from, and the city hosts various events for guests to take part in. Whether you're after the best dance and musical concerts or you're looking for excellent restaurants, Aiken has it all. If you are interested in a beach day a drive is ahead, make your way to neighboring cities that have beaches, such as:
Charleston, which is 131.4 miles away via the SC-4 E and I-26 E. You can get there in 2 hours and 25 minutes, provided there isn't much traffic.
Myrtle Beach lies farther at around 204.1 miles away. Driving there will take you approximately 3 hours and 30 minutes via the I-20 E.
Kiawah is a 3 hour and 2-minute drive from the city of Aiken. Accessible through the SC-64 E, it is 141.8 miles away with some traffic along the drive.
Hilton Head is a shorter drive at just 130.4 miles away via the US-321 S. It should take around 2 hours and 32 minutes if everything goes smoothly.
Florence
If you're a big fan of history, Florence might just be the city for you. Here, you'll find the War Between the States Museum, the Florence National Cemetery, and a big part of the 66-mile Revolutionary Rivers Trail. Florence is both progressive and liberal, which is why young professionals thrive here.
With inexpensive housing and a wide range of job opportunities, it's definitely a great city to be in. Many families have chosen to settle here, and more are moving in for its above-average school system. However, the only thing you won't find here are beaches. If the summer heat is getting to you and you are looking for a shoreside escape, consider these options:
Charleston is 136.3 miles away from Florence via the I-95 S and I-26 E and should take around 2 hours and 6 minutes.
Myrtle Beach is much closer and is only 1 hour and 22 minutes and 67.6 miles away via the US-76 E and US-501 S.
Kiawah lies 159.8 miles away and is accessible via the I-95 S and I-26 E, which should take 2 hours and 43 minutes by driving.
Hilton Head is also a long drive that stretches for 174.1 miles and will take around 2 hours and 42 minutes via the I-95 S.
Upstate South Carolina
The Upstate is home to major cities such as Spartanburg, Greenville, Anderson, Greenwood, and more. Found in the westernmost part of South Carolina, the Upstate region is also known as the Upcountry, which is its historical term. This area contains a lot of culture and history and is the perfect place for both young professionals and families.
Spartanburg
The city of Spartanburg was formed in 1785 and was named after a part of the military known as the Spartan Regiment. The past few decades have seen developers trying to breathe new life into its downtown commercial district. It has since resulted in the remodeling of Morgan Square, the relocation of various businesses downtown, as well as the restoration of many historic structures.
Young professionals find this city appealing, not just for its employment options, which include international companies such as Adidas, Denny's, BMW, and others, but also for the inexpensive real estate. Furthermore, it offers great parks and outdoor spaces, perfect for mountain biking, hiking, and other such activities.
However, if you're looking for beaches and waves, this is not an option. But, if you're willing to drive, here are a few places to consider:
Charleston is a 3 hour and 9-minute drive away via the I-26 E and is 202.6 miles long.
Myrtle Beach is an extra-long drive and will take up 4 hours and 9 minutes of your time on a good day. The 241.4-mile drive will take you through I-26 E and I-20 E, where you might experience traffic along the way, depending on how early you start your trip.
Kiawah Island is 226.1 miles away and will take around 3 hours and 46 minutes to reach via the I-26 E.
Hilton Head will take just as long as Kiawah to drive as you travel 240.8 miles via the I-26 E as well.
Greenville
Known as the sixth-largest city in South Carolina, Greenville has been named one of Downtown America's Best Downtowns by Forbes Magazine. It was once the hunting ground of the Cherokee and served as a training camp for army recruits during World War I.
Naturally, Greenville is deeply tied to its historic roots, which is evident in the Greenville County Museum of Art and the Upcountry History Museum.
There are also several festivals celebrated annually in the city, such as Euphoria Greenville, a culinary event that takes place over four days; New South Comedy Festival, a comedy festival celebrated over ten days; and the Shakespeare Festival.
Just as its name suggests, Greenville provides its residents with plenty of gorgeous parks and green spaces around the city. However, there aren't any beaches here, so you'll need to make your way to one of these beautiful places:
Charleston is 212.9 miles away and takes 3 hour and 13 minutes to drive using the I-26 E.
Myrtle Beach can be reached via the I-20 E and is a 251.7-mile drive, which should take around 4 hours and 13 minutes.
Kiawah is also within reach but is also a long 236.4-mile drive at 3 hours and 50 minutes via the I-26 E.
Hilton Head is 251.1 miles away and will take 3 hours and 51 minutes to drive via the I-26 E.
Greenwood
Greenwood is located in Upstate South Carolina and provides guests with a small-town setting with the progressive environment of a big city. It's also home to various community assets, such as Piedmont Technical College, Lander University, Lake Greenwood, Self Regional Healthcare, and more. Moreover, the city of Greenwood offers plenty of activities, attractions, and events, making it a great place to visit.
The city of Greenwood is home to fun festivals, such as the South Carolina Festival of Flowers, which includes plenty of fun activities for the whole family to enjoy, and the Festival of Discovery, which celebrates the food, culture, arts, music, crafts, and people of this great city. However, if you'd rather check out the most gorgeous beaches that this state has to offer, be prepared for long drives. Here are a few places to visit, along with their distance from Greenwood:
Charleston can be reached via the I-26 E. It is 191.9 miles away and should take around 3 hours and 10 minutes.
Myrtle Beach is 230.7 miles away and will take you 4 hours and 9 minutes using the I-20 E.
Kiawah Island will also take a long time — a total of 215.4 miles, which will take around 3 hours and 46 minutes to drive through the I-26 E.
Hilton Head is 186 miles away and should take about 3 hours and 40 minutes to reach when going through the SC-125 S.
Anderson
The city of Anderson is also the county seat of Anderson County, South Carolina. It offers a huge variety of enjoyable activities for both young professionals and families who travel to the area. It also provides visitors the chance to explore this area's rich history through farm and plantation tours organized by local historical societies.
With its great outdoor environments, specifically its many golf courses and state parks, Anderson offers many opportunities to escape from the usual hustle and bustle of life. You'll also find gems, such as the Anderson County Museum, CocoBon Chocolatier, Denver Downs Farm, Woodburn Plantation, and more.
Unfortunately, you won't find beaches in this area, so you'll have to make your way to these popular spots:
Charleston, which is 227.4 miles and 3 hours and 44 minutes away via the I-26 E.
Myrtle Beach, which takes you all the way across the state on a 266.2-mile stretch via the I-20 E. This drive should take about 4 hours and 44 minutes.
Kiawah is also a long drive, which is 250.9 miles away and takes roughly 4 hours and 21 minutes via I-26 E.
Hilton Head, which is 265.5 miles away and is about a 4 hour and 23-minute drive through the I-26 E.
However, no matter where you wish to spend your summer days, you must stop by Hilton Head and make your way to Coligny Beach Park. It is, by far, the most popular beach in the city and produces some of the most scenic shorelines you'll have the pleasure of laying your eyes on. Its wealth of amenities and its great beach park attracts visitors and locals alike, making it one of the best places to be during summer.
This park is complete with showers, restrooms, changing rooms, gazebos, and benches you can relax on. There are also plenty of places to eat just a few steps away from the sand. On top of everything, parking here is free.
Now that you know your options, what are you waiting for? Head over to South Carolina's top beach cities where the waves can wash your worries away.