Real Estate Home Search - What does Pending or Contingent Mean?
Posted by Preston Guyton on Tuesday, July 20, 2021 at 5:51 AM
By Preston Guyton / July 20, 2021
Comment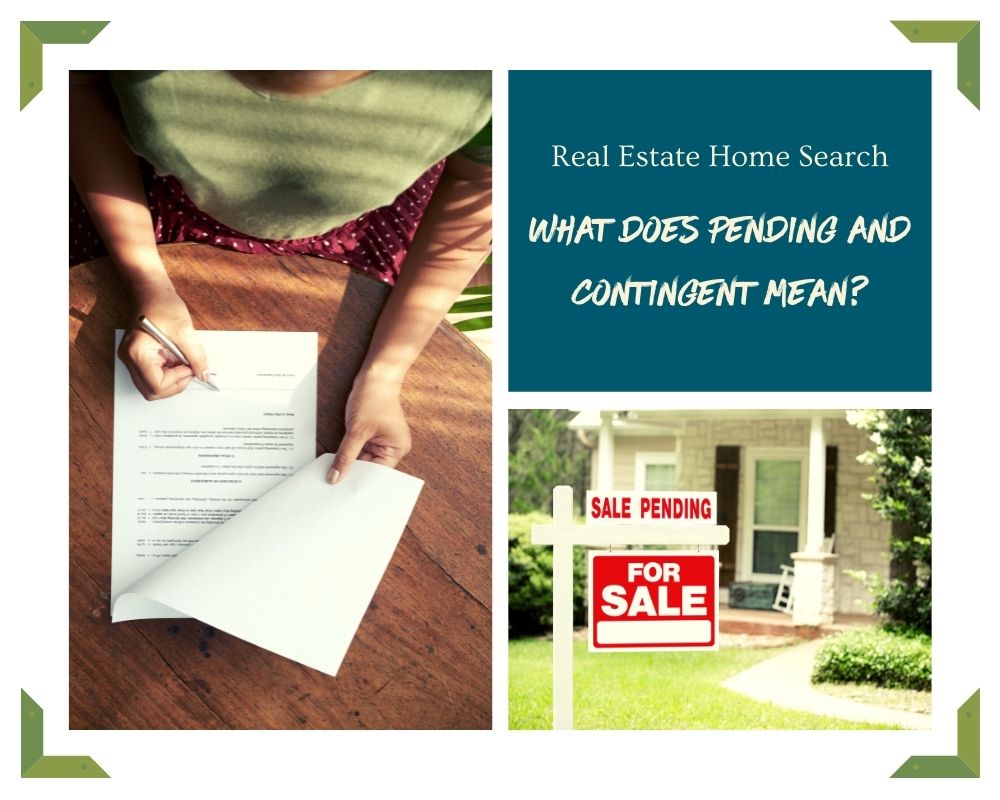 Real Estate Home Search - What does Pending and Contingent mean?
If you've looked up homes for sale before, you may have noticed that some don't always have a straightforward listing that says "for sale." Some say "contingent" or "pending," while others provide more detail such as "pending, taking backups" or "contingent, continue to show." While it may sound confusing at first glance, these phrases describe that the house is currently in a stage of the sale process.
Understanding the differences between pending and contingent will provide you with the knowledge to determine which properties are still up for grabs. Moreover, this knowledge will help you determine how to move forward if you wish to bid on such properties.
Pending in Real Estate
A home that's listed as "pending" means that the seller has already accepted an offer from another buyer. Furthermore, all contingencies have already been waived or addressed and it is no longer considered an active listing.
However, not every pending real estate will be closed and completed — a home will stay pending until all the legal work is processed. There's also a chance that this property can make its way back to the market if the seller or buyer has issues with closing the deal. The average percentage of failed transactions changes over time, ranging from 3% to double digits, depending on how tough lenders are and the market's trajectory.
Contingent in Real Estate
If you see a property that's marked as contingent, it means that the seller has already accepted an offer but is still an active listing. This is because the deal is still liable to fall out of contract should the buyer fail to meet the requested provisions. In other words, a sales and purchase agreement has been signed by the seller and buyer but is still contingent on specific factors.
While the expectations are that most contracts will close like with any other pending transactions, contingent deals are more likely not to proceed due to the extra or specific contingencies that may give the buyer an option to cancel. However, if everything goes well, a contingent deal will proceed to a state of pending.
Difference Between Pending and Contingent
To further explain how a pending status differs from a contingent status, here's a table that outlines the reasons why a home may be classified as one or the other:
| | |
| --- | --- |
| Reasons for Pending Status | Reasons for Contingent Status |
| While the seller may have accepted the offer, they are still looking for other offers. | The house has yet to pass an inspection. |
| While the seller has accepted the offer, they are still showing the home as a result of a loophole. | The buyer hasn't been able to secure financing yet. |
| While the seller has accepted an offer, the sale hasn't been closed after more than four months. | The deal is dependent upon the sale of the buyer's existing home. |
There are also different kinds of pending and contingent statuses, and each will indicate a varying level of opportunity for those who wish to purchase a home.
Types of Pending Properties in Real Estate
There are various kinds of pending sales when it comes to real estate. Some of the most common types are:
Pending: Short Sale
This refers to when a buyer's accepted offer is a short sale, which means it needs to be approved by additional banks or lenders. These will usually be outside the seller or buyer's control and may take a longer time to process.
Pending: Taking Backups
This refers to when the seller accepts an offer on the house, but the process hits a snag in its final steps. It might be an issue regarding contingencies on the offer, in which case, the seller might take backup offers should the deal fall through.
Pending: More Than 4 Months
Refers to accepted offers which have been pending for over four months. There are various reasons for this, such as delayed construction, snagged negotiations, an agent oversight, or a processing time that takes longer than usual.
Types of Contingencies in Real Estate
A contingency in real estate terms can be caused by a wide range of factors. Here are a few of the most common reasons behind a contingency:
Appraisal Contingency
An appraisal contingency allows the buyer to opt out of a contract or negotiate with the seller to reduce the purchase price to match the appraisal amount. Appraisal contingencies ensure the buyer is not ovepaying for a property as it allows them to opt of a contract if the appraisal is not equal to or above the purchase price.
Financial Contingency
This happens when the buyer can't get the mortgage or home loan they expected. At times like this, the seller can cancel the deal.
Title Contingency
This refers to a title report that shows conflicting ownership, in which case the buyer can cancel the deal.
Inspection Contingency
Should you observe problems during the home inspection, the buyer may ask for compensation, repairs, or opt-out.
Active: Kick Out
A Kick out clause can be added to a real estate contract for many reasons, most often you will see a kick out clause when the buyer has to sell their house before they can buy the new house. In this situation the kick out clause will give the buyer a designated amount of time(Usually 24 or 48 hours) to choose a closing date if another offer comes in for the property. In cases like this, the seller can cancel the deal and accept the new contract.
Active: First Right
When a propety is listed for sale and has an active First Right of Refusal agreement on the property. This means that the person or entity with the first right of refusal has the option to buy the property at the buyers contract price. A large majority of first right of refusals are not exercised.
FAQs on Pending and Contingent Properties
How Often Does a Contingent Offer Fall Through?
While it may be difficult to keep track of how many pending or contingent offers are canceled every year, statistics show that overall, approximately 4% of home sales fall through. This confirms that a majority of home sales eventually close, but deals may also fall apart for various reasons.
Is It Possible To Make an Offer on a Pending or Contingent Home?
Keep in mind that you can make an offer on a house anytime during the sales process, which is why you need to have the latest details on the home. It also helps to have an experienced real estate agent who will handle the complexities of the transaction.
How Do I Win a Home Before It Goes Into Pending or Contingent?
Be sure that when you see a home you're interested in, you place an offer as soon as possible to help you avoid pending or contingent homes. A quick way to find a home is through real estate websites and to sign up for updates that alert you when homes that suit your needs go on the market. If you're sure about going after a house listed as pending or contingent, you'll need a strategy.
Here are a few things you can do to increase your chances of getting that house:
Offer More Money
Be sure to make a strong offer compared to the rest of your competition. This will show the sellers that you're serious about owning their home. It will also help you come out on top should there be competition between buyers when it's time for the seller to accept an offer.
Consider Giving an Offer With No Contingencies
While this may be risky, making an offer where there are no contingencies or having them waived can draw in sellers. Depending on what kind of contract they entered, they might be able to pressure the current buyer to do the same or to cancel the whole deal.
Write a Personal Letter
If you just can't miss out on a pending or contingent house, you can write a personal plea addressed to the homeowners. If they are unhappy with the negotiations, sending the homeowners a compelling letter matched with an offer that's equally enticing might help you get the edge over other buyers.
How Do I Make a Backup Offer?
A contingent or a pending offer isn't carved in stone, so there's always a chance that it will fail. As mentioned, there are various steps that you can take to potentially buy a home even if it's in the contingent or pending stage. But apart from waiving your contingencies, offering more money, and including a personal letter, there are other ways to tempt the seller.
In most cases, you may also place a backup offer — here are a few ways to do this:
Talk to the Listing Agent (or Ask Your Agent)
Be sure to find out about the contracted offer's current state. Ask about the inspections that have taken place, and find out if the current deal entertains backup offers.
Make a Stronger Offer
Apart from waiving your contingencies, you can also provide an offer above the asking price to increase the chance of securing the deal.
Write an Offer Letter
When writing an offer letter, make sure it will appeal directly to the seller and states your case.
By providing a backup offer, the seller will have an option to consider should their current deal fall through. Like with any offer, you'll need to pay an option fee and a deposit, but you will be able to get this money back should the contract be canceled.
Moreover, you can ask your agent to contact the listing agent if you don't want to pay option fees and earnest money on the backup contract. In this way, you're leaving yourself with options should the initial deal fail.
Conclusion
Pending and contingent offers are a common occurrence in real estate, and as such, sellers and buyers need to know what they mean and how to deal with such situations. Both cases mean that the sale isn't 100% complete and that there's still a chance for it to break down. But whether you're trying to sell your home or trying to make an offer, make sure that you have an agent who will be able to discuss pending statuses and contingencies with you.