Pennsylvania Vs. West Virginia: Which is the Better State?
Posted by Preston Guyton on Friday, March 17, 2023 at 1:07:08 PM
By Preston Guyton / March 17, 2023
Comment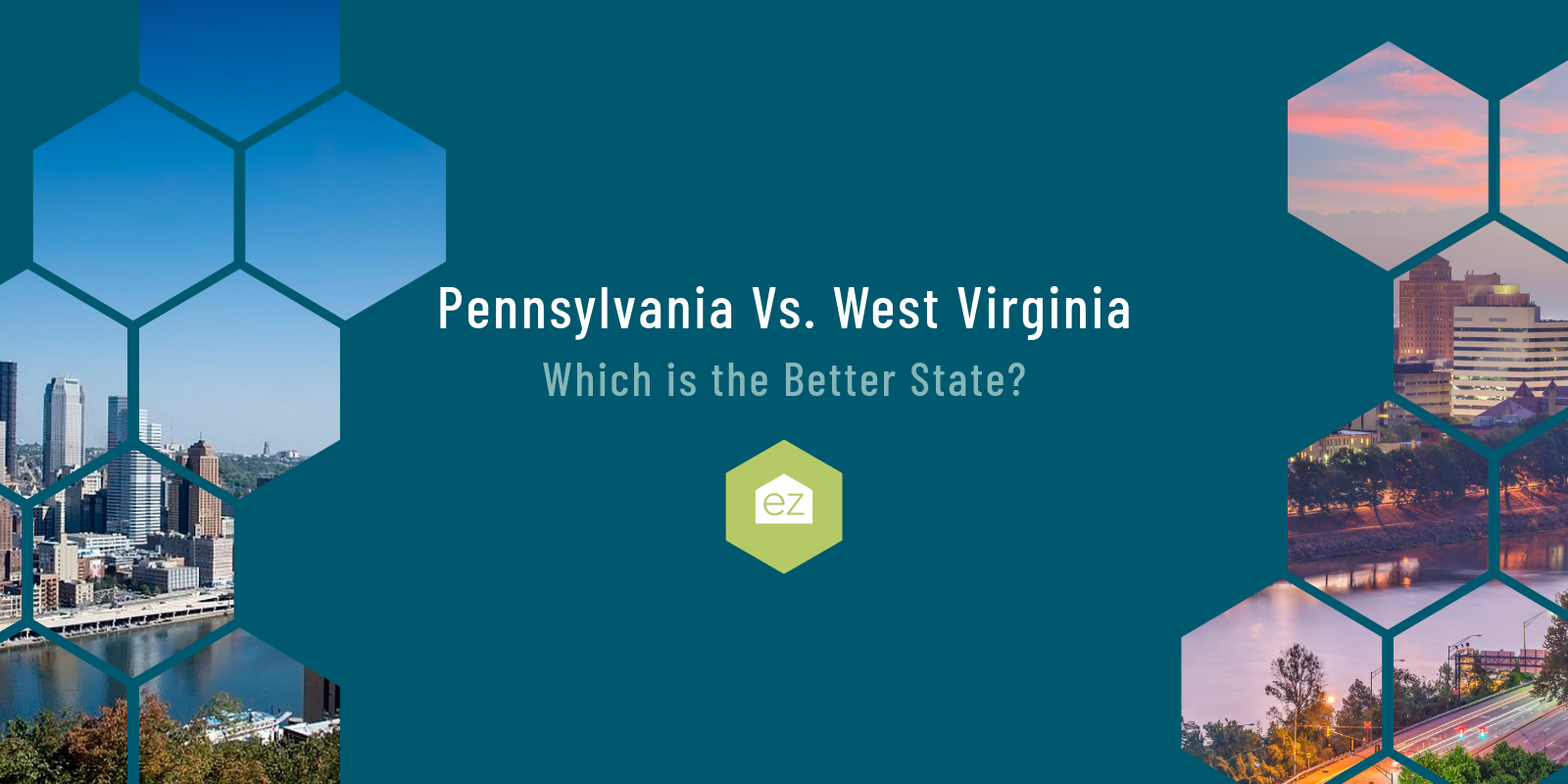 Pennsylvania Vs. West Virginia: Which is the Better State?
Are you considering a move to the mid-Atlantic region of the United States? If you're interested in states with abundant outdoor recreation, you're likely looking at Pennsylvania and West Virginia. With the four-season outdoor activities these states offer, deciding which one is right for you might be tough! From charming historical towns to rolling hills and mountainous landscapes, you'll have endless possibilities for finding the right home.
You might be surprised to find out these two have plenty in common - from access to scenic mountain vistas to vibrant cities ready for exploration. But there are distinct differences, from the cost of living, taxes, job markets, and climate. These differences are what matter when you're choosing where to live.
Here we compare Pennsylvania and West Virginia so that you can make an informed decision about where exactly your next home should be.
Cost of living
In West Virginia, you can save a bundle on living expenses. With its lower-than-average cost of living in all categories evaluated by Sperling's Cost of Living Index, it's no wonder that this is an enticing destination for budget-conscious people! Residents save about 15% overall on their costs compared to Pennsylvania – that's no small potatoes! Plus, every single category except one considered by the index comes in under 100 points.
But if variety and access to essentials are more important than saving money to you, Pennsylvania may offer more options. After all, there's much more demand for quality health care, education, and infrastructure where there are more people!
| | | |
| --- | --- | --- |
| | West Virginia | Pennsylvania |
| Population | 1.79 million | 12.97 million |
| Median Property Value | $128,800 | $197,300 |
| Median Household Income | $50,884 | $67,587 |
| Homeownership Rate | 74% | 69.2% |
| Overall | 79.4 | 94.6 |
| Grocery | 95.8 | 100.3 |
| Health | 127 | 101.1 |
| Housing | 39.3 | 80.5 |
| Utilities | 85.9 | 98.2 |
| Transportation | 90.1 | 104 |
| Miscellaneous | 85.1 | 101.5 |
*These figures are based on the US 2020 Census.
Do remember, this is a big-picture look at the cost of living. These states cover a lot of ground, so their cost of living will vary quite a bit. For instance, setting up a home in a major city like Philadelphia will run more than Reading, PA.
Population growth
A growing population means a few things: one, people find the place attractive for work, education, or cost of living, and two, the cost of goods, like your housing, will appreciate. The economy is stable, and the job market will have more employers and industries. On the other hand, if people are leaving a place, that means they're finding their quality of life and opportunities limited.
Pennsylvania will be the winner on this one, even though both states lost residents in the last US Census count. Another 0.2% of Pennsylvania's population left from 2020-2022.
Sadly, the Mountain State is in worse shape regarding growth. It has seen a dip in its population over recent decades. From 2010-2020 alone, West Virginia lost around 60,000 residents! Another 1% departed from 2020-2022. Senior citizens comprise an increasingly larger part of its demographic, and the state's working-age people are finding new opportunities elsewhere.
That's not to say places aren't growing. In West Virginia, Monongalia, Jefferson, and Berkeley Counties are expected to add to their population. And in Pennsylvania, the growth prospects looked bright around the Pittsburgh and Philadelphia metro counties.
Real Estate Taxes
In 2022, the national average homeowners paid in property taxes based on a percentage of housing values was 1.08%.
Unfortunately, Pennsylvania homeowners paid an above-average property tax rate of 1.58%. Even though next-door New Jersey and New York posted higher real estate taxes, residents still shelled out a hefty $3,442 in 2022, ranking no. 9 for the highest property tax burden.
That means the tax advantage goes to West Virginia, where residents paid some of the nation's lowest average effective tax rates. It came in no. 10 for low property taxes, thanks to low real estate values and a capped taxing burden.
Taxes for Retirees
The favorite here is West Virginia, which some metrics ranked highly as a place to retire–but primarily based on its affordability and low cost of living.
Social Security benefits are excluded from taxable income for single taxpayers with a federal adjusted gross income under $50,000. For joint filers, the income must be less than $100,000 for this exemption. Otherwise, you'll pay an individual income tax of 3-6.5%.
Tax breaks are available for federal, state, and local government retirement plans covering first responders, military members, and railroad benefits. Some state-designated plans are income exempt for up to $2,000. Other income can be deducted for up to $8,000 if you are 65 or older. In addition, homeowners 65 and older can receive a senior property tax exemption of up to $20,000.
In Pennsylvania, retirees are exempt from paying taxes on Social Security, railroad, government, military, and private employer benefits paid once the individual reaches the standard retirement age of 65.
Homeowners or renters 65 and older can further lower their tax burden with a property tax exemption. To qualify, the annual household income must not exceed $35,000.
The state does charge an inheritance tax, but only if your siblings or non-lineal heirs inherit property. The law exempts the decedent's spouse, parents (if the deceased was 21 years old or younger), grandparents, lineal descendants, or son/daughter-in-law. There is a 5% discount if the tax is paid within three months of the decedent's death.
Job Market
In terms of economic growth, job market potential, and diversified options, Pennsylvania's got your number here.
Pennsylvania demonstrates a powerhouse economy with an impressive $815 billion GDP in 2022. It's known for its economic diversity and boasts top-tier sectors such as manufacturing, education, healthcare, and transportation. Not to mention the 24 Fortune 500 companies who have proudly planted their flag within the state! Pittsburgh has also made itself known on the tech industry map. It's now one of America's hottest startup hubs.
The state is working hard towards improving its business-friendly environment that's already home to top companies like Aramark, Kraft-Heinz, and Giant Eagle. With leading industries ranging from food processing and advanced manufacturing through distribution to medical technology, life sciences, and robotics, the Keystone State is rich in employment options.
West Virginia has been making great strides in diversifying its economy, with tourism now the state's leading industry. Additionally, government, healthcare, and manufacturing are amongst their top employers - Kroger and Lowe's are some of the biggest contributors. While there may not be any Fortune 500 headquarters to be found here yet, Toyota Motor Manufacturing and General Motors have both set up plants. So there are opportunities for jobs in important industries within West Virginia.
Education
Again, Pennsylvania's going to come out ahead in education. Ranked the no. 17 state by US News and World, it's far ahead of no. 45 West Virginia.
Pennsylvania's size and population mean residents can access more quality higher education programs that support the overall educational environment. It had around 1.7 million students attending schools in some 500 school districts.
PA may have come in last for higher education nationally, but its Universities are among the best! The University of Pennsylvania and Carnegie Mellon both rank highly year after year, not just nationally but worldwide. Plus, Villanova University and Lehigh add significant clout to this impressive list. On top of that, Pennsylvania simply has more choices than West Virginia can offer when it comes to attending a university or college.
Meanwhile, West Virginia's public schools are highly rural. They are linked to the local counties, resulting in 55 districts and 683 schools. The PK-12 education is ranked no. 41 compared to its higher education at no. 47.
City Living
Our metros are popular places because they pack everything that makes life exciting. Performance venues. Art hops and galleries. Delicious dining and craft breweries. Great places to work, go to school and live.
Explore Pennsylvania's unique cities, each with a history that adds to its character. Historic sites like the Liberty Bell and Independence Hall inspire tourists and locals in Philadelphia. Plus, the city has a mouth-watering food scene and a large arts community. Pittsburgh has been called one of America's most livable cities for its up-and-coming tech industry, chic restaurants, art galleries, and picture-perfect city views!
Although West Virginia's big cities don't quite reach the size and offerings of Pennsylvania, they have a mountain city charm. State capital Charleston is a quaint capital overlooking the meandering Kanawha River. Locals have easy access to outdoor adventures, and its less dense population makes it easy to get around! Honorable mentions go out to Huntington and Parkersburg, both large towns situated near the Ohio state line.
Climate
Across the states, residents can expect beautiful variations throughout each season. However, Pennsylvania and its neighbor to the west have a climate that is not as uniform as expected for being at the same latitude.
PA has the most weather diversity, with lake-effect snowfalls carpeting northwestern PA in feet of powdery goodness for skiing to more mild winters near the Atlantic coast and southeastern areas. The state is typically warmer and drier than its mountainous cousin. The average high temp for all seasons and areas is 57.4F while the low is 35.1F.
West Virginia's peaked terrain brings cooler temperatures and more precipitation. If you want to escape the typical summer heat, head to the central mountains, where highs reach a maximum of 80F - 85F in southwestern areas! For colder months, expect winter lows ranging from 20-30F degrees, depending on which area of this beautiful state you explore.
Outdoor Recreation
Pennsylvania and West Virginia shine when talking about the great outdoors. It's a trait the two share and represents a large part of their tourism industry. Their shared borders lend their common mountain landscape features to mountain activities.
Entirely nestled amongst the Appalachian Mountains, West Virginia is nicknamed The Mountain State for a reason. Outdoor adventurers have an array of exhilarating opportunities right out their door. Hike a section of the famous Appalachian Trail or take on Class IV+ rapids in New River Gorge National Park. Fly fish among some of the nation's best waterways.
Don't forget about winter activities – with four ski resorts boasting downhill skiing, cross-country trails, and snowshoeing at its finest.
Have a truly wild experience exploring the Hatfield-McCoy Mountains' renowned off-roading trails! Or, make waves on a summer holiday in WV's beautiful lakes region – perfect for boating or simply catching some well-deserved R&R in nature.
But Pennsylvania won't disappoint, either. With thousands of acres of forested land, its changing landscape is perfect for fly fishing in the Alleghenies or hunting in the state's famed Wilds region. PA also has ski resorts to take advantage of the elevation change and snowfalls!
Not into skiing? Get ready to tackle the hills of Pennsylvania! With more than 125 miles, the Great Reading Trails offer a thrilling ride for mountain bikers. Continue on foot up the Appalachian Trail from West Virginia or north to Maine. Explore over two million acres with horseback trails, hiking areas, and primitive campsites.
When you're feeling the summer heat and want some water adventures instead? Head down to 85,000 miles of amazing rivers and streams available. Find perfect spots for kayaking, boating, or fishing along Lake Erie shoreline or on the Delaware River leading out onto the Atlantic Ocean beyond!
Culture
The Amish and Mennonite peoples are an essential part of the cultural fabric of Pennsylvania. Pennsylvania Dutch Country has the largest population of Amish settlers who operate craft furniture stores and markets around Lancaster County.
If history interests you, landmarks such as Gettysburg National Historic Park and Independence Hall await your exploration. Locations across this state were integral during colonial America and the American Revolution, so it's a popular place for history buffs to visit.
From the Philadelphia Museum of Art to Pittsburgh's Andy Warhol Museum, Pennsylvania has no shortage of artistic flair. For those looking for a unique experience, Punxsutawney Phil reports on Groundhog Day, while New Year's Eve sees a Hershey Kiss dropping from the sky!
Meanwhile, West Virginia is a beautifully unique corner of the country with an incredible folk culture that blends Celtic, German, and Native influences. Experience its musical heritage firsthand at one of its many festivals, or check out local galleries for breathtaking artwork inspired by this special place! And while cuisine options may not be as distinct as Philly cheesesteaks, try a classic pepperoni roll or a breakfast sandwich from Tudor's Biscuit World.
Choosing between West Virginia and Pennsylvania
Ultimately, it all boils down to personal preference when deciding whether West Virginia or Pennsylvania fits you. The possibilities are endless if you take the time to explore all that West Virginia and Pennsylvania have in store for potential residents.
Ultimately, suppose you're looking for an urban experience. In that case, Pennsylvania will be your best bet, while West Virginia's largest city Charleston may be better suited to those looking for a more laid-back way of life. And if you want small-town living or a place in the country, both states definitely tick those boxes.
Before making a move to either state, talk to a local real estate agent who can help you research different neighborhoods within each of them so that you make sure the right one is chosen for your specific lifestyle needs.