Our Top 8 Most Requested Neighborhoods in Wilmington, NC
Posted by Preston Guyton on Sunday, May 15, 2022 at 7:30 AM
By Preston Guyton / May 15, 2022
Comment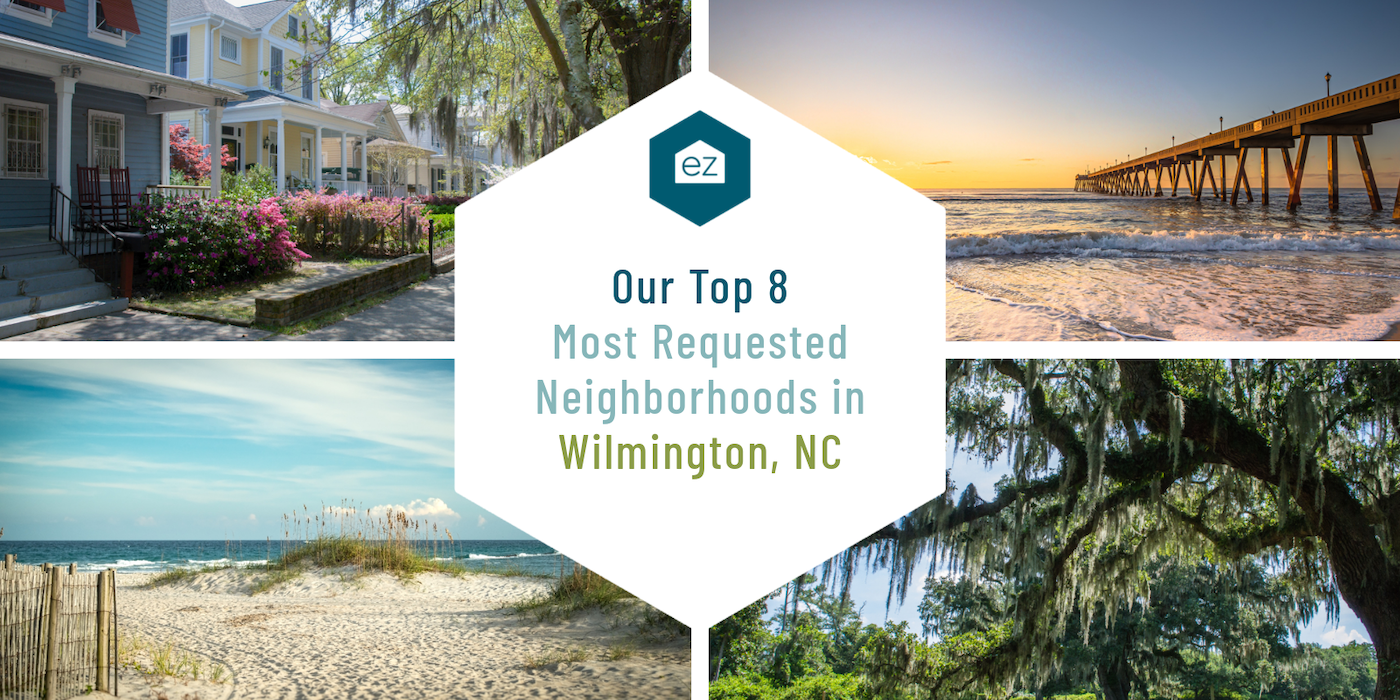 Our Top 8 Most Requested Neighborhoods in Wilmington, NC
Wilmington is a historic North Carolina city with a lot to offer its residents, from the downtown area to the beaches. Its long history stretches back to pre-colonial times, adding history and culture to its charm. It's also the home of UNC-Wilmington, bringing the college vibe to some parts of town.
Residents live in a thriving community with many restaurants, stores, marinas, and resorts. North Carolina's best beaches are a short drive away. The median age is 36, suggesting that many young professionals live in the region thanks to its many job prospects. For all these factors–and more– Bankrate placed it in its top five places to live in the state for 2021.
Wilmington is a popular destination for home buyers. There are many neighborhoods to choose from, each with its unique history and amenities. Some areas are more desirable than others. Check out the eight most requested places to live in Wilmington.
Wilmington Historic District
If you want to be in the heart of it all, the historic downtown district is for you! The area is full of 18th and 19th-century architecture, tree-lined streets, and gas lamps. With a Walk Score of 90, you can easily stroll to restaurants, shops, galleries, and parks. This area is also home to the Cape Fear Riverwalk, a 2.5-mile-long path perfect for walking, running, and biking.
If you're in the mood for some history, check out sites like the Cotton Exchange, the USS North Carolina, and the Riverwalk. The nearby downtown is also home to several bars and clubs for nightlife. For those who want to be in the center of the action, the historic district is the place to be.
Local architectural styles include Italianate, Colonial, American Craftsmanship, and Victorian. While historic and protected by ordinances, many homes have been refurbished over the years.
The median price in April 2022 was $599,000, with 14 homes on the market. The prices ranged from $360,000 to $1.8 million.
Carolina Place
Carolina Place is an affluent community with majestic oak tree-lined streets and beautiful homes. This neighborhood is located south of downtown off Market Street and is one of the most popular areas in Wilmington. It was established in 1906 and was the first suburban residential neighborhood in Wilmington.
This area is adjacent to several parks, including Hugh MacRae Park and Wallace Park. The latter has a creek and cypress tree preserve. The downtown district, antique district, and farmer's market are a reasonable bicycle ride away. Cape Fear Museum of Natural Science and History and a YMCA are nearby off Market Street. New Hanover High School is also just a few blocks away.
The neighborhood has several old, stately homes, often in a bungalow or classical revival style. Expect to see sidewalks leading up to sprawling porches and historic homes. The neighborhood hosts social events throughout the year.
The median price for Carolina Place/Ardmore in April 2022 was $381,500, with five homes on the market. The prices ranged from $274,900 to $1.8M.
Mayfaire
If you're looking for a more suburban feel, try Mayfaire. This area is located west of downtown, adjacent to Landfall and Wrightsville Beach, one of the most popular beaches in Wilmington. The neighborhood is convenient to Interstate 40 and Military Cutoff Road, making it an easy commute to other parts of the city.
Mayfaire Town Center is a popular shopping destination with over 100 stores and restaurants in an upscale outdoor mall. The town center was designed to have a downtown feeling by mixing retail and residential.
The area is also home to several parks, including Ogden Park and Wrightsville Beach Park. You'll love being close to the water if you're an outdoor enthusiast. For more recreation options, there are several golf courses in the area.
There are luxury houses, homesites, and townhomes for sale near the beach. Developments inside Mayfaire include Inland Greens, Mayfaire Townview, Northwood Estates, Eastport, Seaspray Landing, and The Village at Mayfaire. May 2022 had seven homes for sale in Mayfaire ranging from $320,000 to $499,000. The median price was $450,000 in April 2022.
Water Street
If you're looking for a prime location, check out Water Street, also known as the Riverfront or Riverwalk area. This neighborhood is east of downtown and is a popular area in Wilmington. Residents can walk downtown and its many shops and restaurants.
Thanks to the famous mile-long Wilmington Riverwalk that runs beside the neighborhood, residents have access to breathtaking views and popular attractions. The Battleship North Carolina sits across from Water Street. Other attractions include the Burgwin-Wright House and Garden, the Museum of the Bizarre, and the Children's Museum of Wilmington.
The small neighborhood is filled with historic homes and condos. The median price for Water Street in April 2022 was $372,000, with six homes on the market. The prices ranged from $349,000 to $615,000.
Marsh Oaks
If you're looking for something less urban, check out Marsh Oaks. This suburban neighborhood is located north of Wilmington near Ogden. The area is convenient to NC Business 17 and NC 140, making it an easy commute to other parts of the city.
Marsh Oaks amenities include tennis courts, a junior Olympic size swimming pool, and a Lowcountry-style clubhouse. There is a swim team at the swimming pool. The community hosts events like neighborhood runs.
The neighborhood includes luxury houses, homesites, and townhomes. It has an HOA. Developments inside Marsh Oaks are Plantation Estates, The Reserve at Marsh Oaks, and Braelock. Homes in Marsh Oaks ranged from $97,900 to $900,000. The April 2022 median price was $537,500.
RiverLights
For a newer addition to Wilmington, try RiverLights. This neighborhood sits along the Cape Fear River south of Wilmington and east of Carolina Beach Road. The master-planned community is popular with families thanks to its small-town charm.
The neighborhood has an 18-hole golf course designed by Nick Price. If golf isn't your thing, the community has many nature trails, a 38-acre lake, and access to the Cape Fear River. There's even a marina for your boat. An active association runs events throughout the year for residents to enjoy.
RiverLights has a mix of restaurants in the area, including Asian fare, Italian food, seafood spots, sushi bars, and more.
Find a mix of new homes, luxury condos and townhomes, 55+ communities, and single-family houses. The median price for a home in RiverLights was $510,000 in April 2022, with 83 homes on the market. The prices ranged from $305,000 to $1.5M.
The Cape
If you're looking for a beach community, check out The Cape. This neighborhood is located south of RiverLights with proximity to Kure Beach, Carolina Beach, and Fort Fisher. This area is home to quiet, tree-lined streets perfect for walking the dog, jogging, playing golf, or riding with a neighbor.
The Cape is convenient to the NC Aquarium at Fort Fisher, the North Carolina Maritime Museum, and the Fort Fisher State Recreation Area. If you love the outdoors, you'll enjoy being so close to the water. Residents have several golf courses nearby.
There are luxury houses, homesites, and townhomes for sale in proximity to the beach. Developments inside The Cape include Ocean Dunes, Seaside Landing, and Surfside Estates. Homes in The Cape ranged from $214,900 to $683,800 in April 2022. The eight homes on the market had a median list price of $424,900.
Sentry Oaks
Sentry Oaks is a popular community near Monkey Junction that's great for families. The Halyburton School Complex is conveniently located to Sentry Oaks, as is a gifted private school.
The community pond is situated on the main road, just off Ambleside Drive. Residents have easy access and proximity to local shopping and dining options. Many families enjoy living in Sentry Oaks because it is close to Pleasure Island beaches for surfing and sunset walks on the beach.
This established neighborhood has a mix of luxury homes, condos, and townhomes on tree-lined streets. There are conventional homes in the community, which is desirable for its above-average lot sizes. Some homes have almost an acre of land. Sentry Oaks has an HOA association. In April 2022, there was one home for sale in Sentry Oaks with a list price of $440,580.
Where to Live in Wilmington, NC
If you're looking for a great neighborhood in Wilmington, NC, you can choose from many options. Find luxury homes with golf courses, homes with access to the beach, or newer communities with convenient proximity to shopping and dining. As you'll find when moving to Wilmington, there's something to please all. So whether you're looking for a family-friendly community or an area perfect for retirees, Wilmington has it all!