Our Top 6 Neighborhoods in Columbia, South Carolina
Posted by Preston Guyton on Monday, May 16, 2022 at 7:44 AM
By Preston Guyton / May 16, 2022
Comment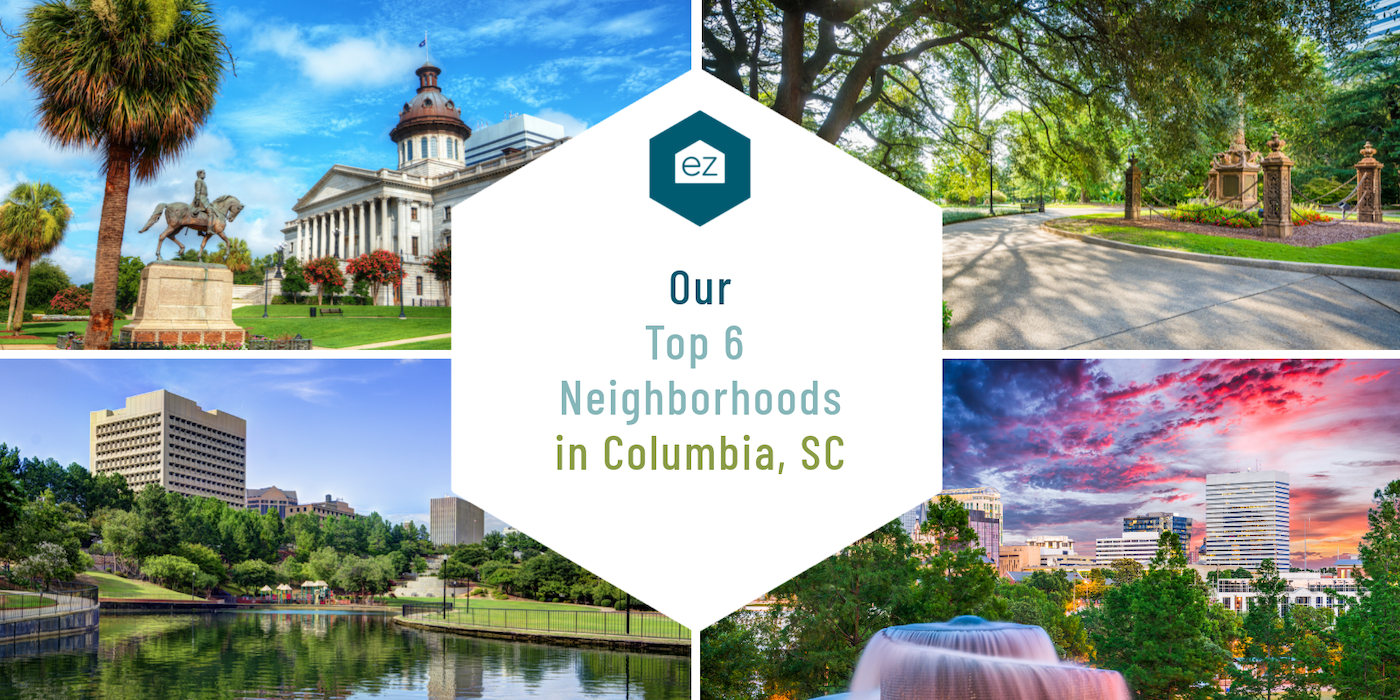 Our Top 6 Neighborhoods in Columbia, South Carolina
Columbia was chosen as the state's capital because its central location in South Carolina's Midlands makes it accessible to all. Living here, you'll be able to go on day trips around South Carolina and into parts of North Carolina and Georgia with ease. In about three hours or less, you may travel almost anywhere in the state–the Grand Strand, beach resorts, Lowcountry, or Piedmont area. It's one of the reasons living here is so attractive.
Columbia affords you an urban lifestyle without being as crowded as other metropolia or state capitals. You can be in the countryside or dining at a world-class restaurant in minutes.
If you're considering buying a home in Columbia, there are six neighborhoods that we think you'll love. Let's take a look at our top six picks for Columbia neighborhoods:
Downtown
A lively area full of history and hipster culture, Downtown is a great place to explore foodie havens, local shops, and historic landmarks. The area is also great for nightlife, with several bars and clubs to keep you entertained into the early hours.
Main Street is the heart of the action. Here, the Columbia Museum of Art is one of the most well-known sites in the city. The museum receives approximately 150,000 visitors each year. The Nickelodeon Theatre, also known as The Nick, is significant to the city, not just because University of South Carolina students founded it. The Nickelodeon hosts the Indie Grits Film Festival, drawing in thousands of film enthusiasts every year.
Residents get to visit the weekly Soda City Market, a farmer's market-inspired by a traditional European street market that operates every Saturday morning. More attractions and job opportunities are within walking distance when you live Downtown.
Downtown had 13 listings in April 2022, with a median list price of $284,000. Prices ranged from $72,500 to $875,000.
The Vista
The downtown area between the State House and the Congaree River has been transformed into a top dining, shopping, nightlife, and cultural destination since textile factories and rail lines first developed it. The Historic Columbia Foundation offers walking tours of the area.
The Vista is near a number of the city's most popular attractions, including the S.C. State Museum, Colonial Life Arena, and EdVenture Children's Museum. It is the home of Trustus Theatre, the city's progressive theater organization. The local organizations and parks play host to major yearly celebrations, including the holiday-kickoff Vista Lights in November and the art event Artista Vista each spring.
There are many housing choices in the area. The Vista had a median list price of $258,000 in April 2022 with four listings.
Five Points/Devine St
If you're looking for a bit of culture in your life, then Five Points is the neighborhood for you. Founded in 1915, the area has several local artisans who run small boutiques and coffee shops, as well as several historic landmarks. It is a highly walkable area.
The University of South Carolina is located in this neighborhood, making it a popular hangout area for college students. As a result, bars and restaurants on Five Points come alive after dark with lively patrons. Bar None, Cellar on Greene, and Breakers Live are just a few of the well-known watering holes in the area.
Live music concerts are held at several of the neighborhood's establishments. The Columbia Food and Wine Festival and Summer Sidewalk Sale, the city's largest sidewalk sale, are hosted in this community.
Seven residential neighborhoods surround Five Points. Historic homes are often in a bungalow style. Some have been converted into boutiques. The Five Points area had three homes for sale ranging from $225,000 to $875,000 in April 2022. There is a lot of rental real estate.
Forest Hills
If you're looking for a more suburban feel, then Forest Hills is your place. The established neighborhood is located between Forest Drive and Gervais Street. Development started in the 1920s. With its tree-lined streets and family-friendly atmosphere, it's a quiet place near downtown with a lot of charm. The community is listed on the National Register of Historic Places.
Forest Hills is a well-established neighborhood that appeals to potential buyers because it is close to Vista and Five Points. The winding avenues and green spaces provide residents with a quaint, laidback feel. While there is some fill-in new construction in the area, most of the nearly 300 houses were built between 1930 and 1950 and have been upgraded to include modern amenities while keeping their vintage appeal.
Forest Hills has an active neighborhood association that regularly hosts events for the community. You will find many architectural styles; from Colonial Revival, to Craftsman, to English Tudor, to Modern Traditional architecture. There was one listing in April 2022 for $619,000.
Arcadia Lakes
Another historic neighborhood near downtown and Forest Hills, Arcadia Lakes' roots date to the 1800s when it was a rural area. It began developing more extensively in the 1930s as Columbia residents sought larger, multi-acre land tracts.
Today, the area offers suburban living with a rural feel, about eight miles from downtown Columbia. The area has a dense tree canopy, adding to the parkland feel. Arcadia Lakes boasts several amazing views of nearby Lake Murray, plus seven other lakes. The spacious parks provide ample room for some great outdoor activities.
The houses in this region are primarily single-family from the 1960s, with a few remaining from the late 1930s. You'll find custom lakefront homes and planned communities. Uniquely, Arcadia Lakes does not assess local property taxes.
The average house size is between 1,000 and 4,000 square feet, and lots are about 0.5 acres. Styles vary widely, including ranch, traditional, and spilt-level. In April 2022, there were four homes for sale with a median list price of $299,900. Prices ranged from $30,000 to $539,000.
Sherwood Forest
Sherwood Forest is a historic neighborhood between Beltline Blvd, Devine St, and Kilbourne Rd. This historic downtown neighborhood is a traditionally laid-out neighborhood with ample green spaces and rolling terrain.
Much of the neighborhood is walkable, and you're likely to see local kids walking to the nearby schools. Residents enjoy the USC Belser Arboretum and the Lindler Circle Trail walkway. Heathwood and Sims City parks are within six blocks.
The Sherwood Forest neighborhood was established in the early to mid-1900s with lot sizes averaging ½ to 1 acre, with home sizes ranging from 2,000 to 4,000 square feet. Today there is an active neighborhood association.
There were no homes for sale in April 2022. The last listed home was for $320,000 in March 2022.
Northeast Columbia
Northeast Columbia is a once-rural area now being developed into a primarily residential neighborhood. Formerly a bombing range for nearby Fort Jackson, the fast-growing area is home to several parks and a large lake. The most popular is the 1,419-acre Sesquicentennial State Park, which has a 30-acre lake and hiking trail.
Residents are close to major shopping centers and restaurants, making it a desirable location for commuters who want easy access to the city but enjoy peace and quiet in their backyard. The popular planned community Lake Carolina and the Village at Sandhill retail complex are in the northeast.
You'll find a range of housing, from apartments to lakefront single-family homes. In April 2022, there were four homes for sale with a median list price of $334,950. Prices ranged from $269,900 to $475,000.
Where to live in Columbia
When it comes to choosing a neighborhood in Columbia, there are many great options for everyone. Devine Street, Five Points, or Sherwood Forest might be perfect for you if you're looking for a historic downtown area. If you're looking for a more suburban feel, Arcadia Lakes or Northeast Columbia could be the right fit.
No matter what you're looking for, Columbia has a perfect neighborhood for you. Before you move to Columbia, check out our guide to learn about the city. Contact a local real estate agent to help you find the ideal home in the perfect location.