Get to Know Orlando, FL - Your Moving Guide
Posted by Preston Guyton on Friday, February 3, 2023 at 11:41:05 AM
By Preston Guyton / February 3, 2023
Comment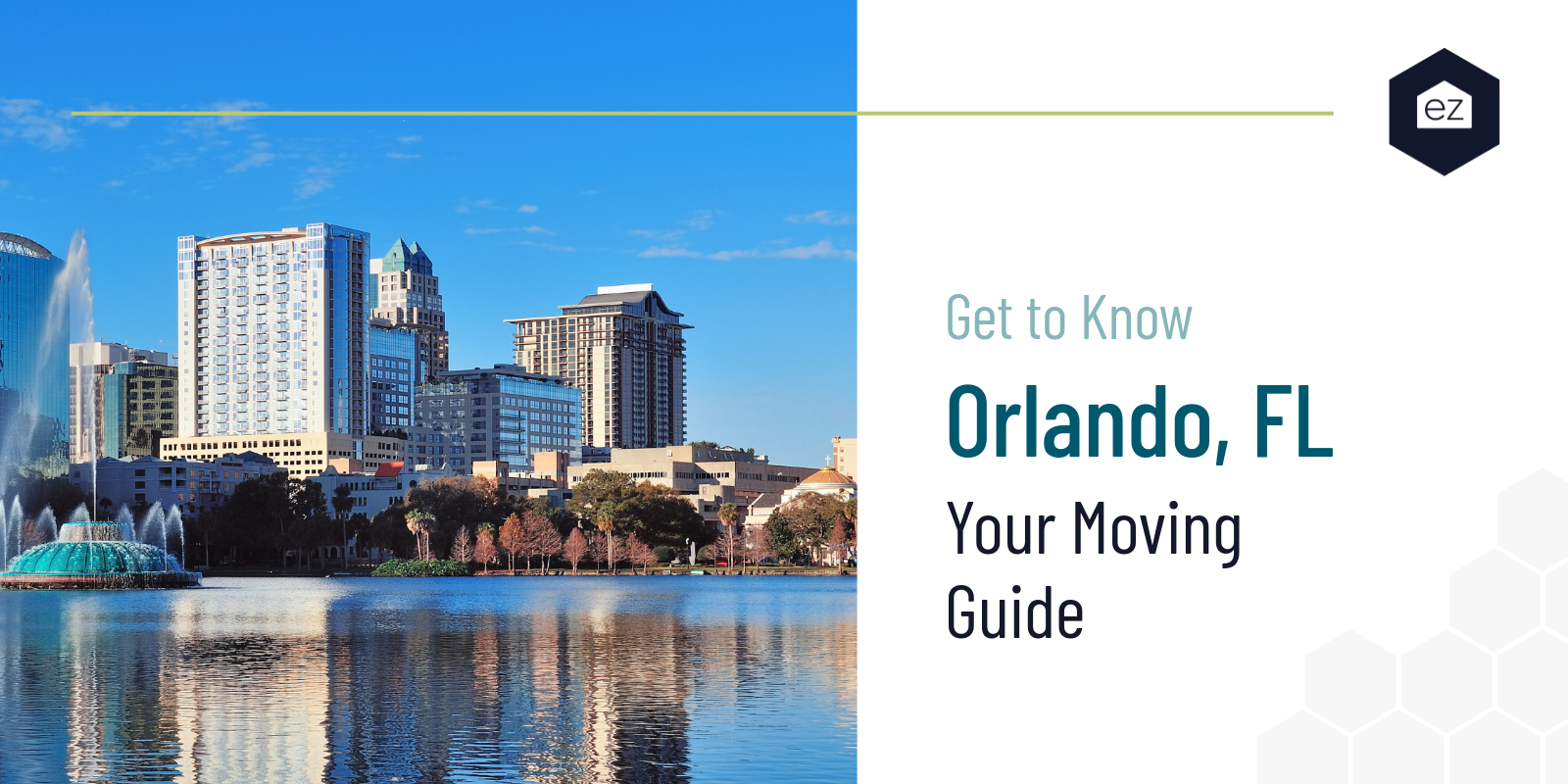 Get to Know Orlando, Florida - Your Moving Guide
Planning to live in Orlando? You've come to the right place! Orlando, Florida, is a fantastic city with a lot to offer families, young professionals, and retirees. This central Florida hub may have a reputation as an amusement park, but more people are discovering the advantage of calling it home year-round. The metro was the second-fastest-growing large US city in 2020!
Living in Orlando is different from spending a week on vacation. Be prepared if you plan to join the people moving to The City Beautiful. Here's what you need to know about moving to Orlando, from the weather and cost of living to real estate, attractions, and more.
Orlando is hot…and not
When it comes to the weather, the good news is Orlando is away from the coast, so it won't experience a direct hit from a hurricane. However, the storms' winds and heavy rains can still seriously impact it.
Winter is a bright spot; you'll be outdoors while your friends in the north dig out from the snow. The average high in January is 72F, and the average low is 51F. That's not to say it can't drop to near or below freezing because it can, but the icy cold never lasts long.
Orlando may have mild winters, but the exchange is hot summers and fierce, pop-up thunderstorms. If you're not used to lightning storms, get ready! They really can form in minutes. July is the hottest, at an average of 92F, while August is the wettest, with an average of 14 days of rain. All that heat and humidity combine for a hot, sticky summer environment.
Your costs are average
This city's cost of living is slightly higher overall than average (3%), which means you won't stretch out your dollar. Still, you're not likely to outlay a lot, either.
Everything is at or near the national average spending: housing, 0.9% higher; groceries, 0.7% higher; utilities, 2.3% higher. The big difference is transportation, which will run you 10% above average.
Still, you can control your spending, and you'll have plenty of affordable housing options available. The median home sold price was $353,200 in December 2022, a 3.9% year-over-year increase. The average rent was around $1,929 for a 962 sq ft apartment.
Jobs are plentiful
Frequently ranked the state's fastest growing economic market, the job market in Orlando has been booming, and not just in a single industry. Even though the city is a huge tourism destination, there's diversity in the economy thanks to education, health care, sales, and technology. Posting for tech jobs alone grew 42% from January to October 2022.
Top-growing sectors in 2022 and 2023 were hospitality, professional services, construction, and education. Based on the number of employees, major employers included Walt Disney World Resort, JetBlue Airways, Advent Health, Publix Super Markets, and the University of Central Florida. As a central location in the state, it's also a transportation and distribution hub.
Education is strong
Education is key when it comes to raising a family. In Orlando, you'll be pleased to know you have some of the state's top options.
Starting with public K-12 education, Seminole County in the northeast Orlando metro is one the consistently best-ranked school districts in the state. Numerous programs address career and college readiness, STEM education, and IB coursework. Orange and Osceola Counties consistently make "B" grades, with some "A" ratings in their history. They have individual high-performing schools, like the Orlando Science Middle-High Charter, which was no. 30 in the US News and World Report Florida state rankings. Osceola County School of Arts came in no. 35 in the state.
How about a college education? Orlando is home to the University of Central Florida, with its large, urbanized campus serving over 60,000 undergraduate students alone. It's one of the state's largest schools by enrollment. It runs 10 regional campuses and graduate school programs.
It's not the only higher education provider in the metro. In Winter Park, Rollins College is a private four-year school rated the no. 1 regional university in the South. Valencia College has expanded into a four-year school but still offers associate's degrees and certificates. For two-year schools, Seminole State College of Florida serves over 16,000 undergraduates a year.
In other words, your education is well-served in the Orlando area, with many public, private, and higher education choices.
Housing prices aren't bad
With the influx in population, you'd expect a booming real estate market. In some ways, Orlando delivers. The metro population was 2.4 million and growing, so there is a high demand for real estate. Annual prices have risen due to demand, growing 20% from 2021-2022.
But compared to other cities of similar size, housing in Orlando is a steal. The median price in December 2022 was $353,200, compared to the state average of $395,000. The Orlando market at that time had a 2.85 month's supply of inventory as it headed back towards a more "normal" market after the pandemic upheaval. Rising inventory is good news for home buyers.
Real estate opportunities abound in Orlando and include everything from luxury homes to condos, apartments to single-family residences. Construction is one of the top industries, and part of that is the demand for residential housing, so you can also find a brand-new home.
While the Orlando city limits are small, the whole metro is extensive, increasing the options for what kind of community you can live in. Check out the best places to live inside Orlando and its suburbs.
So many arts and culture attractions
Those that love arts and culture will find their needs satisfied in Orlando. From the Dr. Phillips Center for Performing Arts to the Renaissance Theatre, live performing venues abound. That's not to mention the art galleries and museums of Winter Park or the Orlando Museum of Art near downtown.
Check out Hard Rock Live or the House of Blues for state-of-the-art live music venues. Be IMMERSED in the multi-modal street fair put on by Creative City Project or take in the shows at the Orlando International Fringe Theatre Festival. Throughout the town and suburbs, you'll have street fairs, art walks, and galleries to explore.
Ride the roller coasters
Don't forget about the attractions! From world-famous amusement parks such as Disney World Resort, Universal Studios, and SeaWorld to awesome water parks like Aquatica and Blizzard Beach, Orlando residents have the world's best amusement parks in their backyard. And Florida residents often get ticket discounts or can take advantage of year-round passholder savings.
Paddle the swan boats
Check out the outdoor parks, lakes, and trails when you want quieter thrills. One popular park is Lake Eola, a beautiful spot perfect for walks and picnics with friends. Hop aboard a pedal-powered swan boat and enjoy a leisurely ride around the lake. Or, explore one of the Chain of Lakes: the Winter Park chain or the Butler chain. These are interconnected waterways that link to lakes of varying sizes. They expand your boating and fishing opportunities.
It's not all water sports. A network of trails provides safe lanes for cyclists and runners. The Orlando Urban Trail is an expanding system with on-road and off-road paved trails connecting the many lakes and parks near downtown. The Shingle Creek Trail will connect Orlando across Orange County to Kissimmee. The popular West Orange Trail runs 22 miles across Orange County and is part of the Florida Coast-to-Coast trail. So, you can get out on your bike, skates, or just hoof it for some exercise.
Hit the links
Golfers will love playing a round on one of the many courses scattered around town. Orlando's top courses are designed by some of the best in the game, like Arnold Palmer, Tom Fazio, and Jack Nicklaus.
Your choices include public and private courses. Disney and Universal offer top-notch championship greens, as do Orange County National Golf Club, Royal St. Cloud Golf Links, and the Shingle Creek Golf Club. In sum, you have over 40 options in the greater Orlando area. Plus, you're in central Florida, so you can take a day trip to the world-famous resorts on the Atlantic coast.
Places for your pup
Orlando residents love their pets, so you'll find many dog-friendly parks and activities for you and your pup to enjoy together. Some are special places, like Lake Baldwin Park, which has a sandy beach dogs can run off-leash and swim. Doctors Dog Park has a pet shower and water fountains.
Dogs are welcome on leash at farmer's markets in Maitland and the Paddling Center at Shingle Creek. Various restaurants with patios do welcome dogs but call ahead of time to verify.
Moving to Orlando
Whether you're looking for adventure or just a liveable city with an opportunity to grow, Orlando meets your needs. Think about the advantages of living here: beautiful weather, amusement parks, exciting entertainment options, and job opportunities.
With all that Orlando has to offer, who wouldn't want to live here? The entertainment capital of Florida may not have beaches, but with amusement parks, shopping, parks, museums, and golf courses, you'll never be short on things to do. Keep exploring the best Orlando has in store, and plan your move today! A local real estate agent can help you learn more about the Orlando area.