Ohio Vs. West Virginia: Which Is the Better State?
Posted by Preston Guyton on Thursday, March 23, 2023 at 10:23:24 PM
By Preston Guyton / March 23, 2023
Comment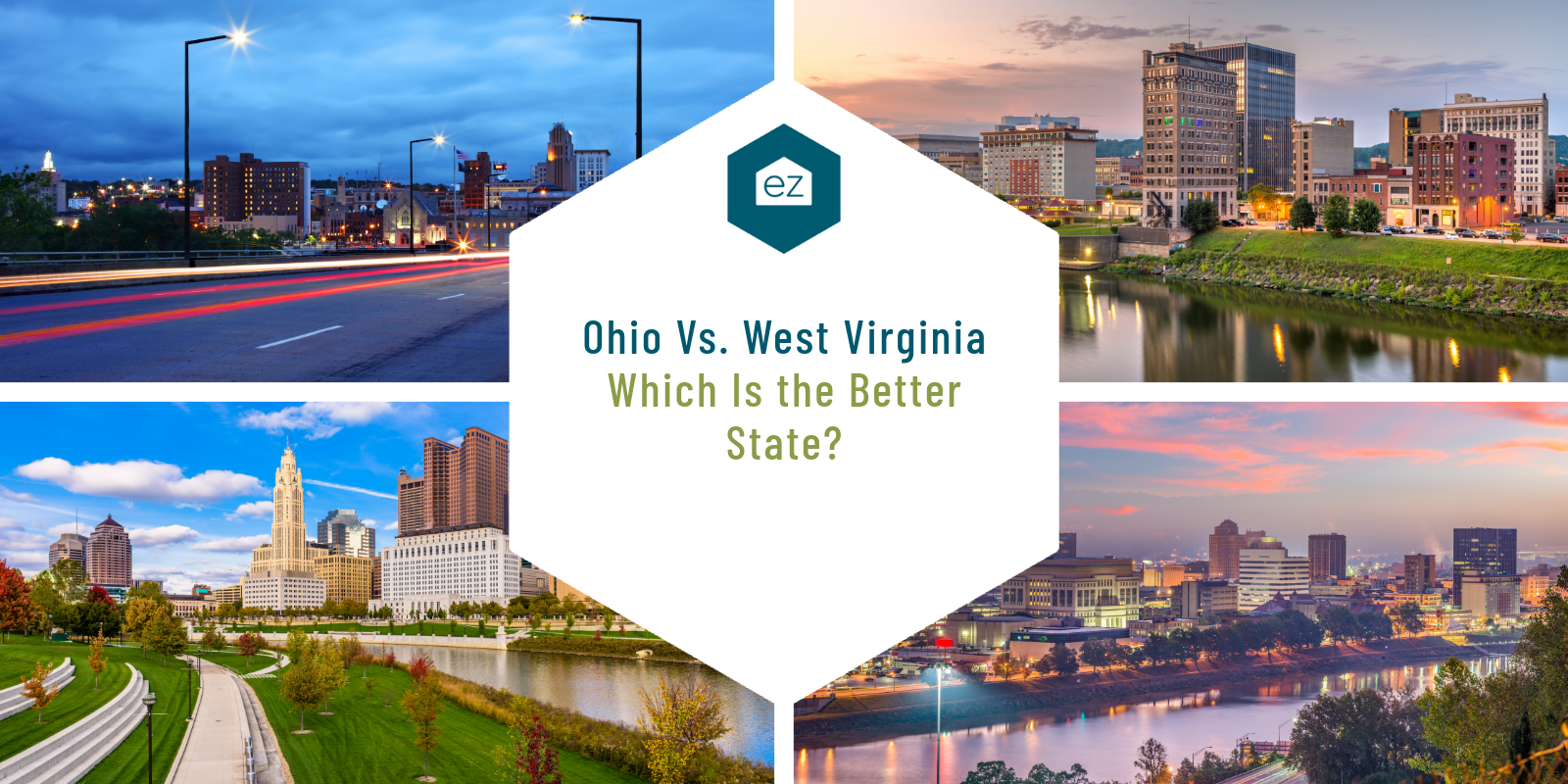 Ohio Vs. West Virginia: Which Is the Better State?
Ohio and West Virginia have unique features and strengths that make them great states. But is one better than the other for you to buy a home? We do a side-by-side overview of each state's various characteristics to see which has more perks that might appeal to you.
Cost of Living
We'll compare the cost of living using the Sperling Best Places Index, which sets the national average at 100. A score below means you've found a wallet-friendly place, while a score above indicates you'll need a more substantial income to afford it.
One thing to remember is that typically the more populated a place is, the higher the cost of goods and services. It has to do with the basic economic principle of supply and demand. Look at Ohio, and you'll see its population is almost 10 times that of West Virginia. Naturally, its cost of living will be higher.
However, even though West Virginia wins for affordability, Ohio really isn't that much more expensive from a big-picture perspective. That's because much of the state is actually pretty rural. Its largest city still has less than one million residents. By population, Cleveland, Cincinnati, and Dayton are more like large towns than large metropolitan areas.
Housing in West Virginia will be dramatically affordable, but healthcare costs will run less in Ohio because there's more access to some of the nation's best medical facilities. So expenses are a give-and-take.
| | | |
| --- | --- | --- |
| | West Virginia | Ohio |
| Population * | 1.79 million | 11.76 million |
| Median Property Value* | $128,800 | $159,900 |
| Median Household Income* | $50,884 | $61,938 |
| Homeownership Rate* | 74% | 66.6% |
| Overall | 79.4 | 82.7 |
| Grocery | 95.8 | 96.1 |
| Health | 127 | 88.7 |
| Housing | 39.3 | 61.6 |
| Utilities | 85.9 | 100 |
| Transportation | 90.1 | 83.6 |
| Misc. | 85.1 | 89.3 |
Keep in mind that these figures are averaging the state. Once you have a better idea of where you are thinking about buying, look at that area's cost of living. For instance, if you decide to live in Cincinnati, Ohio, your cost of living will be more than if you lived in Bowling Green, Ohio.
Population growth
As mentioned above, the cost of living often correlates with the number of people living in an area. The more densely a place is populated, the more demand there is for housing, groceries, healthcare, and infrastructure. So knowing whether an area is growing or declining in population can be a sign the economy is healthy or that a home bought today will appreciate in value during the coming years.
Interestingly, both states are actually dropping in population. The common reasons why people say they are leaving the state are for retirement to a warmer climate or in search of better job opportunities.
The US Census reports that Ohio lost about 0.4% of its population from 2020 to 2022. West Virginia's loss was greater, coming in at 1% for that same time. That state's population loss has been a trend for several decades, and it lost around 60,000 residents from 2010 to 2020.
Job Market
So if people are leaving in search of better employment prospects, what is going on with their job markets? After all, you need a steady source of income to buy a home.
Ohio's economy is actually pretty strong. It had the seventh-largest economy in the US and was a manufacturing giant, ranking fourth nationwide. This sector is vital for essential goods, from plastics to automobiles.
Ohio can efficiently move its manufactured goods around with easy access to Canada and strategic inland waterways. But it's not all manufacturing jobs. Columbus is a top tech and startup hub. Cleveland's robust healthcare scene strengthens Ohio's private sector even more. Don't forget about the Fortune 500 companies headquartered here, like Marathon Petroleum, Kroger, and Procter & Gamble.
West Virginia has been hustling to diversify its job markets and welcomes fresh prospects. No doubt coal, gas, and mining remain essential to its economy. Still, it recognizes a need to invest in new economic sectors to keep people living in the state.
Besides mining, the top employment sectors are government, healthcare, and manufacturing. While Fortune 500 headquarters might not call West Virginia home, but giants like Toyota Motor and General Motors are flexing their manufacturing muscles with plants in the state.
The state is also moving towards growing its tourism and hospitality sector as a way to increase its economy and bring dollars into the state.
Real Estate Taxes
West Virginia has the advantage on this one. The state consistently ranks among the nation's top 10 for low property taxes. The millage rates charged by counties and municipalities are capped, and residential real estate taxes are limited to just 60% of the assessed value.
Ohio property taxes fall on the other end of the spectrum, ranking just outside the top 10 for the highest tax burden. Its average effective tax rate was 1.56% in RocketMortgage's analysis. Even though its taxable value is set at 35%, Ohio has higher property values, and it doesn't have a cap on millage rates other than they must be within 1% of the property's actual value.
Taxes for Retirees
Ohioans' Social Security benefits, Railroad Retirement Benefits, and US Military Retirement Benefits are all tax-free for those of retirement age. Plus, Ohio has some tax credit options based on your retirement income, with two credits specifically geared towards citizens aged 65 and up.
And, if you're 65 or older, permanently disabled, or a widowed 59-year-old spouse of someone who claimed a credit, you could be eligible for a household exemption! This could drop $25,000 off your home's market value for property tax purposes.
There's also no estate or inheritance tax to worry about.
You might be taken aback to learn that some sources rank West Virginia as a top choice for retirees. This is mainly due to the state's amazing housing affordability. For taxes, there isn't too much that makes it distinct.
Though West Virginia does impose an income tax ranging from 3% to 6.5%, single taxpayers earning less than $50,000 are exempt from taxes on Social Security benefits. This threshold is doubled to $100,000 for joint filers. First responders and those with military pensions or railroad retirement benefits are also eligible for some state-provided tax breaks.
The state has a few more deductions with taxpayers 65 and older in mind. One is an $8,000 deduction on income that is not otherwise exempt through another program. You can also exempt up to $20,000 on your primary residence's value.
Education
The Buckeye State has West Virginia beaten on this one. In the US News and World Report evaluation, Ohio's public K-12 education system was no. 20, whereas West Virginia was no. 41. Ohio simply has more school districts, a larger taxing base, and more resources to pour into its public education. In West Virginia, many of the school districts are very rural. It may serve only a few thousand students if that.
Ohio has more choices for higher education. Among them are the nationally ranked Case Western University, The Ohio State University, and Miami University at Oxford. However, there are more than a dozen other universities and colleges for students to pick from both public and private.
Here's a comparison of the two school systems.
| | | |
| --- | --- | --- |
| | Ohio* | West Virginia** |
| No. of Students | 1,610,541 | 250,889 |
| No. of Schools | 3,648 | 646 |
| No. of School Districts | 610 | 55 |
| Graduation Rate | 87% | 91.2% |
| No. of Teachers | 99,682 | 23,000° |
| Avg Student/Teacher Ratio | 17:1 | |
| Amount Spent per student | $12,692 | $14,112.05 |
*Figures are from 2021-2022, from ohiobythenumbers.
*Figures are from 2021-2022, from West Virginia Scorecard
°From 2020-2021 SREB
City Living
Cities offer more cultural and entertainment options, including theaters, museums, art galleries, music venues, and restaurants. The convenience of public transportation and access to essential services such as healthcare and education also attract people to city living. So how do the two states' cities stack up?
When it comes to truly urban living with dense downtown cores, huge shopping districts, and big event venues, Ohio takes the win.
Cleveland, situated along Lake Erie, is famous for the Rock'n'Roll Hall of Fame and the Cleveland Museum of Art. Its Cleveland Clinics are world-renowned medical research centers, and it's a major inland shipping port.
Columbus, the leafy state capital, is an art and fashion powerhouse. You'll be amazed by their spacious MetroParks and creative culture. The city is home to the Ohio State University, the Columbus Museum of Art, the Franklin Park Conservatory and Botanical Gardens, and the Columbus Zoo and Aquarium.
And don't miss Cincinnati along the Ohio River. The city is known for its historic architecture, scenic riverfront, and diverse neighborhoods. Attractions include the Cincinnati Zoo and Botanical Garden, the Cincinnati Art Museum, the National Underground Railroad Freedom Center, and the Findlay Market.
Akron is in northeastern Ohio, known for its industry and technology. The city is home to the Goodyear Tire and Rubber Company and several universities. Attractions include the Akron Art Museum, the Stan Hywet Hall and Gardens, and the Cuyahoga Valley National Park.
West Virginia cities are pretty small compared to what is available in Ohio. The state capital Charleston is more of a large town than a truly urban city. Still, it's your closest experience to city living in the state with museums, universities, and a growing dining scene. One of the perks of living in a small city is it is easy to get around. The average commute time here is around 15 minutes.
Outdoor Recreation
Ohio will take you through sprawling flat farmlands to enchanting hills covered with lush fields and dense forests. Explore the Appalachian region's parks and forests, a go-to location for mountain bikers, backpackers, cyclists, and bird enthusiasts alike. Wander through untouched nature in Cuyahoga Valley National Park or discover magical landscapes and waterfalls in Hocking Hills State Park.
The rolling foothills giveaway to the flat farmlands of central Ohio. That doesn't mean there isn't anything to do here. In fact, among the farmlands are large reservoirs, ideal for water recreation activities like sailing and fishing. The creeks and rivers that cut through the shale plateau create beautiful cliffs you can admire on a float down the winding waters making their way to the Ohio River.
Venture to the mesmerizing Lake Erie shoreline in the north, where vacation getaways like Kelley's Island and Put-In-Bay await. Fish for walleye or perch, or simply admire the view from the parks in Marble Head or Sandusky.
Many of the state's cities also run award-winning MetroParks. These green spaces often have pedestrian paths for biking and walking, water access, and natural play areas for the kids.
But we would probably favor the Mountain State when it comes to multiple options and places to go for outdoor recreation. After all, West Virginia is investing in tourism and hospitality because people are discovering how beautiful and diverse its outdoor bounty is. Among the natural wonders in the area is the New River Gorge National Park, one of the USA's newest national parks. For decades, it's been a must-do adventure hotspot with Class IV+ waters, challenging rock climbing opportunities, and an iconic bridge for bungee jumpers.
The famous Appalachian Trail makes its way through West Virginia. Still, it's just a snippet of the countless miles of hiking paths locals have across the state.
Take a thrilling ride on West Virginia's mountain biking trails. Visit the Kanawha and Monongahela National Forests, where your adventurous spirit can escape it all. And if you're an off-roading enthusiast, the legendary Hatfield-McCoy mountains will leave you craving more rocky roads and mud puddles.
West Virginia has an ace up its sleeve in the form of winter sports. Boasting four large ski resorts, you'll find ample opportunities for downhill skiing, cross-country skiing, and snowshoeing.
Sports
Ohio is your best bet if you enjoy hosting people over for the game or attending a professional sporting event. West Virginia has no professional teams, but it has some minor-league hockey.
Your options for supporting a team in Ohio include Cleveland Browns (NFL), Cleveland Cavaliers (NBA), Cincinnati Bengals (NFL), Cincinnati Reds (MLB), Columbus Blue Jackets (NHL), FC Cincinnati (MLS), Columbus Crew (MLS), and the Cleveland Guardians (MLB).
The Ohio State University also has a fierce rivalry with teams in the Big Ten college division.
Culture
Ohio is a treasure trove of experiences. Immerse yourself in history as you visit the homes of former US Presidents (Ohio has the most!). Explore the roots of rock legends at the Rock 'n' Roll Hall of Fame, get a taste of high-speed action at NASCAR race tracks or take a journey through the skies at Dayton's aviation museums.
Cincinnati, Columbus, and Cleveland all have thriving arts and music scenes. The Cincinnati Art Museum houses a collection of over 67,000 works spanning 6,000 years. The Cincinnati Playhouse in the Park and the Ensemble Theatre Cincinnati showcase a variety of theater productions throughout the year. The Wexner Center for the Arts hosts a variety of exhibitions, performances, and film screenings. Other popular venues include the Columbus Museum of Art and the annual Columbus Art Festival. Columbus actually has the third-largest concentration of fashion designers and a focus on contemporary art and culture.
Over in West Virginia, discover the captivating blend of Appalachian folk culture. Immerse yourself in the state's bluegrass and folk music festivals. Explore the local art scene at numerous galleries in designated West Virginia Art Towns like Wheeling and Elkins. And don't forget to indulge in the delicious pepperoni rolls or grab a bite at the iconic Tudor's Biscuit World!
Picking Ohio vs. West Virginia
Ultimately, choosing which state is better depends on personal preferences and priorities. It's up to individuals to decide which state aligns with their interests and lifestyle. Both Ohio and West Virginia have an affordable cost of living, some benefits for retirees, and access to outdoor recreation. If you crave the excitement and nightlife that comes along with living in a metropolitan area, then one of Ohio's cities is probably better. However, West Virginia may be calling for those who love adventure and the outdoors.