North Carolina vs. Georgia: Which is the Better State?
Posted by Preston Guyton on Monday, August 15, 2022 at 9:31 PM
By Preston Guyton / August 15, 2022
Comment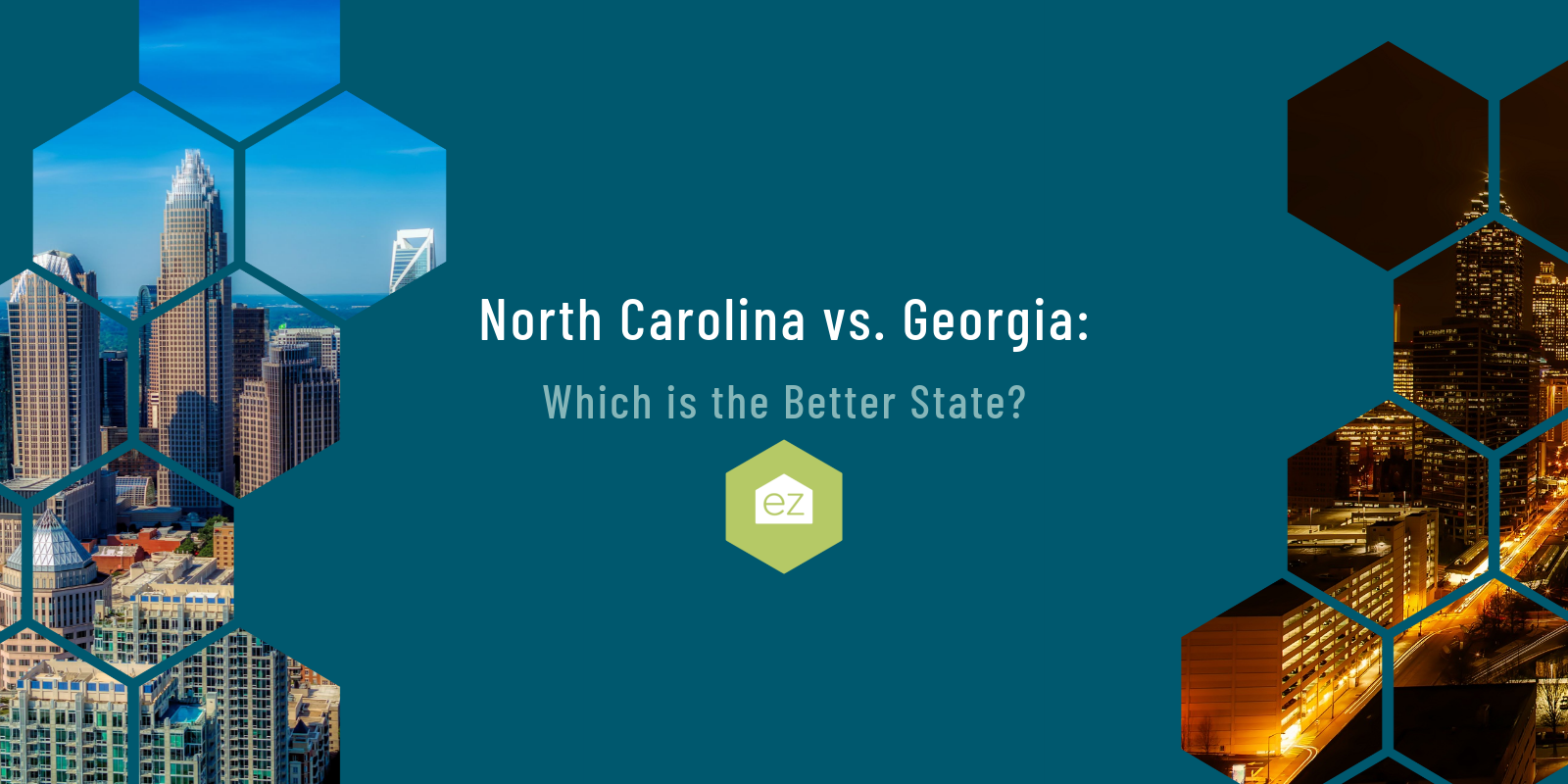 North Carolina vs. Georgia: Which is the Better State?
Choosing the right place to live isn't easy. Do you want to be in a big city or a smaller town? Are you looking for a more affordable cost of living, or are you willing to pay more for amenities? Is the weather important to you or the local amenities? The Southern states have been especially popular, with people citing their warmer climate, lower taxes, and growing job markets. But which one is right for you?
One helpful tactic is to compare living in one state to another. In this article, we'll compare living in Georgia to North Carolina.
According to Forbes, North Carolina and Georgia are no. 4 and 5, respectively, when it comes to where people were moving in 2022. Besides the already stated benefits, people like the varied topography. Both range from mountainous regions to the Atlantic coast. With such similar offerings, is one state better than the other? Let's compare.
Cost of Living
Sperling's Best Places sets a standard for the cost of living, with the national average at 100; any scores above 100 mean an area is more expensive, while any score below means it is less expensive. Based on this index, the best overall cost of living goes to North Carolina, scoring about 10% below the national average.
Georgia has an overall score of 93.4, while North Carolina is 90.6. This means that, on average, living in North Carolina is slightly more affordable than living in Georgia.
One key area is housing. In this regard, both are similar, with North Carolina being 0.3% more expensive. North Carolina's cost savings come in transportation, miscellaneous, and utilities.
| | | |
| --- | --- | --- |
| | North Carolina | Georgia |
| Population | 10.4 million | 10.7 million |
| Median Property Value | $320,291 | $306,113 |
| Median Household Income | $56,642 | $61,224 |
| Homeownership Rate | 66% | 64% |
| Overall | 90.6 | 93.4 |
| Grocery | 96.5 | 95.5 |
| Health | 107.5 | 95.5 |
| Housing | 81 | 80.7 |
| Utilities | 99.2 | 103.2 |
| Transportation | 83.9 | 105.1 |
| Miscellaneous | 96.1 | 94.8 |
Remember that both are large states, and the cost of living varies widely. For example, the cost of living in downtown Atlanta, GA, is much higher than in Blue Ridge, GA. Boone, NC, is more affordable than Charlotte, NC.
Population Growth
Whether population growth is beneficial or harmful is debatable. On the one hand, a growing population is good for the economy, new construction housing, and amenities. On the negative side, it also means more expensive goods, more urbanized development, and a higher cost of living.
Both states ranked in the top ten for population growth, with North Carolina at no. 7 and Georgia at no. 8. That said, Georgia was actually the more populated state by about 150,000 residents.
Georgia added 1.1M residents from 2010 to 2020. In total, it had 10,711,908 people in the April 2020 Census. The state had:
18 and under: 23%
65 and older: 15%
51% identified as white alone,
33% identified as black or African American
10% identified as Latino
Georgia has a slightly younger population and more diversity among its residents. Its most populated counties were concentrated around the Atlanta metro: Fulton, Gwinett, DeKalb, and Cobb Counties.
North Carolina added over 900,000 residents from 2010 to 2020. It had 10,439,388 people in the April 2020 Census. The state reported:
18 and under: 22%
65 and older: 17%
62% identified as white alone
22% identified as black or African American
10% identified as Latino
North Carolina has a slightly older population and less diversity among its residents. Its most populated counties were split between the Raleigh-Durham area and Charlotte metro: Wake, Mecklenburg, Guilford, and Forsyth Counties.
Outdoor Recreation
Both states have a lot to offer in terms of outdoor recreation. The Appalachian Trail runs through both states, and both have some Atlantic waterfront.
Georgia has abundant wilderness for fishing, hunting, and camping. It is home to the Chattahoochee-Oconee National Forest, which has over 800 miles of hiking trails. The state also has over 60 state parks and preserves, including the popular Cloudland Canyon State Park and Stone Mountain Park. F.D. Roosevelt State Park is its largest park.
Cyclists have a few miles-long trails, like the Silver Comet Line, Atlanta BeltLine, the Six-Gap Classic, and Sylvania Cruise.
For those who enjoy lake living, Georgia has over 15 lakes, including Lake Lanier, the largest man-made lake in the state. Georgia's lakes are fed by rivers such as the Chattahoochee, Savannah, Oconee, and Altamaha. Its rivers provide world-class whitewater rafting, fly fishing, and other water recreation opportunities.
North Carolina's outdoor recreation options are equally robust, and its mountainous terrain is more extensive than Georgia. Its mountains provide opportunities for winter snow skiing, rock climbing, fly fishing, camping, mountain biking, and more. The Great Smoky Mountains National Park is the most visited national park in the United States. North Carolina also has over 41 state parks and natural areas, including Mount Mitchell State Park, the highest peak in the Eastern United States.
Cyclists have access to over 100 miles of trails, including the Mountains-to-Sea Trail, which spans the entire state.
North Carolina has over 50 lakes. Lake Mattamuskeet is the largest in the state, while more options include Lake Murray, Lake Norman, and Kerr Lake. Lake living is a popular option in North Carolina, providing access to bass fishing, sailing, and more water sports.
North Carolina's 31 beaches include popular destinations like Outer Banks and Wrightsville Beach. The state has over 300 miles of coastline with saltwater fishing, kiteboarding, and deep sea excursions at the ready. Ample waterways provide opportunities for all kinds of play.
Education
Both states have strong public school systems. In fact, US News and World Report ranked North Carolina's public K-12 schools as the 15th best in the nation, while Georgia's came in as no. 30 in 2022.
| | | |
| --- | --- | --- |
| | Georgia* | North Carolina* |
| No. of Students | 1,686,318 | 1,429,275 |
| No. of Schools | 2,306 | 2,523 |
| No. of School Districts | 219 | 115 |
| Graduation Rate | 84% | 87% |
| No. of Teachers | 119,492 | 94,328 |
| Avg Teacher/Student Ratio | 15:1 | 15:1 |
| Amount Spent per student | $9,015 | $11,651 |
*Figures are from 2021-2022, except the graduation rate which is from 2020.
**Figures are from 2021.
In terms of higher education, both states have many prestigious colleges and universities. US News and World Report ranked North Carolina no. 7 in the nation for its higher education. Some notable institutions in North Carolina include Duke University, UNC Chapel Hill, and Wake Forest University.
For Georgia, which the report ranked no. 19, well-known colleges are Emory University, Georgia Tech, and the University of Georgia.
City Living
If you're looking for a big metropolitan area, then Atlanta in Georgia or Raleigh-Durham, Charlotte, Wilmington, or Asheville in North Carolina may be perfect for you.
Atlanta is the largest city in Georgia, with the greater metropolitan area home to over 6 million people. It's a hub for business and culture in the Southeast. Many Fortune 500 companies are headquartered there. Residents enjoy various benefits, like historical museums, arts and culture, live music, and choice dining. Atlanta is the home of the professional sports teams Atlanta Braves, Falcons, and Hawks.
Raleigh is the capital of North Carolina, and its metropolitan area is home to over 1.4 million people. Raleigh-Durham is a major research center. It is home to the innovative Research Triangle Park, plus several world-leading universities.
Charlotte is North Carolina's largest city, with a metropolitan area of over 2.6 million people. Like Atlanta, multiple Fortune 500 companies have bases in Charlotte, as do many financial institutions. It's the second-largest financial center outside Wall Street. The city entertains residents with museums, art galleries, and professional sports teams. Charlotte's other claim to fame is as the home of NASCAR.
On the coastline awaits Wilmington, a historic city with over 282,500 people concentrated in its metro area. Key highlights are its two-mile Riverwalk, historic downtown area, beautiful beaches, and film industry. The University of North Carolina at Wilmington is here.
Asheville serves as the gateway to western North Carolina. The city in the mountains has almost 500,000 million people in its metro. The city is known for its eclectic art scene, live music, and outdoor activities.
Climate
The two states differ quite a bit, and it's hard to make general statements about the climate given their distinct regions.
Overall, North Carolina has a more moderate climate with four distinct seasons, but we need to think of North Carolina as having two distinct climate areas. The climate of North Carolina varies from medium continental conditions in the mountain region to subtropical conditions in the state's southeastern corner.
In the Appalachian mountains, average temperatures range from warm in the summer to cold in the winter. The average temperatures in January are in the 40Fs, and in July, it's around mid-80Fs. Higher elevations will have cooler temperatures. Winter snowfall is expected in the mountains, but it doesn't usually stay on the ground for more than a few days.
By the North Carolina coastal plains, the climate is more subtropical. This part of the state has hot, humid summers and mild winters. The average temperature in January is around 54F, while highs are around 90F in July. The coastal area experiences a lot of rainfall, especially in the summer. The Outer Banks and coastline are prone to direct hits from Atlantic tropical storms.
Georgia mostly shares the subtropical climate, which means hot summers and mild winters. The average highs in the summer are in the low 90Fs, while winter averages are in the mid 50Fs. The state does see a fair amount of rainfall, especially in the southern and coastal areas. Daytime temperatures can reach 95°F during the summer, and the humidity can set off afternoon thunderstorms. Georgia is vulnerable to tropical storms and tornadoes.
The Atlantic has a moderating effect on the climate in the south and eastern areas. The Hill Country benefits from greater heights and cooler temperatures. Even in the mountains, winters are short in duration with limited snowfall.
Real Estate Taxes
Both states have a system where the counties assess and collect property taxes. Rates will vary across the state.
In North Carolina, property taxes are assessed at market values set every four to eight years. Each county has a different reappraisal schedule. In this state, one mil is equal to $1 for each $100 of appraised value. All property owners pay taxes based on the full assessed value. For this reason, property taxes in North Carolina tend to be higher than in Georgia.
The state does have a homestead exemption for those 65 years and older or permanently disabled with an income less than $38,000. The exemption is the greater of $25,000 or 50% of the appraised value. There is also a potential $45,000 exemption for a disabled veteran.
Georgia property taxes are assessed at 40% of the property's assessed value. Homeowners can qualify for a $2,000 homestead exemption for a primary residence. Tax rates are set each year by the local Board of County Commissioners. One mil equals $1 per every $1,000 in value, or $0.001. The median tax rate was 0.83%.
Taxes for Retirees
When it comes to retirement, Georgia's the clear winner. Bankrate said Georgia was the best state for retirees in 2021 based on economic factors like tax regulations.
A few states have special tax breaks for retirees, but North Carolina is not one of them. All income is taxed at the state's flat rate of 5.75%. However, there is no tax on social security and no state estate tax. Personal withdrawals from retirement accounts are taxed, as are pension incomes.
Social Security payments in Georgia are not taxed. For individuals aged 65 and older, there is a $65,000 maximum exemption on all types of retirement income. As a result, people over 65 who make less than $65,000 per year will not be charged taxes. Furthermore, if the annual income does not exceed $10,000 for persons aged 65 or older, they may double their homestead exemption.
Georgia also offers a partial exemption on all property value accumulated after the "base year." The year is determined by when a senior age 62 or older applies for the exemption. This means even if property values appreciate, homeowners are taxed at the base year home value once they reach age 62. Household income must not exceed $30,000 to qualify.
Job Markets
The job market is strong in both North Carolina and Georgia. The unemployment rate in North Carolina was 3.4% in June 2022, while the unemployment rate in Georgia was 2.9%.
The top industries in North Carolina are healthcare, retail, education, finance, and manufacturing. The state is known for its furniture manufacturing, automotive industry, biotechnology & pharmaceuticals, and energy industry. Major employers include the Bank of America, Lowe's, Duke Energy, Wake Forest Baptist Health, and Home Depot.
Tax breaks have wooed the film industry to Georgia. Now it has a reputation as the "Hollywood of the South." In addition, the state has robust healthcare, retail, and manufacturing industries. The top employers in the state are Grady Health System, Emory Healthcare, Hartsfield-Jackson Atlanta International Airport, Fulton County Schools, and Children's Healthcare of Atlanta.
| | | |
| --- | --- | --- |
| | Georgia | North Carolina |
| Current Employment | 5,134,566 | 5,101,800 |
| Unemployment | 2.9% | 3.4% |
| Average Wage | $29.09/hr | $29.23/hr |
| Median Household Income | $61,224 | $56,642 |
| 10 Year Job Growth | 11.8% * | 6% |
Sets of figures are from June 2022. Hourly wage data is based on average hourly earnings of private employees from the FRED.
* From Workforce Trends from 2018 to 2028
**From Employment Projections for 2018 to 2028
Sports
Georgia likes football, and the University of Georgia is one of the top-ranked teams in the nation. The school has fierce rivalries with other SEC division schools like Florida and South Carolina. Local high school programs are known for being highly competitive. The state is home to three professional sports teams: the Atlanta Braves (MLB), Atlanta Hawks (NBA), and the Atlanta Falcons (NFL).
North Carolina is best known as the headquarters for NASCAR and for inventing basketball. Its collegiate basketball teams, notably Duke and the UNC Tar Heels, often feature in and have won national tournament titles. Some of the best players in the NBA have come through North Carolina schools.
The state is also home to the Carolina Panthers (NFL), the Carolina Hurricanes (NHL), and the Charlotte Hornets (NBA).
Southern charm & hospitality
Both North Carolina and Georgia are known for their southern charm and hospitality. However, each state has its own unique culture. One travel site ranked Georgia no. 16 for friendliness, while North Carolina was no. 33; another had them at nos. 9 and 18, respectively.
You'll find a mix of urban and rural living in North Carolina. The Appalachian mountains have a distinct folk culture and tradition, from their music to their art. North Carolinians are known for their down-to-earth attitude and friendliness. The central and plains area is famous for its North Carolina-style barbecue, Cheerwine, and Bojangles.
Georgia is a state with a rich history. The state has a distinct southern dialect, more prevalent in rural communities. You'll find a mix of old and new in the cities, with a strong sense of southern tradition. Georgians are known for their warm hospitality and love of family. The way of life is considered slow and laid-back.
There is no clear winner when it comes to southern charm and hospitality. It really depends on what you're looking for in a state.
Choosing between Georgia and North Carolina
It really depends on what you're looking for in a state. Both states have their own unique charm and offer a variety of living options. Georgia may be the better choice if you're looking for a big city with plenty of job opportunities. However, if you prefer a slower pace of life and want to be surrounded by natural beauty, North Carolina may be a better option. Ultimately, it all comes down to personal preference.