Moving to Warner Robins - Your EZ Guide to Everything Warner Robins, GA
Posted by Preston Guyton on Saturday, June 19, 2021 at 7:53 AM
By Preston Guyton / June 19, 2021
Comment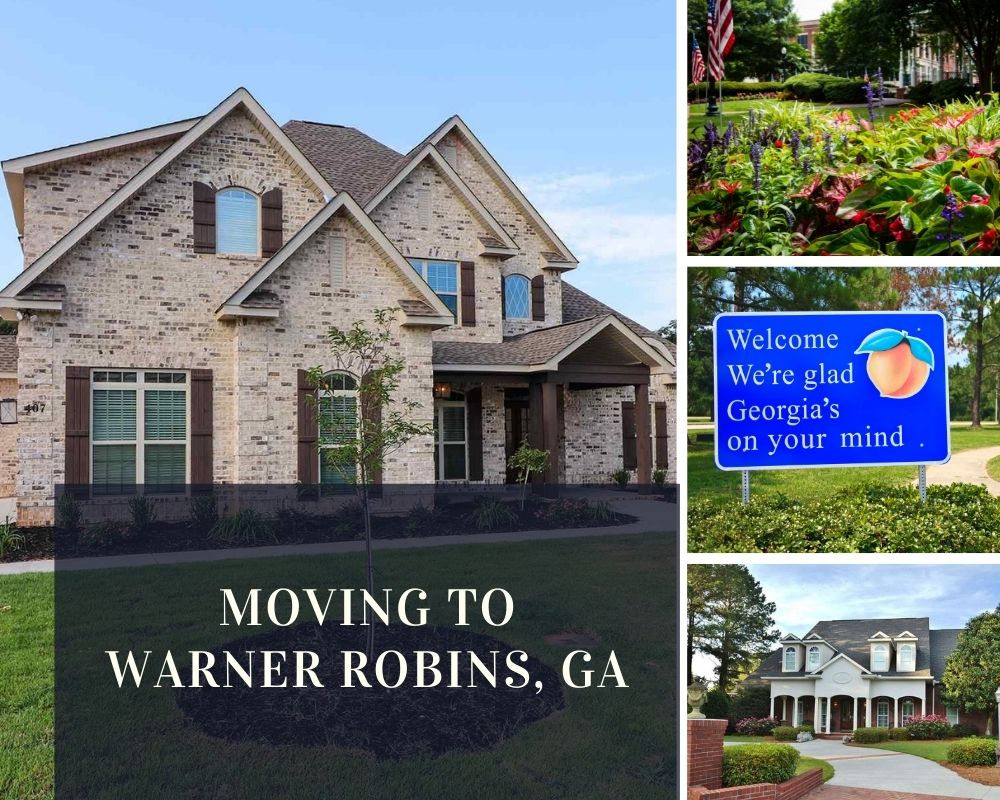 Moving to Warner Robins - Your Guide to Living in Warner Robins, GA
The city of Warner Robins hides stories from the past which can be seen throughout its buildings. It also serves as host to Georgia's WWII Military Trail and the second-largest museum in the United States Air Force. Apart from this, Warner Robins also offers golf courses, a vibrant art scene, and the International City Farmers Market.
Furthermore, this rich area offers plenty of great jobs, where you can apply to various technology and aerospace firms. So if you're interested in relocating to Georgia's so-called International City, here's an EZ Guide to Everything Warner Robins, GA. Here, you can see for yourself how this area can be your new home.
Cost of Living and Population Growth
Located in the Peach and Houston counties, Warner Robins had a population of 74.8K people in 2018, where it had a median age of 33.5, making it a relatively young city. However, its population in 2018 was actually a 0.862% increase from 2017's number of 74,123. In 2019, population estimates place the city around 74,762, making it the tenth-largest incorporated city in the state.
A huge advantage for people who are looking to move to Warner Robins is the fact that this city is one of the most affordable in the state and the country. With one of the lowest costs in terms of housing, purchasing a home and starting a family are within reach in this city. Here's a table that compares the cost of living between Warner Robins, Georgia, and the rest of the country to show you what we mean.
| | | | |
| --- | --- | --- | --- |
| Cost of Living | Warner Robins | Georgia | USA |
| Overall | 79.1 | 93.4 | 100 |
| Grocery | 94.7 | 95.5 | 100 |
| Health | 93 | 95.5 | 100 |
| Housing | 49.1 | 80.7 | 100 |
| Median Home Cost | $113,600 | $186,500 | $231,200 |
| Utilities | 102.9 | 103.2 | 100 |
| Transportation | 79.8 | 105.1 | 100 |
| Misc. | 98.6 | 94.8 | 100 |
Warner Robins has a total cost of living of 79.1, which is lower than Georgia's total of 93.4 and much lower compared to the rest of the country at 100.
Job Market
Residents in Warner Robins have a median household income of $50,954 as of 2018, with males in Georgia having an income that's 1.36 times higher than females. The city also employs a total of 34.2K people, where the largest industries are found in Public Administration, Health Care and Social Assistance, and Retail Trade. However, this figure reflects a 6.6% growth from the previous year's amount of 32.1K employees. If you're interested in finding a job during your stay in Warner Robins, here are a few fields you might want to consider.
Most Common
According to the number of employees, some of the most common jobs that residents of Warner Robins have are:
Office and Administrative Support Occupations with 4,349 employees
Sales and Related Occupations with 3,875 employees
Management Occupations with 3,185 employees
Most Specialized
There are also jobs in Warner Robins that have an unusually high number of residents that work there compared to other places:
Installation, Maintenance, and Repair Occupations
Law Enforcement Workers Including Supervisors
Architecture and Engineering Occupations
Highest Paid
Some of the highest paid jobs held by the residents of Warner Robins, GA, according to median earnings are as follows:
Computer and Mathematical Occupations with average annual earnings of $79,099
Computer, Engineering, and Science Occupations with average annual earnings of $77,574
Architecture and Engineering Occupations with average annual earnings of $67,870
Things To Do in Warner Robins
Warner Robins has various places to see and things to do, so you never have to spend another dull day at home. Here are just some of the best places to be, no matter how you like to spend your time off.
Ocmulgee Mounds National Historical Park
This is the best place to uncover the region's history, where Native Americans were forced from their ancestral lands. Covering over 17,000 years of culture from the South Appalachian Mississippi area, you'll find burial mounds, a Great Temple complex, and ceremonial mounds here. At the summit of the Temple complex, you'll see views of the surrounding woodland and the whole site. You can find the Ocmulgee Mounds National Historical Park just 30 minutes north of Warner Robins.
Props Steak and Seafood Restaurant
Serving up classic American food, Props Steak & Seafood provides great meals for the whole family. With a wide selection of classic steak cuts, seafood plates, drinks, and desserts, there's plenty of food to go around. Join in and relax with a comforting spinach dip, or spend Sunday brunch with friends and family.
Tap & Pour
Tap & Pour offers patrons unique Craft Beers, delicious local food, live music, and entertainment. If you're feeling hungry, come over for a taste of their handcrafted burgers made from fresh produce and local ingredients. This craft beer bar and beer garden continuously create innovation in the production of beer and always come up with unique styles of beer. Their selection has over 50 kinds of craft beer, IPAs, and ciders available on their taps.
Roco's Bar
Roco's is a locally owned and operated bar and restaurant serving the city of Warner Robins since 2018. Inside, you'll find great entertainment, sports on TV, karaoke, and happy hour. This great spot provides a killer nightlife, where casual American foods and cocktails are served by excellent staff with friendly service. Many patrons enjoy the great atmosphere and social vibes that make this place a favorite among party-goers.
Climate
The warmer climates of Warner Robins are much appreciated by those who come from areas with colder temperatures. The city gets an average of 46 inches of rain per year, which is higher compared to the 38 inches that the rest of the country gets. Furthermore, the city doesn't get much snow at all, but instead has 223 sunny days per year — a lot more than the U.S. average of just 205 days. Here are a few weather highlights for the city of Warner Robins:
Summers in July can become as hot as 92 degrees.
Winters in January may reach temperatures below 34 degrees.
There's an average of 46 inches of rain per year.
It doesn't snow in the city of Warner Robins.
Should you plan to visit Warner Robins, it's best to do so during April, May, and October when the climate is at its best. On the other hand, the least comfortable months to visit are during July and August.
Traffic
The Traffic Division at Warner Robins provides investigation on motor vehicle crashes and ensures the enforcement of traffic laws. It also conducts operations on speed enforcement along with providing funeral escorts for the community. To further support the community, officers also have specialized skills and training for field sobriety testing, to aid in the detection of impaired drivers.
Public Transportation
Unfortunately, the best way to get around the city is by driving, so it's highly recommended that you have your own vehicle before moving to Warner Robins. While the growing population of the city is slowly making way for more modes of public transportation, there aren't many choices as of yet. However, Warner Robins Transit has already started the addition of public transportation to Urban Warner Robins, Houston County, and other surrounding counties.
The transit has routes that cover the north and south of Warner Robins, serving 77 stops with the plans to add more. People who plan to travel outside of the state also have access to the Middle Georgia Regional Airport, a city-owned public-use airport that's only 5.73 miles from Warner Robins. While it's mostly used for general aviation, it also carries one commercial airline, where it had 10,029 passenger boardings in 2008.
Golf
Warner Robins' International City Golf Club offers a public 18-hole golf course, pro-shop, and driving range, for players who want to practice their swing with this city's great outdoors. Designed by Lou Burnett, it first opened in 1958 and blended effortlessly along with the area's tree cover. Water is also a significant factor in this par 72 course and exists in many forms throughout every one of the six holes. Many golfers try their luck at this challenging course, with the easiest hole being hole 18, a par five hole of 460 yards.
Water Sports
Because of the warmer climates, Warner Robins offers residents plenty of ways to beat the heat. Here are just some of the places you can visit to help you enjoy various kinds of water sports.
Rigby's Water World and Entertainment Complex
As one of the biggest water parks in the state, Rigby's Water World and Entertainment Complex has 20 slide-based rides. There are also 40 other water activities, such as the popular Runaway Rapids where visitors are taken 'downriver' via tubes. Furthermore, this complex has a good-sized swimming pool for adults, as well as the Rigby's Entertainment Complex, where you'll find areas for roller skating, laser tag, and game machines.
Tybee Island
The state of Georgia has around 111 miles of Atlantic coastline, with Tybee Island being one of 15 barrier islands found here. This warm and cozy beachside destination offers guests gentle waves and clean pale sands that seem to stretch forever. Here, you'll be able to enjoy various kinds of water activities including boating, fishing, kayaking, canoeing, and more. Other activities include the black and white lighthouse, where you can have a look through its museum, along with the historic Fort Screven.
Dog Friendly
If you're looking for a dog-friendly destination, then Warner Robins is the perfect place for you and your pet. These are just some of the must-see places to enjoy a great day out with your pooch.
Panera Bread
This dog-friendly bakery offers an eclectic menu that consists of salads, soups, and hot and cold sandwiches, as well as cookies and pastries for dessert. This sweet deli-style bakery is a great place to spend a light lunch or dinner. Its outdoor seating area also welcomes dogs and provides a lot of room and shade for your pups to relax.
Comfort Inn & Suites Robins AFB
This hotel welcomes two pets no larger than 60 lbs for an extra $15 per night. However, only the suites are pet friendly, and pets won't be accepted inside the standard rooms. Both dogs and cats are accepted, but they can't be left in the room unattended. The Comfort Inn & Suites Robins AFB provides free internet throughout all guestrooms and has a grassy pet relief area complete with a waste station within the property.
Attractions
If you're looking for one-of-a-kind attractions in Warner Robins, you'll certainly find a gem or two. Here are just a few must-see places if you truly want to know what this city can offer.
Martin Luther King Jr. National Historical Park
While not technically a park, the Martin Luther King Jr. National Historical Park consists of buildings around Atlanta that are related to the life of Martin Luther King Jr. Within the site, you'll find his childhood home, as well as the church where he was first christened as a baby. If you're into history and would like to know more about the Civil Rights movement, you'll find a visitor center and museum that takes you through its development. The park is located around 2 hours away, so if you're looking for an adventure farther away from Warner Robins, this is the one to take.
Museum of Aviation
Located on the eastern edge of Warner Robins, the Museum of Aviation is the second biggest museum dedicated to aerospace. Operated by the US Air Force, there are four exhibition buildings spread out through an area of 21 hectares, where 85 various aircraft from across aviation's first hundred years are displayed. You'll also find some of the most iconic vehicles such as a U-2 spy plane, B-29 and B-52 bombers, the Blackbird, a Cold War veteran.
Shopping
Shopping for bargains has never been easier here, especially when you look through the International City Farmers Market. Getting the nickname of "international city," Warner Robins' ethnic diversity has represented Georgia since 1968. Many people believe that this diversity can be found in the produce and food that can be found at its weekly farmers' market. You can find it every Thursday afternoon where shoppers can find a range of locally-grown fruits and vegetables. Apart from this, you can also find various artisan items such as bath bombs and sample menus from the city's food businesses.
Art and Culture
Warner Robins also has a lot to offer in the art scene; here are a few places you need to visit if you're a lover of art and culture.
Fine Art Society
Home to the Fine Art Society of Middle Georgia, visitors will enjoy exploring the gallery space, and you might even find a great piece to hang on your wall. Here, you can participate in regular classes available to children, beginners, and semi-professionals. You'll also find a similar experience in a less formal setting with Lush Art, which is right next to the War-Town Escape Artists. Furthermore, the Painted Door also offers visitors the chance to create their own pieces of art as you view artwork hanging from its walls.
Tubman Museum
Named after African-American Harriet Tubman, an escaped slave who played an important role in the Underground Railroad, she helped slaves escape the southern states. This museum is the top exhibition space for African-American art and culture throughout the south, which expands a collection of historic artifacts as well as modern sculpture and artwork. Inside you'll find an exhibit that focuses on the life of George Washington Carver, a key agricultural scientist from the early twentieth century.
Sports and Sports Teams
The city of Warner Robins offers lovers of sport the opportunity to lead active lives by providing residents with activities such as:
Track & field
Baseball
Softball
Volleyball
Football
Basketball
Cheerleading
And other adult sports
Furthermore, Warner Robins' Parks and Recreation Department provides the community with leisurely activities to educate while enhancing the physical and social skills of residents. They create a great atmosphere for playing through friendly competition, fair play, and equal participation opportunities. The city believes that recreation is a big part of keeping the mind and body fit, so it does the best it can to provide special events and recreation programs.
Education
Warner Robins has a strong educational background, where part of the city in Houston County is under the Houston County School System. The other part located in Peach County is served by the Peach County School District. In 2019 alone, Central Georgia Technical College awarded a total of 5,515 degrees to its students. Some of the most commonly taken majors in this school, according to the number of students who graduated are:
Customer Service Support Operation with 764 graduates
Welding Technology with 314 graduates
General Cosmetology with 250 graduates
Real Estate
Because Warner Robins has one of the lowest asking prices when it comes to properties, you can be sure that it is hot in the market right now. In 2018, you can purchase your dream home for just $111,000 — an amount that's 0.483 times lower compared to the national average. However, this is actually a 0.452% increase from 2017's figure of $110,500, so don't count on these numbers to stay low for long. While the homeownership rate may only be at 53.3%, this number can only go upwards, as more and more visitors find the charms of Warner Robins.
Furthermore, this city is still in its roots, which means that there's still enough space for everyone. Its average commute time of 20.6 minutes is highly appealing for those who want to escape the horrendous traffic found in many of the bigger cities. Finally, because a large share of households here have a value between $100K to $125K, anyone would be crazy to let the opportunity to own a piece of this land slip past them!
Welcome to Warner Robins!
Nestled in central Georgia, Warner Robins is the ideal place for both rest and play. With some of the finest establishments in the state, it offers excellent job opportunities, great schools, a thriving real estate market, and plenty of places that are sure to pique your interests. It's also close to bigger cities such as Atlanta, which lies just 100 miles north, should you feel the need for a bit of hustle and bustle.
All in all, Warner Robins has a lot to offer, whether you're looking for a silent sanctuary or a blooming paradise. There's no point in delaying if you can already see yourself growing here — pack your bags now and secure your home before everyone sees how great a city this place truly is.