Moving to Summerville - Your EZ Guide to Everything Summerville, SC
Posted by Preston Guyton on Friday, May 21, 2021 at 5:49 AM
By Preston Guyton / May 21, 2021
Comment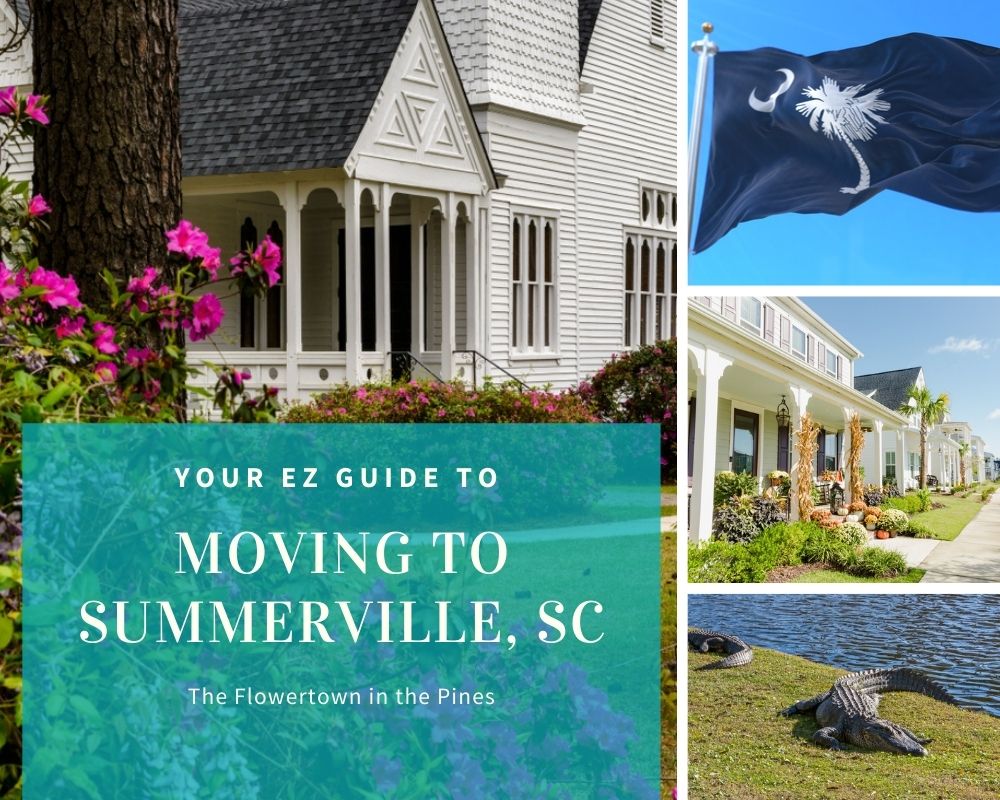 Moving To Summerville: Your Guide To Living in Summerville, SC
People who have grown tired and weary of their city lives usually seek peace and tranquility in smaller, neighboring communities. In the past few years, more and more families and individuals have seen the value in moving to South Carolina, and there's no better place to call home than Summerville. Many people will say that this town has a personality of its own, and has also been recognized as the "Flower Town of the Pines" due to the gorgeous scenery it offers.
Thanks to an eclectic mix of young families and active adults, this town has a well-established construction industry and military presence. As such, Summerville has developed gradually over the past few years to become the place of repose that it is today. If you've recently decided to move to this town or are considering it, here is the Ultimate Guide to Everything Summerville.
Cost of Living and Population Growth
As of 2018, Summerville had a population of 50.9K people, which in total has a median age of 35.5, making this a relatively young town. This population count grew from 2017's 49,122 which reflected a 3.61% increase. In 2019, this number yet again increased to a total of 52,549 Between 2017 and 2018, Summerville also had a 2.56% increase in its median household income from $57,825 to $59,306.
Furthermore, Summerville had a median property value of $199,500 in 2018, along with an ownership rate of 64.4%. While the cost of living in Summerville is higher than that of South Carolina's average, it's still lower than the rest of the country combined. To get a better sense of the cost of living in Summerville, here is a table that shows a side-by-side comparison between Summerville, South Carolina, and the national average:
| | | | |
| --- | --- | --- | --- |
| COST OF LIVING | Summerville | South Carolina | USA |
| Overall | 99.6% | 88.5% | 100% |
| Grocery | 99.9% | 95.8% | 100% |
| Health | 98.4% | 102.3% | 100% |
| Housing | 93.7% | 73.6% | 100% |
| Median Home Cost | $216,600 | $170,100 | $231,200 |
| Utilities | 107.6% | 103.9% | 100% |
| Transportation | 104.4% | 86.8% | 100% |
| Miscellaneous | 101.1% | 95.6% | 100% |
Summerville's cost of living is 99.6% compared to the national average.
Job Market
Households in the town of Summerville have an average income of $59,306, where males earn around 1.37 times higher than females. Furthermore, Summerville's economy employs 24.2K people — representing an increase of 2.56% from the previous year with 22.7K employees. The biggest industries are Health Care and Social Assistance, Manufacturing, and Retail Trade.
As mentioned, the median annual income in Summerville is $59,306, which is lower than the country's median annual income of $61,937. Here are a few key categories for jobs if you're looking to find work here.
Most Common
According to the number of employees, these are the most common jobs found in Summerville:
Office and Administrative Support Occupations with 2,809 employees
Sales & Related Occupations with 2,724 employees
Management Occupations with 2,110 employees
Most Specialized
Summerville also has a few jobs that have a high number of employees compared to other areas, such as:
Law Enforcement Workers along with Supervisors
Architecture and Engineering Occupations
Health Technologists and Technicians
Highest Paid
Some of the highest paid jobs you can find in Summerville, according to their median earnings are:
Legal Occupations with annual earnings of $125,461
Computer and Mathematical Occupations with annual earnings of $77,043
Computer, Engineering, and Science Occupations with annual earnings of $74,318
Things To Do in Summerville
There's never a shortage of things to do in Summerville, no matter what you like to do in your spare time.
Azalea Park and Sculpture Garden
If you're looking for a quiet retreat with scenic views, head over to the Azalea Park and Sculpture Garden. Just walking distance from Summerville's historic downtown area, this garden is host to a wide variety of flowers and beautiful bronze sculptures. The garden is also easily explored through its shaded pathways, making it a great way to spend a lazy afternoon.
This garden also serves as the location for two amazing events conducted annually; the Sculpture in the South and the Summerville YMCA Flowertown Festival. Be sure to mark your calendars for these events if you're looking for a fun day out in one of the most beautiful places in town.
Toast of Summerville
The Toast of Summerville (along with the Toast of Charleston, its sister location) is the perfect place for any meal; breakfast, lunch, or dinner. Offering Lowcountry cuisine, you'll find high-quality Southern food here such as shrimp and grits, crab cakes, chicken, steaks, and other American favorites. All this is served to diners both indoors and outdoors, where you can dine on their patio, making this restaurant the toast of the town.
Homegrown Brewhouse and Oak Road Brewery
Beer lovers will also love Summerville since two of the best breweries operate here: the Homegrown Brewhouse and Oak Road Brewery. Both are located downtown and are excellent places to hang out after a long day of work or adventures around town. Furthermore, Oak Road Brewery is the first brewery in South Carolina to create its beer in micro-batches. Open five days a week, the Brewery taproom is home to a great collection of classic beers from Oak Road. They also offer weekly and monthly beers on rotation, so you'll taste something new every day.
On the other hand, Homegrown Brewhouse is an eatery and pub that offers more than 40 taps that serve the finest beers in South Carolina. Their goal is to collect every brewed beer in the state on tap to give visitors and locals the best experience. They also provide customers with great ambiance and a laid-back environment where beer lovers will be excited to come back again and again.
Climate
The climate in Summerville is something that most people appreciate. It gets an average of 51 inches of rain every year, compared to the country's average of 38 inches. Furthermore, the town gets an average of one inch of snow per year, which is much lower than the rest of the country with an average of 28 inches. Lastly, Summerville enjoys 209 sunny days every year, while the U.S. average is only 205 days. Here are a few highlights when it comes to Summerville's weather that you might want to keep in mind:
The highest temperature recorded in town is 92 degrees and occurs during summer.
The lowest temperature is around 35 degrees and occurs during winter.
There's an average of 51 inches of rain every year in Summerville.
There's an average of one inch of snow every year in Summerville.
If you're looking to visit Summerville during its most pleasant months, April, May, and October are the best times to do so. Meanwhile, July and August aren't so great for trips to this town.
Traffic
Because of its rising economy and fast-growing community, Summerville is no longer the retirement village it once was. With constant expansions and new developments, people are always moving in, and as a result, more cars are on the streets. According to elderly residents, the traffic in recent years has been overwhelming, considering that they have been living in the town since the 1960s.
Unfortunately, the traffic along North Main Street has become a growing issue, and residents have made complaints regarding road safety and congestion. As a result, officials have had to organize campaigns to fix these problems. Unfortunately, getting caught on U.S. Highway 78 or Main Street during rush hour can be a nightmare, with congestion becoming a routine in intersections.
Public Transportation
If you're looking for ways to get around Summerville, you'll have to rent a car to effectively get to and from places. Unfortunately, there aren't many ways to get around this town aside from using your car or a bike, but if you prefer public transportation, you can use the bus which has stops around S Main St, E Richardson Ave, and Berlin G. Myers Parkway Park & Ride.
Surprisingly, Summerville has an airport; the Summerville Airport is a public-use airport owned by the county and is located just 6 miles from Summerville's CBD. Because it's a part of the National Plan of Integrated Airport Systems between 2011–2015, it is considered for use in general aviation. The airport has an area of 195 acres with one runway that measures 5,000 by 75 feet.
Golf
There's also plenty of golf to be had at Summerville, where both amateur and professional players like to spend time at the many courses this town has to offer. Here are just some of the best places to play golf in the area.
Golf Club At Wescott Plantation
This 27-hole course is located inside one of the town's oldest plantations, and the Golf Club at Wescott Plantation offers some of the most beautiful Lowcountry sights in the region. This golf course is lined with centuries-old oak trees that frame the lush vegetation and layouts around every hole. It is further divided into three smaller courses; Burn Kill, Black Robin, and Oak Forest which all have origins that are rooted in the plantation's history.
While Burn Kill offers a challenge tougher than Oak Forest, Black Robin still offers a harder course. All three courses share a classic bunkering style and have wetlands such as ponds and streams weaved throughout for more obstacles. One of the most unique holes in the whole course is the 8th hole, where the black and blue tees have a completely different approach from the green, white, and red.
The Club at Pine Forest
Pine Forest offers 18 semi-private holes that wind along with tall Summerville pines along with dogwoods, oaks, and a lake which has been included for good measure. This course offers equal parts of doglegs, elevation changes, and straightaways, making it perfectly balanced, providing fun and challenges for all kinds of golfers.
With a 138-slope rating and 6,905 yards, Pine Forest has multiple barriers of huge Summerville pines that will give you difficulty with each shot. Designed by Bob Spence, the course also makes use of water to increase the challenge in some holes. As a semi-private course, each hole has been named, with No. 12 known as "Little Augusta," and No. 15 is referred to as "Wastelands."
Water Sports
Golf isn't the only kind of sport you can enjoy in Summerville since it also has stunning bodies of water. In this town, you can get into all kinds of adventures in its many rivers and lakes.
Ashley River
Head over to Herbert H. Jessen Boat Landing to get access to this beautiful river. A true nature's paradise, this site features great picnic areas, diverse wildlife, lush foliage, and more. It's also a popular choice for those who want to experience a wide range of nature-based activities such as picnicking, kayaking, hiking, bird-watching, and fishing. You'll also find that it is home to a diverse amount of wildlife which includes egrets, bass, herons, swallow-tailed kites, and many others. Here, you can be sure to enjoy the best features that nature has to offer. It is open from 6:00 AM to 10:00 PM with free admission for all.
Edisto River
The Edisto River is located 19 miles from the town of Summerville and offers excellent opportunities for several outdoor activities like picnicking, tubing, kayaking, and paddleboarding. Edisto River Adventures allows you to explore this river's waters and spectacular views of this region's wilderness. You can also get rentals such as tubes, kayaks, and paddleboards inside this site. No matter your skill level, going here will give you a break from your daily routine and enjoy the thrilling experience that this river has to offer.
Dog Friendly
Many visitors and locals appreciate how dog-friendly the town of Summerville is, thus convincing them to make their visit permanent. If you do plan to visit with your canine buddy, here are the best places to see.
Wassamassaw Community Park
This pet-friendly park boasts a playground, basketball court, public restrooms, walking trail, and a dog park, where your fur babies can play along with other dogs. The dog area is further separated into two off-leash dog areas; one where small dogs can play and a space for larger dogs. When your pup has played enough and you want to spend one-on-one time, you then take a stroll down the trails and take your leashed buddy in the open spaces. Furthermore, the park is open every day from 7:30 AM to 8:00 PM.
Oak Road Brewery
As mentioned above, this is Summerville's first brewery and specializes in American and German lagers. What we didn't mention though, is that this brewery welcomes dogs and allows them to wine and dine with their owners. The staff is also friendly, rewarding good boys and girls with nice treats from behind the bar. Lastly, they offer 11 taps of soda and beer, so there's something for everyone to enjoy! Open on all nights except for Monday, make sure to take your dog along whenever you feel like going out for a drink.
Attractions
History buffs would fit right in this town, with plenty of attractions related to historical sites and the town's deep-rooted history.
Colonial Dorchester State Historic Site
The Colonial Dorchester State Historic Site is located along the Ashley River and is only a few miles away from Charleston. From 1697 until the Revolutionary War started, Dorchester was a bustling trading town. When it was abandoned, many of its buildings were preserved, thus creating the Colonial Dorchester State Historic Site as it stands today. Inside, visitors will see and experience what life was like in the early days of South Carolina during the 17th and 18th centuries. Going through this historic site is the perfect way to learn more about this state in an interactive and exciting environment.
Middleton Place
Middleton Place is known as a National Historic Landmark and is home to the oldest landscaped gardens in the whole country. The area also represents a vibrant, enduring, and vital part of the region and America's way of living. Furthermore, this building is operated and owned by the Middleton Place Foundation — a 501(c)(3) educational trust which was established in 1974. The foundation uses documented research, historic preservation, and interpretation to educate visitors on the importance of positive change and understanding of the past.
Shopping
At Summerville, you can enjoy fresh food and produce right from the ground to your dining table. The town's residents enjoy great products and services, but the favorite place to be for many people is definitely the Farmer's Market.
Summerville Farmers Market
In the greater Charleston area, the Ashley River serves as its lifeline, providing the region with a driving force to keep the farmland fertile and bountiful with crop harvests annually. During your stay in Summerville, make sure to visit the local farmer's market to ensure that you enjoy local meats, seafood, produce, and baked goods.
Summerville's Farmers Market is open from April through December every Saturday and is right behind the Town Hall in Summerville's downtown area. Apart from great food and people, you'll also enjoy live music coming from Market Cafe from 10:00 AM to 1:00 PM. You can be sure that you'll have a wonderful time at the Farmers Market, and that there are always great bargains on produce.
Art and Culture
There's no shortage of art and culture in Summerville, where the Summerville Family YMCA has hosted the Flowertown Festival every year since 1972. The festival is held in support of health and wellness programs at the YMCA. The festival is held traditionally on the last weekend of March or the first weekend of April and is the biggest arts festival in the state of South Carolina.
Summerville Azalea Park hosts this event, and will often see around 200,000 visitors during its three-day course. Approximately 200 artists are invited from all around the country to participate and have their works displayed for purchase. Furthermore, restaurants around the area sell tickets for visitors to sample their food, while children can enjoy the carnival within the festival.
Sports and Sports Teams
If you're not into water sports, you'll be happy to know that Summerville has plenty of other sports for you to enjoy. Many of these activities are offered through the Town of Summerville Parks and Recreation Department; however, there are other places that you can look into. Here are other kinds of activities that this facility provides for youth to participate in.
Flag Football
Tee Ball & Baseball
Soccer
Basketball
Volleyball
Kickball
Some sports aren't directly offered by the Summerville Parks and Recreation Department but are provided through the town's partnership with the Sertoma Club of Summerville for tackle football, where youth can practice at the Jerry Blackwell Sports Complex. Furthermore, the town also has a partnership with the Summerville Girls' Softball League for softball, where participants play at Gahagan Park.
Education: Schools and Colleges
Summerville is known to have excellent schools throughout all levels, where students can grow and thrive before undertaking the next step of their education. While there are plenty of schools to choose from, here are some of the best for your consideration.
Sand Hill Elementary
Accepting students between grades K to fifth, Sand Hill Elementary offers brand-new, state-of-the-art facilities for your children to get the best possible start for their future.
Rollings Middle School of the Arts
Here, students from grades sixth to eighth are admitted on an audition-only basis, ensuring that only the most talented surround your own kids. Children will also specialize in one of their seven core areas; dance, piano, band, strings, vocal music, visual arts, or theater.
Ashley Ridge High School
Ashley Ridge High School is known to be one of the best in South Carolina and is well represented by Scholar-Athletes and AP Scholars. The school features a challenging curriculum, both in academics and athletics. Lastly, the school offers a Horticulture Program that's Good Agricultural Practices (GAP) certified, which means that students can sell their produce to local businesses and is safe to use for meal preparation.
Real Estate Market
Summerville's real estate market has become dynamic and is still growing. While homes here may cost more than the state average, it is still more affordable compared to the rest of the country and offers a lot more value in terms of location. As of 2018, the median property value in Summerville stood at $199,500, making it 0.869 times smaller compared to the U.S. average of $229,700.
This value was calculated after the 5.33% increase from 2017's $189,400 value, so if you want to get in and get your piece of Summerville, do it before values start to appreciate again. Because the area is in such high demand, homeownership in Summerville is 64.4% — higher than the rest of the country, which is 63.9%. While commuters may suffer from long waits on the road, the average commute time of 28.1 minutes doesn't seem to scare away any potential investors.
Welcome to Summerville!
This beautiful town has converted city-goers into quiet townsfolk over and over again, and for good reason! Who wouldn't fall in love with its gorgeous lakes and rivers, along with the peaceful and scenic views it has to offer? From great food, rich history, and lively culture, this town is anything but sleepy. At its best, it provides a new life that allows you to enjoy the perks of city living inside a smaller, tightly knit community. There are no negatives about it, and all you have to do is enjoy a different kind of paradise — one that gives you the calm and peace you deserve.