Moving to Spantanburg - Your EZ Guide to Everything Spartanburg, SC
Posted by Preston Guyton on Monday, May 17, 2021 at 5:29 AM
By Preston Guyton / May 17, 2021
Comment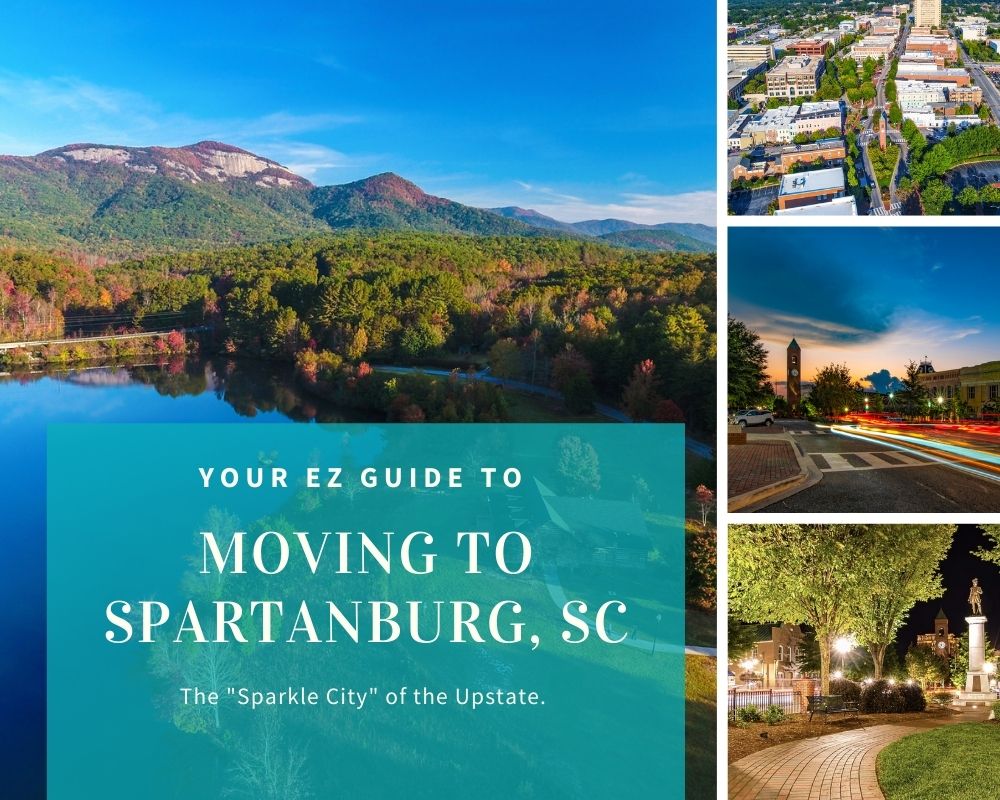 Moving To Spartanburg: Your Guide To Living in Spartanburg, SC
If you're looking to experience the free and quiet Southern lifestyle, there's no doubt you've considered moving to Spartanburg, South Carolina. Sure, thinking about moving to a new place can be overwhelming and stressful at times since there are so many things to worry about when wanting to relocate. However, there's no need to worry — we've done all the research for you and have compiled everything there is to know about this beautiful city by the Blue Ridge Mountains. Read on below for the ultimate guide to moving and living in Spartanburg.
Cost of Living and Population Growth
The city of Spartanburg is the 12th-largest city in South Carolina according to population and is also the seat of Spartanburg County. In the 2010 census, the city had a municipal population of 37,013, while Spartanburg County held a population of 180,786. In 2014, Spartanburg was the second-largest city within the greater Greenville-Spartanburg-Anderson Combined Statistical Area, with a total number of 1,385,045 residents.
As of 2019, the city of Spartanburg had a total of 37,424 people. The cost of living in Spartanburg is a lot more affordable compared to other cities in other states, making it a highly desirable area to live in. To get a better sense of the cost of living in Spartanburg, here is a table that shows a side-by-side comparison of the cost of living in Spartanburg against South Carolina and the national average:
| | | | |
| --- | --- | --- | --- |
| COST OF LIVING | Spartanburg | South Carolina | USA |
| Overall | 80.2% | 88.5% | 100% |
| Grocery | 94.8% | 95.8% | 100% |
| Health | 101.6% | 102.3% | 100% |
| Housing | 50% | 73.6% | 100% |
| Median Home Cost | $115,700 | $170,100 | $231,200 |
| Utilities | 103.8% | 103.9% | 100% |
| Transportation | 74.6% | 86.8% | 100% |
| Miscellaneous | 102.6% | 95.6% | 100% |
Spartanburg's cost of living is 80.2% compared to the national average.
Job Market
Residents of Spartanburg have a median household income of $38,325, with males earning an average income that's 1.37 times higher than those of females. Spartanburg has an economy which employs 16.3K people, with the largest industries belonging to Manufacturing, Health Care and Social Assistance, and Retail Trade. Between 2017 and 2018, Spartanburg had a 0.0308% increase in employment. Below are some of the most significant aspects to keep in mind if you're looking for work in Spartanburg.
Most Common
Some of the most common jobs that the residents of Spartanburg work in according to the number of employees are:
Production Occupations with 2,172 employees
Office and Administrative Support Occupations with 1,698 employees
Sales and Related Occupations with 1,685 employees
Most Specialized
In Spartanburg, there is a higher number of residents working in the following jobs compared to other places:
Material Moving Occupations
Production Occupations
Community and Social Service Occupations
Highest Paid
If you're looking for a high-paying job in Spartanburg, here the ones you need to look into:
Legal Occupations with median earnings of $127,656 per year
Architecture and Engineering Occupations with median earnings of $70,893 per year
Health Diagnosing and Treating Practitioners along with Other Technical Occupations with median earnings of $64,074 per year
Things To Do in Spartanburg
Spartanburg is a city rich in things to do — from great outdoor facilities to delicious food and excellent breweries, you can be sure that you'll have a fantastic time roaming around in this city.
Hatcher Garden and Woodland Preserve
A popular tourist spot in Spartanburg, this is one of the largest natural parks in the state of South Carolina if counting by the area size. For both locals and tourists, spending a day with friends and family in the Hatcher Garden and Woodland Preserve is the best part of their trip. This park has unparalleled natural beauty, and as such, it's a wonderful treat to witness for everyone who witnesses nature at its finest.
Furthermore, the park offers several waterfalls along with picnic areas that are just lovely, offering a lush, green background for all to see. Apart from this, the park's pristine and tranquil environment makes it an ideal location for anyone to go for a walk with their loved ones.
RJ Rockers Taproom and The Silo
This brewing company opened in 1997 and was renovated in 2018 to include a kitchen while warehouse spaces were converted into seating for their customers. Other upgrades to this local favorite include added air conditioning and heating as well as Rockers flavors elevated to friendly beer-inspired food. Every dish in RJ Rockers Taproom and The Silo was created straight out of the brewery, perfected in the kitchen, and delivered to your table.
If you're ever thirsty and hungry at the same time, there's nothing better to do than to eat where the beer is. RJ Rockers also provides live music every Thursday, Friday, and Saturday night.
Ciclops Cyderi & Brewery
If you're looking for great nightlife, the Ciclops Cyderi and Brewery is the city's second brewery and is also the second cidery in South Carolina. This brewery offers a wide selection of cider and beer styles while also including local taps from guests from many other breweries. There are a variety of events held at Ciclops Cyderi & Brewery, where family-friendly activities, games, and food are made available in an outdoor setting.
Climate
Another great thing about Spartanburg is that its climate is favorable to most people. On average, the city gets 49 inches of rain every year, compared to the national average of 38 inches. Winters are also mild, and you can expect around two inches of snow every year which is much lower than the 28 inches of snow that the rest of the country gets. There's also an average of 225 sunny days in Spartanburg every year, making it a great choice for people wanting to move to a warmer area. Here are a few weather highlights to keep an eye out on:
Summers in July can get as hot as 91 degrees.
Winters in January can be as cold as 27 degrees.
There's an average of 49 inches of rain per year.
There's an average of two inches of snow per year.
It's common for people to visit an area first before making a 100% commitment to moving there. If you plan to visit Spartanburg, make sure to visit during May, September, and October when the climate is most pleasant. However, be sure to avoid visiting during July and January when it's least comfortable.
Traffic
Residents who've lived in Spartanburg — some of whom have lived there for 40 years — have seen the city's transformation, where narrow dirt paths turned into interstate highways. However, even with such improvements, people say that traffic has never been as bad as it is today. According to locals, crossing lanes or pulling out onto a road can be a terrifying experience that gets even harder in rush hour.
Drivers complain that traffic gets heavier every day and that all the new construction doesn't help the situation. Because people are always in a hurry on the highway, things get crowded fairly easily, with the worst times between 7:30 AM to 8:30 AM and then again 5:00 PM to 6:00 PM when people commute to and from their jobs. The County of Spartanburg reports that traffic is on the rise due to the housing boom, where new subdivisions have appeared in the past few years.
Public Transportation
There are various ways to get around in Spartanburg, making it easy for residents to get from point A to point B even without a car. Residents of Spartanburg County have access to Dial-A-Ride, a door-to-door service that operates six days a week.
Buses
The city is served by SPARTA (Spartanburg Area Regional Transit Agency), which covers Spartanburg and the surrounding areas where eight routes lead to several locations. Every SPARTA bus is equipped with a bike rack, while two hybrid-electric buses were added in 2012.
Railroads
The Crescent train operated by Amtrak serves Spartanburg by connecting it to the cities of Philadelphia, New York, Washington, Baltimore, Charlotte, Greensboro, Birmingham, New Orleans, and Atlanta. You'll find the station for this train at 290 Magnolia Street.
Airports
Located in Greer, the Greenville-Spartanburg International Airport (GSP) serves Spartanburg and Greenville. In recent years, it has become one of South Carolina's busiest airports. Furthermore, the Spartanburg Downtown Memorial Airport (SPA) is located just southwest of the city and is a small craft/general aviation airport operated and owned by Spartanburg.
Golf
The city of Spartanburg is home to four golf courses, while there are also 13 golf courses outside of the city less than 20 miles away. While the longest course in the city is Woodfin Ridge Golf Course, the oldest course is the Gaffney Country Club. Below are other courses to choose from.
Creek Golf Course
This 18-hole course can be found in Spartanburg's Creek Golf Club facility and offers 6,653 yards of golf, featuring the longest tees for a par of 72. The course opened in 1966 and was designed by Russell F. Breedon. It currently holds a slope rating of 117 on Bermuda grass with a course rating of 71.0. Today, the course is managed and maintained by Taylor Hough who serves as its General Manager and Co-Owner.
Carolina Golf Course
Located in the city's Carolina Country Club facility, this 18-hole "Carolina'' course gives players 6,875 yards of golf from the longest tees for a par of 72. Tom Jackson is the designer behind this course, and it was opened in 1984. It holds a slope rating of 135 on Bermuda grass and has a course rating of 72.7. The Carolina Golf Course is currently managed by Regent Golf.
Water Sports
Spartanburg offers its residents naturally beautiful lakes and rivers with crystalline waters, making it the perfect location for various kinds of water sports. The city overflows with plenty of ways to make a splash, whether you want to relax by the shoreline or prefer a heart-pounding adventure.
Croft State Park
Lake Tom Moore Craig is a popular fishing spot at Croft State Park. As long as you possess a valid South Carolina fishing license, feel free to head over to the serene 165-acre watershed where you can catch plenty of bream, largemouth bass, crappie, and catfish. You can also cast a line from the shore or a non-motorized boat, but if you don't own one, there are available rentals on site. Overnight camping is also allowed, so you can get fishing as soon as the sun comes up.
Pacolet River
The Pacolet River offers over 50 miles of river adventures — you can kayak across the waters from downtown Spartanburg all the way to Lockhart. There's also a four-mile paddle route that starts from Clifton Beach to Goldmine Road which includes Class I and II rapids. This popular route takes around two hours to complete and offers a thrilling experience, combining slow-moving water along with short rapids that pass through trees and wildflowers.
Dog Friendly
Spartanburg has a lot to offer our four-legged buddies, with plenty of shops, restaurants, and even hotels providing dog-friendly services. Here are a few must-see places for those who have pet dogs.
Two Doors Down Fashion Boutique
Two Doors Down is Spartanburg's favorite boutique for fashion at affordable prices. This store offers carefully curated women's clothing, jewelry, and accessories. The store provides fashion that changes with the season, while also providing plenty of items on sale. After it opened in 2008, the owner, Kelly Blackwell has strived to stand out from other boutiques in the city, promising every consumer unique finds, fair prices, and outstanding customer service. Since 2017, Tori James has also joined as a partner in Two Doors Down, which has turned into Spartanburg's leading stores.
Willy Taco
After having too many of the same old tacos with bland flavors, residents of Spartanburg demanded something more unique and flavorful, prompting the creation of Willy Taco. Offering fresh flavors straight out of the fiestas, this restaurant is one of Hub City's most favorite places to get a good taco, tasty tortas, and great tequila. And while they don't usually appear in the limelight, the owners of this establishment have been around the restaurant scene for a long time and know their way around a kitchen (and a bar), so if you're looking for amazing food, excellent company, and a celebration of food, head over to Willy Taco.
Attractions
Spartanburg is also home to various attractions that you won't find anywhere else. Here are just a few that truly stand out and that visitors from all over the country should look forward to seeing during their trip.
BMW Zentrum
Along with being the center of attention for people who love cars, BMW Zentrum is a magnet for tourists of all age groups who want to see everything that's new in innovation and science. Even tourists from all over the world plan their vacation to South Carolina for the sole purpose of roaming around this fascinating 28,000 square foot facility which offers world-class automobile manufacturing. Once inside, you'll see the evolution of the field of vehicle engineering as well as advancements from this company, from day one. Dive into BMW's rich past to understand just how much this company has contributed to various industries.
Walnut Grove Plantation
The Walnut Grove Plantation is located close to the Tyger River and is a building of monumental historical significance. This plantation has a history that goes back to the days of the American Revolution and reveals a story that tells of the free and enslaved people of the country. Visitors and tourists can go on a guided tour of their 250-year-old buildings, which easily provides people with a sense of history within its walls. If you're a history buff, the Walnut Grove Plantation is a must-visit destination in the city of Spartanburg.
Shopping
While Spartanburg is a smaller city, you can't underestimate its ability to provide all your shopping needs. From malls, stores, and smaller shops dedicated to providing various kinds of accessories, clothing, furniture, and more.
JCPenney
No matter what you're shopping for, the JCPenney department store on the Westgate Mall has everything you need at affordable prices. Here you'll find your favorite brands of apparel, accessories, shoes, and gifts for men, women, and children. You'll also find a wide selection of sizes for men, women, and kids, where you can find the perfect fit for you and the whole family. At JCPenney, you'll find something to wear from head to toe, along with various furniture, home decor, housewares, and bedding.
Hub City Farmers Market
This non-profit organization is committed to providing the city of Spartanburg with access to healthy, local food while increasing the demands from locals. At the Northside Harvest Park, they also offer a weekly farmers' market aside from their Mobile Market which serves the greater Spartanburg area. Furthermore, their efforts are focused on promoting positive food policies, improving markets for local food, and finding ways towards a sustainable local agricultural system that everyone can benefit from.
Art and Culture
The city also has a healthy art and culture scene, where residents can browse through various studios, museums, and other areas where art is appreciated and embraced. While there are plenty of places to see art, here are some of the most unique offerings from the city.
Mayfair Art Studios
A division of Chapman Cultural Center, Mayfair Art Studios is a thriving arts facility that boasts a diverse community dedicated to building an economically sustainable community in Spartanburg. Here, artists join together to discover each other's cultures, as well as and make vibrant works of art. Inside, 14 individual artist studios feature the following:
Hourly rental options
Public open studio hours
One large co-work studio for ceramics
One large co-work studio for fiber arts
Seven music studios for lessons
Two exhibit and event spaces
Two dance/movement studios
One photography studio
Spartanburg Downtown Cultural District
This whole section of the city features areas and spaces for entertainment, arts, and more which include the following:
Five museums
Six historic sites
15 green spaces and arboretums
21 indoor live performance venues
Nine outdoor performance venues
38 murals and other public art displays
43 galleries or exhibit spaces
64 studios and workshops
The Spartanburg Downtown Cultural District alone also offers 251 cultural and creative industry jobs, along with 1,335 festivals and events which are open to the public.
Sports and Sports Teams
Just from its name, you probably already know that Spartanburg is home to plenty of sports. It serves as the host to the Carolina Panthers' training camp which is held every year at Wofford College. Here are various sports teams and facilities that you'll find in Spartanburg.
Duncan Park Stadium
Duncan Park is the country's oldest minor league baseball stadium and once served as the home to the Spartanburg Crickets in the Southern Collegiate Baseball League. It also served the Spartanburg Stingers in the Coastal Plain League. Furthermore, the Spartanburg Phillies — a minor league team — also used this stadium as their home. Today, it is the home stadium of the Spartanburg High School's baseball teams.
Wofford's Gibbs Stadium
The Carolinas hold the Shrine Bowl every year at this stadium. This high school football all-star game is played between the top players from both South Carolina and North Carolina.
Various Sports
The Spartanburg Methodist College Pioneers, Wofford College Terriers, and USC Upstate Spartans all offer several sports options for both men and women. Moreover, Converse College offers NCAA Division II women's sports teams.
Education: Schools and Colleges
Spartanburg plays host to many of the most sought-after schools in the state. Some of the best-rated schools include:
Pine Street Elementary School
West View Elementary School
McCracken Middle School
Spartanburg High School
Spartanburg Charter School
Furthermore, Spartanburg is known as a "College Town" and is known for its institutions of higher learning such as:
Spartanburg Community College
Converse College
University of South Carolina Upstate
Wofford College
Spartanburg Methodist College
And more
In 2019 alone, Spartanburg universities awarded a total of 897 degrees, with the most popular majors in the city being:
Aesthetician and Skin Care Specialist
General Biological Sciences
General Psychology
Real Estate Market
The real estate market in Spartanburg is still affordable, with a median property value of $116,800 as of 2018, making it 0.508 times lower compared to the U.S. average of $229,700. From 2017 to 2018, this value changed from the previous amount of $116,800, which indicates a 1.52% increase. Even so, the homeownership rate in the city is 45.1%, which is lower than that of the nation's 63.9%. Furthermore, the largest share of households in Spartanburg has a property value around $200,000.
Despite the city's increasing population and traffic, residents still enjoy an average commute time of 19 minutes by driving. However, this may change depending on construction work, as well as delays on the road.
Welcome to Spartanburg!
The city of Spartanburg is ripe for the taking, so make sure you get in before this city becomes too crowded. With its idyllic small-town vibes and big-city facilities, there are plenty of things to experience and places to explore. It's also one of the most affordable cities in South Carolina and the country, with an overall score of 80.2% on the scale of livability. There are also plenty of attractions here, whether you're looking for indoor or outdoor activities, along with quality education for kids, a great nightlife for adults, and plenty of historical and creative outlets for residents to enjoy. Now that you have everything you need, pack your bags and head over to this city of dreams.