Moving to Savannah - Your EZ Guide to Everything Savannah, GA
Posted by Preston Guyton on Tuesday, June 1, 2021 at 2:12 PM
By Preston Guyton / June 1, 2021
Comment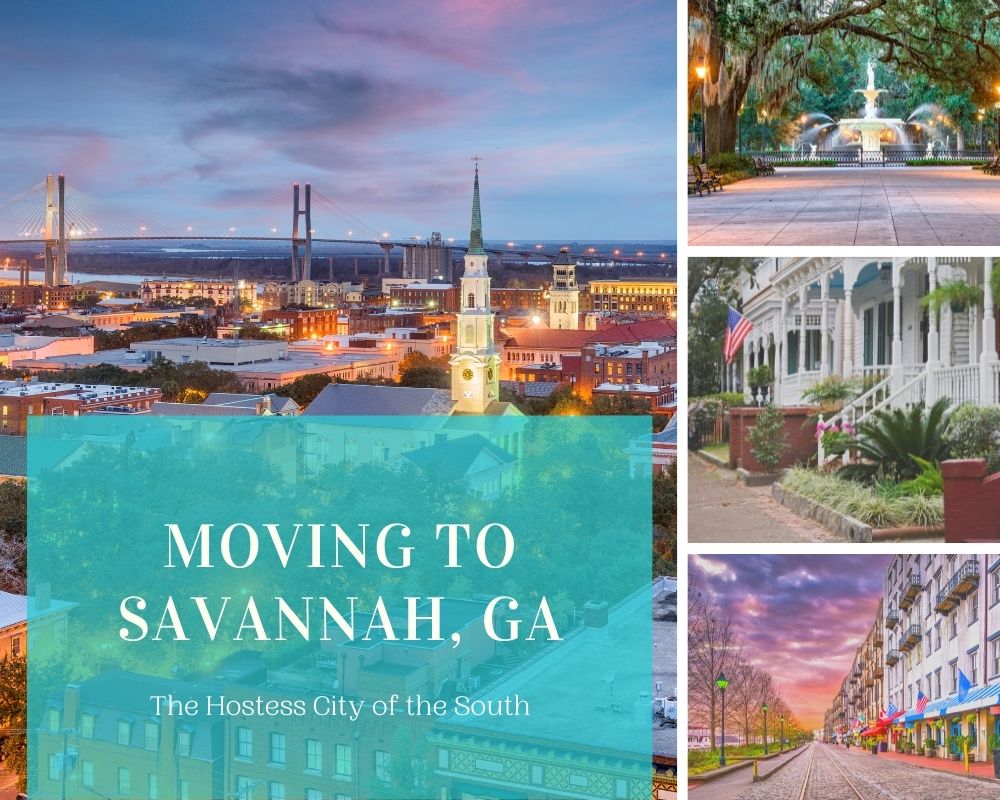 Moving to Savannah - Your Guide to Living in Savannah, Ga
There are no surprises when it comes to why many consider moving to this city in Georgia. Apart from ranking as one of the friendliest places in the world, Savannah also delivers a unique mix of a contemporary style with old-school charm. Within it lies beautiful architecture, a rich history, stunning greenery, and vibrant culture. So if you're in the market for a new place to call home, it'd be a mistake not to have Savannah as your top priority. In this EZ guide to Everything Savannah, we've placed all that you need to know about this city in one place. Read on below to see what Savannah has in store waiting for you.
Cost of Living and Population Growth
Each year, Savannah easily garners over 50 million visitors per year, some of which fall so madly in love with the city that they decided to stay for good. Established in 1733, it is the oldest city in Georgia and serves as the county seat of Chatham County. It stands as the fifth-largest city in the state, with its numbers recorded at 145,342 in 2018 — this represents a 0.171% increase since 2017's count of 145,094 people. Meanwhile, the median household income also grew during this time, from $39,386 to $41,093 for an increase of 4.33%.
Because of this city's relatively low cost of living, many people consider relocating here. There are even sources that show the average cost of living in Savannah put it as much as 6.4 percent less compared to the U.S. average. Furthermore, the housing costs in the city are also lower than the rest of the county, combined. To provide you with a better idea of just how affordable Savannah is, here is a table that compares major commodities between Savannah, Georgia, and the rest of the country.
| | | | |
| --- | --- | --- | --- |
| Cost of Living | Savannah | Georgia | USA |
| Overall | 83.2 | 93.4 | 100 |
| Grocery | 96.9 | 95.5 | 100 |
| Health | 89.5 | 95.5 | 100 |
| Housing | 57 | 80.7 | 100 |
| Median Home Cost | $131,700 | $186,500 | $231,200 |
| Utilities | 103.2 | 103.2 | 100 |
| Transportation | 89.2 | 105.1 | 100 |
| Misc. | 98.3 | 94.8 | 100 |
Overall, Savannah's cost of living is 83.2, making it much lower than the total for the rest of the state and the country.
Job Market
Families in Savannah have a median household income of $41,093, where males have an income that's 1.36 times higher compared to females. While this number may be lower than the $61,937 median annual income throughout the country, it has grown from the 2017 value of $39,386. This represents an annual growth of 4.33%. Moreover, the economy of Savannah employs a total of 66K people, with their largest industries found in Accommodation and Food Services, Health Care and Social Assistance, as well as Retail Trade. If you're looking to work within the city, here are a few areas of work that you might want to consider.
Most Common
Some of the most common jobs in the city, according to the number of employees in each industry are:
Sales and Related Occupations with 7,695 employees
Office and Administrative Support Occupations with 6,968 employees
Food Preparation and Serving Related Occupations with 6,632 employees
Most Specialized
Compared to other cities in Georgia, Savannah has a few jobs that have an unusually high number of employees working in the following industries:
Food Preparation and Serving Related Occupations
Building and Grounds Cleaning & Maintenance Occupations
Material Moving Occupations
Highest Paid
Some of the highest paid jobs in the city, according to median earnings are the following:
Architecture & Engineering Occupations with a median earning of $81,411
Legal Occupations with a median earning of $71,250
Health Diagnosing and Treating Practitioners along with Other Technical Occupations with a median earning of $59,162
Things To Do in Savannah
New to Savannah? Well, there's never a shortage of things that you can do around the city. From quiet walks in the park to fine dining experiences and crazy nightlife adventures, you can be sure to find a great way to spend your free time.
Forsyth Park
You can't say you've been to Savannah without stepping foot in Forsyth Park, where you'll see a stunning water fountain. You'll find it right in the corner of the park, where it has stood the test of time since 1858. The park is also within walking distance of gorgeous mansions which have been restored to their former glory, making it an even more magical place for a walk. If you're lucky enough to make your visit during the fall season, you'll be amazed at the fall colors on display around town.
Restaurants
There are plenty of places where you can quickly grab a bite or savor every mouthful in this city. With restaurants of all styles and kinds, you can dine at a four-star restaurant one day and then eat at a hole-in-the-wall eatery the next. Of course, wherever you go, you'll find classic Southern dishes like shrimp and grits, fried green tomatoes, pralines, and fresh Georgia peaches everywhere you go. Some of Savannah's not-to-miss culinary experiences include the following:
Treylor Park
Ordinary Pub
The Olde Pink House
Mrs. Wilkes' Dining Room
Southbound Brewing Co.
If you're looking for the best brewery in town, look no further than Southbound Brewing Co. Just as their motto says, they're more than just a brewing company, offering a mix of funky and eclectic moods for social gatherings, community events, live music, and more. No matter how you want to spend your night, you can be sure that there's something for everyone in this pub's event calendar. Southbound is also known for having brews throughout the year, with one example being the Hoplin' IPA, which is a medium-bodied American IPA that has pine and citrus aromas.
22 Square Bar
Nestled in the Historic District, this bar is the favorite when it comes to nightlife in Savannah. It presents a lively atmosphere, which draws visitors and locals to taste cocktails created by talented mixologists who pour with Southern hospitality. Blended using homemade tonics, elixirs, and liquors, cocktails of classic and contemporary tastes are made in 22 Square Bar. These result in flavors like the Georgia Julep, Tybee Breeze, and the Savannah Fizz.
Climate
Because it's located on the Atlantic coast, this city has a warm and humid summer, along with mild winters. However, during the spring and fall months, temperatures can vary throughout the day. During summer, you can get temperatures as high as 91 degrees, while winter temperatures can become as low as 39 degrees. Furthermore, it rarely snows in Savannah, but it has an average rainfall of 49 inches per year, which is more than the U.S. average of 39 inches. There's also an average of 216 sunny days per year in Savannah, which is more than the 205 days that the rest of the country experiences. Here are a few weather highlights for the city of Savannah:
The hottest temperature recorded during summer is 91 degrees in July.
The lowest temperature recorded during winter is 39 degrees in January.
Savannah has an average of 49 inches of rain per year.
It rarely snows in Savannah, so there's no recorded average snowfall.
When you plan to visit Savannah, be sure to do it sometime around April, October, or November when the weather is at its best. On the other hand, July and August are the least comfortable months to stroll around the city.
Traffic
According to the residents of Savannah, while the city is indeed flourishing and growing, it's also the reason why traffic is worsening in the area. However, some say that while the traffic is terrible, it isn't as bad as Atlanta. Furthermore, some of the areas to avoid are:
GA Highway 21
US 80
US 17
I-16
Yet, other commuters say that the city doesn't feel congested once you're inside its perimeter. While there are three ways into and out of the city, rush hours turn these roads into a bottleneck making it harder to get around. But some say that there are easier roads to take such as the 80W or 16 to 95N. Be sure to consider these areas when in a hurry.
Public Transportation
For those who are health conscious, Savannah may not be the best choice since the city has a walk score of 43, making it a car-dependent area. However, visitors will have a good experience walking around if they concentrate on the Historic District. The city is, however, a bike-friendly city and boasts a bronze rating from the League of American Bicyclists.
Bus routes are available through the CAT system, which travels through Chatham County for a minimum fee. The DOT (Downtown Transportation) also offers free shuttle and ferry services around the Historic District, which stops at major tourist locations around the city. The Amtrak's Silver Service and Palmetto trains also operate a passenger terminal in the city, which can get you between New York City and Miami.
Lastly, you can find the Savannah/Hilton Head International Airport off Interstate 95 just west of Savannah. Some airlines that serve this airport include Allegiant Air, Air Canada Express, American Eagle, JetBlue, Delta Connection, and more. In 2019, this airport was named the 4th best domestic airport in the US by Travel and Leisure.
Golf
Fancy a round of golf during your stay in Savannah? Lucky for you, there are plenty of courses for you to choose from in the city. Here are just some of them.
The Club at Savannah Harbor
The Club at Savannah Harbor features spectacular views of Savannah's Historic District and Hutchinson Island and is part of the Westin Savannah Harbor Golf Resort and Spa, where it just oozes with Southern charm. Designed by Bob Cupp and Sam Snead, the course was developed with a risk and reward philosophy in mind. The greens, however, will be a challenge, with their subtle collars which roll over the fringe — a prominent feature of courses between the 1930s and 1940s.
Savannah Country Club
If you're looking for great views at every hole, the Savannah Country Club can accommodate your needs. Inside this Donald Ross-designed course, well-groomed greens and fairways are featured, which stretch 6,715 yards along with a Par 71 course which is both difficult and player-friendly. It first opened in 1927 and was then known as the Wilmington Island Club and Savannah Inn & Country Club, but was renamed in 2018 under a new owner. Since then, it has been appreciated by both visitors and locals.
Water Sports
If you're not into golf, you can beat the summer heat by getting down to a beautiful body of water and making a splash. There are many options to choose from, both in and near Savannah.
Reel Em' N Deep Sea Fishing Charters
You can explore the clear and beautiful waters of Tybee Island with Reel Em' N Deep Sea Fishing Charters. This area not only offers excellent year-round fishing but also has calm sea conditions and is just 15 minutes away from the Historic Downtown Savannah. Here, you'll catch fish of all kinds, including snapper and grouper which can be found at any time of the year. Other fish include spanish & king mackerel, spot-tailed bass, sheepshead, sea bass, barracuda, mahi mahi, and even sharks.
Outside Hilton Head
Less than an hour's drive away from Savannah, you'll find Hilton Head where you can enjoy biking, boating, paddle boarding, fishing, and kayaking excursions. You can also rent equipment here which is sanitized between each use to ensure that you enjoy your whole day's trip. Many visitors have found that staff here are personable, knowledgeable, and most importantly, experienced. As such, you can be sure that each trip will be worth your time and that there's always something new to see during your adventures.
Dog Friendly
There are plenty of dog lovers in Savannah, so naturally, the city has many establishments that allow pets to come in with their owners and enjoy the great places it has to offer.
Olde Harbour Inn
While the Olde Harbour Inn will allow pets of any size to stay for an additional fee of $50 for each pet, guests need to call (877) 411-3436 before booking to secure a pet-friendly room. The inn also accepts both cats and dogs, and well-behaved pets are even allowed to be left in their rooms unattended. Your four-legged family members are also provided with a welcome bag which includes waste bags, organic treats, a brochure of activities around the city, and tennis balls.
Oliver Bentleys Historic Dog Walk Tour
The Oliver Bentleys Historic Dog Walk Tour provides a dog-centric way to see the city and has been designed specifically for you and your dog. Throughout the tour, your pup will have the opportunity to sniff around Savannah's historical sites as you learn more about this magnificent city. However, there is a two-dog limit per person, and your canine pals will need to be leashed. You'll be able to explore the city for around 90 minutes, and it will take you through some of the best places around historic Savannah.
Attractions
If you're looking for the most unique places around Savannah, then these are the places you just can't miss.
The Cathedral of St. John the Baptist
This beautiful work of art has been compared many times to Europe's medieval churches and offers a solemn place of respite. It not only serves as a place of prayer and contemplation, but it is also an exquisite example of French Gothic architecture. Since its official dedication occurred on April 30, 1876, the church has survived many incidents, until it was ultimately restored between 1998 and 2000 to become the structure that it is today. The church is highly regarded and has been rated as #6 on TripAdvisor's list of Top 10 US Attractions.
Tybee Beach
Just 20 minutes away from Savannah's Historic District, Tybee Island offers five miles of beaches for both locals and visitors to enjoy. Here, you can spend the whole day simply relaxing in any of the hotels available, or you can have fun by the beach. Of course, many will say that your trip isn't complete unless you explore the island and enjoy the sunset by the ocean. Fort Pulaski is also near Tybee Island and can be located on Cockspur Island. This coastal fortification was built in 1812 — once thought to be indestructible, it was destroyed in 1862 during the American Civil War.
Shopping
If you live for shopping, then you'll love Savannah. This city has plenty of exciting shops all gathered in one area: the Downtown Design District. Here's a list of all the places to be if you want to grab the best bargains and eats around town.
Broughton Street
If you're looking to do some serious shopping, Broughton Street is the place to go to find the best souvenirs from various boutique stores and local shops. While you're here, be sure to visit The Paris Market (located between the streets of Whitaker and Broughton) as well as The Salt Table which can be found at Barnard Street nearby. When you need a break from all the shopping, get an ice cream at Leopold's to end your day on a high.
SCAD Shop
The Savannah College of Art and Design has a retail shop on Bull Street that's a constant hit with both locals and visitors. This place is full of amazing artwork from the talented community of artists who make anything between home goods, handbags, jewelry, and fine art. Everything sold in the SCAD Shop was all designed and created by SCAD's students, faculty, and alumni.
Art and Culture
If you can't get enough of art and want to see more around the city, try going to these places to get your dose of daily inspiration.
Telfair Museum of Art
The Telfair Museum of Art is actually a collection of three diverse buildings, all of which contain artwork that ranges from classic works to more cutting-edge, such as their Elvis exhibit. The three sites under this name include a contemporary building as well as two National Historic Landmarks. All three are located within walking distance of each other and are all inside the historic district which will make it much easier to get around and have more time to look through the various pieces of art they have to offer.
Jepson Center for the Arts
As mentioned above, the Jepson Center for the Arts is part of the Telfair Museums. Here, you'll find the famous Elvis exhibit, where you can admire plenty of black and white pictures taken of the Rock and Roll legend. Elvis was only 21 during this time, while the photos were taken by Alfred Wertheimer, a young freelance journalist. The display, however, is changed very now and then, but you can always count on finding something interesting here.
Sports and Sports Teams
The SSC (Savannah Sports Council) was established in 1993 and has been on a mission to develop sporting events for the community. If you're looking to participate in a wide range of sports, then this is the place to go. They work with organizations of all levels to offer a diverse opportunity for athletes of all sports and ages. Furthermore, the SSC isn't just committed to creating new sporting events, but also to holding its own events to impact their area. Here are just a few sports events that the SSC owns and operates:
Enmarket Savannah Hockey Classic
Publix Savannah Women's Half Marathon & 5K
Georgia Power Golf Classic & Sports Awards Luncheon
Enmarket Savannah Bridge Run
Education
Just in 2019 alone, various universities in Savannah were able to award their students with 9,222 degrees. According to the number of degrees awarded, some of the biggest universities in the city are Savannah College of Art and Design, Savannah Technical College, and South University-Savannah Online. Some of the most popular majors in Savannah, according to the number of students are:
Family Practice Nurse with 1,143 students
Animation, Interactive Technology, Video Graphics, and Special Effects with 469 students
Digital Communication and Multimedia with 400 students
If you do decide to take up classes or to have your children take classes, keep in mind the following tuition costs:
A private, four-year college has a median tuition cost of $37,575..
A public, four-year college for out-of-state students has a median tuition cost of $14,786.
A public, four-year college for in-state students has a median tuition cost of $4,064.
Real Estate
In 2018, the median property value in Savannah was $151,500 — a 3.34% increase from 2017's value of $146,600. This value is also 0.66 times smaller compared to the $229,700 national average, making it a prime location for any kind of housing investment. While the homeownership rate in Savannah is at 43.9% (lower compared to the 63.9% of the rest of the country), don't expect that it will stay like this for much longer.
Once people see the worth of investing in this amazing destination, more and more homes will be bought and prices will increase even quicker. The Median sales price for homes in the Savannah market is around $250,000. Traffic hasn't become intolerable yet, and people still experience an average commute time of 19.6 minutes when driving to work.
Welcome to Savannah!
You can't deny that Savannah has the look and feel of a paradise. After all, Forrest Gump wouldn't use this city during its filming if it wasn't as breathtaking as everyone says it is. Along with its great historical background, amazing nightlife, and plenty of beautiful attractions, it has the benefits of city life without being too crowded for residents or congested for drivers. You can also take advantage of its affordable cost of living and low housing costs if you move quickly. If you don't grab the opportunity now, you might just miss your chance of getting your own piece of heaven on earth.