Moving to Rock Hill - Your EZ Guide to Everything Rock Hill, SC
Posted by Preston Guyton on Wednesday, May 19, 2021 at 10:39 AM
By Preston Guyton / May 19, 2021
Comment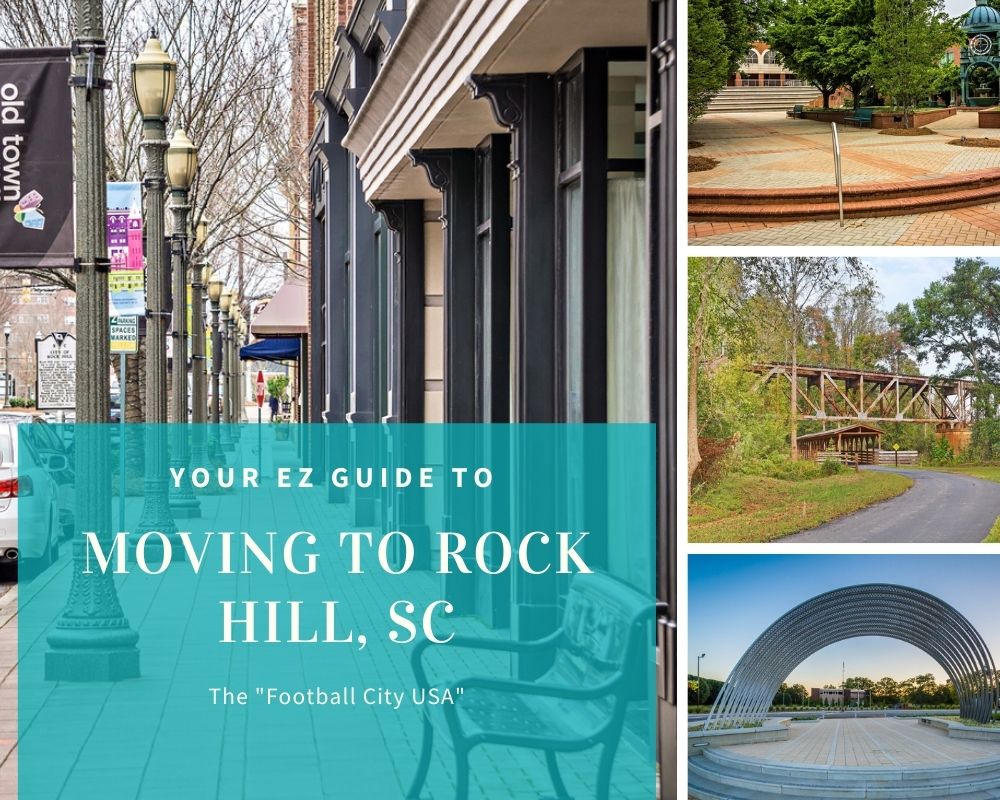 Moving To Rock Hill: Your Guide To Living in Rock Hill, SC
Perhaps you're thinking about getting away and are looking for the perfect place that you can call home; if so, you have plenty of choices in South Carolina. This great state has plenty of cities that will welcome you with open arms, such as Rock Hill. It may look like a sweet and charming city, but it's also one of the fastest-growing cities in the country.
This former mill town is a thriving place for respite from the stresses and fast-paced living in big cities, but it also offers excellent amenities, scenic locations, a lively culture, and a better way of life overall. In this guide to everything Rock Hill, we provide you with all the essential details you need to know should you decide to move to this beautiful city in the South.
Cost of Living and Population Growth
The city of Rock Hill is the biggest in York County and is the fifth-biggest in the state of South Carolina. In the 2010 Census, Rock Hill had a population of 66,154 but this number grew to 75,048 by 2019. Interestingly, while the most desirable areas in the country have become ridiculously expensive, this isn't the case with Rock Hill. Because South Carolina has some of the lowest costs anywhere in the country, this city also enjoys the benefits that come with it. To get a better sense of the cost of living in Rock Hill, here is a table that shows a side-by-side comparison of the cost of living in Rock Hill against South Carolina and the national average:
| | | | |
| --- | --- | --- | --- |
| COST OF LIVING | Rock Hill | South Carolina | USA |
| Overall | 89.4% | 88.5% | 100% |
| Grocery | 96.1% | 95.8% | 100% |
| Health | 111.3% | 102.3% | 100% |
| Housing | 74.1% | 73.6% | 100% |
| Median Home Cost | $171,300 | $170,100 | $231,200 |
| Utilities | 100.2% | 103.9% | 100% |
| Transportation | 82.2% | 86.8% | 100% |
| Miscellaneous | 100.2% | 95.6% | 100% |
Rock Hill's cost of living is 89.4% compared to the national average.
Job Market
As of 2018, the median household income in the city of Rock Hill was $46,792, where males earn an average income that's 1.37 times more compared to the average income of females. A total of 35.3k people are employed under the economy of Rock Hill, where the largest industries are in Manufacturing, Retail Trade, and Health Care and Social Assistance.
Between the years 2017 and 2018, employment rates in Rock Hill climbed from 35k employees to 35.3k employees, which reflected an increase of 0.98%. Here are some of the most important facets of Rock Hill's job market for your reference, should you choose to work in this city:
Most Common
According to the number of employees, some of the most common jobs in Rock Hill are:
Office and Administrative Support Occupations with 4,979 employees
Sales and Related Occupations with 3,964 employees
Production Occupations with 3,417 employees
Most Specialized
Compared to other areas, Rock Hill also has specific jobs that have an unusually high amount of residents working in the following jobs:
Production Occupations
Material Moving Occupations
Community and Social Service Occupations
Highest Paid
Some of the highest paid jobs in Rock Hill, according to median earnings are:
Health Diagnosing and Treating Practitioners along with Other Technical Occupations with annual earnings of $63,351
Architecture and Engineering Occupations with annual earnings of $62,034
Management Occupations with annual earnings of $56,542
Things To Do in Rock Hill
Rock Hill is a gateway to a world of fun, exploration, and culinary excellence, where both locals and visitors can enjoy the wide array of activities that this city has to offer.
Outdoors
Fountain Park is a great place to visit during your first time in Rock Hill. This block-sized urban park is located by Elizabeth Street and Main Street and is within walking distance from the downtown restaurant and shopping areas. At one end of the park, there lies a water fountain and on the other side is an amphitheater stage. This grassy park offers water shows where the fountain cycles through various patterns on their water streams that can shoot up to one hundred feet in the air. The best time to see this park is every third Friday between May to October, where food trucks line up to serve you delicious treats.
Restaurants
There is no lack of choices in Rock Hill when it comes to the glorious food it has to offer. To experience fantastic, local food in this city, here are a few must-try places.
Legal Remedy Brewing: A favorite among both locals and visitors, this craft brewery is also a full-service restaurant that provides patrons with an indoor and outdoor eating experience. If you're looking for truly Southern soul food, try their poutine; crispy fries covered in crumbled bacon, pepper jelly, and smoked jalapeno pimento cheese.
Flipside Restaurant: If you're not a morning person, you will be once you've tried brunch at Flipside's, where they offer Buttermilk Fried Chicken, Waffles, and their signature biscuits.
Breweries and Nightlife
For great food, beer, and music, head over to Legal Remedy Brewing at its Old Town location in downtown Rock Hill. Here, you can feast on house-smoked and cured meats while enjoying a beer from their 24 taps that offer everything from imperial stouts to light and seasonal ales. They also have a calendar of events that highlight various shows, live music, and other activities that will surely liven up your nights.
Climate
Rock Hill offers well-rounded weather where residents can enjoy the outdoors most days of the year. On average, Rock Hill gets 44 inches of rain every year, which is more than the national average of 38 inches. The city also gets an average of 3 inches of snow each year, compared to the country's average of 28 inches per year. Finally, Rock Hill enjoys 212 days of sun, compared to the U.S. average of 205 days per year. Here are a few weather highlights worth remembering:
Summer sees the city's hottest days, where July can get as high as 91 degrees Fahrenheit
Winters in Rock Hill have the lowest temperatures, which reach around 31 degrees Fahrenheit
If you plan to visit Rock Hill before making the big move, May, September, and October are the best times to visit, while January and July are the least comfortable months to come and experience what this city has to offer.
Traffic
While this city isn't too crowded just yet, the City of Rock Hill has developed the Traffic Commission to manage the highway system while making recommendations on traffic-related issues. As outlined in the City Code, these recommendations on traffic issues are presented to the City Council. Their responsibilities include:
Evaluating traffic concerns such as speeding
Review and replace the regulatory and advisory signature
Considering the use of traffic control devices
Public Transportation
The City of Rock Hill uses one regional transit system — The Charlotte Area Transit System, which offers bus services starting from downtown Rock Hill and runs to Uptown Charlotte. You can also catch My Ride, Rock Hill's electric bus transit service, while the 82X bus runs from Downtown Rock Hill to Uptown Charlotte.
Biking
As a bike-friendly town, Rock Hill offers bikers plenty of bike routes around the city. There are even designated bike lanes found throughout the major roads like Oakland Avenue and Eden Terrace.
Airports
Two airports serve Rock Hill. York County Airport (also known as Rock Hill Airport) is a municipal airport that serves non-commercial flights and is only minutes away from the city's CBD. The other airport is the Charlotte-Douglas International Airport, which is one of the country's busiest airports, located just 20 miles from Rock Hill.
Golf
With plenty of courses to try out, Rock Hill offers some of the best golf clubs and courses that South Carolina has to offer. They also provide beautiful scenery so you can play while enjoying the view.
Waterford Golf Club
The Waterford Golf Club was designed by Hale Irwin, a three-time U.S. Open Champion. It's nestled inside the intimate setting of the Catawba River and the woodlands that surround it — this golf club offers an escape from the city to the wilderness and natural environment that you will surely appreciate. The course reaches 6,940 yards from the back tee and is laid along rolling terrain. There's also water on 16 of the 18 holes, making it truly a shotmaker's course. Since it opened in 1997, the Waterford Golf Club's classic design has received positive reviews from both locals and golfers all over the country.
Pinetuck Golf Club
Located in South Carolinas' Olde English District, this course is a paradise for animals of all kinds. This 150-acre course contains no parallel holes and is framed by trees, where you will play along with various species of wild game. The signature hole, #17, is a par 3, 178-yard hole that needs a tee shot that makes it over a lake that guards the two-tiered green. The Pinetuck Golf course is praised for having one of the best putting surfaces around.
Water Sports
One of the hidden gems in York County is the scenic Lake Wylie, a renowned water sports and fishing destination with around 13,443 acres and 325 miles of shoreline. Here, people who love fishing can find a wide variety of fish to catch. As a result, it has become one of the best fishing grounds in the southeast.
Lake Haigler has 28 acres of canoeing and kayaking space where you can rent (with life jackets and paddles provided) and reel in no time. It's also located inside Fort Mill's Anne Springs Close Greenway. Another lake around these parts is Lake Crawford inside Kings Mountain State Park, providing 130-acres of space. While swimming isn't allowed, you get great fishing access via bank or boat.
Dog Friendly
Rock Hill also offers a handful of dog-friendly options where you and your canine pal can stay for the night or go out for a few drinks. Try these places for a great time with your whole family.
TownePlace Suites
For an additional fee of $25 to $75, depending on how many nights you stay, this hotel will welcome two pets of any size. Both cats and dogs are accepted here, and pets may be left in the room unattended, provided that they are inside crates. There's also a grassy area outside with a waste station for pet relief.
Legal Remedy Brewing
This restaurant is a great place to wine and dine, and it's also dog-friendly. This contemporary and casual brewpub offers tasty craft food and provides a spacious outside area with tables where your pups are welcome to grab a bite. Take your pick from their nachos, steaks, sandwiches, meatloaves, fish and chips, and desserts.
Attractions
There are also many different attractions located close to Rock Hill, so you can be sure that there's something new for you to do every day. Here are a few places that you can visit whenever you have time to spare.
Historic Brattonsville
Just thirty minutes from Rock Hill, the Historic Brattonsville area preserves many historical buildings inside the site of an old farming plantation. Here, you can join a day trip that includes a short film about the history of the plantation, along with a self-guided walk around the grounds and the plantation house, as well as the opportunity to see how farming used to be. Furthermore, the largest event of the year is the annual Battle of Huck's Defeat, which tells the story of the battle between a Patriot militia and British soldiers during the Revolutionary War.
Carowinds
If you're a thrillseeker, head over to Carowinds, a premier amusement park in the southeast. Rides, roller coasters, and water attractions will surely keep your day full of adventure. There are also special performances, concerts, and other attractions to see here. To make the most of your experience, you can buy your tickets in advance via their website, which offers bundle deals where you can save on food, parking, and admission.
Shopping
Shopping at Rock Hill is easy and full of choices for various goods and products. Each sidewalk is lined with towering trees and neatly trimmed shrubs, so you also get great scenery along with neat finds.
Right by Main Street, you'll come across Newsstand Records & Books, where you will find something that's been forgotten in time; Vinyl records. And while these are rarely seen nowadays, this store has bins full of records along with shelves of books. There's also a seating area in the back where you can have a sit-down and read before making your purchase.
Another great bookstore is Friends Books on Main, where you can buy used books that can no longer be found in the local library. Operated by Friends of the York County Library, this is one of the bigger used bookstores in the area. Lastly, the Overhead Station is a great place to explore where you can find unique gift ideas. Most of the items found here are also created by local or regional artists.
Art and Culture
Rock Hill has a lot of art and culture to offer, especially for those who aren't from these parts. These are just some of the best places to visit if you're new to the area.
Arts of York County
This non-profit organization arranges workshops and art classes, events, and special festivals, as well as operates eight galleries inside the county. One such gallery is the Center for the Arts, the prime destination for various works of art. Another place of interest is the Gettys Art Center, a small art center that's located by the basement of the Post Office on Main Street. Here, you'll find works from local artists spanning various mediums like jewelry, pottery, photography, and clothing, along with a gift shop.
Museum of York County
This amazing museum offers an excellent place to learn and discover local Native American history, where you can explore the Carolina Piedmont area as well as see the various kinds of native wildlife. It also provides viewers with a wide array of taxidermy displays that can rival those inside Smithsonian Museums.
Catawba Indian Cultural Center
South Carolina's only federally recognized Native American tribe, the Catawba Indian Nation, once made their home throughout the Carolinas, but today they inhabit a small area within the Catawba River. A small museum, the Catawba Indian Cultural Center, is open to the public with artwork and information on the tribe. Inside, you can learn about pottery techniques as well as the patterns in their artwork.
Sports and Sports Teams
If you love sports, you'll be happy to learn that Rock Hill is host to two national championships: the US Youth Soccer National Championships (which take place at Meadows Soccer Complex) and the United States Disc Golf Championship (which is held at Winthrop University.) Furthermore, various other sports take place in the city along with sports teams that call this city their home:
The city of Rock Hill hosted the UCI BMX World Championships at the Riverwalk mixed-use community in July 2017.
The Winthrop University Eagles is a National Collegiate Athletic Association (NCAA) Division I team participating in collegiate sports.
The Carolina Panthers recently chose Rock Hill as their host for a 200-acre training facility in 2019.
Some of their former teams include the Rock Hill Cardinals, known as a Western Carolinas League baseball team. They were also affiliated with the St. Louis Cardinals from 1963 to 1968.
Education: Schools and Colleges
In 2019, 2,704 degrees were awarded to students in Rock Hill universities, with more female students than male students. According to the number of degrees awarded, some of the biggest universities in the city include Winthrop University, with 49.8% of the degrees awarded, York Technical College with 46.2% of the degrees awarded, and Kenneth Shuler School of Cosmetology-Rock Hill with 3.22% of the degrees awarded. Meanwhile, some of the most commonly taken majors in the city are:
Liberal Arts and Sciences
General Business Administration and Management
Social Work
Tuition costs in Rock Hill are relatively affordable, with a median cost of $9,920 for a private four-year college and $15,306 and $29,636 for public four-year colleges for in-state and out-of-state students, respectively.
Real Estate Market
In 2018, the median property value in Rock Hill was $147,800 — around 0.643 times lower compared to the U.S. average of $229,700 that year. However, between 2017 and 2018, there was a 5.2% increase in property value from $140,500 to $147,800 in the city. Homeownership in Rock Hill is 51.9%, which is lower compared to the 63.9% national average.
There's also an average commute time of 23.2 minutes for residents, which isn't too bad yet but may worsen over time. Finally, Rock Hill has a large share of households with a property value around $250,000. And while these may be the prices seen today, it won't be long until they rise due to demand from people who are also looking to move to this modern-day paradise.
Welcome to Rock Hill!
It's time to turn your plans into action and get packing. Rock Hill isn't just a smaller city where you can hide away from the busy lifestyle you've grown accustomed to. It offers both the comforts of a quiet, small-town area while also providing you with a steadily growing economy where families can find great education for their children and plenty of work for young professionals.
So if you've decided to relocate to Rock Hill, plan to make your move now while there's still time. There's no telling just how fast word will spread of this amazing haven that's just a stone's throw away from the best golf courses, places of interest, and bigger neighboring cities in case you ever miss the city life.