Moving to Myrtle Beach - Your EZ Guide to Everything Myrtle Beach, SC
Posted by Preston Guyton on Wednesday, May 5, 2021 at 4:57 AM
By Preston Guyton / May 5, 2021
Comment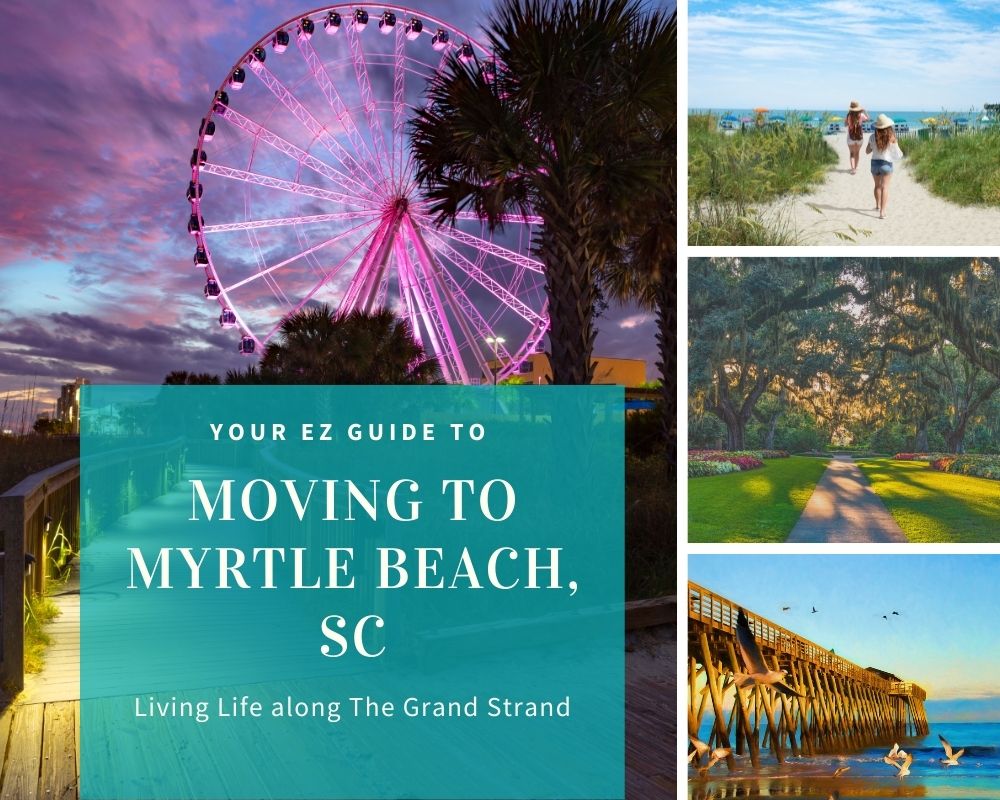 Moving To Myrtle Beach: Your Guide To Living in Myrtle Beach, SC
If you've lived your whole life in huge, congested cities such as New York, Philly, or Chicago, you most likely have to endure harsh winters every year. Perhaps you're now looking for a place that offers the complete opposite: a smaller city with a sunny and lively atmosphere, with ample space for all your outdoor adventures. Fortunately, this is exactly what Myrtle Beach offers.
However, making the move to a new town or city can be both an exciting and stressful time for most people. Thankfully, we've done the research for you to make things that much easier. So if you don't know the first thing about Myrtle Beach but are considering moving there, here's the ultimate guide to everything Myrtle Beach in South Carolina.
Cost of Living and Population Growth
The coastal city of Myrtle Beach lies on the East Coast in Horry County, South Carolina. It's known as the second-fastest growing city in the country, according to 2018 census estimates. Myrtle Beach also serves as one of the major hubs of tourism in the state and the whole country. This city's warm and subtropical climate, paired with its stunning beaches allows it to attract around 14 million visitors every year.
From the 2010 census, Myrtle Beach had a population of 27,109, which increased to 34,695 in 2019. In 2018, the city had a population close to 32,000 and had a median age of 44 years old, making it the perfect place for those looking for a piece of paradise on Earth. Surprisingly enough, even when it is so picture-perfect, Myrtle Beach is an affordable place to live in. Below is a table that shows a side-by-side comparison against South Carolina and the national average:
| | | | |
| --- | --- | --- | --- |
| COST OF LIVING | Myrtle Beach | South Carolina | USA |
| Overall | 84.8% | 88.5% | 100% |
| Grocery | 97.1% | 95.8% | 100% |
| Health | 98.8% | 102.3% | 100% |
| Housing | 64.8% | 73.6% | 100% |
| Median Home Cost | $149,800 | $170,100 | $231,200 |
| Utilities | 101.6% | 103.9% | 100% |
| Transportation | 79% | 86.8% | 100% |
| Miscellaneous | 100% | 95.6% | 100% |
Myrtle Beach's cost of living is 84.8% compared to the national average.
Job Market
Homes in Myrtle Beach have a median annual income of around $40,525, which is lower compared to the national average of $61,937. However, this is still quite an improvement from the median income of 2017 which was $39,006, representing an annual growth of 3.89%. Moreover, between 2017 to 2018, employment in the city grew from 14,300 employees to 14,500 employees at a rate of 1.57%. Here are a few key statistics in terms of employment in Myrtle Beach, South Carolina.
Most Common
According to the number of employees, here are the most common jobs taken by the residents of Myrtle Beach:
Sales and Related Occupations: 2,421 people
Food Preparation and Serving Related Occupations: 2,098 people
Management Occupations: 1,255 people
Most Specialized
Myrtle Beach has specific jobs that have an unusually high number of residents compared to other cities, such as:
Food Preparation and Serving Related Occupations
Building and Grounds Cleaning along with Maintenance Occupations
Sales and Related Occupations
Highest Paid
Some of the highest paid jobs in Myrtle Beach according to median earnings are:
Health Diagnosing and Treating Practitioners along with Other Technical Occupations: $79,861
Computer and Mathematical Occupations: $75,658
Legal Occupations: $63,000
Things To Do in Myrtle Beach
There are various things to do in Myrtle Beach; from fun outdoor beach adventures to excellent nightlife, fabulous restaurants, and more, there's something great for everyone to do.
Myrtle Beach
This is the most obvious entry in this list since the main attraction of this beautiful city is the beach itself. The Grand Strand offers a total of 60 miles of white-sand beaches in front of the city's oceanfront, you can fly a kite, toss a frisbee, and go for a swim as much as you want. Outdoor explorers can also enjoy all kinds of sports here, such as fishing, boating, surfing, scuba diving, windsurfing, and more.
The Myrtle Beach Boardwalk plays host to many of the city's tourist attractions, hotels, restaurants, and shops. You'll also find many stages along the promenade which feature concerts, arcades, and other forms of entertainment.
GTS Theater
This local theater is well-loved by locals for the numerous shows it provides which all have various themes. The GTS theater is a great place to go if you're looking to have a wonderful date night. Performances can range from concerts to magic shows, comedies, musicals, and much more. You will also enjoy watching all the shows while sitting in ultimately comfortable seats, so you're in for a treat here every night.
Sea Captain's House
Built in 1930, this building first served Henry Taylor and his family for more than 10 years until it was turned into a restaurant in 1962. Today, the Sea Captain's House has served diners for more than 50 years. Here, you can enjoy the ocean view, delicious food, and the southern hospitality that this restaurant offers. Served with fine seafood, drinks, and desserts, guests are also able to celebrate events here, no matter how big or small.
Atlas Tap House
The Atlas Tap House has been the host to plenty of bars over the years, but now that they've found the perfect combination, they tirelessly serve bourbon, craft beer, and house-smoked barbecues. While their food is tasty, their main selling point is the beer, with an extensive and exotic list made available for your taste buds. Furthermore, their bar will always have various brews on tap while their helpful staff will always provide recommendations for the perfect beer.
Climate
The city of Myrtle Beach enjoys a subtropical climate that affords its residents plenty of rain and sunshine all in one place. With an average of 52 inches of rain every year, the city gets a lot more precipitation compared to the national average of 38 inches. At the same time, it doesn't snow often in Myrtle Beach, getting only one inch of snow per year compared to the U.S. average of 28 inches. Furthermore, residents can enjoy 218 sunny days compared to the national average of 205 sunny per year. Here are a few weather highlights for Myrtle Beach:
The highest temperature is around 89 degrees and occurs during summer in July.
The lowest temperature is 35 degrees which happens during winter in January.
There is an average of 52 inches of rain every year.
There is an average of one inch of snow every year.
If you're looking for the perfect time to move to Myrtle Beach, your best bets for good weather are during April, May, and October, while it's not ideal to make your move during July or August.
Traffic
The Transportation Department at Myrtle Beach takes driving and the safety of their residents seriously. In 2013 alone, South Carolina recorded 719 fatal automobile crashes, along with other non-fatal cases. The team behind the Transportation Department works around the clock to ensure the dwindling numbers of such accidents. Here are their tips for creating safer streets:
Implement defensive driving: Defensive driving teaches drivers to maintain a safe distance rather than speed ahead. Be ready to accept small delays, and avoid abruptly changing lanes. It's also best to yield to other cars, even if you have the right-of-way.
Ensure the maintenance of your car: Make sure that your car is working 100%. Check the headlights, oil, tires, and engine regularly.
Practice extra caution in harsh weather: Even if Myrtle Beach doesn't get snow, roads can still become encased in ice. Taking extra care and watching the surroundings will help everyone get to their destination safely.
Always wear a seat belt: This is straightforward, and it is the law. Simply wearing your belt will reduce instances of death by 50% in the event of a crash.
Never drive sleepy: Around 20% of crashes can be blamed on someone who's driving while drowsy or tired. It's always best to drive alert and ready for anything.
Never drink then drive: In 2013 alone, more than 10,000 people had fatal accidents involving people who were drunk behind the wheel.
Public Transportation
First-time visitors to Myrtle Beach will enjoy the fact that there are plenty of options for transportation, especially for those who aren't accustomed to driving. From shuttles, taxis, buses, and ride services, here are your choices for transportation:
Taxi Services
If you're arriving via Myrtle Beach International Airport, taxis are located at the main terminal building. You will always find taxis on call within the area which can accommodate all sizes of parties and all kinds of travelers. If you're looking to get around town from a hotel, you can be sure that there are reliable taxi services available in Myrtle Beach.
Shuttles and Car Service
Many of the hotels in Myrtle Beach provide shuttle services to and from the airport as an added benefit. If you need a longer-term transportation solution around town, you can also find car service companies that offer coupes, sedans, and even limousines.
Coast RTA Bus Service
The Coast RTA Public Transit serves both the Georgetown and Horry counties, which cover Myrtle Beach and much of the Grand Strand. This service carries passengers through eight bus routes which cover the most popular areas of the Myrtle Beach area. The cost of these shuttle services starts at just $1.50 for adults with discounts available for students, seniors, children, and Medicaid recipients.
Myrtle Beach International Airport
The Myrtle Beach International Airport is a public-use, county-owned airport located just six kilometers southwest of Myrtle Beach in South Carolina. It is currently categorized as a small-hub primary commercial service facility. It's also the second-busiest airport in the state behind Charleston, serving over 2.4 million passengers in 2018.
Golf
If you love to play golf, Myrtle Beach has great options to choose from, whether you're a beginner or a pro. This city also offers plenty of gorgeous scenery for you to appreciate as you swing away.
Mini Golf Courses
Perfect for aspiring golfers, Myrtle Beach has various mini golf courses scattered around the Grand Strand. One of the biggest areas for mini-golf courses is located in Route 17 business and is a great area to play all day. Some of the courses found here are Jungle Lagoon, Mt. Atlanticus, Captain Hook's Adventure Golf, and Treasure Island.
Myrtle Beach Golf
Often referred to as the golf capital of the world, Myrtle Beach boasts a huge number — more than 80 — of golf courses despite its relatively small area. To make things even better, most of the courses here came straight from the brilliant minds in the industry such as Jack Nicklaus, Arnold Palmer, Greg Norman, and Robert Trent Jones. You'll also find the Barefoot Resort & Golf property here, where four courses are waiting for you, including one of the most challenging courses designed by Pete Dye. Many players have recently reported its difficulty, but also noted how it was worth trying. Visit our blogo to Learn more about the best golf course communities in Myrtle Beach.
Water Sports
Because the area is located by the beach, you can expect that there is plenty of fun to be had by the water. Here are a few places where you can go to beat the heat this summer.
Myrtle Waves Water Park
The Myrtle Waves is the largest water park in all of South Carolina, where more than one million gallons of water flow through over 20 acres of rides, slides, chutes, and rafts. Be sure to try out their larger slides including the King Cobra, Night Flight, and Turbo Twisters. If you're feeling extra adventurous, the 20-foot-long Super Chute slide is the most thrilling of them all. Meanwhile, other beachfront water parks to visit are Wild & Water Wheels and Splashes Water Park, which house tube slides, pools, huge waterslides, and more.
Island Adventure Watersports
For some serious watersports, Island Adventure Watersports is the go-to place for locals and visitors alike. With staff committed to providing their customers with exceptional service, you can create lasting memories of your aquatic adventures. Their rental services include Guided Jet Ski Tours, Jet Ski Rentals, Kayaking, Paddleboarding, Banana Boat Rides, Wakeboard Lessons, and more.
Dog Friendly
You can be glad to know that Myrtle Beach is a dog-friendly city, where most places will accept your dog companion. If you're unsure of where to go with your canine buddy, here are a few places to get you started.
Patricia Grand Resort Hotel
The Patricia Grand Resort Hotel allows owners to take two dogs up to 20 lbs for an extra fee of $20 for each dog per night. Dogs may stay in any of the following rooms:
Ocean View Efficiency
Ocean View Standard
Oceanfront Efficiency rooms
However, keep in mind that their suites aren't pet-friendly, so be sure to leave your dogs inside a crate if they need to be left alone. Furthermore, there's also a dog park on the property, including a waste station. Unfortunately, the following dog breeds aren't permitted:
Pit bulls
Rottweilers
German shepherds
Chow
Dobermans
Boxers
Liberty Tap Room & Grill
Liberty Tap Room conveniently sits in the heart of Myrtle Beach and combines the upscale dining scene with the appeal of being dog-friendly. As a result, this restaurant can serve traditional American cuisine while providing patrons with a fun and modern atmosphere. Moreover, your pup is allowed to join you by the outdoor tables in their Beer Garden.
Attractions
If you can't get enough of Myrtle Beach and want to see more places and explore more sites, here are other fascinating places waiting to get discovered.
Ripley's Aquarium
Myrtle Beach is home to the extraordinary Ripley's Aquarium, which allows families to roam around a giant aquatic habitat. Inside, you'll find the Dangerous Reef aquarium where there's a wide array of fish, stingrays, turtles, and even sharks. This aquarium also hosts a variety of habitats that serve as the home to many aquatic residents from the Indo-Pacific and the Amazon River, and also has a stingray lagoon.
Hollywood Wax Museum
Opened in 2014, the Hollywood Wax Museum was built to honor the film industry by showcasing replicas of celebrities. One of the most easily recognizable features here is a 35-foot tall replica of King Kong, which will always take your breath away. Other stars that you'll find here include Robert Downey Jr., Taylor Swift, Audrey Hepburn, and much more. You'll also find themed sections inside the Hollywood Wax Museum, with the Horror Film Villains being a popular place to explore.
Shopping
There are plenty of places to shop, wine, and dine in Myrtle Beach, so there's always somewhere new to roam around and find great bargains.
Barefoot Landing on the Waterway
Barefoot Landing on the Waterway is a prime example of waterfront shopping where dining and entertainment options are plentiful. Located in North Myrtle Beach along the gorgeous Intracoastal Waterway, it features quaint boutiques, national retail shops, exciting entertainment offerings, and a wide selection of restaurants. At Barefoot Landing, you can be sure that there's always something new to enjoy, with special events scheduled throughout the year.
Coastal Grand Mall
Coastal Grand Mall is one of the largest indoor mall in the state of South Carolina, so it's the best place to shop, eat, and go to the movies. It is conveniently located at 501 and Highway 17 Bypass, so anyone from both ends of the Grand Strand can get access to it. Some of the shops you'll find here include:
Dick's Sporting Goods
Old Navy
Bath and Body Works
Brookstone
Victoria's Secret
Belk
JCPenney
Sears
Ulta
And so much more
When you're tired of shopping around and are looking for a bite to eat, you can go straight to the following restaurants:
Sbarro
Chick-fil-A
Starbucks
Chipotle
Red Robin Gourmet Burgers
Lil Tokyo Japanese Steakhouse and Sushi
This is just a short list of the available shopping that Myrtle Beach offers. Other great shopping includes Tanger Outlets, Broadway at the Beach, local surf shops like Surf City, and Village Surf Shop, beach wear stores and much more.
Art and Culture
Myrtle Beach offers much more than just surf and sand — this city is rich in history, art, and culture too. Some of this city's greatest treasures are found inside buildings, preserved behind glass cases for all to see and appreciate up close and personal.
North Myrtle Beach Area Historical Museum
The North Myrtle Beach Area Historical Museum displays impressive exhibits on the Native Americans who first inhabited the area, as well as the first settlers. It also covers the establishment of early rice plantations, as well as the effects of the Civil War. You'll also find a short-term regional exhibit along with a long-term gallery that features a timeline of the region. Furthermore, you'll get to learn all about the Shag — known as the state's official dance, and a favorite pastime in South Carolina.
WonderWorks
WonderWorks is located at Broadway at the Beach and is an interactive museum designed to look like an upside-down building, which encourages a child's natural sense of creativity and curiosity. This 50,000 sq.ft. building is stuffed with over 100 hands-on exhibits and provides both kids and adults a truly unique experience. A few of the activities you can expect to do here include:
Feeling what it's like to wear an astronaut suit
The sensation of laying on a bed of nails
Experience the power of hurricane-force winds
Play the piano on the floor using your feet
And more !
Apart from learning, kids can also play laser tag, take part in a rope course, and other kinds of activities in WonderWorks.
Sports and Sports Teams
Myrtle Beach also has plenty to offer for sports fans, with teams in baseball, as well as college sports. Furthermore, the city has plenty of various sports that you can take part in, along with excellent sports facilities.
Myrtle Beach Pelicans
This Class A-Advanced baseball team is an affiliate of the Chicago Cubs, the 2016 World Series Champion. Throughout the years, the Pelicans have sent more than 150 players to the next level, competing in the "big leagues." The team has also won the title in back-to-back seasons from 2015 to 2016. The Myrtle Beach Pelicans reside in TicketReturn.com Field and begin their season in April, ending in September.
Coastal Carolina University Chanticleers
Coastal Carolina University in Myrtle Beach plays host to a variety of Division I college sports. One of these teams is the Coastal Carolina University Chanticleers, which compete nationally in sports such as basketball, football, volleyball, baseball, softball, and golf. Each season, you can cheer for the Chanticleers as they face major national teams as well as opponents from the Big South Conference.
A variety of sports can also be enjoyed while in Myrtle Beach; some of these include:
Fishing
Watersports such as kayaking, canoeing, jet-skiing, sailboating, and more
Tennis
Education: Schools and Colleges
Myrtle Beach is more than fun and sports — you'll also find exceptional education opportunities here. Children, teens, and adults alike will find great schools for all kinds of learning in the city. Here are a few schools, colleges, and universities where new doors can open for your kids or yourself.
Schools
Here are a few schools to look out for in terms of quality of education in the Myrtle Beach area:
Ocean Bay Elementary School
Ocean Bay Middle School
Myrtle Beach Primary, Elementary, and Intermediate Schools
Higher Education
Coastal Carolina University
Horry Georgetown Technical College
Webster University's Myrtle Beach campus
Real Estate Market
Properties in Myrtle Beach, South Carolina had a median property value of $194,700 in 2018 — around 0.848 times smaller compared to the national average of $229,700. This indicates that the real estate market in Myrtle Beach is more affordable than the national average. However, prices like this won't stay for long; the property values here have increased by 9.2% from 2017's $178,300 to 2018's $194,700, and since 2019 the average cost has increased at a rapid pace.
While the homeownership rate was just 53.4% in 2018, (compared to the national average of 63.9%) as rates continue to be lower home ownership percentages should continue to rise. Because people in Myrtle Beach enjoy a commute time of only 16.1 minutes, there's not much hassle in terms of traffic, and people can get to and from the city with ease.
Welcome to Myrtle Beach!
While some people might choose to move to high-profile cities like LA or Miami, they aren't nearly as affordable as living in Myrtle Beach in South Carolina. And it's not just the homes; everything else is much more affordable here, including groceries, health expenses, and transportation costs.
Furthermore, Myrtle Beach is a coastal region that where real estate prices are affordable for mid-income families to afford. Just imagine a haven where you're living with subtropical temperatures, away from snow, where you have miles and miles of white sandy beaches at your feet. It's a paradise just calling people from all over the country and all over the world.