Moving to Marietta - Your EZ Guide to Everything Marietta, GA
Posted by Preston Guyton on Friday, June 11, 2021 at 7:55 PM
By Preston Guyton / June 11, 2021
Comment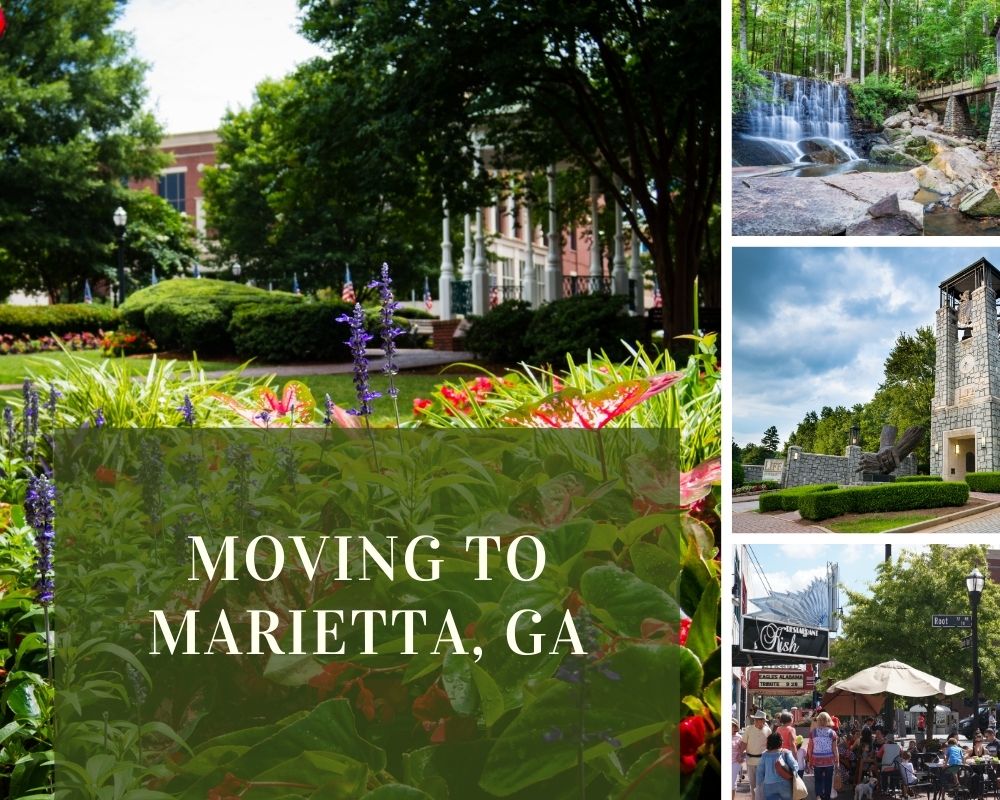 Moving to Marietta - Your Guide to Living in Marietta, GA
Are you looking to live inside a charming town with an old-school vibe that has both a rich history and a promising future? If you have Georgia in mind, then look no further than Marietta. This tranquil city offers proximity to Atlanta, great schools, as well as a comfortable lifestyle that's not too expensive.
In this article, we'll take a thorough look through the beautiful city of Marietta, so you can find out more about its culture, cost of living, as well as its most popular attractions that make this place so special. Read on below to get your EZ guide to everything Marietta, GA.
Cost of Living and Population Growth
Located in Cobb County, Georgia, Marietta is the county's largest and seat city. In 2010, the city of Marietta had a population of 56,579 that has since grown to 60,203 in 2017. It then grew by 0.344% in 2018 for a total of 60,410 people and had an estimated count of 60,867 by 2019. During this time, the city had a median age of 33.3 years; at the same time, there was also an increase in the median household income of 7.89% from $50,963 to $54,983.
Because of its numbers, it is one of the largest suburbs in Atlanta and is also the fourth biggest principal city in the Atlanta metropolitan area. Furthermore, it's also relatively affordable compared to other neighborhoods and cities such as Sandy Springs, where homes can easily go for as much as $486,500. To give you an idea of the cost of living in Marietta, here's a table that compares major commodities between Marietta, Georgia, and the rest of the country.
| | | | |
| --- | --- | --- | --- |
| Cost of Living | Marietta | Georgia | USA |
| Overall | 111.5 | 93.4 | 100 |
| Grocery | 98.6 | 95.5 | 100 |
| Health | 91.8 | 95.5 | 100 |
| Housing | 125.7 | 80.7 | 100 |
| Median Home Cost | $290,700 | $186,500 | $231,200 |
| Utilities | 100.1 | 103.2 | 100 |
| Transportation | 121.1 | 105.1 | 100 |
| Misc. | 102.2 | 94.8 | 100 |
Marietta has a total cost of living of 111.5, which is higher than Georgia's total of 93.4 and the rest of the country at 100.
Job Market
In 2018, Marietta, Georgia had a median household income of $54,983, where males have an average income that's 1.36 times higher compared to females. This is also an increase from the previous year's income of $50,963 which indicates a 7.89% annual growth. Marietta's economy also employs a total of 31.2K people, many of which are working in the largest industries such as Retail Trade, Accommodation, and Food Services, as well as Health Care and Social Assistance. Here are some of the most in-demand sectors that you might want to look into if you're looking to work in the city.
Most Common
Counting by the number of employees, some of the most common jobs held by the city's residents are:
Management Occupations with 3,741 employees
Sales and Related Occupations with 3,723 employees
Office and Administrative Support Occupations with 3,268 employees
Most Specialized
Compared to other areas in Georgia, Marietta has unusually high numbers of workers in the following jobs:
Legal Occupations
Food Preparation and Serving Related Occupations
Construction and Extraction Occupations
Highest Paid
Some of the highest paid jobs in the city according to median earnings are the following:
Legal Occupations with an annual earning of $113,782
Computer and Mathematical Occupations with an annual earning of $80,485
Computer, Engineering, and Science Occupations with an annual earning of $71,903
Things To Do in Marietta
There's so much to do in the city that you might find it difficult to pinpoint a few things during your first time in the city. Make sure that you make time to visit these places to see what Marietta has to offer.
Kennesaw Mountain
This mountain reaches a height that's just over 500 meters, so it's not very high compared to Mount McKinley, the highest peak in the country that towers at 6,900 meters. It is, however, the highest point in the urban areas of Atlanta, which makes it an attractive destination for those wanting to take their adventure to new heights. It's also a great area for people looking to tackle the various hiking trails found on the slopes of Kennesaw Mountain.
Marietta Square
Located in the historic center of the city, this area plays host to a food tour that takes guests to seven different eateries. It aims to highlight the amazing food made by locally-owned bakeries, restaurants, and food stores. The tour takes around three hours to complete and will take you through the best that the city has to offer, with each stop being accompanied by the knowledge that only locals of the town can drop, providing you with more insight into Marietta city.
Schoolhouse Brewing
More than a decade ago, Justin Waller and Thomas Monti turned their love of brewing into a business that allows them to constantly experiment with flavors. After leaving their careers as science teachers, they opened a bottle and growler shop and quickly became a favorite among locals. They then upgraded to a full-scale brewery that has been voted "#1 New Brewery in Georgia" with a fully stocked homebrew supply store. Schoolhouse Brewing is known to have the biggest taproom in the city and offers food trucks, live music, games, and other events.
Club Rio
Bringing the hottest parties and events in the city, Rio Club & Lounge serves up premium-quality hookah, exclusive bottle service, as well as the best DJs playing the right music for any scene. Started in 2015, it has since come under a new management structure and has transitioned to a completely new rebranding, improving quality and service dramatically. Because the club is only getting better, it has been designed specifically for the Social Elite, so come in and experience all that Club Rio has to offer.
Climate
On average, Marietta gets a total of 53 inches of rain per year, while the rest of the country only has a total of 38 inches. The city also gets just two inches of snow — much lower than that of the 28 inches of the country's average every year. Lastly, Marietta enjoys a total of 217 sunny days every year, while the U.S. average stands at 205 days. Here are a few weather highlights to look out for during your stay in the city.
Summers can have temperatures as high as 88 degrees in July.
Winters become as low as 31 degrees during January.
There's an average of 53 inches of rain per year in the city.
There's an average of two inches of snow every year in Marietta.
Should you decide to visit first before committing to moving here, be sure to do so around May, September, and October, where the months are most pleasant. January and July are the least comfortable months, so be sure to stay away during these times.
Traffic
Marietta has become so popular to people outside of it that its roads have become congested and traffic has become more of a part of daily life. Unfortunately, the average commute time for employees in Marietta is 26.5 minutes. Furthermore, 2.18% of the city's workforce undertake commutes that last longer than 90 minutes.
As such, the city's Traffic Operations Division takes care to provide 24-hour emergency response every day to continuously improve traffic enforcement within the city. They are responsible for maintaining all signage, markings, and signals inside of Marietta. This division is also responsible for handling missing or damaged street signage to take care of any potential safety hazards.
Public Transportation
If you want to see everything that this city has to offer, it's best to have your own vehicle, so you can make your way to the various places of interest available to you. However, if you don't have a car, the city of Marietta provides residents with various modes of transportation, where you may use the Xpress GA Buses which serve the city, along with CobbLinc — the Marietta/Cobb County's Transit System.
The city also has CSX freight trains that run between Chattanooga and Atlanta, which run just one block from the town square. Marietta's closest airport is the Hartsfield-Jackson Atlanta International Airport, which lies 22.9 miles from the city.
Golf
Those who love golf will love Marietta for the great club courses in and out of its boundaries. Be sure to play in these areas if you're looking to challenge yourself.
City Club Marietta Golf Course
The "City Club Marietta'' course inside Marietta's City Club Marietta facility features 18 holes, along with 5,800 yards of golf starting at the longest tees for a par of 71. This course has a slope rating of 122 on Bermuda grass and a course rating of 68.2. This course was designed by Mike Young and was opened in 1991. Since then, the course has been managed by Steve Rudd, PGA under Classic Golf Management, Inc.
Atlanta Golf Course
Found in the Atlanta Country Club facility, this 18-hole "Atlanta'' course has 7,018 yards of golf from the longest tees for a par of 72. It has a slope rating of 144 on Bermuda grass and a course rating of 74.8. Willard C. Byrd, ASGCA, designed this course, and it was opened back in 1965. It has since garnered players from all over the state for the great play it provides golfers. Today, Bryant Plese is the General Manager and has kept the courses' pristine condition.
Water Sports
If you're not a golf person, then perhaps you prefer getting action in the water and would prefer playing some kind of sport there. Luckily, there are plenty of places for you to beat the heat in Marietta.
Six Flags White Water
This water park is family-friendly, where toddlers are provided age-appropriate pools where they can enjoy the water in safety. On the other hand, if you're ready for the ride of your life, you can take on the full selection of slides that are designed to get your adrenaline pumping. With a total area of 280,000 sq.m, the Six Flags White Water park is one of the best in the entire country. Apart from the slides available, Six Flags also features the Atlanta Ocean, a wave pool for fun activities as well as a lazy river named Little Hooch.
Chattahoochee River
For both the native species and humans that live close by, this river is an essential green space that should be part of any traveler's itinerary. The Chattahoochee River flows throughout metropolitan Atlanta, with those in Marietta gaining easy access via the Johnson Ferry. Once within the area, you may choose from two miles of walking trails, a boat launch for exploring the site from the river's waters, or a picnic inside a covered pavilion.
Dog Friendly
Marietta is a popular option for those who have pets, as the city has plenty of establishments that accept people with pets. Here are just a few for you to choose from.
Pike Nurseries
Known for their wide selection of shrubs, trees, perennials, vines, seasonal color, houseplants, and more, Pike Nurseries is your one-stop shop for everything gardening. The friendly staff is happy to accommodate all your needs when it comes to their plants, as well as other outdoor living needs such as high-quality grills, patio furniture, bird feeders, birdhouses, fountains, and more. Feel free to bring your pup to go exploring with you, where you may also see other owners with their dogs.
Moxie Burger
While pets aren't allowed inside the restaurant itself, it's still considered to be very pet friendly, as it provides a covered patio area where your dog is served water and can mingle with other pets and their owners. This restaurant serves a wide variety of food such as hot dogs, burgers, and salads that keep this place packed every night. Patrons are also served promptly, despite being a busy establishment.
Attractions
If you're looking for a unique experience, be sure to check out these options for a different kind of adventure.
Ghosts of Marietta Tour
If you want to get oriented with the whole city and find out more about its popular landmarks, join the Ghosts of Marietta Tour. Here, your guide will tell you stories on some of the city's ghosts, such as nineteenth-century residents and civil war soldiers. You'll also visit this city's burial sites and most historic streets. This tour takes place after dark and is either led on foot or aboard the trolley bus, where you can see even more of this old city. Even if you aren't a fan of the supernatural, you can be sure to enjoy your introduction to everything that is Marietta.
Strand Theatre
The Strand Theatre is located in downtown Marietta and was built in 1935, making it a survivor of the city's art deco period. Originally built as a cinema complex, the Strand Theatre functions as a multi-use space building today where it is always packed with events. You can also see classic movies such as Gone With the Wind here, along with comedy nights, concerts, and live performances.
Shopping
Marietta is also a great place to shop, and you won't find anywhere better than the Farmer's Market. This market runs throughout the year every Saturday morning, where the farmers of Marietta offer residents 50 various stalls each week. Here you'll find a wide range of vegetables, (which are mostly grown locally by small producers) freshly-squeezed lemonade, and fresh bread, as well as honey, soaps, and preserves. Marietta's Farmer's Market is located on Mill Street, inside a traffic-free site at the heart of the city.
Art and Culture
The city is also full of buildings and establishments dedicated to its rich culture and heritage, as well as arts. Here are a few places in the city where you can get in touch with history and inspiration during your free time.
Marietta/Cobb Museum of Art
The Marietta/Cobb Museum of Art is nestled inside a building that exhibits a grand Greek Revival style complete with columns — it was once home to the city's main post office. It's most recent job includes being used as the courthouse for the movie Selma which was released in 2014. This beautiful gallery emanates warmth and brings a homely feeling to those who walk through its doors. It's also the only museum in the greater Atlanta region to be used specifically as a home to American artworks.
Marietta Museum of History
The Marietta Museum of History is also known as the Kennesaw House — a structure that was built from red brick back in 1845 which served as a cotton warehouse. Today, the two upper floors are used to house an expansive collection of items from Marietta's first two centuries. Within its walls are various exhibits of the Civil War period, along with displays that detail the lives of the area's native Americans before losing their ancestral home.
Sports and Sports Teams
Marietta Athletics has various sports to offer which provide sports opportunities for students. Their athletics programs include a total of 22 sports as well as more than 50 teams, with each being provided annual budgets and additional funding which are supported by booster clubs. Because of this, the city of Marietta has maintained its tradition of excellence throughout its sports and academics.
The city also boasts of some of the best facilities, which aren't only worthy of the state of Georgia, but also throughout the country. Through their world-renowned IB program, great resources, and endless support for academics as well as the career pathways programs, students often take advantage of attending Marietta City Schools. In this way, they can get the support they need from the available athletics programs.
Education
For families looking to enroll their child in a Marietta school, you can be sure that the city takes education seriously. In 2019, universities awarded a total of 704 degrees, with many of the awards coming from top schools and institutes such as Life University, Toni & Guy Hairdressing Academy-Atlanta, and Gwinnett College-Marietta Campus. Some of the most commonly taken courses in Marietta are:
Chiropractic
General Cosmetology
General Psychology
Meanwhile, the median tuition costs for a private four-year college in Marietta is $11,610. Public schools in Marietta are operated by the Marietta City Schools, while schools outside the city limits are operated by the Cobb County School District. Schools under MCS include:
Marietta High School
Marietta Middle School
Marietta Sixth Grade Academy
A.L. Burruss
Dunleith
Hickory Hills
Lockheed
Marietta Center for Advanced Academics
Park Street
Sawyer Road
West Side
Real Estate
While Marietta may have higher costs when it comes to housing, you can be sure that it's worth the price. The city is currently in demand, and as you would expect, people are clamoring over who gets a piece of this hidden gem. In 2017, Marietta had a median property value of $242,000, which then increased to $273,300 by 2018, which is a 12.9% increase.
While this number may be 1.19 times higher compared to the national average, Marietta has so much to offer, and more and more visitors are intent on becoming a resident. Furthermore, the homeownership in this city stands at 40.6%, but this won't be the case for much longer, since it will soon become a hotspot for the most elite. Lastly, buying a home in this city is like investing in gold, since a large share of the households here has a value between $300K to $400K.
Welcome to Marietta!
There you go, your EZ Guide to Everything Marietta, where we've let you in on Georgia's best-kept secret — this city! So what are you waiting for? Get moving and pack your bags towards the biggest adventure of your life. Marietta isn't just rich in the housing aspect but in so many other ways. From its bountiful landscapes and various attractions, to rich history, this city might as well be covered in gold. However, all good things must come to an end, so don't miss out on the opportunity to ensure that you get your space before other families and investors see how much this city is worth.