Moving to Florence - Your EZ Guide to Everything Florence, SC
Posted by Preston Guyton on Saturday, May 15, 2021 at 5:04 AM
By Preston Guyton / May 15, 2021
Comment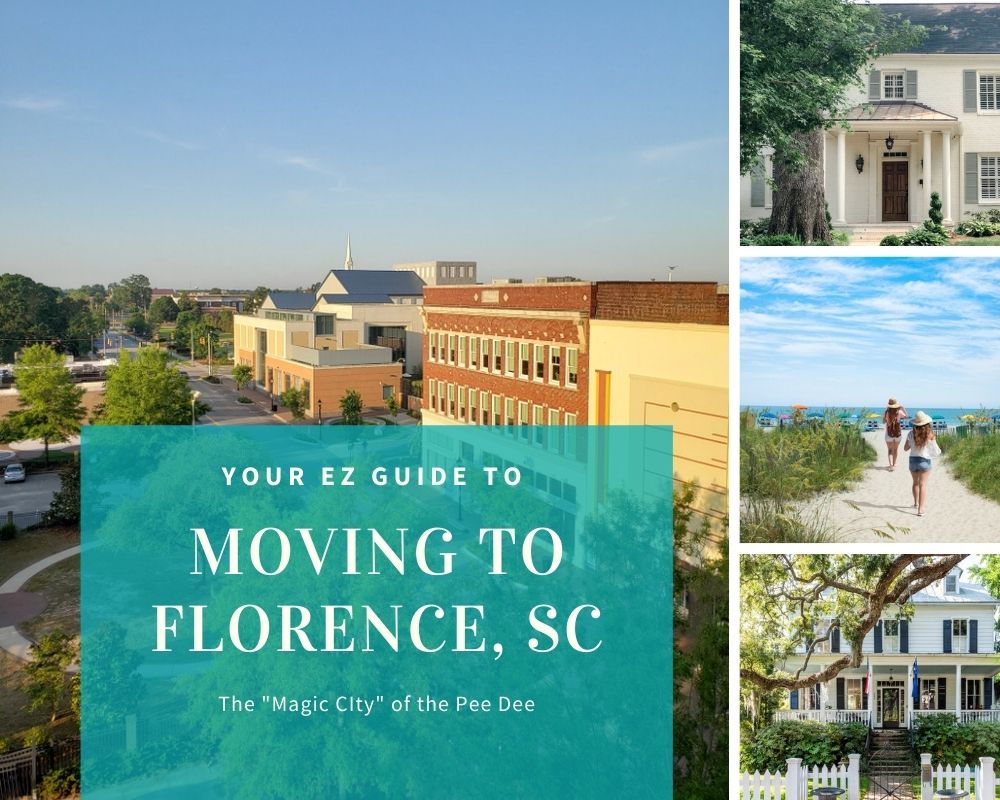 Moving To Florence: Your Guide To Living in Florence, SC
Florence, South Carolina is a contemporary belle of a city, providing residents with a wide array of local cuisine, outdoor recreational activities, and entertainment choices. This city is steadily rising in popularity due to its reputation of being a hub for arts, recreation, and shopping, giving it plenty of appeal and the vibe of a small-town feel with big city living. While it may seem too good to be true, you can be sure that Florence delivers on all its promises. Here, you'll be happy to know that we've compiled everything about this city into the ultimate guide to Florence, South Carolina.
Cost of Living and Population Growth
Both a city and the county seat of Florence County, South Carolina, Florence lies at the intersection of Interstate 20 and Interstate 95. Florence and its surrounding areas make up the center of the historical "Pee Dee" region in South Carolina. At the 2010 census, Florence had a population of 37,056, while the estimated population during 2019 was 38,531.
Between the years 2017 and 2018, the median income for a household in the city grew from $47,008 to $48,091, which represents a 2.3% increase. At the same time, Florence's median property value was $157,000 with homeownership of 57.8%. Furthermore, the average car ownership in the city was two cars per household. To get a better sense of the cost of living in Florence, here is a table that shows a side-by-side comparison of the cost of living in Florence against South Carolina and the national average:
| | | | |
| --- | --- | --- | --- |
| COST OF LIVING | Florence | South Carolina | USA |
| Overall | 82.9% | 88.5% | 100% |
| Grocery | 95.5% | 95.8% | 100% |
| Health | 99.1% | 102.3% | 100% |
| Housing | 62.9% | 73.6% | 100% |
| Median Home Cost | $145,400 | $170,100 | $231,200 |
| Utilities | 100.6% | 103.9% | 100% |
| Transportation | 77.8% | 86.8% | 100% |
| Miscellaneous | 95.9% | 95.6% | 100% |
Florence's cost of living is 82.9% compared to the national average.
Job Market
As mentioned, the median income for Florence households was $48,091 in 2018. It's also worth noting that males have an average income around 1.37 times higher than those of females, which is around $43,921. Florence's economy employs a total of 17.5K people, where the largest industries are in Health Care and Social Assistance, Retail Trade, and Manufacturing. Here are some of the essential categories to consider when it comes to this city's job market:
Most Common
Going by the number of employees, some of the most common jobs that residents of Florence have are:
Office and Administrative Support Occupations with 2,145 employees
Sales and Related Occupations with 1,997 employees
Management Occupations with 1,710 people employees
Most Specialized
Furthermore, there are a few jobs where residents in Florence seem to specialize in, including:
Health Technologists and Technicians
Community and Social Service Occupations
Health Diagnosing and Treating Practitioners along with Other Technical Occupations
Highest Paid
According to median earnings, some of the highest paid jobs in the city of Florence include the following:
Architecture and Engineering Occupations with annual earnings of $100,000
Life, Physical, and Social Science Occupations with annual earnings of $71,618
Computer, Engineering, and Science Occupations with annual earnings of $70,147
Things To Do in Florence
If you're in the mood to explore this city , find out what it has to offer in terms of outdoor areas, top restaurants, bars, and the nightlife. Here are some of the top places to visit and things to do when in Florence.
Picnic at Timrod Park
This 18-acre park is a favorite destination for both locals and tourists alike. Inside, you'll find fourteen tennis courts, various picnic spots, and a playground for the kids. If you happen to love doing cardio, you're more than welcome to take a walk or even jog on the natural trails that lead to the fitness area. You can also take a break and drink water at the nearby gazebo while the recreation center also provides restrooms.
Furthermore, leashed pets are welcome in the park. However, because the area is covered in shrubs and trees, it's best to watch out for turtles, birds, squirrels, and snakes that may also be out for a walk. Lastly, don't forget to use insect repellent when out during rainy and warm days.
Julia Belle's Restaurant
After it was first established in 2014, Julia Belle's Restaurant has provided guests with a charming atmosphere that welcomes every guest at its door. This red wooden building serves its guests with farm-fresh food which includes their Country Pot Roast, Fried Green Tomato BLT, Low Country Boil with shrimp and smoked sausage, and more. Named after the owner's great-grandmother who loved to cook for her friends and family, this small restaurant carries the wonderful tradition of serving guests with Southern hospitality.
Seminar Brewery
For many of us, ending the day with a nice glass of finely crafted wine is the best thing that can happen all week. So if you're on the hunt for the best place to get some, head over to Seminar Brewery. You can be sure that this place not only offers the best-tasting beers that the state has to offer, but that they also come at affordable prices. Apart from beer, this brewery also offers wine tastings as well as several mouth-watering dishes for a more memorable experience. If you're coming in with friends, you'll be happy to know that they also offer fun activities such as Jenga, cornhole, and other board games.
Climate
Florence's marshlands and coastal climate allow residents to enjoy the beauty of each season. While the summertime brings plenty of warm days to be spent by the beaches, winter days can be spent in mild snow. On average, the city receives 45 inches of rain per year, compared to the US average of 38 inches.
This city also averages one inch of snow every year, which is much lower compared to the national average of 28 inches. Furthermore, there are 211 days of sun in Florence per year, around the same amount that the rest of the country enjoys at 205 days. Here are a few weather highlights for this city:
July has the highest temperatures during summer which are around 92 degrees.
January contains the lowest temperatures in winter at around 33 degrees.
Florence receives an average of 45 inches of rain per year.
It also gets an average of one inch of snow per year.
For the most pleasant months that Florence has to offer, visit during April, May, and October, while it's best to avoid visiting during July and August.
Traffic
Florence is a relatively small city, and its small population contributes to the smooth flow of traffic. As such, residents can enjoy an average commute time of 18.1 minutes — while it may not be the best in the state, it's still bearable, considering that most homes own two cars per family. Furthermore, there are plenty of other modes of public transportation for people to take when wanting to commute to and from work, which are discussed below.
Public Transportation
Residents of Florence, South Carolina are offered several modes of transportation to choose from, making it easy to travel in and out of the city.
Mass transit
The PDRTA (Pee Dee Regional Transportation Authority) is responsible for the operation of mass transit services in Florence, along with its surrounding areas such as Marion, Darlington, Chesterfield, the Lake City area, and Dillon. It provides bus services and express shuttles in Florence, which started in 1974, making it South Carolina's largest and oldest RTA. It provides transportation for approximately 2,457 riders daily.
Intercity Rail
Getting on the Silver Meteor 97, 98, and The Palmetto 89, 90 Amtrak trains will transport you from Florence to cities such as New York, Wilmington, Philadelphia, Washington, Orlando, Miami, and Jacksonville.
Intercity Bus
Southeastern Stages and Greyhound Lines operate a station from the southern area of downtown on Irby Street. This provides Florence with bus transportation inside the city.
Air
The city of Florence along with its surrounding areas have access to the Florence Regional Airport, located just 2 miles east of Florence. This airport is the second busiest airport in its region just behind Myrtle Beach International Airport. American Eagle services this airport to Charlotte and is also located one hour from Myrtle Beach.
Golf
Florence is host to many beautiful golf courses, which is why it is a popular choice for golfers looking to move to a more quiet setting away from city life.
Traces Golf Club
This 27-hole course offers a golfing experience with sand, water, rolling hills, and big undulating Bermuda greens. This facility is broken down into three nine-hole courses which consist of The Meadows, Creekside, and Woodlands, with any combination of these holes providing a challenge for a golfer of any skill level. It features a contemporary clubhouse along with a fully equipped Pro Shop, as well as a bar and grill.
The Meadows Course has five open holes that give it the links look — it has a mixture of water and sand and is also well-rounded. Its remaining holes have hardwood trees and pines that line the fairways to catch off-line tee shots.
The Creekside Course also provides some sand and water, tree-lined fairways, as well as big undulating greens and rolling hills. As a result, this course is a true test of skills for golfers.
Lastly, the Woodlands Course has a layout that makes use of a lot of water and sand which will push any player's skill to the limit. Furthermore, this course was designed by Lakeland, Florida native, Ron Garl.
Water Sports
Florence is also known for the abundance of water sports and activities it has to offer. Here are just a few places where you can get your dose of wet and wild adventures.
RiverRat's
At RiverRat's, you can paddle along the beautiful Lynches River which rises near Waxhaw with an elevation of 700 feet. It flows just a short distance from the SC border and mixes into the Pee Dee River near Johnsonville. This combination of rivers runs for around 140 miles, with the section starting from Lee State Park to the Big Pee Dee River designated as the state's longest scenic river. Because RiverRat's is located in the middle of this section, it is the ideal spot for a swim, catch fish, kayak, or just get lost in the great outdoors.
Lynches River County Park
This 676-acre park is located on the Lynches River within the Pee Dee region and features a river swamp with sandhills and tall cypress trees which offer a huge variety of vegetation. Some of the most popular activities in this park include camping, canoeing, picnicking, nature trails, geocaching, and visits to the Environmental Discovery Center. Furthermore, its 11,000 sq.ft. community building comfortably accommodates events with up to 400 guests.
Dog Friendly
Florence also has plenty of places on offer for those who love to travel with their beloved pets. Here are some places of interest where dogs and their humans can sleep and dine.
La Quinta Inn & Suites Florence
For an additional fee of just $10 per night for each pet, this inn accepts two pets of any size. At the same time, both cats and dogs are welcome, and well-behaved pets can be left inside your room unattended. Lastly, treats are available via the front desk, while there is also a fenced dog park at the back of the hotel.
Percy & Willie's Food and Spirits
This great restaurant offers marinated rib-eye steak, crab cakes, BLTs, and apple pie ala mode. The covered patio provides dog-friendly seating and makes for a comfortable meal for both pets and their humans. It also provides patrons with a great breeze during a warm day out, so you can enjoy your food as you embrace the great climate this city has to offer.
Attractions
Of course, no city is complete without its attractions and Florence has plenty to offer. Here are just a few must-see places when inside this great area.
Dooley Planetarium
Located inside Francis Marion University, this fully-digital Planetarium uses special projectors to show viewers images, animation, as well as direct live feeds straight from NASA. The Dooley Planetarium holds many programs that target various groups such as students, special groups, and the public. Furthermore, their public shows can be accessed every second and fourth Sunday of each month at 3:00 PM.
Cottle Strawberry Farm
If you're looking for a different kind of experience away from heart-pumping action, strawberry picking can be a great new hobby, and you get to enjoy the experience all by yourself. Opening each spring, individuals, groups, and families are welcome to pick fresh strawberries straight from the vine. If you prefer, there are also options for buying pre-picked strawberries, so you don't need to exhaust yourself from manually having to pick these treats.
Shopping
In Florence, residents also enjoy excellent shopping destinations, where you can find pretty much anything under the sun. While it doesn't have huge malls, the city offers plenty of areas where you can get great bargains and good finds.
Palmetto Peddlers Antiques Mall
This 38,000 sq. ft. mall is a great stop for anyone wanting to find unique antiques. For this reason, the mall has consistently controlled temperature conditions to help preserve these. Inside, there is a huge range of collectibles, home décor, antiques, jewelry, and vintages that give customers a wide range of choices, Furthermore, residents can easily place their products and collections on display for the public to view or buy.
Thieves Market
The Thieves Market is a mega flea market nestled in the Palmetto Street of Florence. As an outdoor marketplace, it has an endless supply of antique and vintage collectors which only asks for an admission fee of just $3 and provides shoppers with free parking. Here, there are plenty of antique and unique products on offer, with many items such as furniture, clothing, collectibles, homeware, and handmade gifts coming from Arizona.
Art and Culture
The art and culture scene in Florence takes the shape of museums that tell of this city's historic past. At these museums, you're sure to get a brand new appreciation of this city and the contributions it has made to the country.
War Between the States Museum
If you're a bit of a history buff and want to know more about the Civil War Era, it's best to head straight to the War Between the States Museum. Originally founded in 1988 by the Sons of the Confederate Veterans, this museum is actually a storehouse containing historical archives. The building contains plenty of artifacts and memorabilia dating back from 1850-1900. There are also exhibits of photographs of military personnel as well as items from the Florence Stockade. Several rare documents and books are also part of the collection and there is also a gift shop within this museum.
Florence County Museum
This building is known to be the premier museum in Pee Dee and mirrors the region's historic, cultural, and artistic heritage using its collection of family programming, lectures, exhibitions, and studios. Some of the most fascinating parts of its collection are artifacts from the Native American, Colonial, and Civil War periods. Apart from the historical highlights, other pieces of artwork and oil paintings reflect the best that the South has to offer.
Sports and Sports Teams
Florence is known for the various sports available to its residents, where residents can participate in all kinds of activities. Here are just a few sports that this city fully embraces.
Baseball
This sport has a long history in Florence, going all the way back to the 1920s — the same year when the Florence Swamp Foxes were founded. This city is also home to the summer collegiate baseball team, the Coastal Plain League Florence Red Wolves which relocated to Florence in 1998. They play at the Sparrow Stadium inside Francis Marion University, which can hold up to 1,755 spectators during their games. Furthermore, this stadium hosts home games for the Florence–Darlington Technical College Stingers baseball team.
Other sports that residents of Florence, South Carolina enjoy include the following:
Baseball
Soccer: FSA Recreation
Softball: FYSA
Football League
Track and Cross-Country
Volleyball
Hockey
Gymnastics Program
Cheerleading
Education: Schools and Colleges
The community of Florence values its student's educational opportunity, with more than 31% of residents obtaining either a bachelor's degree or some form of higher education. Their focus and dedication to educational opportunity isn't just evident in the high amount of scholars, but also in their public education too. Because the city doesn't have too many students, its public school system keeps a high student and teacher engagement rate, with a student-to-teacher ratio of 14:1, while the schools in the city have a 75% high school graduation rate.
Real Estate Market
In Florence, there was a median property value of $157,000 as of 2018, which is 0.684% lower compared to the country's average of $229,700. However, this same price can't be expected to continue for years, as more and more people try to obtain their own piece of this great city. While there's a homeownership rate of 57.8% for now, this number is estimated to rise in the following years. Furthermore, because the average commute time in the city is a bearable 18.1 minutes, commuters can still enjoy relatively smooth traffic whether going to work or just roaming around. Finally, many homes in Florence, South Carolina, have a property value between $200K and $250K, so expect to find your dream home around these prices.
Welcome to Florence!
Florence, much like its namesake in Italy, is a fantastic city where folks who are sick of the big city life can find a private sanctuary where you can enjoy life to the fullest. With various activities to keep you entertained and plenty of areas to explore and discover, this small city has a big personality. Unlike its namesake in Italy, this city offers its residents rich American history, generous Southern hospitality, perfect weather, and a great nightlife. So whether you're looking for a weekend getaway home, or are planning to purchase a home as your permanent abode, it's best to secure your piece of land in Florence while home prices are low.