Moving to Columbia - Your EZ Guide to Everything Columbia, SC
Posted by Preston Guyton on Sunday, May 2, 2021 at 5:05 AM
By Preston Guyton / May 2, 2021
Comment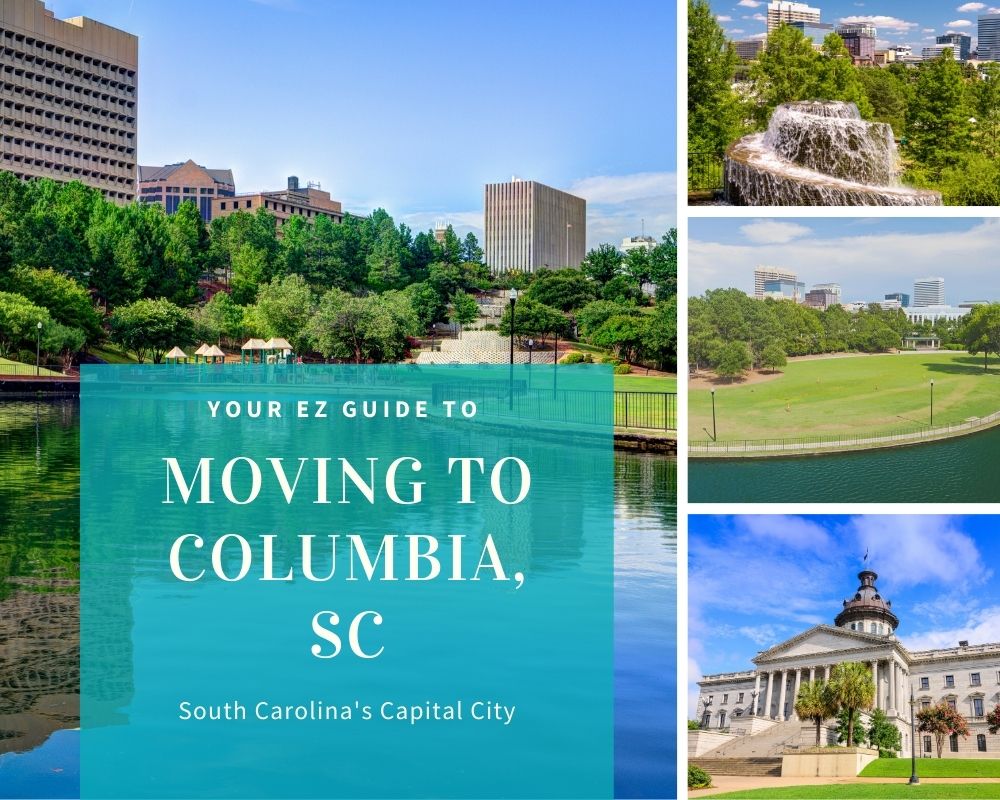 Moving To Columbia: Your Guide To Living in Columbia, SC
If you're looking for a place where you can settle in South Carolina, then you can't go wrong with Columbia. This fast-growing city offers the feeling of a quaint country town partnered with affordable costs. Its delicious cuisine, fascinating art scene, and welcoming culture have earned it a place among the top 100 best places to live in the country. While moving to a new area can be a tough decision, many will tell you that relocating to "Cola Town" was the best decision of their life. Here, we share the ultimate guide to living in Columbia, South Carolina.
Cost of Living and Population Growth
Columbia is the capital city of South Carolina and the second-largest city in the state. It is the county seat of Richland County, and part of it reaches into Lexington County. Between the years 2017 and 2018, Columbia's population grew from 132,236 to 133,352, showing an increase of 0.844%. In 2018, the city had a median age of 28.3 while it also had a median household income of $45,663 — a 4.61% increase from 2017's $43,650.
Columbia offers a much more affordable cost of living compared to other cities in the state and the country overall. Below is a table that shows a side-by-side comparison against South Carolina and the national average:
| | | | |
| --- | --- | --- | --- |
| COST OF LIVING | Columbia | South Carolina | USA |
| Overall | 84.3% | 88.5% | 100% |
| Grocery | 96% | 95.8% | 100% |
| Health | 107.1% | 102.3% | 100% |
| Housing | 59.1% | 73.6% | 100% |
| Median Home Cost | $136,700 | $170,100 | $231,200 |
| Utilities | 108.9% | 103.9% | 100% |
| Transportation | 76.4% | 86.8% | 100% |
| Miscellaneous | 102% | 95.6% | 100% |
Columbia's cost of living is 84.3% compared to the national average.
Job Market
Columbia employs a total of 60.5K people, with some of the largest industries where people go to work are in Health Care & Social Assistance, Educational Services, and Retail Trade. From the year 2017 to 2018, Columbia grew in employment from 59.4K to 60.5K, which shows a growth of 1.85%. Here is a breakdown of the city's top employment statistics:
Most Common
Columbia's most common jobs according to the number of employees are:
Sales and Related Occupations with 7,606 people
Office and Administrative Support Occupations with 6,904 people
Management Occupations with 5,286 people
Most Specialized
In comparison to other places in the country, Columbia sees an unusual number of employees in the following industries:
Legal Occupations are 2.32 times higher compared to others.
Education Instruction and Library Occupations are 1.36 times higher compared to others.
Food Preparation and Serving Related Occupations are 1.35 times higher compared to others.
Highest Paid
These are some of the highest paid jobs in Columbia, according to median earnings:
Architecture and Engineering Occupation pays $70,156 every year.
Health Diagnosing, Treating Practitioners and Other Technical Occupations pay $69,493.
Legal Occupations pay $66,250.
Things To Do in Columbia
There are a fascinating amount of things to do while in Columbia. This exciting city has plenty to offer, no matter how you want to spend your free time. From exploring the outdoors to finding the best restaurants and enjoying the city's energetic nightlife, here are some of the best things to do in Columbia.
Outdoor Camping
At Dreher Island State Park, you can enjoy a comfortable camping experience by the lakeside. You may use either your tents or your RV's to make a temporary abode, while quick access to restrooms and hot showers are made available to you. Other places to consider for your camping trip include Sesquicentennial State Park where campers can keep cool by the splash pad nearby. Both choices offer a pet-friendly stay while guests can have fun paddling, hiking, fishing, and boating.
Restaurants
The food scene in Columbia is teeming with new restaurants that pop up all the time, attracting seasoned chefs to step up to the plate and create delicious meals for their diners. Whether you're looking for Southern comfort food or something you've never tried before, Columbia can serve it up. Along with unbeatable prices, this town delivers your favorites with kindness. Some of the best places to dine in include:
Five Points
The Gourmet Shop
Motor Supply
Cola's Restaurant
And more!
Bars
If you have an appreciation for quiet wine bars and coffeehouses, be sure to include Lula Drake Wine Parlour and Nonnah's into your list of must-see places. The Upstairz Lounge at the Pearlz Oyster Bar offers an atmosphere similar to a jazz club while showcasing local jazz talents. You'll also find trendy cocktail lounges such as Bourbon if that's more your style.
Breweries
In Columbia, their breweries aren't just about beer; every brewery has a different vibe to offer. If you're looking for games to go along with drinks and your friends, head over to Columbia Craft. However, if you're into live music to keep the fun going throughout the night, then make your way to Savage Craft.
Nightlife
Downtown Columbia is the best place to showcase the city's nightlife — the place is full of state-of-the-art venues which have served as the stage for artists such as Bruno Mars, Pearl Jam, Bob Dylan, and more. The largest of these is Colonial Life Arena, which seats 18,000 people for sporting events, concerts, and other needs. Because Downtown Columbia is so dynamic, there are plenty of venues that will offer you something new and fun to try every night.
Climate
Columbia is a relatively wet city, and gets an average of 46 inches of rain every year, compared to the county's average of 38 inches per year. Even so, it doesn't snow often in Columbia and only manages to collect one inch of snow per year, which is much lower than the U.S. average of 28 inches. Columbia also enjoys an average of 217 days of sun per year, compared to the rest of the country at only 205 days. Here are a few weather highlights for the city:
Columbia experiences the highest temperatures in July which reach up to 94 degrees F.
The lowest temperatures are observed in January and can be as low as 35 degrees F.
The city receives an average rainfall of 46 inches every year.
It only receives an average snowfall of just one inch per year.
The most pleasant times to visit Columbia are around April, May, and October, while the least comfortable times to visit are July and August.
Traffic
The City of Columbia takes its traffic seriously and maintains over 270 traffic signals throughout the city. Their Traffic Engineering team ensures the coordination of each signal to optimize the flow of traffic. This requires huge amounts of data, which helps to observe traffic volumes during different times of the day.
To further enhance its services, the City of Columbia is in the process of giving its existing traffic equipment an upgrade. Doing this will provide flexibility in their control of the traffic system, allowing the Columbia area to be a safer place for every resident. Furthermore, using the state and federal matching funds, Traffic Engineering can direct the construction of a better signal system downtown.
Public Transportation
Because Columbia has plenty of new restaurants, shops, and businesses, residents are provided with plenty of ways to get around. The city also promises to keep traffic manageable, providing plenty of parking as well as walkable districts. Here are just a few ways to get around this lively and exciting city.
Ride Sharing
If you need to quickly get from point A to point B, Columbia has plenty of ride-sharing options such as Lyft, Uber, and taxis to take you anywhere in a zip.
Comet Bus System and Soda Cap Connector
Columbia's neon-painted buses are just a few of the most noticeable things in the city. The COMET provides routes throughout the Columbia region, which means you can get anywhere starting with just $2. You can also get a ride on the Soda Cap Connector for free which will take you from one district to another.
Biking
If you prefer an environmentally-friendly approach to exploring the city, you can do so with a bike. You might have a bike of your own, which is great, and you can use the Sprocket app to help get places. If you don't have a bike of your own, that's fine too; the city has a Bike Share Program that you can take full advantage of.
Airport
The City of Columbia, along with other cities, is served by Columbia Metropolitan Airport which offers general aviation while serving as the county airport for Richland County. The airport is serviced by American Airlines, American Eagle, Delta Air Lines, Delta Connection, Silver Airways, United Express, FedEx Express, FedEx Feeder, and UPS Airlines.
Golf
If you're considering moving for your love of golf, Columbia is the right choice. This city has plenty of golf clubs and courses to choose from, both in and out of the city. Here are just a few places worth taking a look at.
Riverside Golf Course
This 9-hole course by the riverside is located at the Riverside Golf Center and features 1,100 yards of golf. Russell F. Breedon is the designer behind this beautiful course which was first opened in 1990. Today, Dennis Yeo stands as the General Manager for this course.
Forest Lake Golf Course
As its name suggests, the Forest Lake course can be found in Columbia's Forest Lake Club facility. From the longest tees for a par of 72, it features 6,385 yards and has a Bermuda grass slope rating of 128. Its course rating stands at 71.2, and it was designed by Maurice McCarthy when it first opened in 1928.
Wildcat Golf Course
The Wildcat course features 18 holes and is located at the Fort Jackson Golf Club facility. With 6,721 yards of golf, it has a slope rating of 121 on Bermuda grass and a course rating of 71.1. It first opened in 1949 and was designed by George W. Cobb, ASGCA. Today, this course is managed by Michael Casto, PGA.
Water Sports
No matter what floats your boat, you can find a water sport or activity of some kind whilst you explore the waters that Columbia has to offer. Here are just a few options you can look into if you're looking for a fun way to beat the summer heat.
AquaFun Boat Rentals and Tours
Located along the shore of Lake Murray, AquaFun offers residents the opportunity to sit on the captain's chair, where you can rent out stable pontoons or fast and furious speedboats. You can also get access to high-quality tri-toons to pull tubes and wakeboards to give you the ride of your life. Apart from these options, you can also get your hands on party boats, fishing pontoons, and even chartered sails.
Columbia Sailing Club
If you're looking for a different kind of adventure, be sure to book a two-hour session with the Columbia Sailing Club. Here, boats are fully loaded with bumpers, lines, and navigation equipment. You can even plan for the summer ahead and bring your friends and family along while listening to live music lakeside.
Lake Murray Yacht Tour
With a Lake Murray Yacht Tour, you can go on a cruise around Lake Murray in style and comfort every day of the year. They offer tours that provide cruisers with beautiful sunsets and mesmerizing views of the lake. You can even celebrate corporate events, parties, or any celebration on their yachts for an unforgettable adventure on the waters.
Dog Friendly
Columbia is a city that's crazy for dogs, which is evident by the sheer amount of dog-friendly places found around the city. Feel free to take your canine buddy to many of their parks, restaurants, and shops, all of which can accommodate your pup. Here are just a few places for you to choose from.
Aloft Columbia Downtown
Located right in the heart of Columbia, Aloft is within proximity of the Columbia Regional Visitors Center, Nathaniel J. Frederick House, Columbia Metropolitan Convention Center, and Trustus Theatre. You and your fur baby are welcome to make yourselves at home in any of the 107 air-conditioned rooms, each featuring LED TVs and refrigerators. Furthermore, cable programming and complimentary wireless Internet are available for you to use.
Columbia Canal and Riverfront Park
Leashed dogs are welcome at the Columbia Canal and Riverfront Park, where your pooch can explore this completely paved park. This park offers a walk that stretches 2.5 miles long and ends at the dam. On your way you'll see views of the Columbia Canal where it meets with the Broad River, providing you an exercise session with your dog that's close to nature.
PetSmart Grooming
Your cat or dog deserves the best grooming services, and PetSmart Grooming's friendly professionals know just how to give your pet a fresh new look. Available seven days a week, this pet grooming shop provides plenty of services to keep your pet looking healthy and happy. Be sure to schedule an appointment first before they're able to work their magic on your beloved pet.
Attractions
Looking to get outside the house? Columbia has a wide array of attractions waiting for you! From zoos and gardens to historic sites, this city has plenty of surprisingly beautiful and fascinating attractions waiting to be explored.
Riverbanks Zoo & Garden
Bring the kids along to be thrilled by one of the country's most gorgeous zoos. The Riverbanks Zoo & Garden invites its guests to dive into a world of wonders and offers a 170-acre oasis dedicated to plants and animals alike. Nestled along the Lower Saluda River, Riverbanks is home to 2,000 animals as well as the State Botanical Garden. Get lost in its beautifully landscaped areas which include the Aquarium Reptile Complex, the African Savanna, the Birdhouse, Gorilla Base Camp, the Farm, the Ndoki Forest, the Saluda Factory Interpretive Center, and the Koala Knockabout.
Historic Columbia
Columbia's historic roots run deeply, and Historic Columbia is the area where its story is told. Its preserved house museums hold over 6,500 artifacts and are available to the public to be viewed daily. Some of the most important places to explore in Historic Columbia are:
The Robert Mills House: Its architect, Ainsley Hall, originally built this house for his wife, Sarah, but it became a place for young scholars instead. In 1960, however, the property was abandoned and threatened by demolition until the group behind Historic Columbia banded together to save it as a historic landmark. Today, the Robert Mills House features 18th-19th century decorative arts, period rooms, and galleries, as well as a gift shop.
The Hampton-Preston Mansion and Garden: As one of Columbia's oldest structures, it tells the story of its owners, its days as a plantation, as well as the stories of the workers enslaved there. Built in 1818, Wade Hampton I was able to purchase the property and was named after him. Over the years, the home played host to many owners until 1970 when it received rehabilitation and was eventually opened to the public. It now holds expanded public gardens, hands-on interactive activities, and various exhibits.
Shopping
Whether you're looking for affordable clothing or high-end fashion, you can find it all in Columbia. With plenty of shopping malls, shops, restaurants, and stores available throughout its many walkable districts, you can quickly get to any place you need and shop as much as you want.
Village at Sandhill
This outdoor shopping center offers a different kind of shopping experience where you can buy anything under the sun — literally. Here, you can purchase clothing, sporting goods, gadgets, jewelry, and more.
Five Points
Five Points Mall offers plenty of shopping options to choose from, including:
Gentlemen's Closet and Revente where you can get bargains on upscale clothing
Wildflower and Vestique so you can look for the latest trends
Gourmet Shop where you can grab lunch both indoors and outdoors
Bohemian Home to feed your inner interior designer
Art and Culture
Columbia is also crazy about its art and culture, which can be seen by the number of great museums the city has to offer. However, don't expect to find typical convention centers where art is simply stuck on the wall. Here are some of the most stunning places to visit to give yourself a dose of creative inspiration.
Columbia Metropolitan Convention Center
Inside the Columbia Metropolitan Convention Center, you will find a light-filled space full of montages, abstract landscapes, photographic paintings of local landmarks, and light-catching glass sculptures. Every piece here is carefully selected for its unique representation of the area's history with each of them having been created by local artists.
Columbia Museum of Art
As South Carolina's premier art museum, the Columbia Museum of Art carries one-of-a-kind pieces from America, Europe, and Asia. It also displays contemporary and modern decorative and fine art which span millennia. First opened in 1950, this museum now accepts over 150,000 visitors every year and has engaged people of all backgrounds and ages.
Sports and Sports Teams
When it comes to sports, Columbia is just as competitive as other cities, with baseball being their main source of sports teams. The USC Gamecock baseball team shares the spotlight with the Columbia Fireflies — Columbia's official team in the minor league — while the Lexington County Blowfish is a summer collegiate team.
However, that's not all that Columbia has to offer. College sports are also a big deal here; from home runs and goals to baskets and touchdowns, this city has a wide range of sports events. Columbia is also home to the following sports teams:
Allen University Yellow Jackets
Columbia College Fighting Koalas
Benedict College Tigers
Whether you support one or all teams, there's never a dull moment in the sporting world in Columbia.
Education: Schools and Colleges
When it comes to education, you can be sure that Columbia will be a great place for your child to learn and grow. In 2019 alone, Columbian universities awarded a total of 11,793 degrees to their students.
Some of the largest universities in Columbia according to the number of degrees awarded are:
The University of South Carolina-Columbia with 9,950 degrees
Columbia College with 543 degrees
Columbia International University with 457 degrees
Meanwhile, the most popular majors in the city are:
General Business Administration & Management
General Finance
General Marketing & Marketing Management
If you're considering enrolling your child (or yourself!) in Columbia, you can expect tuition fees to be around $14,280 for a private four-year college, while in-state and out-of-state students can expect to pay $12,288 and $33,528 respectively for a public four-year college.
Real Estate Market
Year-by-year, Columbia, South Carolina has had a 2.73% increase in its median property value between 2017 and 2018. While the homeownership rate stands at 45.1% — lower than the national average of 63.9% — buyers will still be able to take advantage of the city's low housing costs. Furthermore, residents enjoy an average commute time of 15.1 minutes, making it the perfect place to get around, whether for work or leisure.
Lastly, the largest share of households in Columbia has a property value around the $200,000 range, making it one of the most affordable cities to live anywhere in South Carolina. Because of these reasons and more, properties in Columbia are currently hot in the market, so be sure to get a bargain before all the good locations are gone!
Welcome to Columbia!
Columbia is no doubt a great city to invest in since it has so much to offer both locals and visitors alike. If you're sick and tired of the fast pace you've grown accustomed to while living inside big cities, Columbia will surely take you in and help you live life one step at a time. From its low housing options, affordable commodities, excellent outdoor activities, and world-class museums, this town is one you shouldn't miss out on. And while this humble city may seem insignificant at first, you'll quickly see just how easy it is to get settled and how you'll soon be unable to call any place else your home.