Moving to Augusta - Your EZ Guide to Everything Augusta, GA
Posted by Preston Guyton on Friday, June 4, 2021 at 4:05 AM
By Preston Guyton / June 4, 2021
Comment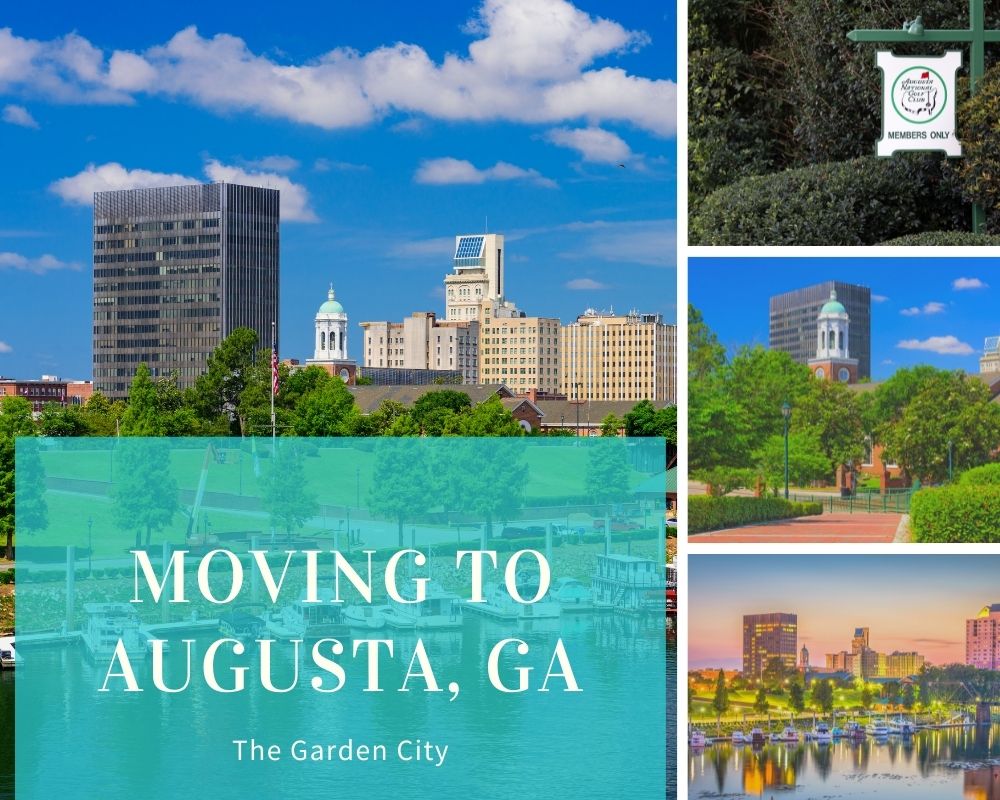 Moving to Augusta - Your Guide to Living in Augusta, GA
Augusta offers Southern Hospitality at its finest and offers more soul, funk, and history than many other places in the country. In this city, you'll find a unique combination of warmth and a bustling metropolis full of adventure for young families and outdoor enthusiasts. There are over 100 restaurants, a collection of performing arts and live music venues, as well as dozens of museums and galleries in Augusta.
Considering everything Augusta has to offer, it's no wonder that the city has gained interest from so many people living outside of it. In this EZ Guide to Everything Augusta, we give you a breakdown of why you should seriously consider moving to Augusta, GA.
Cost of Living and Population Growth
Augusta-Richmond County (also known as simply Augusta) is a city-county located in the central-eastern portion of Georgia. The city is positioned just across from the Savannah River and lies right by the boundaries of Georgia and South Carolina. It's also the second-largest city in Georgia, after Atlanta. Between 2017 and 2018, the city had a 0.883% population increase from 600,600 to 605,903, which had a median age of 37.4. As a result, it is the 93rd largest metropolitan area in Georgia.
Augusta manages to provide residents with an affordable cost of living, where commodities are much cheaper compared to other parts of the state and the country as a whole. To provide you with a better idea of just how affordable Augusta is, here's a comparison of major commodities between Augusta, Georgia, and the rest of the country.
| | | | |
| --- | --- | --- | --- |
| Cost of Living | Augusta | Georgia | USA |
| Overall | 80.7 | 93.4 | 100 |
| Grocery | 95.3 | 95.5 | 100 |
| Health | 102.7 | 95.5 | 100 |
| Housing | 50.1 | 80.7 | 100 |
| Median Home Cost | $115,900 | $186,500 | $231,200 |
| Utilities | 104.2 | 103.2 | 100 |
| Transportation | 84.2 | 105.1 | 100 |
| Misc. | 95 | 94.8 | 100 |
Job Market
As of 2018, the median household income in Augusta was $52,696, where males have an average income that is 1.36 times higher than that of $50,267 for females. This figure is less than the average annual income of $61,937 for the rest of the country. However, this is an increase of 4.37% in annual growth compared to Augusta's 2017's median household income of $50,492.
The city's economy also employs a total of 267k people, with the biggest sectors being healthcare and social assistance, retail trade, and manufacturing.
Most Common
Some of the most common jobs in Augusta, according to the number of employees, are:
Office and administrative support occupations with a total of 32,795 employees
Sales and related occupations with a total of 28,398 employees
Production occupations with a total of 21,307 employees
Most Specialized
Compared to many other places around the state, Augusta has more employees working in these specific occupations:
Law enforcement workers, including supervisors
Production occupations
Health technologists and technicians
Highest Paid
Some of the highest paid jobs in the city, according to median earnings, are the following:
Architecture and engineering occupations with annual earnings of $82,271
Legal occupations with annual earnings of $70,042

Health diagnosing and treating practitioners along with other technical occupations with annual earnings of $69,342
Things To Do in Augusta
Augusta is full of fun and adventure in its establishments and its outdoor spaces despite having a laid-back and sleepy town vibe. Here are a few places where you'll get a feel of this rich and vibrant city.
Riverwalk
Augusta's Riverwalk is a great tourist attraction, which leads you along the Savannah River — one of the most beautiful bodies of water throughout the south. The park shows off its natural beauty by day, where you can drop by for some fun with the family and enjoy the playground. By night, you can take starlit walks with a loved one, perfect for any kind of date. The Riverwalk perfectly captures why this city is known as one of the most beautiful places in the country, always mesmerizing both visitors and locals.
Sconyers Bar-B-Que
Move over, Texas, there's a new barbeque pro in town, and that's Augusta. Once you try Sconyers Bar-B-Que, you'll know that Georgia also has a strong game when it comes to food that's finger-licking good. After opening in the 1950s, this restaurant has fed residents using staples such as potato salad, sticky ribs, chicken, turkey, and pork, while extracting as much flavor as possible. They serve food that's so good you won't question how they managed to stay relevant despite having been in business for more than half a century.
Stillwater Taproom
Located at 974 Broad Street, this bar boasts a carefully constructed Americana-centric interior where patrons are regularly entertained. The Stillwater Taproom also strictly adheres to a casual approach to customer service, which sets them apart from their competitors. Here, conversation is king, so be ready to chat it up with people you've never even met because this neighborhood bar has a knack for getting people together.
Soul Bar
Whenever anyone mentions nightlife in Augusta, only one place comes to mind: Soul Bar. Known as a must-see destination in the downtown scene, this is the only place to be if you want to have the Friday night of your life. Inside, you can expect to get reasonably priced drinks, a wide selection of draft and bottled beer as well as liquor served up by well-trained staff who are both charming and accommodating with guests.
Climate
The average amount of rain in Augusta each year is around 46 inches, compared to the national average of 38 inches. Even so, it doesn't snow much in the city and only experiences an average of 1 inch of snow annually, which is a lot less compared to the U.S. average of 28 inches every year. On the other hand, Augusta receives 218 sunny days per year — higher than the national average of 205 sunny days. Here are a few weather highlights to keep in mind should you decide to make Augusta your new home.
July has the highest recorded temperatures of around 93 degrees Fahrenheit

January has the lowest temperatures, around 35 degrees Fahrenheit
There's an average of 46 inches of rain every year
There's also an average of 1 inch of snow per year
If you plan to come for a visit first before deciding to stay for good, the best times to do so are during April, May, and October. While the least comfortable months to visit are July and August.
Traffic
The county's traffic division was formed in 2013 and has only two goals:
Decrease the deaths on the roads
Educate the public on road safety
Through extensive enforcement and educational efforts, the Traffic Division has reduced injuries, collisions, and fatalities by focusing on the factors that cause such incidents. Some driving behaviors which affect road safety include lack of attention while driving, aggressive driving, and driving under the influence of drugs or alcohol.
As such, traffic enforcement in Augusta-Richmond County has concentrated on problem areas inside the county which record a higher number of incidents. Some of the top areas on their list include Interstate 20, Bobby Jones Expressway, and Mike Padgett Highway.
Public Transportation
There are various ways to get around Augusta, but the best way to see everything the city has to offer is by driving. But if you don't own a car, you can always catch the bus. The Augusta Transit operates on nine routes around the area, including:
Walton Way
West Parkway
East Augusta
Turpin Hill
Washington Road
Gordon Highway
Augusta Mall
Barton Chapel
Lumpkin Road
You'll also find a Southeastern Stages bus station on Broad Street and an intercity bus at Fort Gordon, along with a Greyhound Lines bus. Furthermore, the Augusta Regional Airport serves the city and is roughly 5.6 miles away from Augusta, located on Doug Barnard Parkway. It's relatively small compared to Atlanta's Hartsfield–Jackson Atlanta International Airport, but it has two runways; one made of asphalt and the other made of concrete.
Golf
Lovers of golf will have a great time in Augusta, with courses flourishing all over the city. You can enjoy a game or two on some of the finest courses in the state.
Forest Hills Golf Club
Crowned as the "Best Public Golf Course" in the city, you can expect a great golfing experience where Masters come to play. Just by playing one hole here, you'll see why Forest Hills Golf Club deserves this label. It not only left a legacy in the world by having great players like Bobby Jones play here, but it's also well-maintained year after year. You'll be able to soak up the calm and serene environment, giving you focus and clarity with each swing of the driver. While playing here may require you to splurge a little, it's well worth the price considering it's one of the best things to do in Augusta.
Municipal Golf Course
If you're looking forward to playing golf but don't have the funds to go to the Forest Hills Golf Club, the Augusta Municipal Golf Course can provide you with a great game at a reasonable price. This historic and stunning course first opened in 1928 but hasn't shown any signs of aging, thanks to the immaculate renovations. Both locals and visitors appreciate this course for the value it gives, allowing you to have fun without breaking the bank.
Water Sports
If golf isn't your thing, then perhaps water sports will interest you. These activities provide a great way to beat the heat. Here a few places to get you started.
Clarks Hill Lake
Located just 30 minutes away from Augusta, Clarks Hill Lake offers 400 miles of shoreline for visitors to explore and enjoy no matter what the season. It's known as a fisher's paradise and is teeming with crappie, catfish, bluegill, largemouth, as well as striped, hybrid, and white bass. As a result, this lake attracts anglers and spectators for all kinds of tournaments. Many also choose this area for other relaxing activities such as swimming, sunbathing, waterskiing, and boating.
The Savannah River
While the Savannah River serves as the boundary between Georgia and South Carolina, residents of Augusta can enjoy this river, which lies right in their backyard. It's also the perfect area for family fun and outdoor activities, where many use their kayaks or paddleboards to explore the waters. Because the Savannah River is rich in wildlife, you might even get lucky and spot a pie-billed grebe or a kingfisher while making your way on the river.
Dog Friendly
There are plenty of dog-friendly places in Augusta, so you shouldn't have a problem bringing your canine pals with you whenever you're roaming around town. Here are a few establishments worth looking into if you're planning an adventure with your dogs.
Augusta Marriott at the Convention Center
The Augusta Marriott welcomes both cats and dogs of any size for an additional fee of $95 per stay. However, keep in mind that pets will need to be placed in their crates if the room will be unattended. The Convention Center is located in the downtown business district, right next to the Savannah River. From this spot, guests can stay close to entertainment, shopping, cultural attractions, and the Augusta National golf course. Four-legged guests will be given treats and are provided with a grassy area within the property for pet relief.
Pendleton King Park Bark Park
This new dog park is the only one available in Augusta. While it's still a work in progress (there are no benches yet), you will find plenty of shade, waste bags, and a water station. The Pendleton King Park Bark Park is decent-sized and well-kept to maintain a safe area for fur parents. It's also split into a large and small dog section, where owners can observe their pups, ensuring there are no altercations in the park. You'll also find tennis courts, playgrounds, and miles of wooded trails in this park, all available to the public.
Attractions
Augusta has a few places that will provide the "wow" factor for those looking for someplace unique to visit. So make your way to these attractions, none of which can be found elsewhere.
Phinizy Swamp Nature Park
Florida isn't the only place with great swamps — Augusta's Phinizy Swamp Nature Park is a wondrous nature preserve with 1,100 acres of land. Here, you can observe a wide variety of wildlife, as well as get some quality exercise if you should please. This nature park has plenty to offer visitors, bringing them close to turtles, alligators, and birds such as hummingbirds and owls.
Augusta Downtown Historic District
Augusta boasts plenty of modern buildings, but it certainly hasn't forgotten about its rich history and past. Setting foot in the Augusta Downtown Historic District will give you an idea of what it looked like living in the 19th and early 20th centuries. Here, you'll find historic houses, government buildings, and churches. Strolling down streets like Broad Street will provide you with a great commercial district, while Greene Street will get you back in touch with nature through its lines of trees. The structures seen here all have various architectural styles such as Federal, Greek Revival, and Romanesque Revival.
Shopping
For those addicted to shopping, Augusta also has great places to shop for all your needs.
Augusta Mall
The Augusta Mall is a fun shopping destination and is also one of the biggest malls in the state, both in its number of shops and its size. If you love shopping, you'll thoroughly enjoy your time here, since it carries big brands such as Michael Kors and Coach. It also has plenty of places for relaxation, such as salons and spas. The mall itself has a great design, making use of tasteful architecture along with a pretty fountain as a decorative piece. When you're finished shopping, be sure to check out their dining offerings, none of which disappoint.
Art and Culture
Art and culture lovers are sure to enjoy going through Augusta's many museums, which help make up the city's identity. Here are just a few of the best places to visit if you're looking to find out more about the city.
Augusta Museum of History
Opening in 1937, the Augusta Museum of History has since worked hard over the years to preserve Augusta's pride and history. Inside, you can have a look through their numerous exhibitions, where you'll see details of Augusta's healthcare, along with a restored, vintage gas station and a locomotive inside the Transportation Corridor. Researchers from all levels of experience and backgrounds work together to make this a great place where you can walk back into the past. Going here is one of the best activities in Augusta, so be sure to make room for it during your trip.
Morris Museum of Art
Another great attraction in downtown Augusta, the Morris Museum of Art displays pieces that have all been carefully curated. This ensures unity across each room, providing a beautiful cultural experience. It's also the longest-running museum that focuses on southern art, where you'll see thousands of pieces in a wide range of mediums as well as pieces that date back to the late 1800s along with contemporary work. The Morris Museum of Art also hosts special events like book signings and film showings.
Sports and Sports Teams
Augusta has plenty of sports teams, so sports fans will love their time here. Some of their most prominent teams include:
Augusta Green Jackets: a minor league baseball club that started in 1988 as the Augusta Pirates. They now play at SRP Park near the Savannah River in North Augusta.

Augusta Lynx: a professional minor league ice hockey team that played home games by the James Brown Arena from 1998 until 2008.

Augusta RiverHawks: another professional minor league ice hockey team, which played in the Southern Professional Hockey League between 2010 and 2013.

Augusta Stallions: a professional Arena football team started in 1999. It was one of the original 15 teams to play in the inaugural 2000 AF2 season.
Education
Augusta's public K-12 schools are managed by Richmond County's school system and are part of a total of 36 elementary schools, 10 middle schools, and eight highschools which include:
Butler
Glenn Hills
Westside
T. W. Josey
Hephzibah
Cross Creek
Lucy Craft Laney
Academy of Richmond County
Richmond County also has four magnet schools: A. R. Johnson Health Science and Engineering Magnet High School, C. T. Walker Traditional Magnet School, Richmond County Technical Career Magnet School, and the Davidson Fine Arts.
Real Estate
In 2018, the median property value in Augusta-Richmond County was $154,000 — a 6.94% increase from the previous year's value of $144,000 and is much lower compared to the national average of $229,700. Because of such affordable housing costs, the county has a homeownership rate of 67.4%, just a bit higher than the U.S. average of 63.9%. You'll also be happy to know that the biggest share of households in Augusta-Richmond County has a median household income of $52,696, which makes owning a home within reach.
Furthermore, traffic hasn't gotten too bad around the area, with an average commute time of 23.7 minutes. Because of these great perks and more, Augusta has become a hotspot for retirees, young professionals, and those looking to start a family. So be sure to grab your share of Augusta's rich lands before they're all filled up.
Welcome to Augusta!
The Augusta-Richmond County as well as the city of Augusta itself has so much to offer, making it a popular destination, not just for tourists but also for those looking for a quiet sanctuary. While it may not be as big as other cities in the country, living in Augusta, GA, certainly comes with plenty of opportunities and adventures in every corner. Furthermore, it brings a rare mix of southern charm meets big city vibes, with numerous places to see and things to do. So if you are considering Augusta to be your new home, don't take too long to lock it in because other people won't hesitate when they find out just how grand life can be in one of the best cities in Georgia.