Is Tennessee a Good State To Buy a Home?
Posted by Preston Guyton on Friday, February 3, 2023 at 11:55:46 AM
By Preston Guyton / February 3, 2023
Comment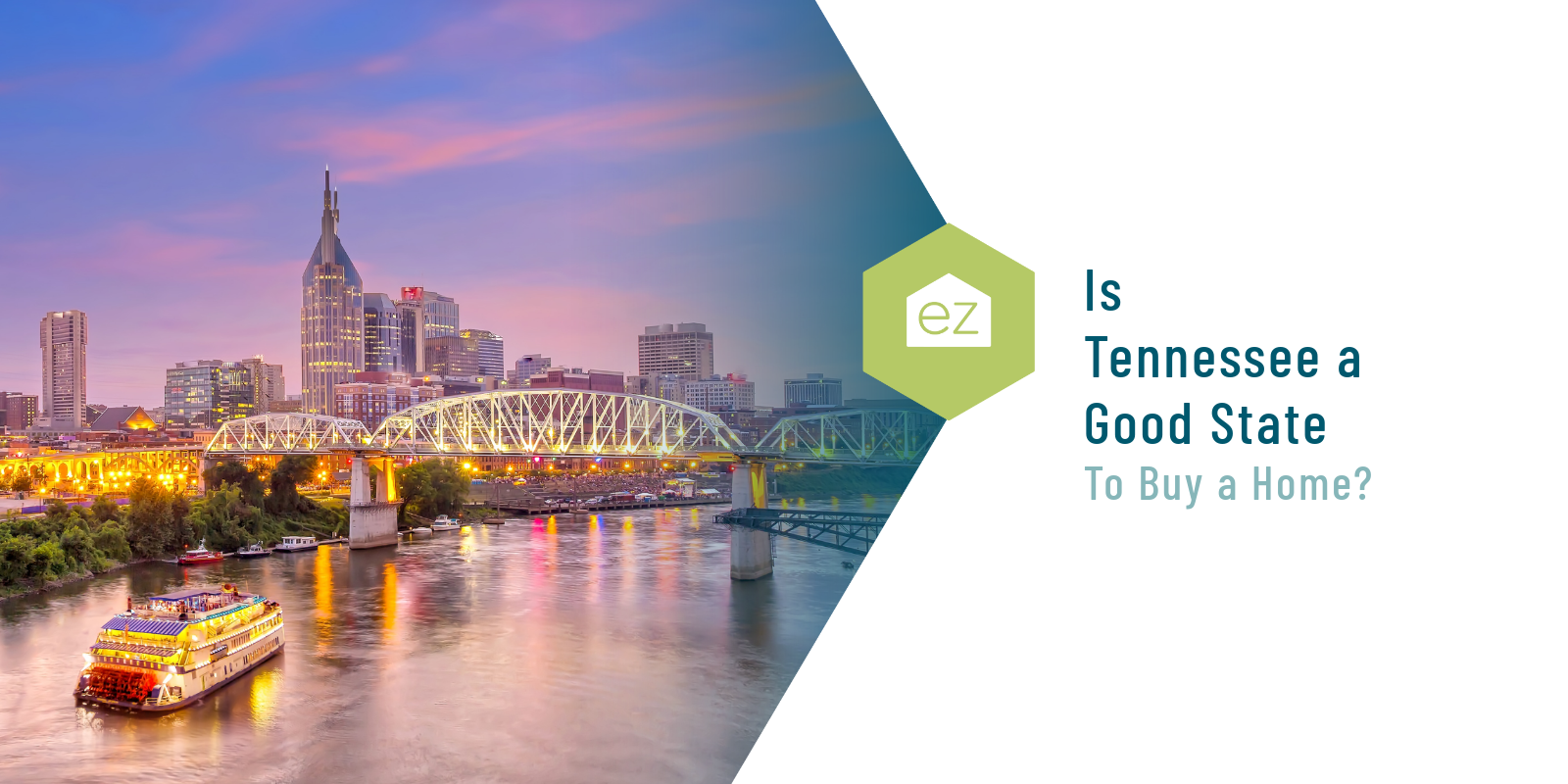 Is Tennessee a Good State To Buy a Home?
Are you thinking of relocating to Tennessee or buying a home there? Tennessee definitely has a lot going for it, like no income tax and beautiful scenery. But like every place, it has its merits and drawbacks. Definitely consider all the factors involved before making a move to the Volunteer State.
To help you decide if Tennessee is the right place to live for you, we've broken down the positives and negatives of life in this southern state. We'll analyze the cost of living, the real estate market, and other factors that play a role in Tennessee's quality of life.
What are the positives to living in Tennessee?
For starters, Tennessee features some of the most beautiful scenery in eastern America. Whether you live in Chattanooga with its dramatic Lookout Mountain or Nashville with its rolling hills, the outdoors is always close at hand.
Eastern Tennessee's key attractions are the Great Smoky Mountains National Park and the Appalachian mountains. You can fish the streams, hike the Appalachian Trail, camp in the hollers, or admire the dramatic fall leaves. Across Central and Western Tennessee, the rolling hills have streams and reservoirs for fishing and boating. The forests provide more land for hiking, mountain biking, and camping.
But if backcountry exploration isn't your thing, don't worry. Tennessee's famous music scene is another advantage. Catch a show at the iconic Grand Ole Opry, or tour the Country Music Hall of Fame. Tour the record labels at Music Row in Nashville or jam at a live rhythm'n'blues show on Beale Street in downtown Memphis. Make a stop at Graceland, the iconic home of rock star Elvis Presley. Join the thousands that come for the Bonnaroo Music Festival in the summer. Live music venues are available in every city throughout the state.
Besides mountains and music, Tennessee's other top attractions include the Dollywood amusement park, Parthenon in Nashville's Centennial Park, Tennessee Aquarium, Memphis Zoo, Ruby Falls, and Tennessee Valley Railroad Museum. Across the state, historic sites add to its deep heritage. Explore the Hermitage, President Andrew Jackson's former home, Civil War battlefields, and key sites in the Civil Rights movement.
The cost of living is also relatively low compared to other states across America. In the third quarter of 2022, Tennessee ranked no. 11 for its cost of living, making it cheaper than states like Louisiana, Kentucky, and Wyoming. We'll touch more on its affordability below, as its tax status and housing definitely play a role in why it's a low-cost state.
What are the drawbacks to living in Tennessee?
No matter where you live, there will be some drawbacks you'll need to be content handling if you want to call it home. One major point to consider is that Tennessee's weather, while mild in the winter, can be quite humid in the summer months, with temperatures often reaching over 90 F. You have to be prepared to handle the extreme weather and the summer heat. Hot and cold fronts mix here during the spring and fall, leading to severe thunderstorms with hail, high winds, and substantial tornado threats–especially in the western and central regions.
If you live in certain areas of Tennessee, like Memphis near the Mississippi River, you'll also have to deal with high levels of air pollution due to industry and other sources. Summer heat and high pressure systems can make air pollution worse.
Population growth has been dramatic in certain parts of the state. Nashville tends to make all the news as it's been highlighted as one of the hottest markets in the nation. Outside, in the suburbs, Spring Hill was one of the fastest growing towns from July 2020-2021. Murfreesboro, also outside of Nashville, was another top-ranked town in the nation for population growth.
All states deal with pockets of low and high crime, and Tennessee is no exception. However, the state's overall rate is higher than the national average. Particular parts of cities like Memphis have a reputation for high violent and property crimes that statistics back up. If you plan to move here, research the local crime rates.
What is the cost of living in Tennessee?
As mentioned earlier, living expenses are relatively low compared to many states across America. The Council for Community & Economic Research (C2ER) survey had the state 10% cheaper overall than the national average. Every category fell below the national average, with health care costs at 12% under and transportation at 9% under.
Notably, Tennessee's housing costs were about 16% below the national average, which makes it an affordable place to live for most people.
That said, depending on which city or town you live in, costs may vary significantly. For instance, if you live in a more high-demand area like Nashville, your housing costs will likely be higher than in other cities like Knoxville or Chattanooga. But despite these differences, most cities in Tennessee offer a relatively budget-friendly cost of living.
| | | | | |
| --- | --- | --- | --- | --- |
| | Nashville | Knoxville | Memphis | Tennessee |
| Overall | 103.1 | 89.6 | 77.5 | 89.9 |
| Housing | 117.1 | 88.2 | 42.4 | 79.4 |
| Groceries | 102 | 97.2 | 93.3 | 95.4 |
| Transportation | 100.7 | 81.8 | 94.5 | 90.2 |
Chart information from Sperling's Best Places Index, where 100 represents the national average.
How much money do you need to live in Tennessee?
This really depends on the city or town you live in and your budget. Generally speaking, living expenses in Tennessee are quite reasonable. Still, if you live in a more expensive area like Nashville, you should expect higher expenses.
MIT's Living Wage Calculator estimated a family of four with one working adult would need an annual income of $59,374 after taxes to meet their living expenses. This family would spend about $9,856 in food, $11,743 in housing, and 15,012. A living wage would be considered $33.17 an hour.
In 2020 data from the Bureau of Economic Analysis, yearly costs for essentials in Tennessee averaged $37,499. The median mortgage ran $1,244, while renting a three-bedroom cost $1,000.
Utility costs ran an average of $391 per month in Tennessee during 2021, with around $126 for electricity, $100 for gas, and $43 for water. The remainder went to cable and internet.
Other monthly expenses like entertainment or childcare will need to be factored into your budget when calculating how much money you would need to live in Tennessee. The average childcare costs ranged from $781-$1,099 per child per month.
Is Tennessee Tax-Friendly?
Good news! Tennessee is considered one of the most tax-friendly states in America. It's one of the few states with no individual income tax, meaning residents don't have to pay taxes on wages or salaries to the state government. Federal taxes still apply.
There is also no inheritance or estate tax, so you can pass down any property or assets without worrying about additional costs.
Property taxes are generous in the state and rank no 15 for low tax burden. Homeowners are taxed on 25% of their primary home's value, with millage rates varying by county and city. Overall, the average effective tax burden in 2021 was 0.71%, which represents the percentage of actual value paid in property taxes.
The state does need to make up its budget somewhere, and that's in its sales taxes. It carries a relatively high state sales tax of 7% on goods and services. Local counties and municipalities can also add up to 2.75%, for a total of 9.75% in sales taxes, so that should be considered when calculating your budget.
Some items, like groceries (4%) and prescription drugs (exempt), are taxed at less value.
What is Tennessee's real estate market like?
The real estate market across Tennessee has been steadily increasing over the last few years, with prices now at an all-time high.
The Business and Economic Research Center at Middle Tennessee State University tracks state housing market changes. In the third quarter of 2022, home prices were up 23.22% year-over-year, at $289,900. The homeowner vacancy rate came in at 0.10%. While inventory was rising in cities like Nashville and Knoxville, it remained historically low. All the significant metros reported double-digit price growth, with the Johnson City MSA seeing 26.19%.
This means buying a home is increasing in cost. However, there are still some great deals depending on your budget. For instance, rural areas of the state may offer more affordable options than cities like Nashville or Knoxville.
While Nashville gained a lot of press through the pandemic as a "hot market" with dramatic price growth and low inventory, Knoxville was the city to make the National Association of Realtors list in 2023. Chattanooga has also been picked as a potential boomtown because of its housing affordability.
What are some key places to live?
Tennessee has no shortage of great places to live, from bustling cities like Nashville and Memphis to resort towns like Gatlinburg to small towns with a more laid-back atmosphere like Clarksville and Johnson City.
Consider what lifestyle you're looking for before deciding where to live, as each city and town has its unique culture. No matter which part of Tennessee you live in, you can count on plenty of sunshine, friendly people, and an abundance of outdoor activities year-round.
Here are a few popular cities:
Nashville: Home to live music and the country music scene, you can't go wrong in Nashville. It's the state's largest city, the state capital, and home to Vanderbilt University. Locals have several professional sports teams to root for.
Memphis: With its music-driven nightlife and delicious BBQ, Memphis is a great city for foodies and live music lovers. It's also home to the popular Graceland estate where Elvis Presley lived.
Knoxville: Knoxville is a great city for those looking for an affordable and laid-back lifestyle. It's home to the University of Tennessee. With its mountain foothills location, residents are near lots of outdoor activities like hiking, fishing, and mountain biking.
Oak Ridge: Located in the East Tennessee Valley, Oak Ridge is a great town for families and retirees. It's known for its natural beauty, three lakes, and nuclear history. Just look up the Manhattan Project. It also has one of the state's top school systems.
Gatlinburg & Pigeon Forge: Located at the edge of the Great Smoky Mountains National Park, Gatlinburg has a reputation as a tourist town. But, living here, you'll enjoy the many shops, restaurants, and live music venues full-time. In Pigeon Forge, have amusement in your backyard with Dollywood and the Titanic Museum.
Clarksville: Growing Clarksville is an affordable city with a rising star for first-time homebuyers and young professionals. It's located in middle Tennessee on the banks of the Cumberland River. The nearby Fort Campbell supports a stable economy.
Chattanooga: Just two hours from Nashville, Chattanooga is worth a look. It's known for its thriving arts community, outdoor activities, and scenic views of the Tennessee River.
Living in Tennessee
Overall, Tennessee has much to offer those looking for a new place to live or purchase an affordable home. With low living costs and no income tax, it's easy to live comfortably in this southern state without breaking the bank. Locals have outdoor activities out their door and pleasant weather year-round to enjoy it all. So why not check out more about Tennessee and some of its best places to live?