Is South Carolina A Good Place to Buy a House?
Posted by Preston Guyton on Friday, January 6, 2023 at 9:20:37 PM
By Preston Guyton / January 6, 2023
Comment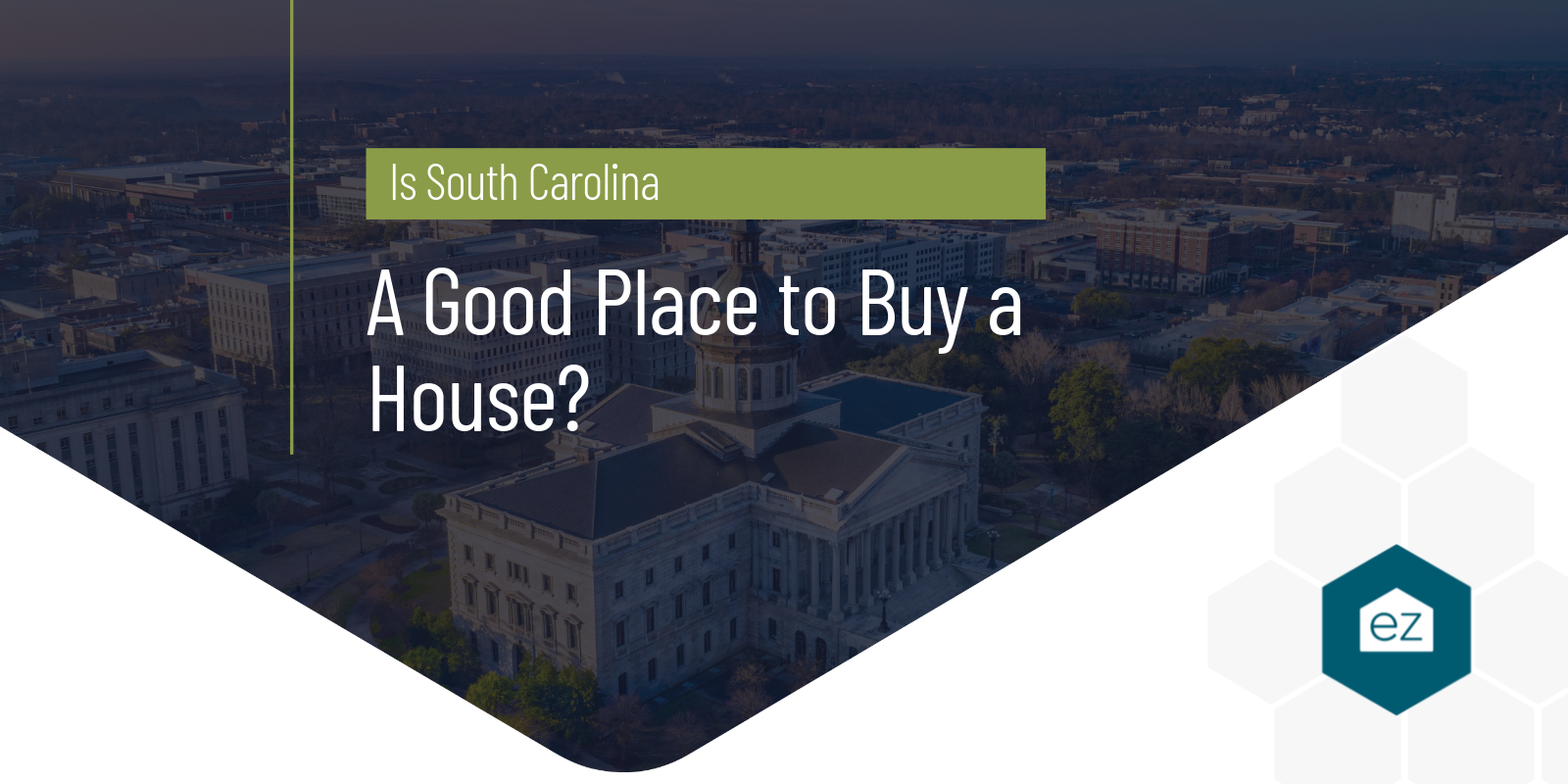 Is South Carolina A Good Place to Buy a House?
Tourists come to South Carolina for its beautiful beaches and warm climate, but what about calling it home? Every state has its own set of quirks that attracts people to live there. And now, with the rise of remote work, more people are evaluating their living situation and if where they are now is the best place for them.
That brings us around to if South Carolina is a great place to call home a buy a house. Living in South Carolina has plenty of negatives as well as positives. What should you know before considering a move there?
Let's look at the various quality of life factors for South Carolina. This information can help you decide if it's an excellent place to buy a home for you.
What are the positives to living in South Carolina?
If you like exploring the great outdoors, South Carolina's natural beauty will keep you busy! The outdoor activities are endless in the state: hiking, fishing, kayaking, camping, hunting, sailing, golfing, surfing...the list truly goes on, thanks to multiple national forests and 30 state parks.
The Blue Ridge Mountains provide beautiful mountain vistas and a respite from the hot coastal areas. Here you have access to whitewater streams, rock climbing, and hiking.
The 187 miles of Atlantic coastline is a haven for beachgoers and surfers alike. The most popular spots are Myrtle Beach and Hilton Head Island. The latter ranks in the top 25 beaches in the US, but Kiawah Island and Sullivan's Island aren't far behind.
We'd be remiss if we didn't mention the 350+ golf courses available. Golf is as much part of South Carolina culture as sweet tea, with numerous world-class resorts and public courses.
But South Carolina isn't all about nature activities alone! It's also a cultural hub that offers plenty of things to do indoors- like visiting art galleries, attending concerts at the South Carolina Symphony, or taking in an opera performance. Historical attractions include vital sites from the American Revolution and Civil War.
Live in a city like Charleston, and you'll have a bustling culinary scene with fine dining restaurants, craft breweries, and distilleries. Seafood is part of the state's lifeblood, from crabs to deep-sea catches.
We'll hit on some more positive notes below, like the cost of living, low crime rates, and the job market.
What are the negatives of living in South Carolina?
We'd like to say it's all azaleas and sweet tea, but we're taking an honest look at the state. Every place you live will have some drawbacks. For starters, South Carolina has a high overall personal tax rate. We're talking income, sales, and property taxes combined, especially when you look at what other states in the south charge.
In 2022, the sales tax was 6%, while the individual income tax rate fluctuated from 0 to 7% depending on earnings. High taxes can definitely affect your bottom line if you plan to buy a home in South Carolina.
The local governments administer South Carolina property taxes, with primary homes assessed at 4% of their value. A deeper dive into the state's property taxes is below.
You'll also want to consider the weather. South Carolina has a humid subtropical climate and is prone to extreme weather like hurricanes, hail storms, and flooding. Summers are hot and humid, exceeding well above 90F. On the flip side, South Carolina does have mild winters, but the Upstate can see snow and freezing temperatures.
There's also one little thing you need to know about: bugs. South Carolina has plenty of them, especially mosquitos. Some locals call them the "other state bird." It's important to take the necessary precautions to avoid bug bites and potential infections caused by them. But it's not just the swarms of mosquitos. Be prepared for termites, ants, cockroaches, sand gnats, ticks, and biting black flies.
Which part is the best place to live in SC?
That's a tough question to answer as it really depends on what kind of lifestyle you want. The good news is South Carolina has something for everyone: coastal and mountains, cities and small towns.
For a unique experience, the Lowcountry has some of the most charming small towns in South Carolina. From Beaufort to Bluffton, these historic towns boast outdoor waterfront activities, from fishing to sailing and kayaking. The ample coastline is dotted with seaside towns that cater to visitors who don't want the hustle and bustle of a big city. But if you want the urban lifestyle, it has that in Myrtle Beach. Stay busy at its entertainment boardwalk and with endless dining options.
Up in the South Carolina Upstate, cities like Greenville and Spartanburg are your launching point for exploring nature while meeting your day-to-day needs for amenities and entertainment. Forbes said Greenville was the state's best place to live in 2023, partly thanks to its artsy indie vibe. The mountain towns are quite picturesque, offering a slower pace and beautiful scenery.
But the MidState, or Sandhills region, is no slouch, with Columbia ranking no 2. on the site's list. South Carolina's capital city has seen a new wave of life with its revitalized downtown area- offering museum attractions, dining options, and shopping. Nearby Sumter cracked the list's top 10.
Is South Carolina property tax too high?
Homeowners in South Carolina are responsible for paying property taxes based on the assessed value of their home and with millage rates established by the local government. The state does mandate the taxable value. For a registered primary residence, the homeowner will pay taxes on 4% of the home's value. Non-primary residences will pay taxes on 6% of the assessed value.
When you look at how South Carolina stacks up compared to the other states, it actually has a very low property tax burden. Wallethub had the state tied for the sixth lowest effective real estate tax rate. That means most homeowners pay an average of 0.57% of their home's value in property taxes. On a $200,000 home, that's $1,140.
According to their numbers, the median home value was $162,300, giving an annual tax burden of $924.
Tax Foundation reported similar numbers, ranking South Carolina the 5th lowest with a tax burden of 0.56% and an average per capita tax of $1,271.
Of course, you can't just look at millage rates and effective values to judge your tax burden. It will depend on the millage rates of your county and the housing value. Home values and rates aren't consistent across the board. Chester County had the highest base millage rate in 2022, at 0.1838 mils, but Beaufort County residents had the highest median property tax at $1,319. Learn more about South Carolina's property tax system.
Is South Carolina a tax-friendly state?
Overall, South Carolina is tax-friendly in the US, with MoneyGeek giving it a "B" grade. The system looked at the percentage of taxes to income, which for residents came out to 8.6%.
South Carolina has a tiered individual income tax rate from 0-7% with some deductions, which can lower your taxable income amount. It's best to look directly at the tax tables to see how much you'll owe.
The state sales tax rate sits at 6%, but South Caroline does allow localities to charge an additional 3%. For example, Aiken residents will pay 8% sales tax on purchased goods and services, while Charleston assesses 9%.
For retirees, South Carolina doesn't tax social security and allows a $10,000 deduction for income from pensions, IRAs, and other qualifying accounts. Former state employees get a $15,000 deduction. South Carolina is one of five states that doesn't impose an inheritance or estate tax either.
What is the safest place to live?
Depending on where you choose to live in the state, South Carolina can be an incredibly safe place to live, with low crime rates in certain areas. However, most data from various reporting agencies place the state's overall crime rates as high. Safehome reported the 2020 property crime rate was 39% higher than the US rate. However, it also noted its rate declined by 25% from 2010 to 2019.
NeighborhoodScout reports a crime rate of 33.15 per 1,000 residents, combined with violent and property crime rates. Unfortunately, 2020 data shows violent crime rates were higher than the national average. A Texas-based law firm ranked South Carolina no. 7 after its evaluation of the FBI's Crime Data Explorer.
The safest cities overall in South Carolina for 2022, according to SafeWise, include:
Isle of Palms
Mount Pleasant
Fort Mill
Hanahan
Bluffton
How much money do you need to live comfortably in South Carolina?
It depends on a few factors, including where you plan on living and your lifestyle preferences. Overall, the cost of living here was 10.7% less than the US average, based on Sperling's Best Places Index. The index cites housing, groceries, and transportation expenses as below the national average.
MIT's Living Wage calculator says that for a family of two adults with two children, a living wage would be $37.61 an hour. The same family would spend $9,856 a year on food, $12,143 on housing, $15,012 on transportation, and $16,390 on annual taxes. Combined with other expenses like medical and miscellaneous costs, the required annual income would be $78,234 for a family of four.
What will you spend on housing in South Carolina?
Housing in South Carolina varies considerably based on location, but overall is relatively affordable. In some areas, you can find homes with beachfront or extensive acreage for over a million dollars. The beachfront and tourist towns will have high-rise condos, and Charleston will have a collection of historic homes.
As of November 2022, year-to-date median pricing for residential homes, condos, and villas were $315,000, a 16.7% year-over-year growth rate.
Columbia ranked as one of 2023's top housing markets based on its potential for growth. Affordability in its market, plus its metropolitan amenities, means it could see a 3.6% increase in home prices in 2023.
Utilities cost an average of $144.73 per month in 2019, at 12.99 cents per kWh. A homeowner's insurance policy averaged $1,165 per year for $250,000 in coverage in 2022.
Calling in South Carolina Home
With the right planning and research, South Carolina can be a great opportunity. South Carolina offers a relatively lower cost of living, but research each area before making any decisions and budget your monthly expenses accordingly. While crime rates may be higher than in some parts of the US, South Carolina is still an appealing choice for those looking to buy a home or settle down.
Exploring South Carolina can help you decide whether this state is right for your needs. Contact a local real estate agent to learn more about the state's many communities and lifestyle options.