Get to Know Jacksonville, FL – Your Moving Guide
Posted by Preston Guyton on Thursday, March 30, 2023 at 2:00:34 PM
By Preston Guyton / March 30, 2023
Comment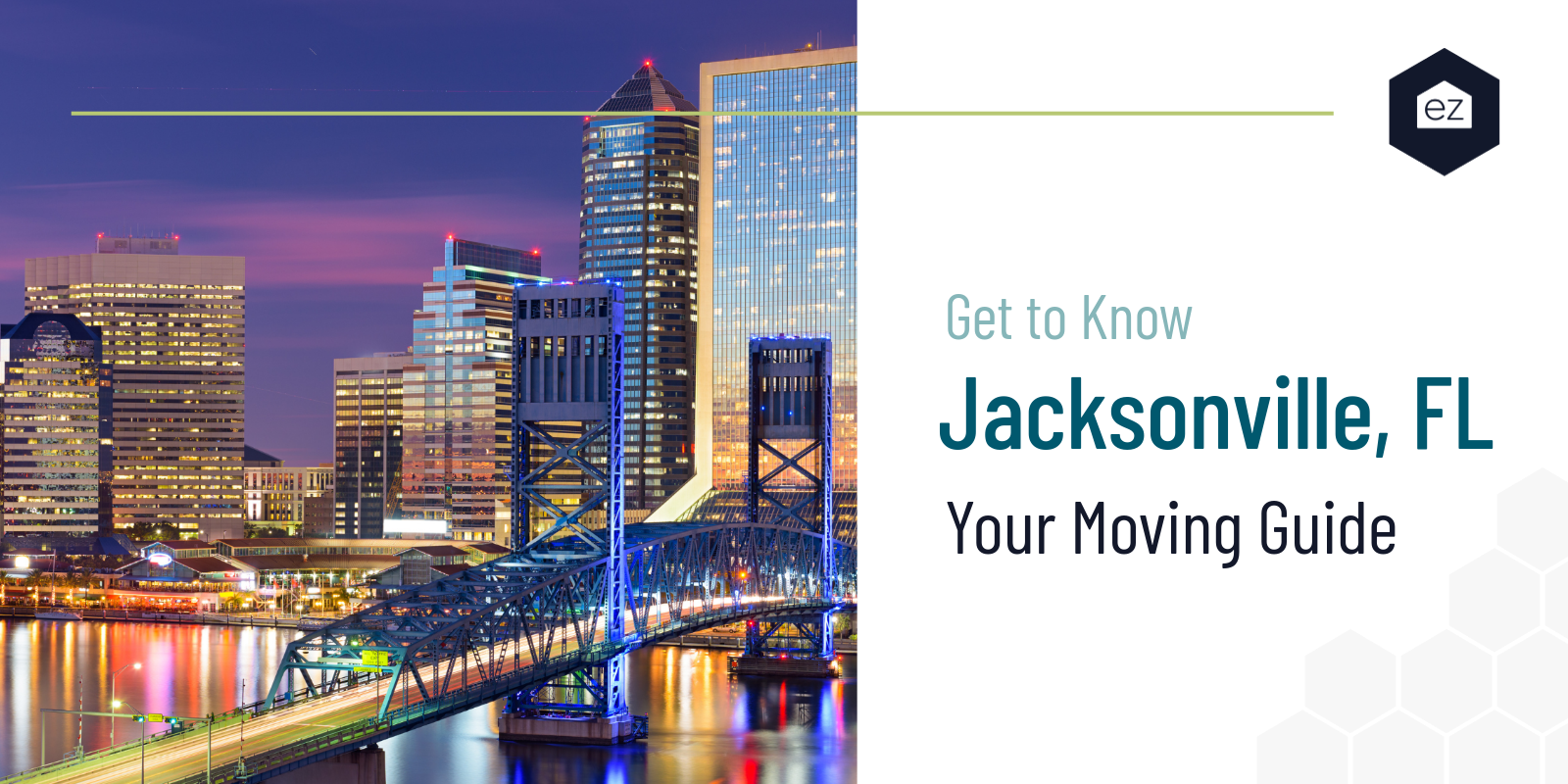 Get to Know Jacksonville, FL – Your Moving Guide
Are you ready to discover the magic of Jacksonville, Florida? This coastal gem on the northeastern side of the state promises warm sunshine and breathtaking waves, all at an affordable cost of living. Whether you're starting a family or entering a new chapter in your life, Jacksonville's endless beaches, lush parks, top-notch schools, and lively arts scene make it a destination for everyone. There's a reason it's ranked the fourth-best place to live in the state.
If you're about to experience Jacksonville's charms for yourself by becoming a resident, we're here to help you get familiar with this massive city. Learn about living in Jacksonville, including its top attractions and a few resources to help you get set up in your new home.
Jacksonville is huge
The sprawling city of Jacksonville is the largest in the continental US! Nestled along 22 miles of picturesque St. Johns River shoreline, plus access to the Intracoastal waterway and beautiful barrier islands on the Atlantic coast, this city bursts with natural beauty and great waterfront neighborhoods. Jacksonville essentially takes up the entirety of Duval County in northeast Florida.
Not only is it big in land size, but it's also the state's largest city, with over 900,000 residents in 2022!
Beautiful weather
The temperature in January is a comfortable 66F, perfect for a stroll on the beach. But when summer hits, get ready for some serious heat! Average temperatures soar up to 92F.
While hurricanes may concern some, the good news is that Jacksonville has only experienced one direct hit in recorded history. However, it can be prone to storm surges that push up the St. Johns; flooding is a real threat across the waterfront city.
Beaches, beaches, everywhere
Minutes from downtown Jacksonville, get ready to experience the best white sand beaches. Neptune, Atlantic, or Jacksonville Beach are your closest destinations for sand and sunshine.
But don't stop there! Take a short drive to visit Amelia Island, Fernandina Beach, or Talbot Islands to explore their waterfront wildlife refuges and historic wonders. Or hit the road and explore the stunning Atlantic beaches at Cumberland Island National Seashore, where wild horses frolic in the surf. Head south to visit the renowned beaches in St. Augustine or Daytona.
Defense is big business
Did you know Jacksonville's prime waterfront is home to two critical Navy facilities? Naval Air Station Jacksonville employs over 21,000 people alone! It's the most extensive Navy base in the southeast and has over 100 active aircraft operating full-time.
Besides the Armed Forces, Jacksonville also is home to the US Coast Guard HITRON, a tactical helicopter unit used in drug-interdiction missions, and two other Coast Guard bases.
Thriving job market
Curious about job prospects in the Jacksonville metro? Great news! The area's unemployment rate is even lower than the national average! In fact, before the pandemic hit, the job market boasted a 14.1% growth rate over the past decade. Its 2021 unemployment rate was 6.3%, compared to the national rate of 8.7%.
And with top employers like Baptist Health, JP Morgan Chase, and Ascension St. Vincent, you're sure to find opportunities that align with your career goals. As a major shipping port, logistics and transportation is a key industry, with companies like CSX and Crowley dominating this sector.
Jacksonville's other major players include Florida Blue, GATE Petroleum, Black Knight Financial, and McKesson. The possibilities for employment are truly diversified in this bustling metro.
The arts are part of the history
The possibilities for art and culture are endless in Jax. This city has long been a hub of creativity and self-expression from the silent film era to the modern day. Before Hollywood and California became dominant, many film studios called Jacksonville home. It was the first filmmaker's paradise before the conservative sensibilities of the time pushed the filmmakers westward.
Fast forward to today, and Jacksonville ranks as one of the top 25 arts destinations in the US. One of the oldest continuing community theaters in the nation, the Little Theater, is on the National Register of Historic Places and still delivering shows. Four other theater facilities date back to the 1940s. Catch live entertainment at Alhambra Theater and Dining, the longest-running professional dinner theater in the US.
But that's not all. This town has music pumping through its veins too! Immerse yourself in world-renowned events like the Jacksonville Jazz Festival, celebrated Memorial Day weekend with free jazz performances spanning 15 blocks. Famous musicians Limp Bizkit, Lynyrd Skynyrd, and The Allman Brothers called Jacksonville home at one point.
Catch the Jacksonville Art Walk, a free tour of downtown brimming with pop-up galleries, food trucks, and live music, happening on the first Wednesday of every month except January. Or, stop and admire gorgeous artisan crafts at the Riverside Arts Market every Saturday.
Beyond these attractions, residents have over 12 museums boasting interactive exhibits and world-class art, including the Museums of Science & History (MOSH) and one of only nine Karpeles Manuscript Libraries.
Golf with the best
If you're looking for world-class courses, look no further than the grounds of the PGA Tour headquarters in nearby Ponte Vedra Beach.
But that's one world-class option. With over 70 championship golf courses in the greater Jacksonville area, you will surely find the perfect spot to tee off. Select from historic courses like Hyde Park Golf Club to lavish resort greens such as World Golf Village; a scenic drive along the A1A will lead you to even more top-notch golfing destinations like Amelia Island, Savannah, and Hilton Head.
Traffic varies
Just how you'll get around Jacksonville depends on where you live. This is the nation's largest city by land, after all, so you'll need some wheels to get around the greater metro area. But driving shouldn't be too terrible; the average commute time in Jacksonville was 25 minutes.
Public transportation is mostly by bus, but the city's working on it. Downtown residents can hop on the free Jacksonville Skyway monorail to reach the top attractions, but this train is only 2.5 miles long. Locals in the Riverside and Avondale neighborhoods can ride the night trolley on select weekends, while those in Mayport Village and Fort George Island can skip the traffic with a ride on the historic St. Johns River Ferry.
Some beach communities are highly walkable or have bicycle paths. But otherwise, your best bet to get around is to own your car.
Top-tier public schools
The Duval County Public School District is an urban district with four of the best schools in the state, according to US News & World Report, including the nationally renowned Stanton College Preparatory School.
But if you're looking for the absolute best of the best, head a little south to the St. Johns County School District. Some of the most sought-after suburban areas in the metro, such as St. Augustine Beach and Ponte Vedra Beach, fall within its boundaries.
Discover a world of opportunity at exceptional higher education institutions like the University of North Florida, Jacksonville University, and the Art Institute of Jacksonville. Here, you can expand your knowledge and skills, pursue your passions, and unlock your full potential. And if you're looking to take your career to the next level with a two-year degree, check out Florida State College, St. Johns River State College, or Concorde Career Institute.
Affordable cost of living
With a cost-of-living index 6% below the US average, you'll save big bucks without sacrificing quality of life. Plus, unlike other states, Florida residents don't have to worry about state income tax, giving you even more money to enjoy your new city.
Housing is a steal in Jacksonville, with a median home value 20% lower than the US average. That's incredible, considering how much waterfront real estate is available throughout the metro area.
Jacksonville real estate
As Jacksonville grows, so has its demand for real estate. Nine of the state's top-growing neighborhoods are in Duval County–in other words, the Jacksonville metro. Since 1982, local housing prices have appreciated 25%, or roughly 4.6% each year.
In early spring 2023, Jacksonville's real estate market followed a trend reported in many other markets. The number of listings was rising, and homes stayed on the market longer. Price growth was slowing; northeast Florida's year-over-year sales price of single-family homes actually fell 2.7% in January 2023.
A study by Florida Atlantic and Florida International universities found Florida to be overpriced based on historical trends; however, Jacksonville was not listed as one of the state's six overpriced cities. People are also continuing to move to Florida, which will keep demand in the market.
Data from the Northeast Florida Association of Realtors had Duval County's median sales price for single-family homes as $315,000 in February 2023. That was up 1.6% year-over-year. The county had a three-month supply of inventory.
Jacksonville's diverse selection of neighborhoods means there's a lifestyle at the ready for everyone. From beachfront to historic downtown, a local real estate agent can help you find what you want. To see what we mean, explore Jacksonville's top neighborhoods.
Jacksonville moving resources
If you're from out-of-state, you must go to the Florida Highway Safety and Motor Vehicle (FLHSMV) office in person to update your driver's license. Search to find the office nearest you. For vehicle titles, you'll need proof of Florida-based insurance coverage.
Florida Power & Light is the largest provider of power, water, and wastewater services for the Jacksonville metro. However, they're not alone in servicing JAX residents - JEA, TECO, Clay Electric, Beaches Energy, and Duke Energy are also in the mix. Some cities even have their own set of utility services in place. Start with searching your local municipality to see who's your specific provider.
Moving to Jacksonville
Moving to Jacksonville can be an exciting new chapter in your life. It presents a variety of neighborhoods to fit your lifestyle, plus a robust mix of amenities from a dynamic arts scene to waterfront recreation. You can learn more about life in Jacksonville from a local real estate agent. Before you move to Florida, learn more about the state.