Florida vs South Carolina: Which is the Better State?
Posted by Preston Guyton on Thursday, October 20, 2022 at 12:02:29 PM
By Preston Guyton / October 20, 2022
Comment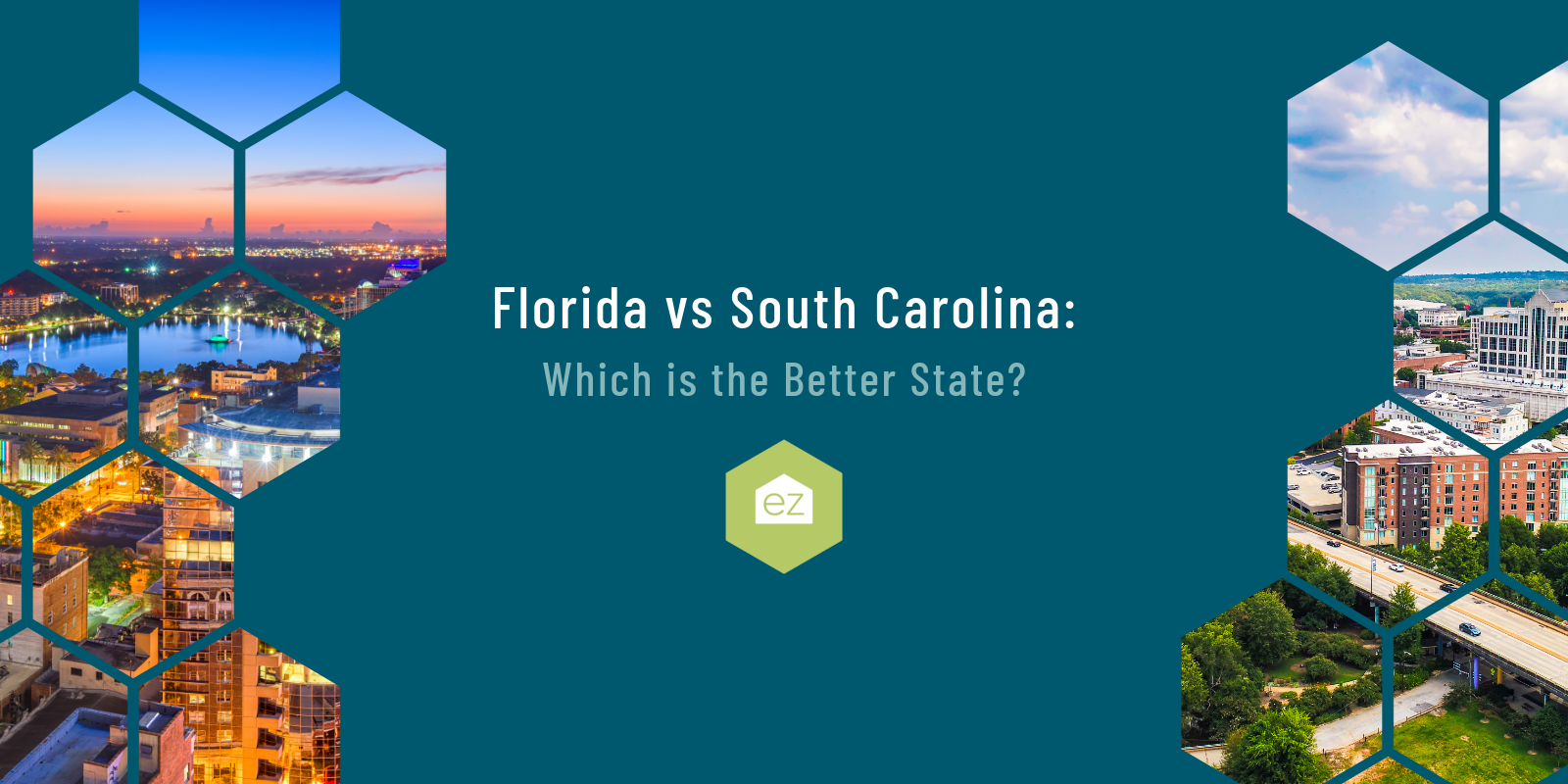 Florida vs South Carolina: Which is the Better State?
People migrate to the Sunbelt for various reasons, including its lower cost of living, more temperate climate, and job prospects. Florida and South Carolina are two popular choices for these reasons. Is one state better than another? That depends.
When you're trying to decide where to settle down, it's about taking into account your priorities and comparing them to what's available in a particular area. For instance, are good schools and access to nature important to you? What about employment opportunities or low taxes?
That brings it back to is Florida or South Carolina better? Let's examine some key differences between these two states to help you decide.
Cost of living
When it comes to overall affordable living, the following chart shows South Carolina beats Florida, especially when it comes to housing costs.
Sperling's Best Places is a resource for measuring the cost of living, with 100 as the national average. Any cities with a score above 100 indicate that it costs more to live there, while anything below means it's cheaper.
Looking at those numbers, South Carolina is more affordable than Florida in every category but health care. However, it also has a smaller population and less land mass. Florida's extensive coastline and demand for waterfront living also increase its cost of living scores.
| | | |
| --- | --- | --- |
| | South Carolina | Florida |
| Population | 5.1 million | 21.2 million |
| Median Property Value | $265,000 | $378,104 |
| Median Household Income | $54,864 | $57,703 |
| Homeownership Rate | 70% | 67% |
| Overall | 88.5 | 103.1 |
| Grocery | 95.8 | 102.8 |
| Health | 102.3 | 102.3 |
| Housing | 73.6 | 101.1 |
| Utilities | 103.9 | 101.3 |
| Transportation | 86.8 | 112.6 |
| Miscellaneous | 95.6 | 87.6 |
Keep in mind that the cost of living can vary widely within a state, especially one as large as Florida. The cost of living in Key West will be more than Ocala, Florida.
Population growth
A growing population could have both positive and negative outcomes. On the bright side, a larger population is helpful to businesses and provides people with more opportunities. However, it can also lead to inflation, city overcrowding, and higher living expenses.
Florida has about 4x the number of residents than South Carolina, but both are experiencing robust population growth. Florida ranked no. 6 with a 21% growth rate, while South Carolina ranked no. 10 with a 17% growth rate.
Still, if you're concerned about crowded spaces and cities, South Carolina will provide you with more room.
Florida added over 2.7 million residents from 2010 to 2020, for 21.2 million residents by April 2020 Census. That state had:
18 and under: 20%
65 and older: 21%
53% identified as white alone
17% as black of African American
27% as Latino
Florida's population skews older, but the demographics vary widely. Some areas are older than others or have more diversity. The most populated counties were concentrated in southeast Florida: Miami-Dade, Broward, and Palm Beach Counties.
South Carolina added a little over 500,000 residents from 2010 to 2020. It had 5,118,425 residents for an overall less densely populated state. The state demographics reported:
18 and under: 21%
65 and older: 19%
63% identified as white alone
27% identified as black or African American
6% identified as Latino
South Carolina has a slightly younger population and slightly less overall diversity than neighboring Florida. Its most populated counties are Greenville, Richland, and Charleston.
Outdoor Recreation
Residents have multiple outdoor activities available in both states. The shared Atlantic coastline gives them some commonalities, but some differences exist.
Florida is well-known for its miles of beaches and year-round tropical weather. Hundreds of miles of coastline provide easy ocean access – not to mention the spring-fed rivers, inland lakes, and reservoirs. Many opportunities exist for swimming, fishing, and all types of boating, from deep-sea fishing to human-powered boats.
The state runs over 175 parks and nature reserves, where visitors go hiking, cycling, biking, swimming, boating, or camping. Another 11 national parks are also in Florida, including the Everglades National Park and St. Augustine's Historic Castillo de San Marcos.
Florida isn't all beaches--the state has plenty of wilderness, too. The Ocala National Forest alone has four different federally recognized wilderness areas. In addition to that, there's also Apalachicola National Forest, Osceola National Forest, and the Okefenokee Swamp.
Both states are meccas for golfing. Florida has over 1,100 golf courses, while South Carolina comes in just under 600. Find golfing resorts and destinations across the states, from Pinehurst and the Grand Strand in South Carolina to the multiple courses in Florida's Palm Beaches and Jacksonville metro.
While Florida is king when it comes to the waterfront, South Carolina is no slouch for water activities. Did you know that South Carolina has almost 200 miles of coastline? With the famed "Grand Strand" and ten state scenic rivers, there's plenty of opportunity for swimming, fishing, kayaking, and other water activities. Lake Marion is the largest lake in the state and a popular destination for leisure.
What separates South Carolina from Florida is the rolling Piedmont and Upstate region. The foothills of the Blue Ridge and Appalachian mountains bring in cooler temperatures and topography perfect for whitewater rafting, bouldering, hiking, and backpacking trails.
Both states have a lot to offer residents in terms of outdoor recreation, so if you can't decide between the two states, think about which kind of activities you prefer.
Education
When it comes to public school systems, overall, Florida is the clear winner over South Carolina based on metrics in the US News and World Report. Florida's education system came in no. 3 in the nation, with the public K-12 schools as the no. 16 in the nation. South Carolina had ample room for growth, ranking no. 44 in 2022. Higher education was no. 45.
| | | |
| --- | --- | --- |
| | South Carolina* | Florida** |
| No. of Students | 766,819 | 2,834,000 |
| No. of Schools | 1,239 | 4,300 |
| No. of School Districts | 80 | 67 |
| Graduation Rate | 83% | 90% |
| No. of Teachers | 53,689 | 337,792 |
| Avg Teacher/Student Ratio | 15:1 | 17:1 |
| Amount Spent per student | $8,168 | $9,075 |
*Figures are from 2019.
**Figures are from 2018-2019, except the graduation rate which is 2021.
Florida's top higher education institutions include the University of Florida, Florida State University, and the University of Miami. Other top schools include the University of Central Florida and the University of South Florida.
South Carolina spent $8,168 per student in 2019. It employed 53,689 teachers for 766,819 enrolled students. Around 43% met or surpassed reading standards, while 37% met or exceeded math standards. It had an 83% graduation rate in 2021.
Some popular colleges and universities in South Carolina are Clemson University, the Medical University of South Carolina (MUSC), The Citadel Military College of South Carolina, and the University of South Carolina.
City Living
From Miami's arts and culture to Orlando's tourism and nightlife, to Tampa's business-friendly climate, there is a city in Florida that is ideal for everyone.
Miami is known for its nightlife, beaches, and Latin American influence. The city's economy is driven by international business, tourism, trade, and banking.
In addition to being home to Universal Studios and Walt Disney World, Orlando is a major center for trade and tourism. The economy of Orlando is also influenced by science, technology, and aviation.
Aside from being a hub for various businesses, Tampa is widely recognized for its gorgeous waterfront area. The precinct boasts stunning parks, informative museums, and delicious eateries - perfect for an afternoon stroll or evening outing.
Other major cities in Florida include Jacksonville, Pensacola, St Petersburg, Sarasota, and Naples.
South Carolina's cities are smaller and less dense than Florida's. Charleston is the state's largest city, with a population of about 150,000 people in its urban center. It's a popular tourist destination with its antique buildings and cobblestone streets. Charleston is also home to numerous colleges and universities, as well as Fort Sumter National Monument and Magnolia Plantation and Gardens.
Other options for city living in South Carolina include Columbia, Myrtle Beach, and Greenville.
Climate
In terms of climate, both states usually have a humid, subtropical climate with moderate winters and summers. Their best seasons to be outdoors are spring and autumn.
Florida's more southerly location and peninsula topography give it a more overall humid subtropical climate. Most of Florida is overall hotter and more humid than South Carolina.
During the humid summer season, Florida thunderstorms with significant rain, wind, and lightning can appear in mere minutes. Florida experiences an average of 60 days of thunderstorms per year and averages 223 lightning strikes per square mile.
Both states experience hurricanes, but Florida is more vulnerable because of its considerable coastline. The hurricane season typically runs from June 1 to November 30.
Temperatures in South Carolina can get pretty hot, with average highs in July reaching 92F. However, the Upstate region is typically milder due to the Blue Ridge Mountains and elevation. The state also sees a fair amount of rain, ranging from 40 to 80 inches annually.
Real Estate Taxes
South Carolina has the advantage for real estate taxes, helped in part by lower property values.
The average effective property tax rate in Florida is 0.86%, which beats 2022's national average of 1.07%. This means that homeowners in Florida pay an average of $2,035 in property taxes. The rates fluctuate because they are set by the local county rather than the state government.
Homeowners can take advantage of a few different exemptions when it comes to their primary residences. The first $25,000 exemption applies to all taxes; another $50,000 applies solely to non-school-related taxes. But there are also more specific exemptions for widowers, senior citizens, disabled persons, and veterans.
South Carolina offers a reduced property tax rate of 4% to primary residents, but you must apply with the county assessor; otherwise, the standard rate of 6% applies.
Regarding the average effective property tax rate, South Carolina beats Florida with 0.57%. The county sets the millage rate; municipalities may also charge a property tax. Look at the tax rates for the specific county and town you want to live in before making any decisions.
Taxes for Retirees
Florida is a popular retirement destination, and Bankrate placed it no. 1 on its list of best states for retirement in 2022. Aside from the fact that it is warmer and has more affordable housing, Florida's tax laws make it preferable to be a state resident, such as having no personal income tax.
Retirees 65 and older who meet the residency requirements in Florida do not have to pay state taxes on their pension and retirement income. Social security benefits are also exempt from state taxes. Other benefits: no inheritance tax or estate tax and an exemption from debt collection on assets held in IRAs or similar accounts.
Comparatively, South Carolina landed at no. 25 on Bankrate's list. Inheritance and social security income taxes do not exist in South Carolina, but public pension income can be taxed. Residents can deduct $10,000 from retirement income including pensions and IRAs while up to $15,000 can be withdrawn without being taxed for private pension income sources.
South Carolina allows a $50,000 homestead exemption for homeowners 65 years or older who have resided in their property as a primary residence for at least one year.
Job Market
The job market in Florida is strong. The unemployment rate in August 2022 was 2.7%, compared to the national average of 3.7%. Florida's major industries are healthcare, hospitality, construction, and professional services. Walt Disney World Resort, Publix Super Markets, Miami-Dade County Public Schools, The Home Depot, Broward County Schools, and the Department of Veterans Affairs (Healthcare) are some of Florida's top employers.
The unemployment rate in South Carolina was 3.1% as of August 2022. The state largely relies on agriculture, manufacturing, aerospace and aviation, and tourism for its economy. Some of the biggest employers in South Carolina are BMW Manufacturing Company, Boeing South Carolina, Michelin North America Inc., and Walmart.
| | | |
| --- | --- | --- |
| | Florida | South Carolina |
| Current Employment | 10,705,700 | 2,401,251 |
| Unemployment | 2.7% | 3.1% |
| Average Wage | $28.09/hr | $27.93/hr |
| Median Household Income | $57,703 | $54,864 |
| 10 Year Job Growth | 12.8%* | 11.9%** |
Sets of figures are from August 2022. Hourly wage data is based on average hourly earnings of private employees from the FRED.
** From Florida state projections from 2019 to 2029
Sports
When it comes to professional sports, it's no contest as South Carolina doesn't have any. In contrast, Florida has a total of nine professional teams playing in the NFL, NBA, MLB, and NHL.
The state's professional sports teams have been Super Bowl winners, NBA champions, and Stanley Cup championships.
Both states do have NASCAR races. Daytona International Speedway in Daytona Beach, Florida, hosts the Daytona 500, while Darlington Raceway in Darlington, South Carolina, hosts the Bojangles' Southern 500.
South Carolina lacks major league professional sports teams. It does have a strong funnel system presence for Minor League Baseball: Charleston RiverDogs, Columbia Fireflies, Greenville Drive, and Myrtle Beach Pelicans.
In terms of college sports, the University of Florida Gators and the Florida State University Seminoles compete in NCAA Division I athletics, facing the University of South Carolina Gamecocks and the Clemson University Tigers.
Culture
Both states offer a diverse range of cultural experiences.
You may visit Disney World, SeaWorld, Busch Gardens, or Universal Studios in Florida. The Everglades and many lovely beaches are available to nature enthusiasts. The state also has the Kennedy Space Center, where you can learn about space exploration, tour the facilities, and view rocket launches.
Florida divides into distinct areas with unique personalities. Friendliness, sweet tea, and southern cuisine customs are examples of northern and Panhandle regions' Southern hospitality culture. The Miami metropolis has a vibrant Latino culture reflected in architecture, music, cuisine, and language spoken. Tampa and Naples have a more beach town feel. Florida boasts diversity in arts and culture from Key West to Pensacola.
South Carolina is known for their Southern hospitality and charm. The state claims to be the home of sweet tea and barbecue. Many plantations offer tours and opportunities to learn about the state's history.
Choosing between Florida and South Carolina
Both states offer an excellent quality of life, so it really boils down to personal preference. Florida is the place for you if you're looking for year-round warm weather. If you prefer a slower pace and charming Southern hospitality, South Carolina may be a better fit. No matter which state you choose, you're sure to enjoy all that it has to offer! And if you're still not sure, why not compare to Georgia?