Florida Vs Georgia: Which Is The Better State?
Posted by Preston Guyton on Friday, September 30, 2022 at 8:02 AM
By Preston Guyton / September 30, 2022
Comment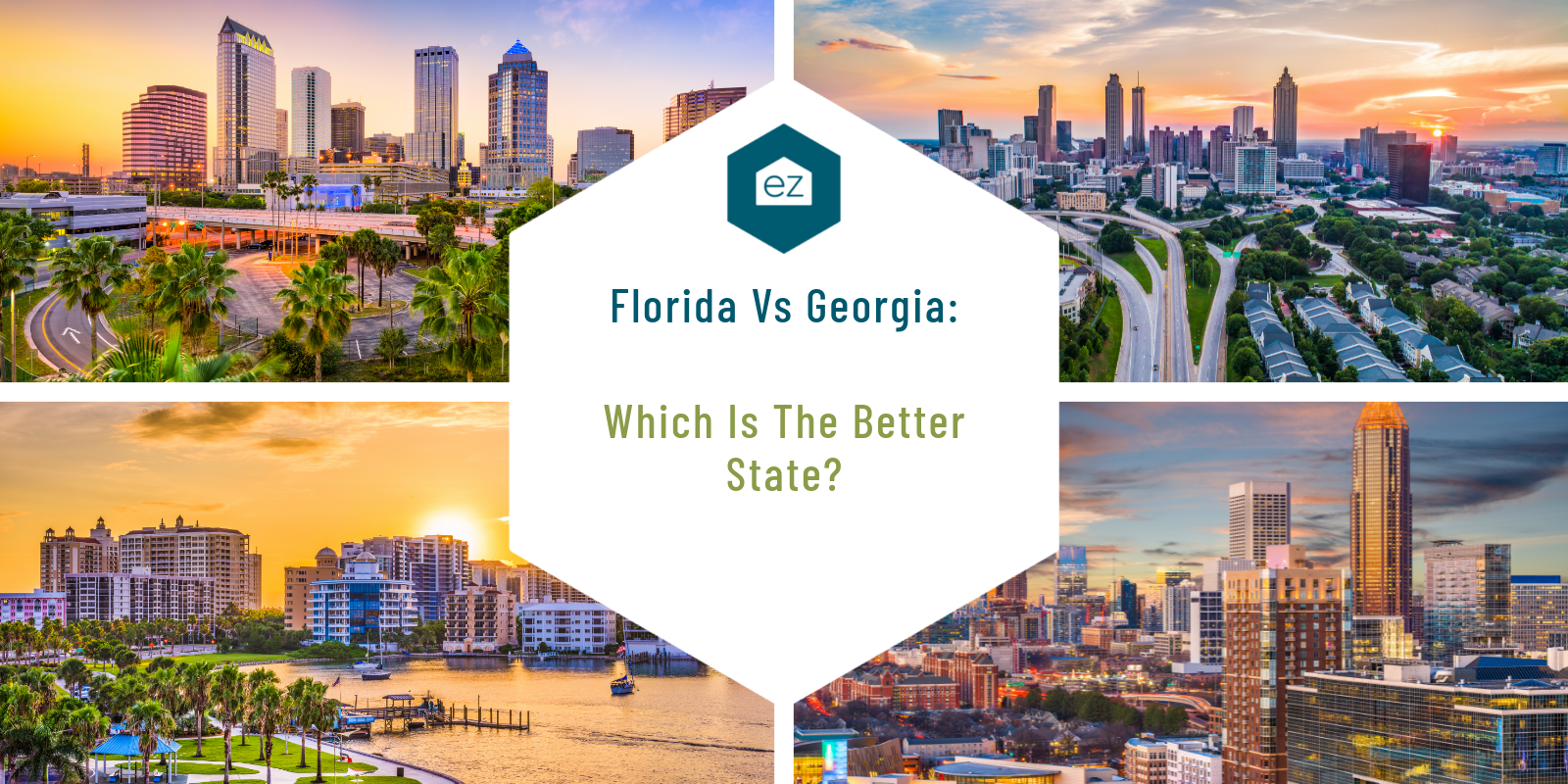 Florida Vs Georgia: Which Is The Better State?
When choosing a place to live, there are many factors to consider. Do you want to be in a big city or a smaller town? Are you looking for good schools or outdoor recreation? What about taxes and the job market?
Two states that offer a lot of variety in these areas are Florida and Georgia. So, which is the better state? Let's examine some of the key differences between these two states.
Cost of living
When it comes to overall affordable living, Georgia beats Florida, especially when it comes to housing costs.
Sperling's Best Places is the standard for measuring the cost of living, with 100 as the national average. Any scores above 100 show that an area is more expensive, while anything below means it costs less to live there.
Georgia has an overall score of 93.4, about 10% less than Florida's 102.8.
This means that, on average, living in Georgia is slightly more affordable than living in Florida.
| | | |
| --- | --- | --- |
| | Florida | Georgia |
| Population | 21.2 million | 10.7 million |
| Median Property Value | $378.104 | $306,113 |
| Median Household Income | $57,703 | $61,224 |
| Homeownership Rate | 67% | 64% |
| Overall | 103.1 | 93.4 |
| Grocery | 102.8 | 95.5 |
| Health | 102.3 | 95.5 |
| Housing | 101.1 | 80.7 |
| Utilities | 101.3 | 103.2 |
| Transportation | 112.6 | 105.1 |
| Miscellaneous | 87.6 | 94.8 |
Population growth
It's debatable whether a growing population is good or bad. On the one hand, a larger population benefits the economy and provides access to more facilities. On the other side, it results in more expensive goods, increased urbanization and land use, and higher living expenses.
Florida clearly has more residents than Georgia, and it is one of the fastest-growing states in the country. It ranked no. 6 with a 21% growth rate; however, Georgia ranked at no. 8, nipping at Florida's heels, also with a 21% growth rate.
Florida added over 2.7 million residents from 2010 to 2020, for 21.2 million residents by April 2020 Census. That state had:
18 and under: 20%
65 and older: 21%
53% identified as white alone
17% as black or African American
27% as Latino
Florida's population skews older, but it does have diversified backgrounds. The most populated counties were concentrated in southeast Florida: Miami-Dade, Broward, and Palm Beach Counties.
From 2010 to 2020, Georgia added 1.1M residents for a total of 10,711,908 people. The state had:
18 and under: 23%
65 and older: 15%
51% identified as white alone,
33% identified as black or African American
10% identified as Latino
Georgia residents tend to be younger, and its residents have diverse representation. Its most populated counties were concentrated around the Atlanta metro: Fulton, Gwinett, DeKalb, and Cobb Counties.
Outdoor Recreation
Both states have plenty of opportunities for outdoor recreation, but they offer different experiences.
Florida is well-known for its beaches and its warm weather. Hundreds of miles of shoreline provide ample ocean water access–not to mention the spring-fed rivers and countless lakes. There are endless opportunities for swimming, fishing, and other water activities.
The state has over 175 state-run parks and nature preserves where you can hike, bike, swim, boat, or camp. Another 11 national parks are here, including the Everglades National Park and the historic Castillo de San Marcos in St. Augustine.
While many think of Florida's beaches, the state also has expansive wilderness. The Ocala National Forest has four federally recognized wilderness areas. There's also Apalachicola National Forest, Osceola National Forest, and the Okefenokee Swamp.
Georgia offers ample opportunities to connect with nature with over 800 miles of hiking trails and 60 state parks. Popular spots include Chattahoochee-Oconee National Forest, Cloudland Canyon State Park, Stone Mountain Park, and the largest park in the state, F.D. Roosevelt State Park.
Bicycles are popular in Atlanta, where there are miles of bike trails, including the Silver Comet Line, Atlanta BeltLine, Six-Gap Classic, and Sylvania Cruise.
For those who enjoy lake life, Georgia offers over 15 lakes, including Lake Lanier, the state's largest artificial lake. The Chattahoochee, Savannah, Oconee, and Altamaha rivers provide fresh water to the lakes in Georgia. Its waterways offer world-class whitewater rafting, fly fishing, and other water activities.
Education
Florida topped Georgia in the US News and World Report regarding public school systems. Florida's education system came in no. 3 in the nation, with the public K-12 schools as the no. 16 in the country, while Georgia's came in as no. 16 in 2022. Higher education was no. 1.
| | | |
| --- | --- | --- |
| | Georgia* | Florida** |
| No. of Students | 1,686,318 | 2,834,000 |
| No. of Schools | 2,306 | 4,300 |
| No. of School Districts | 219 | 67 |
| Graduation Rate | 84% | 90% |
| No. of Teachers | 119,492 | 337,792 |
| Avg Teacher/Student Ratio | 15:1 | 17:1 |
| Amount Spent per student | $9,015 | $9,075 |
*Figures are from 2021-2022, except the graduation rate which is from 2020.
**Figures are from 2018-2019, except the graduation rate which is 2021.
Florida's top higher education institutions include the University of Florida, Florida State University, and the University of Miami. Other top schools include the University of Central Florida and the University of South Florida.
For Georgia, which the report ranked no. 19, well-known colleges are Emory University, Georgia Tech, and the University of Georgia.
City Living
Florida has no shortage of exciting and highly desirable major cities to call home. A closer look at the unique opportunities in each significant Florida city:
Miami is known for its nightlife, beaches, and Latin American influence. The city's economy is driven by international business, tourism, trade, and banking.
Many people know Orlando for its theme parks, but the city offers much more. In addition to being home to Universal Studios and Walt Disney World, Orlando is a major center for business and tourism. The city's economy is also driven by science, technology, and aviation.
Tampa is a major center for business, especially in finance, insurance, and shipping. The city is also known for its beautiful waterfront area, which features parks, museums, and restaurants.
Other major cities in Florida include Jacksonville, Pensacola, St Petersburg, Sarasota, and Naples.
Georgia also has several major cities that offer a variety of different lifestyles. Atlanta is the state's capital and largest city, offering residents a wealth of job opportunities.
Atlanta is unsurprisingly a hub for business and culture. With benefits like historical museums, arts and culture attractions, live music venues, outstanding restaurants, and professional sports teams - it's no wonder over six million people choose to reside in the greater metropolitan area!
Climate
Florida has a humid subtropical climate, while Georgia has a humid continental climate. This means that Florida is generally warmer and more humid than Georgia.
Thunderstorms with significant rain, wind, and lightning can pop up in minutes during the humid summer season. Florida experiences an average of 60 days of thunderstorms per year, while Georgia experiences an average of 80 days of thunderstorms per year. The southernmost state may be nicknamed "the Sunshine State," but it's also the lightning capital of the US, averaging 223 strikes per square mile.
Both states experience hurricanes, but Florida is more vulnerable to hurricanes than Georgia. Being surrounded by water, the state is especially prone to tropical events during busy years, even if the storm doesn't make landfall. The hurricane season typically runs from June 1 to November 30.
Real Estate Taxes
The average effective property tax rate in Florida is 0.86%, below the 2022 national average of 1.07%. This means that homeowners in Florida pay an average of $2,035 in property taxes. The rates vary as they are set by the local county.
Homeowners do have various homestead exemptions on primary residences. The first $25,000 exemption applies to all taxes; another $50,000 applies to non-school taxes. There are more exemptions for widowers, senior citizens, disabled persons, and veterans.
Georgia property taxes are calculated at 40% of the property's assessed value. However, if they qualify, homeowners can receive a $2,000 homestead exemption for their primary residence. Tax rates are set annually by the local Board of County Commissioners. The term "mil" refers to $1 per every $1,000 in value, or 0.001%. For perspective, last year's median tax rate was only 0.83%.
Taxes for Retirees
Florida is known as a retirement destination. Besides the warm weather and more affordable housing, Florida's taxation laws make it advantageous to be a state resident, such as having no personal income tax.
In Florida, individuals age 65 and older who meet the residency requirements do not have to pay state taxes on their pension and retirement income. Social security benefits are also exempt from state taxes. Other benefits: no inheritance tax or estate tax. Assets held in IRAs or similar accounts are also exempt from debt collection–if you're a permanent resident.
On the other hand, retirees in Georgia aren't all that bad off. Georgia topped Bankrate's list of the best state for retirees in 2021, thanks partly to economic factors like tax regulations. Some of its advantages:
No tax on Social Security payments
Individuals aged 65 and older have an up to $65,000 exemption on all types of retirement income.
Some low-income individuals over 65 may qualify to double their homestead exemption.
There is a special exemption for property values for individuals 62 and older and with lower income.
Job Market
The state's tax incentives have captured the film industry. It is now known as the "Hollywood of the South." In addition, Georgia has strong healthcare, retail, and manufacturing sectors. Grady Health System, Emory Healthcare, Hartsfield-Jackson Atlanta International Airport, Fulton County Schools, and Children's Healthcare of Atlanta are Georgia's top employers.
Florida's job market is equally impressive. The August 2022 unemployment rate was 2.7% compared to the nation's 3.7%. The state's top industries are healthcare, tourism, hospitality, construction, and professional services. Some of the top employers in Florida include Walt Disney World Resort, Publix Super Markets, Miami-Dade County Public Schools, The Home Depot, Broward County Schools, and the Department of Veterans Affairs (Healthcare).
Sports
Both states have teams in the four major professional sports leagues: NFL, NBA, MLB, and NHL. The local teams are:
Georgia: Atlanta Falcons (NFL), Atlanta Hawks (NBA), Atlanta Braves (MLBA), Atlanta United FC (MLS), Atlanta Thrashers (NHL)
Florida: Miami Dolphins (NFL), Miami Heat (NBA), Miami Marlins (MLBA), Tampa Bay Rays (MLBA), Tampa Bay Buccaneers (NFL), Tampa Bay Lightning (NHL), Jacksonville Jaguars (NFL), Florida Panthers (NHL), Orlando Magic (NBA).
The states' professional sports teams have been Super Bowl winners, NBA champions, and Stanley Cup championships. In terms of the number of teams, Florida has Georgia beat, but both have quality programs.
Both states have fierce sports rivalries in the SEC. For instance, The University of Florida Gators and the University of Georgia Bulldogs have a long-standing rivalry so intense they do not play their games at their respective colleges' home fields.
Culture
Both states offer a diverse range of cultural experiences.
You can find attractions like Disney World, SeaWorld, and Universal Studios in Florida. There are the Everglades and dozens of beautiful beaches for the nature lover. The state is also home to the Kennedy Space Center, where you can learn about space exploration and even tour the facilities.
Florida's regions have distinct personalities. Locals say, "In Florida, you drive north to get to the South." In other words, the northern and Panhandle regions have a Southern hospitality culture, with friendliness, sweet tea, and southern cooking traditions. The Miami area's vibrant Latino culture is captured in the architecture, music, food, and language spoken. Other parts of the state, like Tampa and St. Petersburg, have a more beach town vibe. From Key West to Pensacola, Florida truly has a diverse culture.
Georgia also has a wide array of cultural experiences to offer. The state is home to the world's largest aquarium, the Georgia Aquarium, and the Martin Luther King Jr. National Historic Site. For music lovers, there's the Grammy Museum Atlanta and the Fox Theatre, which hosts performances by both local and touring acts.
If you venture outside the big cities, you'll find that locals have a thick southern drawl. Family values are important to Georgians, as well as being hospitable visitors. To them, life moves at a slower pace compared to other parts of the world.
Choosing between Florida and Georgia
Both states offer an excellent quality of life, so it really boils down to personal preference. If you want sunshine and beaches, Florida is the place for you. But if you're looking for a slower-paced lifestyle with friendly locals, then Georgia may be a better fit. Each state has enough diversity in people and places to have a culture that fits what you're looking for.