EZ Home Search Guide to Living in Iredell County, NC
Posted by Preston Guyton on Saturday, December 25, 2021 at 7:03 PM
By Preston Guyton / December 25, 2021
Comment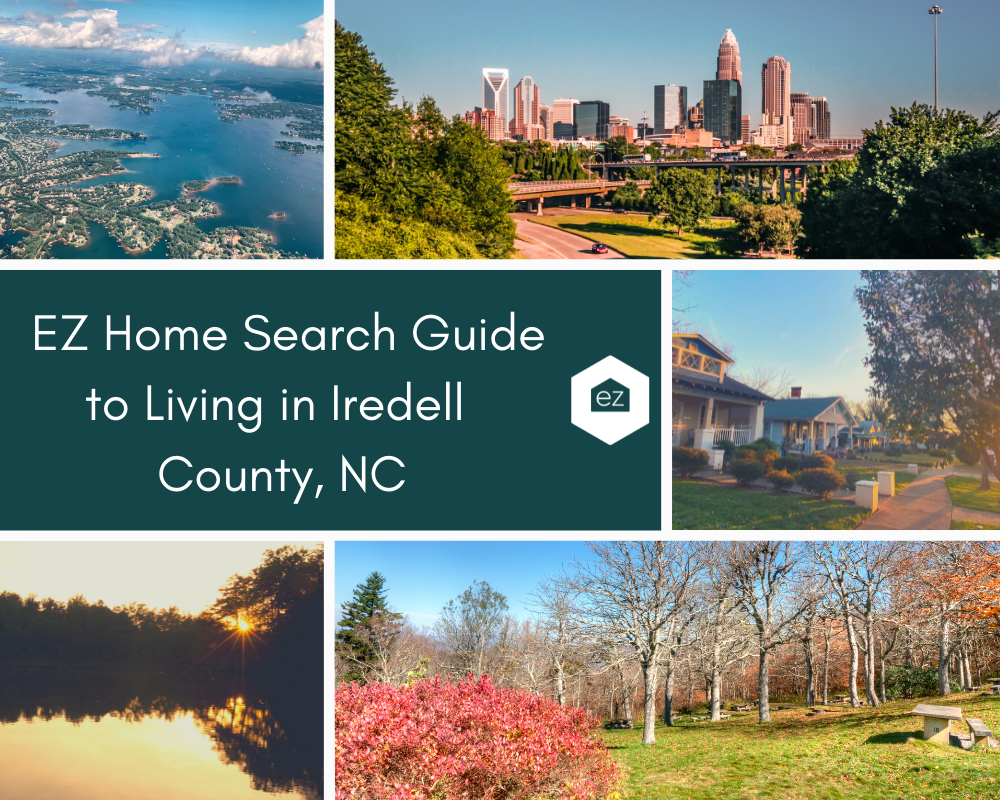 EZ Home Search Guide to Living in Iredell, NC
Iredell County is a welcoming place to live in North Carolina. From lakeside to the countryside, you will find thriving communities. Located just north of Charlotte, NC, Iredell residents benefit from an affordable cost of living, outdoor recreation at the state's largest lake, and an excellent school system.
Learn about Iredell County, its amenities, and what life is like in this central area of North Carolina.
About Iredell County
Iredell is located in the Piedmont region, meaning you'll find farmlands and scenic countryside. The Catawba River is along most of the western border. It has been dammed to create Lake Norman, the largest man-made lake in the state. This "inland sea" draws residents and tourists to the county.
The Ridge of the Brushy Mountains extends into the northwest corner. It's here you'll find Fox Mountain, the county's highest point at 1,760 ft.
Iredell is surrounded by Mecklenburg, Rowan, Cabarrus, Lincoln, Catawba, Alexander, Wilkes, Davie, and Yadkin Counties.
The southern end of Iredell is developed and acts as a suburb of the Charlotte region. The north remains more rural, with farming and small-town communities with deep roots. Residents can easily drive to Charlotte or Winston-Salem, located about 40 miles away. Asheville is 90 miles, and Greensboro is 60 miles away.
The annual average temperature is 60F, and Iredell County receives around 55 inches of precipitation in a year. About nine inches of that is snowfall.
Living in Iredell County does seem to have a higher cost of living than the North Carolina average. The Best Places Index sets the United States average at 100. North Carolina scores 90.6, but Iredell scores an overall 97.1, meaning it is more affordable than most places in the nation. Of the index categories, health care was the most expensive while housing was the least costly.
Iredell County History
The area's original inhabitants were the Cherokee and Catawba Indians. Fort Dobbs was constructed in 1756 during the French and Indian War. It is the last remaining historic site commemorating the war before the American Revolution in the state. The fort was built to protect the European settlers in the western North Carolina wilderness.
Iredell County was founded in 1788 from nearby Rowan County. It was named after the Attorney General of North Carolina during the American Revolution. Statesville was established as the county seat.
The soil has always been important in Iredell County. It's what drew people to settle and begin farming in the region.
Railroad construction commenced in the middle of the 1800s, bringing economic growth into the area. Several railroads cross through Iredell County, increasing the trade flow in the area. Tobacco, herbarium, and liquor business prospered in Iredell. The Wallace Herbarium became the largest facility of its kind during the railroad boom.
Iredell escaped significant action during the American Civil War, although it did supply a large number of troops for the Confederate forces.
Iredell County Cities and Areas
The northern region is more rural and dotted with small-town communities between picturesque farmland. The southern region near Lake Norman is urbanized.
The town of Mooresville in the southern part of Iredell County lies about 25 miles north of Charlotte. Essentially, it is like a suburb of the city. The downtown area has a thriving scene with shops, dining, and small businesses. Nearby are headquarters to various operations such as Team Penske, Green Works, and Lowe's Companies.
Statesville in the central area is the county seat. The town was built off of whiskey and medicine. The modern city sits at the intersection of Interstates 40 and 77. It also has headquarters for major brands and a walkable downtown area. In 2021, it was accredited as a Main Street America community.
Troutman is located about 35 miles north of Charlotte. Here residents have a small-town feeling but are still close to essential manufacturers. Residents have an average age of 38, giving it a youthful and progressive feel.
Love Valley is known for being a horse community. This family-oriented camping resort town has miles of trails for people to explore.
The other small towns incorporated inside Iredell County are Harmony and Union Grove. These small towns are in the northern reaches.
Iredell County Job Market
In December 2021, Iredell County had a 3.5% unemployment rate. The average worker had a $1,140 average weekly wage.
The leading employing industries based on the number of persons employed are manufacturing, retail trade, and health care and social assistance. Accommodation and food service, construction, and educational services also have significant representation.
The companies with the most employees were Lowe's Companies, Iredell-Statesville School System, Iredell Memorial Hospital, Iredell County, Food Lion, Walmart, Piedmont Healthcare, Mooresville Graded School System, NGK Ceramics, and Bestco.
The top manufacturers in the county included NGK Ceramics, Kewaunee Scientific Corporation, Doosan, Engineered Sintered Components, and DENSO.
Residents reported the average travel time to work was 26 minutes.
Iredell County Real Estate Market
Data from October 2021 shows Iredell County's real estate market had a median sale price of $355,000, an 18% increase from October 2020. The months' supply of inventory was one month, a 38% reduction year-over-year. Homes were on the market an average of 17 days until sale.
Iredell's median sale prices have been rising since 2012 and have doubled over the last ten years. Median home values took a more robust increase starting in mid-2019, passing the $300,000 benchmark near January 2021.
Approximately 62% of Iredell County's residents lived in an urban area.
Looking closer at Mooresville, median sale prices were $409,380 in the October 2021 report. This was an 18% increase year-over-year. Homes were on the market an average of 13 days until sale, a 72% drop. New listings in Mooresville were down for the month and year-to-date, and the city had less than a month's supply of inventory. Median sale prices in Mooresville tended to be higher than the Charlotte metro region, with significant increases starting late 2019.
In Statesville, the median sale price was $267,850, a 33% year-over-year increase. The average home was on the market for 21 days until sale. The months' supply of inventory is 1.3 months. New listings in Statesville were up for the month and the year.
Iredell County residents paid a $0.5375 property tax rate. Values were last assessed in 2019 and will be re-valued in 2023.
Iredell County Population
Iredell County experienced significant population growth from the 2010 to 2020 census. The April 2020 count found 186,693 people residing in Iredell, a 15% increase over the decade. By 2030, North Carolina projects a 13% growth in population to around 207,217 residents.
The median age of a resident was 40 years old. Around 25% of the population was under 18, and 16% was over 65. About 15% of the population was in the 45- to 54-year-old age bracket.
Demographically, 75% of residents identified as white alone. Another 12% identified as African-American, while 8% identified as Hispanic or Latino.
Over 28% of persons 25 and older had earned at least a bachelor's degree or higher. The median household income was $60,955.
Iredell County Education and Colleges
Two public school districts serve Iredell County K-12 students.
Iredell-Statesville Schools has over 20,000 students, making it one of the larger school districts in the state. It operates 17 elementary schools, two K-12 schools, eight middle schools, seven high schools, two early college high schools, and two specialized career academies. Students have pathways in International Baccalaureate studies, virtual schools, Dual Language immersion, and career preparation.
Mooresville Graded School District educates over 6,000 students in PK-12. It's been a top ten district in North Carolina for academic achievement. The school district runs three elementary schools, two intermediate schools, one middle school, and one high school with an alternative learning academy, MIWAYE.
Families have 13 private schools to select from for K-12 education. Some top-ranked private schools are Cornerstone Christian Academy, Woodlawn School, and Southview Christian School. Around 69% of the private schools are religiously affiliated.
Mitchell Community College has been providing education in Statesville for over 150 years. It is a two-year school with a range of programs such as agribusiness technology and the fine arts. It also has an advanced integrated machining lab for manufacturing skills. The program options include public safety, health science, public service, and digital media technologies. One program is 49er Next, a pathway for students to transfer to UNC Charlotte for a bachelor's degree.
NASCAR Technical Institute is the exclusive education provider for NASCAR. It trains students in motorsport fundamentals. The Mooresville campus is the only one in the country to offer NASCAR endorsed training and everything from engines to fabrication and welding to pit crew essentials.
Iredell County Health Care
Residents benefit from three hospitals that provide convenient access to health care services.
The Iredell Health System is a not-for-profit community-focused group that runs the Iredell Memorial Hospital with 247 beds. Iredell County citizens own the building and grounds. The network also has 260 physicians on staff and a range of specialties. US News and World Report has ranked Iredell Memorial Hospital as "high performing" in the categories of heart attack, heart failure, and chronic obstructive pulmonary disease (COPD).
Some of its additional facilities include Iredell Home Health, Iredell Wound Care and Hyperbaric Center, and the Iredell Physician Network.
Davis Regional Medical Center in Statesville services Iredell and its surrounding neighbors. The Davis Regional Medical Center is a 144-bed acute hospital located from I-40. It holds accreditations and certifications from The Joint Commission, the American College of Cardiology, the American Institute of Minimally Invasive Surgery, and Healogics.
Lake Norman Regional Medical Center has a campus with a 123-bed hospital, orthopedic specialty center, women's center, and an outpatient surgery center. Its additional care services include cardiology, oncology, and surgical weight loss. The outpatient surgery center has a designation from the American Institute of Minimally Invasive Surgery Center of Excellence. The facility is just off of I-77 in Mooresville.
Another medical provider operating in the area is Piedmont Healthcare, a physician-owned multi-specialty group. It has over 50 locations and 200 physicians with multiple specialties.
Iredell County Things to Do
One of Iredell's claims to fame is its affiliation with NASCAR racing. Mooresville is known as Race City USA, as it is home to several NASCAR racing teams and motorsports suppliers. Local teams include Dale Earnhardt, Kyle Busch Motorsports, Rusty Wallace, Penske Racing, and Richard Petty Motorsports. Residents are pretty close to the Charlotte Motor Speedway near Concord.
For a slower pace, the rolling wooded landscape has you covered. The county has over 600 acres of parks with walking trails, playgrounds, tennis courts, baseball fields, and soccer complexes. Among these is the Statesville Greenway, part of the Carolina Thread Trail. It follows along Fourth Creek and has several access points.
If you like a good hometown festival, Iredell has you covered. Downtown Mooresville runs family-friendly events for the holidays in October and December. Another fun festival is the Mooresville Wiener Races that raise money for local pet rescue groups. The small town of Troutman has an Independence Day Parade and Festival complete with fireworks.
Golfers have nine courses to play in Iredell County. One is the award-winning Trump National Golf Club Charlotte near Mooresville, complete with views of Lake Norman. The courses near Statesville take advantage of the rolling hills and spectacular views.
Iredell County Local Attractions
Lake Norman is a huge draw, not just for visitors but for why people move to Iredell County. It has over 32,000 acres for boating and fishing activities. Off the water, there are miles of hiking along its shoreline. Lake Norman State Park has a 30-mile single-track mountain biking trail. The park also has a swim beach and a boat ramp.
North Carolina Auto Racing Hall Of Fame is where NASCAR fans can check out over 35 race cars dedicated to all kinds of racing. In addition to the museum, there is an art gallery and Visitor Center. Learn about all types of stock cars and drag racers in the stories behind them.
One renowned festival takes place in Union Grove. The Old Time Fiddlers and Bluegrass Festival hosts over 10,000 people for a convention and bluegrass competition at The VanHoy Farms Family Campground. Camping is available for festival attendees.
Carolina BalloonFest is the world's second-oldest hot air balloon festival. It hosts around 50 hot air balloons and their pilots each October. Approximately 40,000 people visit Statesville to watch them fly.
The Fort Dobbs Historic Site has an eighteenth-century log structure that replicates the outpost during the French and Indian War. The site occasionally hosts live reenactments and is the only historic site in North Carolina for this era.
The Iredell Museum in downtown Statesville shows highlights from the area's history and abroad. One of the more surprising items in its collection is a 3,000-year-old Egyptian mummy.
Iredell County Dining
While you will find chain restaurants, the real stars are the locally-owned restaurants and watering holes that give Iredell its unique flavor. Find some classic North Carolina barbecue, but you also have homespun ice cream and farm-to-table dining.
Downtown Mooresville has a vibrant cuisine scene. You can find food truck festivals and wine tastings throughout the warmer months. The Festival of Food Trucks starts in June and wraps up in October. It takes place on North Main Street from 5 to 8:30 pm. Eat and listen to live music.
Statesville has a collection of casual and fine-dining restaurants available for you to browse along its Main Street area. These include coffee shops, ice cream, a Colombian Bakery, a brewing company, and pizza.
Twice a year, you can experience downtown Mooresville Uncorked and Artsy. This event, held in the spring and the fall, offers wine bottles and growlers from multiple downtown businesses. Attendees get to dine on light appetizers and listen to live music. The festival also features local and regional artists along the Broad and Main Streets.
One unique feature of the local dining scene is the proliferation of scuppernong grapes. Picking this variety of muscadine is a popular activity in August and September. Several family-owned vineyards offer grape picking.
Iredell County Shopping
Downtown Mooresville is a thriving center with small-town shops, boutique stores, and dining experiences. Here you can browse stores selling everything from one-of-a-kind furniture to fine art. You can spend the entire day browsing handcrafted jewelry and antiques while stopping in at the local craft brewers or locally-owned restaurants.
The Statesville Main Street area has a collection of over 25 independent shops. The boutiques include a bridal store, a record store, sports, pottery, boutique fashion, motorsports, and jewelers.
The Lake Norman Antique Mall is 27,000 sq ft with over 200 vendors, antiques, and collectibles. The mall is in Mooresville.
Living in Iredell County
Iredell County places you in the heart of North Carolina. Residents live close to the state's largest lake and the urban amenities of Charlotte. You can choose to live in historic Statesville or Mooresville or opt for small-town living among the farmlands. With a robust school system, health care, and employment opportunities, Iredell is a great place to call home for all.