Best Summer Events in Wilmington, N.C.
Posted by Ashley Daniels on Wednesday, June 23, 2021 at 1:15 PM
By Ashley Daniels / June 23, 2021
Comment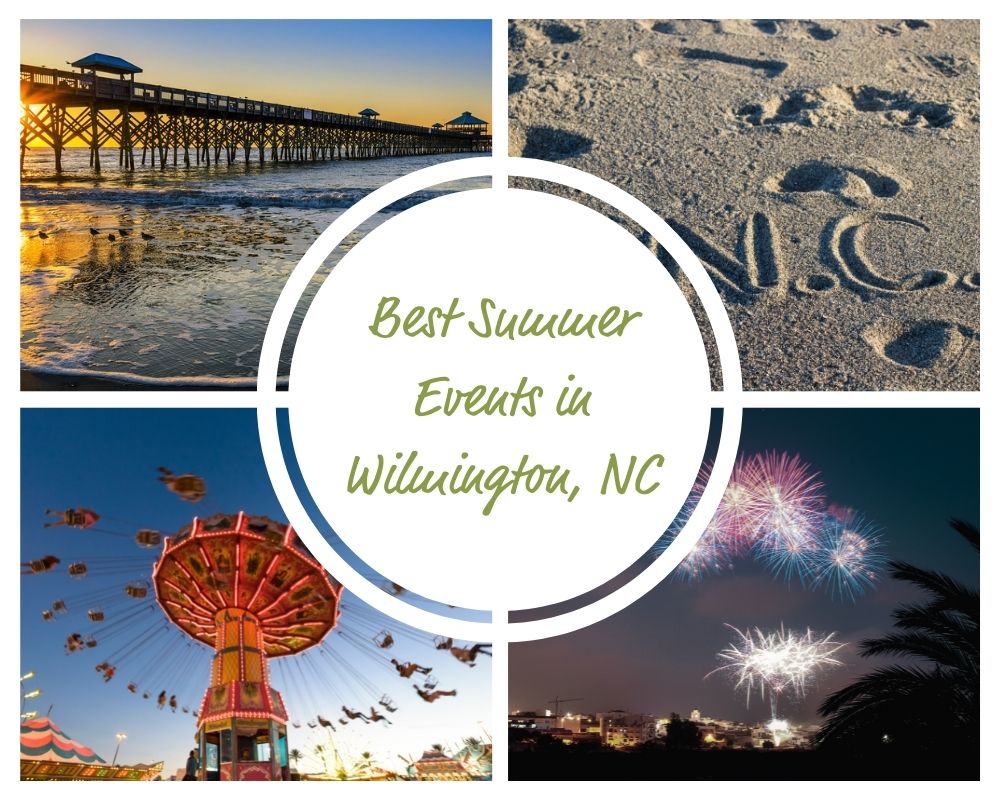 Welcome to Wilmington, N.C., a charming, historic riverfront port, where there's always something to do! And we've hand-picked the top events happening in town that you'll want to check out if you're visiting here or moving here.
Farmers' Markets
Tuesdays, Through Aug. 31, 8 a.m.-1 p.m. Kure Beach Market: Held at Kure Beach Ocean Front Park & Pavilion
Wednesdays, Through Sept. 29, 8 a.m.-1 p.m. Poplar Grove Farmers' Market: Held at: Poplar Grove Plantation
Saturdays, Through Oct. 2, 8 a.m.-1 p.m. Carolina Beach Farmers' Market: Held at Carolina Beach Lake Park
Saturdays, Through Nov. 20, 8 a.m.-1 p.m. Riverfront Farmers' Market: Held at Waterline Brewing Co.
Mondays, Through Dec. 13, 8 a.m.-1 p.m. Wrightsville Beach Farmers' Market: Held at Wrightsville Beach Parks & Recreation
Saturdays, Through Dec. 25, 8 a.m.-1 p.m. The Wilmington Farmers Market: Held at Tidal Creek Co-Op.
Through July 30, most games start at 7:05 p.m. Wilmington Sharks Baseball.
Take yourself out to the ballgame at the Legion Sports Complex, home to the Wilmington Sharks, defending Coastal Plain East League Champions. This season is also packed with plenty of special events on game nights, like fireworks.
Through Aug. 1, 10 a.m.-9 p.m. Translating Tradition.
The Cameron Art Museum in downtown Wilmington hosts an art show showcasing the history of plaster, with work on loan from the Institute of Classical Architecture and Art, works from renowned Architectural and Ornamental Master Foster Reeve, the Bellamy Mansion Museum and from the museum's permanent collection.
Through Aug. 30, 7-8 p.m. Turtle Talks at Kure Beach
Every Monday, at the Kure Beach Ocean Front Park & Pavilion, you'll get to learn about the local nesting sea turtles from the experts at the Pleasure Island Sea Turtle Project.
Through Sept. 4, 6-9 p.m. Riverfront Music Series.
It sounds like summertime at this annual series of live music concerts that takes place at the Marina Grill located within the Port City Marina on the north end of the Riverwalk. It's always a relaxing evening here enjoying the music, dancing and dining at this restaurant with breathtaking views of the river.
Through Sept. 5, 6-10 p.m. Sunday Reggae Festivus.
Guardian of the Vibe Summer Concerts returns this summer to the Lazy Pirate Island Sports Grill on Carolina Beach. The family-friendly, dog-friendly sports grill will showcase a variety reggae, roots, Cali rock and reggaeton, along with fun and games, and food and drink.
Through Sept. 9, 6:30-8 p.m. Summer Jazz Series at the Mansion.
On the second Thursday of the month throughout the summer, Bellamy Mansion Museum of History & Design in historic downtown Wilmington hosts a night of live, smooth jazz outdoors. Wine and beer are also available for purchase.
Through Sept. 13, 9 a.m.-5 p.m. Team Up! Explore Science and Sports.
Experiment with and test out the science of sports at this exhibit at the Cape Fear Museum of History and Science. You'll be amazed how the two connect through geometry, physics, force and friction in all of your favorite sports.
Through Sept. 17, 6-8 p.m. Airlie Gardens Summer Concert Series.
Dine and dance in the gardens this summer at this annual open lawn casual concert series. The family-friendly event features adult beverages, food and regular beverages for sale, or you can bring your own, along with your seating.
Through Sept. 19, 10 a.m.-12 p.m. History Comes Alive with Dr. Chris Fonvielle.
Climb aboard this two-hour cruise that explores Wilmington's history, including the Revolutionary War, Civil War, pirates and the shipping industry. Local historian Dr. Chris Fonvielle will serve as the tour guide.
Through Sept. 26, 4-8 p.m. Bluewater Summer Patio Sessions.
Every Sunday, the Bluewater Waterfront Grill invites you to take in some live music and views of the Waterway. Bands are subject to change.
Through Sept. 30, Oceanic Summer Music Series.
On Thursdays (6-9 p.m.) and Sundays (noon to 3 p.m.), enjoy live summer music on the pier of the Oceanic Restaurant in Wrightsville Beach.
Through Sept. 30, 10:30 a.m. and 1 p.m. Guided Battleship Tour: "6 for 60"
Take this newly designed 60-minute, twice monthly guided tours aboard the Battleship NORTH CAROLINA. Learn of her role in the Pacific during WWII as the most decorated U.S. battleship of that war.
Through Oct. 15. The Butterfly House at Airlie Gardens.
Airlie's open-air Butterfly House is a beautiful spectacle and home to butterflies native to North Carolina, like the Monarch, Gulf Fritillary, Common Buckeye, Black Swallowtail, Tiger Swallowtail (North Carolina's State Butterfly) and many more. Also linked to the house is the nearby Pollinator Garden, which is also a must-see, planted with flowering blooms.
Through Nov. 6, 10 a.m.-2 p.m. Black River Nature Cruises.
Cape Fear Riverboats hosts a four-hour river adventure. Narrated by naturalist Andy Wood, the tour will allow guests to enjoy views of the swamp forests from the water on the lower or upper deck of the boat. Beverages and snacks will be available for purchased from their fully stocked bar.
Through Dec. 17, 8 or 9 p.m. Night Tour at the Burgwin-Wright House and Gardens
You're in for a rare treat on this tour of Wilmington's historic Colonial landmark, guided by interpreters who will let you in on the stories and rituals of the past.
Through Dec. 19, 8 a.m.-7 p.m. Loop Through History.
Take a tour through the history of Wrightsville Beach and Harbor Island along 2.45 miles of the John Nesbitt Loop, the beach's sidewalk fitness trail. There are 25 unique signs posted with old photos and historic info; walk at your own pace on this self-guided tour.
Through Dec. 24, 6-9 p.m. Fourth Friday Gallery Nights.
Every fourth Friday of the month through the end of the year, Wilmington's galleries and studios will remain open after-hours for self-guided tours through a variety of exhibits. Admission is free; maps are available at all participating studios and the Arts Council of Wilmington.
June 18-27, 8 p.m. Shakespeare on the Green: A Very Midsummer Madness.
"To be or not to be … that is the question" that will be answered at this Shakespearean festival at the Greenfield Lake Amphitheater. Sit back and enjoy a compilation of the famous playwright's works, bring a blanket and picnic on the green.
June 24-Oct. 6, 3 and 8 p.m. Poplar Grove's Full & New Moon Ghost Tours.
Want to hunt down some ghosts? Poplar Grove Plantation is the place to be on each full moon or new moon evening this summer to possibly witness the presence of the deceased Foy family, who still appear in certain rooms of the house. A Scroll of the Dead that includes the names of family members who have passed on in the house will be provided. Cameras and electronic devices are welcome.
June 25 and 26, 9:30 a.m.-12:30 p.m. Mud Day.
The Children's Museum of Wilmington will host this messy celebration of all things mud. Kids can squish, stomp and slide in mud, make mud pies and more. (They'll want to wear a bathing suit or old clothes, a towel and change of clothes.)
June 25-27, 4-6 p.m. Wrightsville Beach Spearfishing Tournament.
This annual tournament features the best regional scuba an free divers competing in the sport of underwater fishing for three days. An awards celebration and the championship is crowned after the three daily weigh-ins. Location: Seapath Yacht Club.
June 26 and 27, 9 a.m. and 1 p.m. Cape Fear 7's Rugby Tournament.
Hundreds of the best rugby players from across the country will descend upon the Cape Fear Regional Soccer Complex to compete in this tourney, one of the nation's largest, most famous rugby tournaments in the nation.
June 29, 6 p.m. Tedeschi Trucks: Fireside Live Concert.
This lakeside concert under the stars features Derek Trucks and Susan Tedeschi, along with various members of Tedeschi Trucks Band (between four and seven musicians). Location: Greenfield Lake Amphitheater. Tickets are $85 day of and $75 in advance.
July 2, 6:30-9 p.m. Independence Day Fireworks by the Sea & Boardwalk Blast.
Carolina Beach is celebrating the Fourth early, with free fireworks by the sea! The live music starts at the Gazebo Stage at 6:30 p.m., with the Johnny Folsom 4, a tribute band playing songs from "The Man in Black". This is weather permitting and schedule is subject to change without notice. Please check their Website and Social Media for the latest updates.
July 3 and 4, 9 a.m.-12 p.m. Raise the Flag Event.
What better patriotic place to be then on deck of the Battleship NORTH CAROLINA, where the American flag is flown and where you will learn how to correctly fold and display this symbol of our country. The Friends of the Battleship will have flags available for a $40 donation or you can provide your own.
July 4, 7:30 a.m. Battle for Independence Road Race.
Be the first to cross the finish line on the fourth at this 5K or 1-mile race through the Pointe at Barclay along the scenic Gary Shell Cross City Trail. It's an event created to honor those who served our nation.
July 4, 9:05 p.m. (after dark). City of Wilmington 4th of July Fireworks.
What a spectacular fireworks display you will behold from Wilmington's Riverwalk that borders the city's historic downtown. Fireworks will be shot off a barge in the Cape Fear River near the Battleship NORTH CAROLINA.
July 8-Sept. 30, 6:30-9 p.m. Fireworks by the Sea & Boardwalk Blast.
You know it's summer when the Carolina Beach Boardwalk hosts its weekly fireworks display and live music concerts from the Gazebo stage. The music starts at 6:30 p.m.; fireworks blast off at 9 p.m. Food and drinks are available for purchase.
July 8-Dec. 31, Regular Garden Hours. It's Owl Good
Airlie Gardens hosts its 9th annual art exhibit displayed throughout the garden, with this year themed around – you guessed it – larger-than-life colorfully decorated owls, handcrafted by local talented artists.
July 9-Sept. 24, 6:30-8:30 p.m. Summer Concerts at Fort Fisher.
Free, family-friendly concerts are taking over the lawn of the Fort Fisher Air Force Base Recreation Area this summer on Fridays. Pack a picnic!
July 9-11, Varied Times. Annual East Coast "Got-Em-On" Classic King Mackerel Tournament.
Reel in some real action at this annual fishing tournament offshore Carolina Beach. Catch the scale weigh-ins each Friday, Saturday and Sunday afternoon after a long day on the water put in by all the competitors, followed by a celebration and awards ceremony Sunday.
July 10, 7 a.m. Tri-Span 5K and 10K
Pick a spot along Wilmington's Riverfront Park and cheer on runners participating in this oldest three-bridge 5K or 10K run/walk on the East Coast. The course crosses over Memorial Bridge and two more bridges before finishing on Water Street, with a short loop around the Battleship NORTH CAROLINA. Wheel chair-pushing athletes and those of all abilities are welcome to register.
July 12, Aug. 20, Sept. 22 and Oct. 18, Times Depend on Tides. Kayak & Yoga Excursion to Masonboro Island.
Get a breath of fresh air and a good workout as you take in the views from the water along the way to Masonboro Island. Cape Fear Adventure Company will guide your journey, starting with a kayak paddle to the uninhabited barrier island and, once ashore, lead an all-skill-level yoga session.
July 16-18, 6 and 7 p.m. Widespread Panic.
Don't miss this exciting outdoor concert at the Riverfront Park Amphitheater! Widespread Panic is known to sell out venues and festivals across the country for the last three decades – and this one will most likely be the same. But their shows are never the same!
July 30 and 31, 7 p.m. GRiZMAS in July Feature GRiZ
Also at the Riverfront Park Amphitheater will be the widely popular saxophone-playing GRiZ, alongside the Detroit-based DJ, Grant Kwiecinski.