7 Best Places to Live In Charleston, West Virginia
Posted by Preston Guyton on Friday, February 3, 2023 at 12:18:19 PM
By Preston Guyton / February 3, 2023
Comment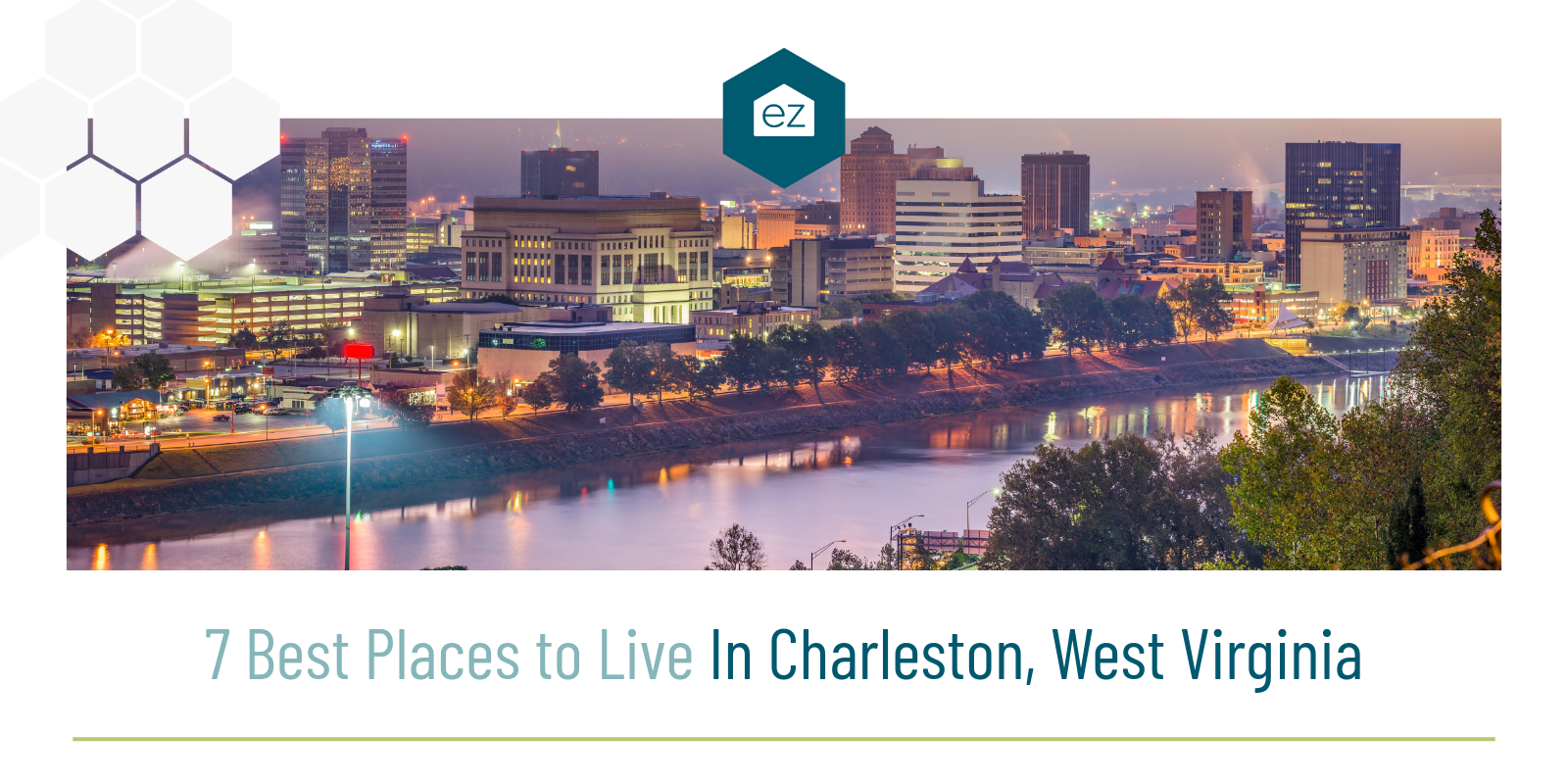 Best 7 Places to Live In Charleston, West Virginia
West Virginia's star as a great place to live is brightening. If you're thinking about calling the Mountain State home, start your search with Charleston. While it's the largest city in the state, you'll never feel crowded in Charleston, which has a unique, small-town culture.
From the state capital, you'll have access to outdoor activities like whitewater rafting and hiking. Not only is Charleston one of the most populous cities in the state, but has diverse job opportunities and a cultural scene with nightclubs, live music, breweries, and dining. In fact, many locals consider Charleston their ideal hometown, and with this combination of outdoor access and city fun, it's easy to see why!
Dive into why living in Charleston, WV could be just right for you. Get familiar with some of its top neighborhoods to start your home search.
Why live in Charleston, WV?
As the state and Kanawha County seat, Charleston stands out as West Virginia's most populated city. But don't be fooled, because it's not jam-packed with people and cars. The city limits only had around 50,000 people in 2021, making this more of a large town or a small city than a major metropolitan area.
By choosing to live in Charleston, you enjoy a four-season climate with snowy winters and mild summers tempered by the surrounding mountains. These same surrounding mountains make Charleston stunning each way you turn.
While mountain sports are accessible within a day trip, you don't have to leave the town to enjoy being outside. The Kanawha River runs through the town, providing a place for boating or walking along the riverfront. The city parks have playgrounds for the kids and sports fields for recreation.
As the state capital, you'll find a more diverse economy centered in Charleston. So while the whole state is very heavy in the mining and energy industries, here you can find a wealth of opportunities in education, healthcare, and government work. Best of all, the average commute to work is 16 minutes.
The town is one of the more progressive areas in West Virginia, thanks to being a state capital and a college town. University of Charleston near downtown and the West Virginia State University in the next-door Dunbar adds to the nightlife and activities in the region.
You'll also have a diverse dining scene with mom-and-pop cafes up to national chains, boutique shops, antique galleries, and fun festivals throughout the year. All of this comes with an overall cost of living of 19% under the national average.
Best Neighborhoods in Charleston, WV
If you're considering moving to West Virginia and making Charleston your home, you'll want to start your search in one of its best neighborhoods. We've included in-town neighborhoods and some of Charleston's suburbs in our list of top Charleston neighborhoods.
South Hills
Escape the hustle of the city at South Hills! This charming neighborhood is just across the Kanawha River from downtown, tucked away above a train station. Its iconic Sunrise Museum mansion is a long-time Charleston landmark. And, if you want one of the best views in Charleston, head up to the top of the Sunrise Carriage Trail.
Living in South Hills, you can relax among winding streets surrounded by a mix of classic older homes and newer additions. Homes are convenient to the trendy stores along Bridge Road, which feature some of the city's most unique boutique shops.
Some homes here go back to the 19th century and were built by some of the area's most prominent citizens. However, you will find a range of styles available. South Hills had 56 listings at a median price of $242,000 in February 2023.
East End
Home to the West Virginia State Capitol complex, this community is great because there's so much to do. Yes, you have many museums, but you're surrounded by iconic architecture and Charleston's art and culture scene. For instance, Mountain Stage has put on its live-recorded public radio show for 40 years from the State Culture Center.
East End provides activities for families, like the Avampato Discovery Museum with hands-on activities for the kids, from the WaterWorks splash area to the My Town exploration exhibit. And if you like professional sports, the closest version in the state is the Charleston Dirty Birds, which play from the GoMart ballpark in minor league baseball.
If you're hungry, don't worry. Visit the Capitol Farmers Market, a year-round indoor-outdoor market inside a century-old train station. Grab a bite to eat here or stop at one of the 25 and counting great restaurants featured in the East End area.
This is one of the first areas to develop in West Virginia, but it transformed over time from scattered farmland into urban development. This is reflected in the housing, which has different techniques and styles. You'll see everything from Greek revival to more of the craftsman style. East End had 30 homes for sale at a median list price of $165,000 in February 2023.
West Side
The historic West Side of Charleston lies across the Elk River and I-64 from downtown. Around 444 homes are on the National Register of Historic Places!
Families love the Magic Island Park with its splash pad, grassy fields perfect for picnicking or playing sports, and scenic walking trails along the Kanawha River. The Trestle Rail Trail project is currently in the works to create an urban route that will connect the area for pedestrian traffic.
The community is also well-rounded, with your daily needs being met at various retailers. There's an extensive collection of mom-and-pop places to eat. The original Big Boys was started here, and today it's a museum for Shoney's and Big Boys.
In the Luna Park Historic District along the river, named after where an amusement park once stood, find many historic homes that capture the architectural styles of that period. Real estate in the West Side represents the largest opportunity for redevelopment.
Kanawha City
Located south of downtown along a slight bend in the namesake river, Kanawha City is a neighborhood with a more indie, youthful feel. The tree-lined streets and neighborhood parks are part of the charm.
Some of which are walkable from the residences. For example, the Kanawha City community center has 17,000 ft.² under the roof for recreational activities available for public use. Includes a weight room, game room, and gymnasium. Outside there's a seasonal swimming pool, tennis courts, and basketball courts.
Residents can supply their daily needs at The Shops at Kanawha, including Kroger for grocery shopping and Gabriel Brothers for clothing and home goods. Inside the neighborhood are medical providers, financial centers, and schools. Besides these, find specialty retailers, like an independent pharmacy with an old-school diner and soda foundation. Other stores sell classic vinyl records.
Kanawha City has an active community association intent on preserving its village-like feel. In February 2023, Kanawha City had 41 listings at a median list price of $255,000.
South Charleston
Bordering the city limits is the neighboring town of South Charleston, home to 13,000 residents. With I-64 connecting the city to downtown Charleston, Appalachian Power Park, and the University of Charleston, it's easy to get around the Charleston metro from this town.
The town has a very suburban feel, from its community center with its full gymnasium, racquetball courts, and pool, to the ice-skating arena with a heated seating area and an arcade. Among the amenities, South Charleston has an 18-hole championship golf course, a 250-acre park with hiking trails, and playground, and a community theater. Five different shopping areas provide for your daily and specialty needs.
Several manufacturers are based in South Charleston, including Dow Chemical and Bayer Material Science.
The town's founding dates back a century, so the styles and lot sizes vary. South Charleston had 68 homes for sale in February 2023 at a median list price of $159,000.
Dunbar
Another local town founded on industry, Dunbar is a Charleston suburb town. Located west across the Kanawha River from South Charleston, Dunbar grew up around glass and bottling manufacturing plants. Its other claim to fame is the Gravely Plow invention.
For things to do, Wine Cellar Park awaits your exploration. Tour the historic walk-in stone wine cellars that date to before the Civil War. Walk the grounds around the beautiful seven-acre lake. Picture-perfect views await around every corner! The town also has a sports complex and a city park with a playground for the kids.
Dunbar prides itself on being a small town, with local diners and small shops to browse along Dunbar Avenue. Real estate varies in style and availability. In February 2023, it had 46 homes for sale at a median list price of $120,000.
Nitro
Just downriver from South Charleston, modern Nitro has a prime location between the metro suburbs. It prizes its family-friendly atmosphere and its fascinating history. Nitro dates back to a century ago when the United States faced a gunpowder production shortage before World War I. Nitro was built and run by the government to meet the need for gunpowder, hence the town's name. It became a boom town during the war, with the housing being sold to employees and locals afterward.
Thanks to its location along the Kanawha River, there are many recreational activities nearby. Besides boat access at Byrd Park, you can fish at Ridenour Lake, stocked with trout once a month. Visit the Living Memorial Park on 21st St. Browsing collectors and antique boutiques is a popular pastime with several vendors located together. For something with more flash, the Mardi Gras Casino and Resort is just off I-64.
Nitro had 28 homes for sale in February 2023 and a median list price of $135,000.
Living in Charleston, West Virginia
No matter which area of Charleston you decide is the best place for you, you'll still be close to the dining and entertainment amenities. With a short commute around town, you can listen to live music or at your local diner and never feel too far from home. You'll be surrounded by those gorgeous mountain views and can take a trip to whatever recreation you want. If you're interested in Charleston, WV, a local real estate agent can help you learn more about living here.