7 Best Places to Live in Alpharetta, Georgia
Posted by Preston Guyton on Tuesday, September 27, 2022 at 8:45 AM
By Preston Guyton / September 27, 2022
Comment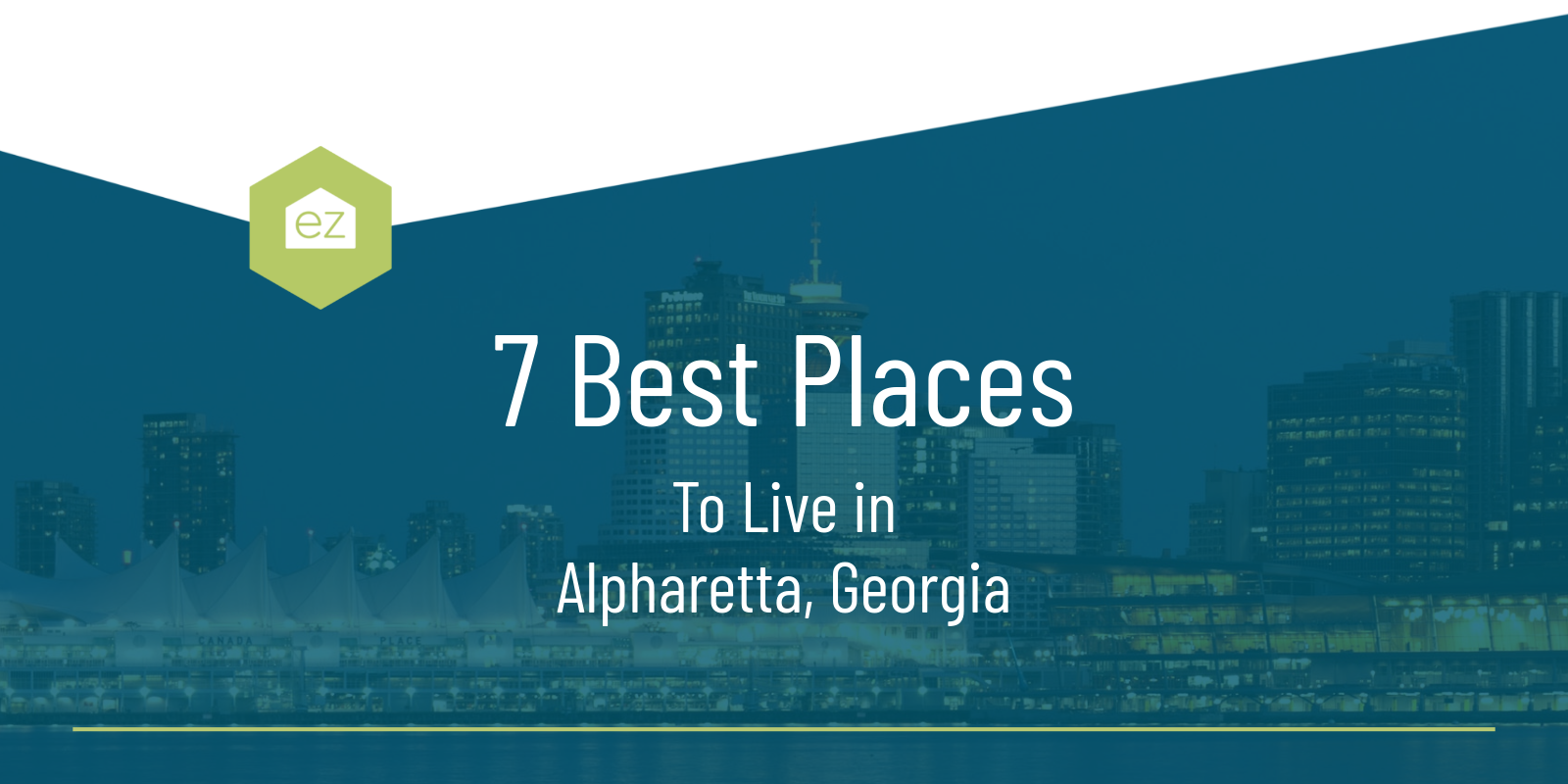 7 Best Places to Live in Alpharetta, Georgia
According to Money Magazine, Alpharetta, GA, is one of the best places to live in the country. The vibrant Southern city is home to well-regarded schools, a booming job market, excellent shopping districts, exciting events, and ample opportunities for community engagement. Development has emphasized the "live, work, play" lifestyle, where all you need is at your fingertips.
If Alpharetta doesn't have what you need (and chances are, it does), the amenities of Atlanta are less than 30 minutes drive away. No wonder Money Magazine ranks it as one of the nation's top 50 places to live.
Forbes' 7th friendliest city has grown 42% since 2000, with 65,000 residents due to sweeping new construction projects and economic development. We've included some of the best neighborhoods to consider in this already highly regarded place to live. If you're considering moving to Alpharetta, here is what you should know.
Why live in Alpharetta?
Alpharetta has been in existence since 1858. Like much of this part of the South, it was part of the Cotton Kingdom until just before the Great Depression struck. The invasive Boll Weevil destroyed much of Alpharetta's cotton crops. During WWII, when there was a need for food to support the troops, Alpharetta's economy recovered as farmers doubled down on raising cattle.
Farming may have rebooted its economy, but a prime location to Atlanta and an emphasis on building a live, work, play lifestyle has made Alpharetta one of the most desirable places to live in Georgia. The city is home to more than 700 businesses, including Fortune 500 companies like Verizon Wireless, ADP, and LexisNexis. The city's job market is diverse and growing, with opportunities in various industries. The city government has invested in many initiatives to attract companies, like Tech Alpharetta and building the Alpharetta Conference Center.
Alpharetta is an excellent place if you're looking for top-notch schools. The Fulton County public school system is highly rated and has been ranked on independent websites like Money Magazine. Milton High School has consistently ranked among the best in the state and has appeared on national lists. Private schools are also plentiful, offering families a range of educational options.
In addition to a strong job market and excellent schools, Alpharetta is also known for its vibrant shopping districts. The city's Avalon development is one of the largest mixed-use developments in the country, with more than 500,000 square feet of retail space. The development includes high-end stores like Anthropologie, Brooks Brothers, and lululemon, as well as restaurants, bars, a movie theater, and a live music venue. Downtown Alpharetta is also home to boutique shops and home-grown restaurants, making it the perfect place to spend a day exploring.
Several exciting events bring people into the city throughout the year. The Taste of Alpharetta draws more than 40,000 people each year, making it one of the largest food festivals in Georgia. The city also hosts the Alpharetta Arts Streetfest, an annual event that features live music, artists, and craftspeople.
Residents have many opportunities to get outdoors at the city's parks and green spaces. The city's parks and recreation department was a finalist for the 2017 National Gold Medal Awards for Excellence in Park and Recreation Management. Walking paths, playgrounds, sports fields, arboretums, and community parks are available throughout Alpharetta. One of the finest equestrian centers in the Southeast is Wills Park, which also has excellent sports and recreational facilities. Alpharetta's picturesque natural greenway system along Big Creek is popular with bikers and hikers of all ages.
When you live in Alpharetta, GA, you have everything you need at your fingertips. With its excellent schools, strong job market, and vibrant shopping and dining scene, it's no wonder Alpharetta is one of the best places to live in Georgia.
About Alpharetta real estate market
The Alpharetta real estate market is one of the hottest in Georgia and is an affluent market. Home prices have been rising steadily over the past few years, and the trend is expected to continue. The median list price for a home in Alpharetta was $699,000 in June 2022, with 837 listings. Homes were selling quickly, with the average home spending just an average of 35 days on the market.
Alpharetta has a range of architectural styles, from historic colonial homes to modern bungalow-style construction. Find single-family homes, custom estates, townhomes, and condominiums available throughout the city limits.
If you're thinking about buying a home in Alpharetta, now is a great time to do it. Prices are expected to continue to rise, so you'll want to get in while you can still find affordable homes. With its excellent schools, strong job market, and vibrant shopping and dining scene, Alpharetta is an ideal place to live.
The best neighborhoods in Alpharetta
When you're already living in one of the best places in the nation, it can be hard to figure out where to start your home search. Here are a few of the best places to live in Alpharetta to help:
Downtown Alpharetta City
Downtown Alpharetta is the city's vibrant center, home to shops, restaurants, bars, and live music venues. Many multi-family and multi-use options are available, like condos at Teasley Place, the residences at Alpharetta City Center, and the upcoming The Maxwell. The Old Milton area is a historic neighborhood where you can visit the city's museums and classic old buildings.
Prices in Old Milton range from $300,000 to over $1 million.
Avalon
Avalon is a mixed-use development with more than 500,000 sq ft of retail space. It's home to high-end stores like Arhaus, Crate & Barrel, and Marine Layer. Select from over 25 restaurants and bars, or visit the dog park, movie theater, or one of its live music venues.
Much of the available housing in Avalon are luxury apartments, but Avalon does have an exclusive development called Avalon Homes by Monte Hewett. This "courtyard" neighborhood has 25 single-family homes and 75 courtyard-attached residences.
Windward
Windward is a master-planned community of 3,000 acres boasting resort-style living around the 200-acre Lake Windward. Divided into 44 mini-communities, each with distinct character and pricing, residents can access the lifestyle they desire.
Amenities include the private Windward Lake Club, which has tennis and swimming facilities, the private Golf Club of Georgia, and numerous sports areas and pocket parks.
Residents have many social clubs thanks to an active HOA association. Prices range from $400,000 to over $4 million. The July 2022 market had 35 homes for sale with a median list price of $840,000.
Country Club of the South
This 900-acre private, gated community has 745 homes of various residential designs. Find anything from manor homes to grand estates. The 14 acres of common areas and treed preserve spaces add a park-like feel. Undeveloped lots are still available if you want to custom-build.
Residents enjoy amenities like a new recreation center, two basketball courts, seven tennis courts, three swimming pools, and two well-maintained playgrounds. These amenities are available without membership fees. The private Country Club, situated adjacent to the development, offers an 18-hole championship golf course as well as an expanded swimming and tennis center.
A full-time staff runs programming for the Country Club of the South HOA. Clubs and groups include a swim team, book club, bridge club, mahjong, Easter egg hunts, Halloween parades, and more.
In July 2022, eight homes were for sale with a median price of $2.4 million.
Shepherds Pond
The lovely Shepherds Pond neighborhood is an optimal location to call home. The community is built on rolling hills and has a prime location in Alpharetta. The 178 single-family homes are near the Big Creek Greenway for biking and walking. Residents have a pool, basketball, and tennis court in the community.
Blackwell Manor
The Blackwell Manor community is a small enclave of executive homes on the Forsyth County side of the border. It's located minutes from downtown Alpharetta and Avalon. The community has a junior Olympic-sized swimming pool.
Blackwell Manor was developed in the 2010s. The single-family houses typically range in size from 2,900 to 4,000 sq ft. They are often two stories with two to three-car garages, but some ranch designs were built.
Echelon
Interested in living in horse country? Echelon is a newer community of 450 single-family homes in North Georgia horse country. You have nearby equestrian facilities and the Echelon Golf Course, a top-ranked championship 18-hole golf course recognized as the no. 1 public golf course in metro Atlanta and no. 11 in the State of Georgia, according to GOLF Magazine.
The location near Georgia 400 is close to the major employment corridors and Alpharetta's shopping destinations.
Inside Echelon are 108 properties on rolling hills with mature hardwoods and pines. Residences have views of two lakes or a golf course. There is an HOA. July 2022 had 13 homes for sale, ranging from $160,000 for an acre lot to $2.5 million.
Living in Alpharetta
Alpharetta is a great place to live for families, young professionals, and retirees alike. With its excellent schools, strong job market, and vibrant shopping and dining scene, there's something for everyone. Prices are on the rise, so now is a great time to buy a home in this Georgia city. If you're still not sure, read on about moving to Alpharetta.