9 Best Neighborhoods to Live in Fort Lauderdale
Posted by Preston Guyton on Friday, December 2, 2022 at 11:00:47 AM
By Preston Guyton / December 2, 2022
Comment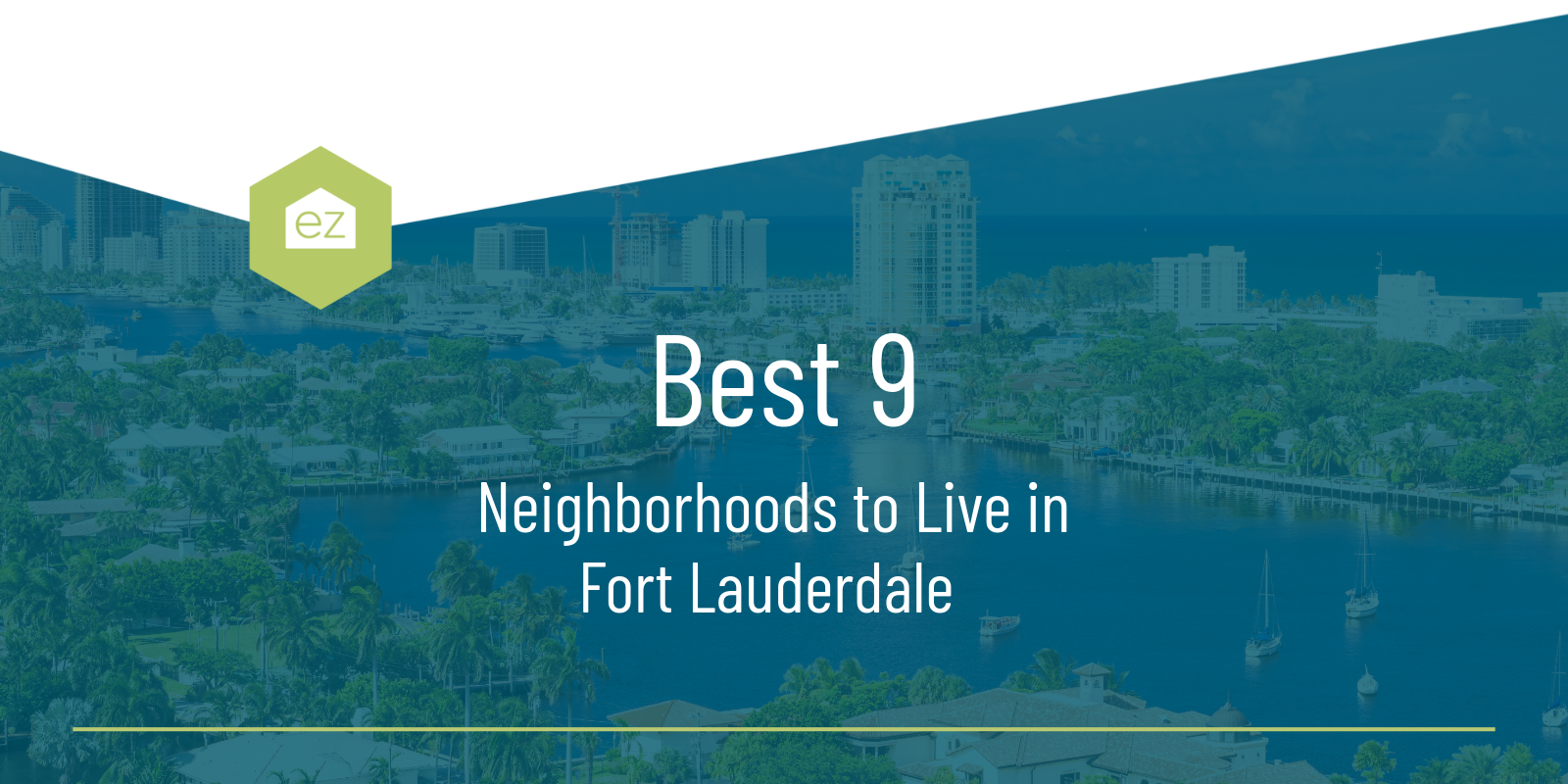 Best Neighborhoods to Live in Fort Lauderdale
Fort Lauderdale, Florida, is a renowned destination thanks to its stunning beaches, vibrant arts and culture scene, and diverse events. The city offers something for everyone, from shopping on Las Olas Boulevard to gondola rides on the picturesque canals to exploring the historic riverfront district. Situated on the Atlantic Coast north of Miami, Fort Lauderdale's seaside location and multiple waterways make it a boater's paradise.
Families who want to settle down will find Fort Lauderdale has plenty to offer, including a tropical climate, excellent beaches, and many activities for kids. Those same amenities make it popular with retirees and young professionals. As a bonus, it has a thriving economy and lower cost of living than other Florida oceanfront cities.
Not sure where to live in Fort Lauderdale? You're at the right place. Let's look at what to know about living in Fort Lauderdale and get our top picks for Fort Lauderdale's best neighborhoods.
About Fort Lauderdale
Fort Lauderdale is a beach city in Broward County, Florida. The city's population is over 180,000, and it is the seventh-largest in Florida. Its Fort Lauderdale International Boat Show is one of the largest boat shows in the world, running in October and celebrating 63 years in 2023.
Fort Lauderdale has a tropical wet and dry climate. The average high temperatures range from 76F-90F and lows from 49F-76F during the year. Summer months are the rainiest, with September averaging 15 days of rain. But don't worry; these usually aren't all-day washout rains but pop-up afternoon thunderstorms. However, as an Atlantic oceanfront town, it is vulnerable to tropical storms, so you'll need to be aware of that risk factor if you want to live near the waterfront.
Fort Lauderdale is known for its beautiful beaches, which are some of the best in the world. Visitors come for its sands, the cruise port terminal, and special events like the Boat Show.
The cost of living in Fort Lauderdale is higher than the national average (18%) and Florida's average (15%). Still, it's cheaper than cities like Miami. Much of the higher cost is because of the ample waterfront living opportunities.
The November 2022 market had 2,144 homes for sale with a median list price of $600,000. Fort Lauderdale has 72 neighborhoods to choose from, so which is right for you? Check out a few of our top picks:
Las Olas Isles
Not to be confused with the popular shopping district along Las Olas Boulevard, this residential community is part of the larger Venice area in Fort Lauderdale. Modeled after the Italian Venice, it is a series of peninsulas and canals, meaning you live on the waterfront in Las Olas Isles.
The famous shopping district runs across the isles. Top-tier shopping and dining are walkable from the residences. Locals hop on Las Olas Boulevard to either head to Fort Lauderdale's beaches or the mainland. After a day away, residents come home to the peace and quiet afforded by living on a residential peninsula.
The real attraction to Las Olas Isles is the waterfront out your door. Predominantly custom single-family homes, there are a few luxury condominium complexes. The median list price for the 24 homes for sale was $6.7 million in November 2022, and prices ranged from $419,500 to $35 million.
Central Beach
This is a desirable place to live thanks to its central location and access to the beautiful white sandy beaches. Central Beach is situated between Fort Lauderdale Beach and the Intracoastal Waterway, offering residents plenty of swimming, boating, fishing, and paddleboarding opportunities. Central Beach provides miles of coastline and boardwalk for residents to explore along the oceanfront.
If you are interested in experiencing authentic nightlife and a busy urban atmosphere, this beach town is for you. With a variety of events and attractions, there's always something to do here. Up and down A1A are beach boutiques, bars, clubs, and dining options.
Access Central Beach from Las Olas Boulevard (live minutes from the shopping district) or Sunrise Blvd. Up and down A1A are beach boutiques and dining options. The Hugh Taylor Birch State Park has walking trails and open green spaces just north.
Most of Central Beach's housing is condominiums of all sizes, styles, and pricing. The median list price in November 2022 was $939,900 for 149 homes, ranging from $240,000 to $15.5 million.
Harbordale
This desirable Fort Lauderdale neighborhood is located on the Stranahan River, with everything from colorful townhomes to luxury high-rise condos. Locals love the flourishing culinary scene—the neighborhood houses some of the best seafood restaurants in Fort Lauderdale—and its excellent schools, like Harbordale Elementary School, which has an A rating from Great Schools.
An in-neighborhood Publix Supermarket makes your grocery runs convenient. Fort Lauderdale Beach is a short drive away on Seabreeze Blvd, as are Las Olas Boulevard and the Fort Lauderdale Port Everglades Terminal. Living here, you can watch cruise ships and tankers come and go.
The median list price in November 2022 was $437,000, with 27 homes for sale. It had inland and waterfront properties available.
Victoria Park
Situated on the eastern side of town, Victoria Park is a historic neighborhood with a distinct character in Fort Lauderdale. This community developed in the early 1950s and embodies the old Florida allure while still having a modern edge.
Residents live in a central place in Fort Lauderdale. With the Intracoastal, Middle River, and Isles of Olas on the east, Sunrise Blvd on the north, and Federal Highway on the west, it's easy to get around to the city's best shopping, dining, and entertainment. The Galleria Mall and all of the activities at Las Olas Boulevard are a few minutes' drive, if not possibility bikeable.
The neighborhood has nearby access to five parks, including the large Holiday Park and Evert Tennis Center. Locals are also near the Broward Center for the Performing Arts, Parker Playhouse, and War Memorial Auditorium.
This area is home to around 10,000 residents and has a lively civic association. Homes mix restored 1950s-style single-family homes, newer townhomes, and other construction styles. There were 104 homes for sale in November 2022, with list prices ranging from $190K to $6M.
Sailboat Bend
This unique Fort Lauderdale neighborhood is one of the oldest in the city, established in 1905 along the New River. Sailboat Bend is a hidden gem, with easy access to the city's museums, concert venues, and parks. The riverfront at the Wharf Fort Lauderdale has a playground and plenty of space to have a picnic or take your dog for a walk. A nature preserve is being created by the city along the riverfront.
Despite its name, there are no sailboats in Sailboat Bend—the canals are too narrow. But you will see plenty of yachts docked along the New River that runs through the neighborhood. Fort Lauderdale's central business district is just minutes away on Las Olas Boulevard, as is Fort Lauderdale-Hollywood International Airport.
With stunning Art Deco homes on the inner blocks and chic condos along the riverfront, there's sure to be something that catches your eye. The November 2022 real estate market had 20 homes for sale with a median list price of $697,000.
Rio Vista
This boating community south of Downtown Fort Lauderdale has waterfront homes and yachts along the canals. The neighborhood's eastern side is filled with homes right off the water, allowing families to get their boats and yachts onto the river—and even to the ocean—in just a few minutes. Both the New River and Tarpon River run through Rio Vista.
In Rio Vista, residents have one of the city's safest neighborhoods. The Lauderdale Yacht Club is a gathering place for members and offers boat slips, private member dining, and events. Virginia Young Park has recreational space for walking the dog or enjoying the Florida sunshine.
Reach Fort Lauderdale Beach via Seabreeze Boulevard, or drive quickly to Las Olas Boulevard and the Port Everglades Terminal.
The median list price in November 2022 was $2 million, with 34 homes for sale. It had inland and waterfront properties available.
Flagler Village
This creative, urban community is one of Fort Lauderdale's up-and-coming neighborhoods. Located just north of Downtown, Flagler Village is known for its arts scene and nightlife.
The area has undergone extensive redevelopment recently, transforming the warehouses into an eclectic mix of new construction and old Florida charm. Inside the village is a growing selection of art galleries, dining options, and retailers.
With its central location, Flagler Village residents have easy access to all Fort Lauderdale offers. The Fort Lauderdale-Hollywood International Airport is just a few minutes away, as is Las Olas Boulevard and Fort Lauderdale Beach.
The neighborhood is also home to the Fat Village Arts District, which hosts monthly art walks and has galleries, warehouses converted into studios, and restaurants.
Most of the area's real estate options are condominiums and lofts.
Colee Hammock
Colee Hammock is known for its tree-lined streets and quaint cottages that give it a small-town feel. The neighborhood is located in the heart of Fort Lauderdale, minutes from the beach, Las Olas Boulevard, and Fort Lauderdale-Hollywood International Airport. The canals in Colee Hammock are popular with kayakers and paddle boarders who enjoy the peaceful waterways.
Las Olas Boulevard runs through the center of Colee Hammock, so residents live close to boutique shopping, great coffee shops, and popular entertainment venues. The neighborhood's 12-acre Colee Hammock Park has a playground, picnic pavilions, and a riverfront boardwalk. The park's recreational options include a heated swimming pool, tennis courts, and a fitness center.
Colee Hammock features exclusive and luxury condos, townhomes, and single-family homes on large lots. The area is quaint, reminiscent of old Florida, with many estate homes exhibiting classic Mediterranean architecture. Some homes have frontage on the New River. In November 2022, the median list price for homes was $1.4 million, with nine homes on the market.
Tarpon River
This one-square-mile neighborhood has several parks. Located just south of Downtown and the New River, residents can access various amenities like a community Publix, cultural center, and library.
There are coffee shops, restaurants, and fitness centers on Davie Blvd, Andrews Blvd, and the Avenue of the Arts. The community even has its own brewery and boat club.
Nearby Fort Lauderdale Executive Airport offers a convenient location for business travelers. At the same time, the Fort Lauderdale-Hollywood International Airport is just a short drive away.
The Tarpon River neighborhood is mainly made up of single-family homes from the 1950s. These houses range from two bedrooms to three bedrooms, and most are single-story. However, there are plenty of two-level homes and a few duplexes, bungalows, and apartments. In November 2022, the median list price for homes in Tarpon River was $624,900, with 53 homes on the market.
Living in Fort Lauderdale
Fort Lauderdale is a great place to live if you want access to beaches, boating, and restaurants. The city has a tropical climate and a higher-than-average cost of living. Don't let that deter you from your dream of a Florida waterfront lifestyle. No matter your budget or lifestyle, Fort Lauderdale has a neighborhood for you.