Alabama Vs. Florida–Which is the Better State?
Posted by Preston Guyton on Thursday, March 30, 2023 at 2:23:06 PM
By Preston Guyton / March 30, 2023
Comment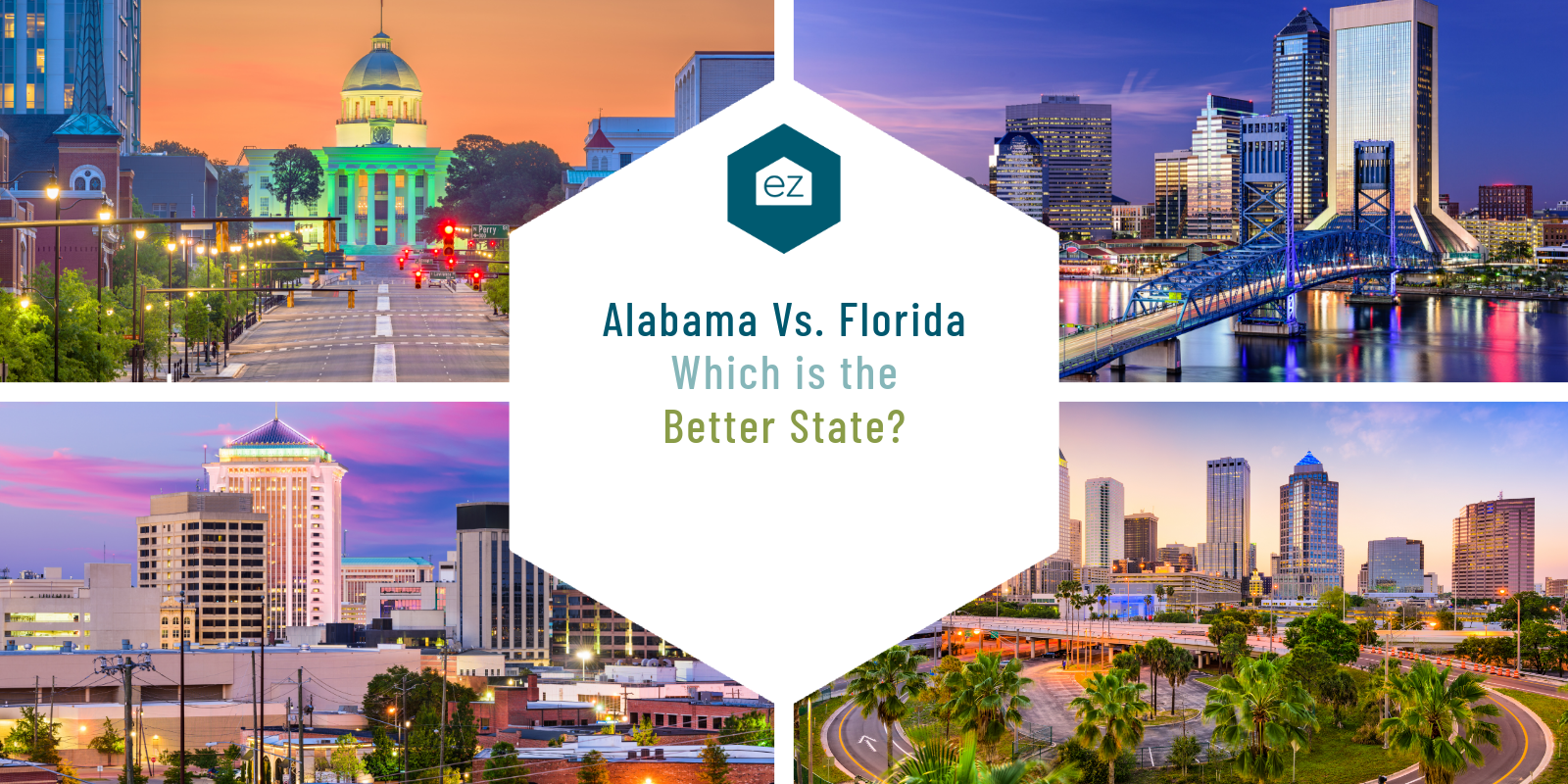 Alabama Vs. Florida–Which is the Better State?
Alabama and Florida are unique and wonderful states with their own strengths and weaknesses. But is one better than the other when it comes to calling it home?
Alabama has a rich history, delicious Southern cuisine, and friendly people. It's home to several beautiful state parks and natural attractions, but so is Florida. The Sunshine State has an equally warm climate but includes abundant beautiful beaches and a thriving tourism industry.
These characteristics give each state advantages and drawbacks when moving here and buying a home. Our side-by-side on factors like cost of living and real estate will show you how these two Southern states stack up.
Cost of living
Sperling's Best Places has developed a standard benchmark for measuring the cost of living, with 100 being the nation's average. A score over that indicates an area is more expensive than the going nationwide rate, while anything below hints at its affordability.
If you'd guess Alabama would be more affordable than Florida, you'd be right. It's no surprise that living in Alabama costs less than living in Florida, considering the population of Alabama is almost four times less than that of its neighboring state. Prices are naturally cheaper here because there's less demand for goods and services. Florida's ample waterfront real estate also pushes its prices up.
Take a look at how the expenses in these two states stack up. Remember that these are big-picture figures. Coastal Alabama will be more in line with Florida, and parts of Florida are less expensive than these figures.
| | | |
| --- | --- | --- |
| | Alabama | Florida |
| Population | 5.04 million | 21.2 million |
| Median Property Value | $207,145* | $378.104 |
| Median Household Income | $54,943 | $57,703 |
| Homeownership Rate | 67% | 67% |
| Overall | 84.1 | 103.1 |
| Grocery | 94.4 | 102.8 |
| Health | 118.9 | 102.3 |
| Housing | 56.6 | 101.1 |
| Utilities | 101.2 | 101.3 |
| Transportation | 85.9 | 112.6 |
| Miscellaneous | 71 | 87.6 |
*Based on January 2023
Population growth
Without a doubt, Florida is more packed with people than Alabama. What's more impressive is its rate of growth. At 21%, Florida ranked sixth among all states in terms of population increase in 2020. Over 2.7 million people were added to the state from 2010 to 2020. By any measure, this booming state shows remarkable signs of expansion! Retirees lead the way, and the state has an average age of 42.2 years, making it the fifth oldest state.
Despite a less rapid rate of expansion, Alabama's population is still growing. According to US Census records, between 2020 and 2022, its resident count increased by 1%, reaching an estimated 5.07 million people and an average age of 39.2 years old.
In 2021, Alabama's most heavily populated counties centered around its main cities: Birmingham, Huntsville, and Montgomery. Despite this, the most populated Jefferson County still had a relatively low metro population of 672,500. Compare that to Jacksonville, FL, which reported over 900,000 residents.
Real estate
With two unique states to choose from, you have a wealth of real estate options! Find golf course communities, active living centers, modern master-planned developments, and historic homes throughout these two states. Whether it's living in an energetic downtown, an affordable condo near the coast, or homesteading on your own farm, there is a lifestyle option for everyone.
Homebuyers looking for a place where their dollar goes further should consider buying in Alabama. For comparison, the national median sales price in Q4 2022 was $467,700. In Alabama, the median price in 2022 reached $228,434, a 7.4% year-over-year increase. The data shows Alabama is an affordable option that is slowly increasing in value.
As of 2022, Alabama had 1.7 months of inventory for existing homes, and the overall home sales were down by 17%.
Florida's home values rose more than any other state during 2022, up 17.2%. It was a reported $405,000 in December 2022. That's despite single-family home sales being down 18% and condo sales down almost 22%. The median price of a single-family home averaged $402,500 across 2022, up 15.7%. Florida had a 2.7 month supply of existing homes that year. However, if you want waterfront real estate, Florida is a good place to buy a home.
Real Estate Taxes
When it comes to real estate taxes, Alabama is the clear winner. In fact, only Hawaii has lower rates. On average, Alabamians pay an effective property tax rate of 0.46%, significantly less than the national 2022 average of 1.07%. Homeowners here typically owe just $585 per year for their residential property taxes. However, actual rates can vary depending on the home's location and valuation.
That's not to say Florida's property taxes are expensive. On average, Floridians pay $2,035 annually, but that's only 0.86% of their effective property value. While these rates vary by county and depend on local regulations, they remain low compared to other states across the nation. They're just higher than Alabama because of higher home values and millage rates.
Taxes for Retirees
Florida is renowned for its popularity among retirees. Not only does it boast warm weather and reasonably priced housing, but the Sunshine State has advantages in taxation laws, such as not having a personal income tax.
Not only are pension and retirement income exempt from state taxes, but Social Security benefits are too! Retirees also won't have to worry about an inheritance or estate tax. Plus, the assets held within IRAs or similar accounts will be safeguarded against debt collection if you're a permanent resident of Florida.
In Alabama, retirees benefit from a lack of taxes on Social Security benefits or pension income, but there is an income tax rate of 5% on 401(k)s and other accounts.
Job Market
Florida's job market is much stronger than Alabama's in terms of diversity and opportunity. As of February 2023, the unemployment rate was 2.6%, compared to a national average of 3.6%. Its gross domestic product (GDP) was the fourth-largest n the US, at $1.4 trillion in 2022.
The state's leading industries range from healthcare to hospitality and professional services with employers such as Walt Disney World Resort, Publix Super Markets, Miami-Dade County Public Schools, The Home Depot, Broward County Schools, and the Department of Veterans Affairs leading in their respective fields.
Alabama holds a position in the lower half of state economic rankings but does not rank amongst the bottom ten. With a robust manufacturing industry and $206 billion in GDP for 2021-2022 (growing 0.9%), this southern state holds its own against national averages. For example, unemployment was 2.5% in February 2023, better than Florida's rate.
Northern Alabama is a thriving region for the aviation industry, boasting prominent manufacturers like Lockheed Martin and Boeing. Cummins Research Park near Huntsville ranks as the second-largest technology park in America. Mobile's expansive port in the south makes it a logistics hub for the region, including nearby Florida.
Education
Florida is the hands-down winner in public K-12 education between the two states, says the US News and World Report. At no. 16 for K-12, it far outstrips Alabama's public K-12 schools ranked at no. 45.
That doesn't mean you can't find great schools in Alabama or that all of Florida has top-performing districts. Each state has some schools that excel and rank nationally and some that need improvement.
Here are a few facts about education in these states:
| | | |
| --- | --- | --- |
| | Florida* | Alabama** |
| No. of Students | 2,834,000 | 747,932 |
| No. of Schools | 4,300 | 1,479 |
| No. of School Districts | 67 | 133 |
| Graduation Rate | 90% | 91.7% |
| No. of Teachers | 337,792 | 47,464 |
| Avg Teacher/Student Ratio | 17:1 | 1:15 |
| Amount Spent per student | $9,075 | $10,100 |
*Figures are from 2018-2019, except the graduation rate which is 2021.
**Figures are from 2020-202, except the amount per student, which is 2022.
Florida's top higher education institutions boosted its overall report ranking to no. 3. Not only does it have some of the nation's largest universities, but Florida also has some of the best-ranked.
In total, it has 31 public four-year colleges and over 30 private colleges. The state options include the University of Florida, Florida State University, the University of Central Florida, and the University of South Florida.
Alabama's higher education ranks 39th in the nation. Auburn University cracked into the top 100 schools on the US News and World Report assessment. Samford University and The University of Alabama are other notable institutes that call this state home.
City Living
Florida boasts a wider selection of highly sought-after cities. Each has unique culture and amenities.
Miami is the state's largest city and one of its most diverse. Here, you'll find a thriving art scene, fantastic nightlife, and premiere shopping destinations—all of which are why it's often ranked as one of America's top cities.
Centrally located, Orlando is famously known as the home of Disney World, but it's much more than that. The city has amenities for all ages, including one of the biggest downtown areas in the state.
Jacksonville stands as Florida's most populous metropolitan area. Miles of shoreline along the St. Johns River, plus access to Atlantic beaches, give it a wealth of outdoor activities.
West coast Tampa is the third-largest city in Florida. The culture here is dynamic with Latin roots, making it a great place to live with plenty of arts and music attractions, top-tier professional sports teams, and an expansive waterfront.
In Alabama, two cities stand out: Birmingham and Mobile. Birmingham is the state's largest city and has a rich history. Besides being one of the most affordable cities in the country, it has a robust lifestyle thanks to a large park and recreation system. The job market is strong, as is its education system.
Mobile is Alabama's port city and offers plenty of waterfront attractions, from its nearby nature preserves to its lively downtown area, home to the nation's first Mardi Gras.
However, if you want to settle in the most desirable city of the nation, look no further than Huntsville, Alabama. This northern city was crowned the best place to live in 2022 by US News after consistently being among the top ten cities for several years! A strong economy, inexpensive living costs, and robust recreation amenities make this picturesque city appealing.
Climate
Florida has a humid subtropical climate, which generally means the state is warmer and more humid than Alabama on the whole. However, southern Alabama's climate will have more in common with the Sunshine State.
The sticky summer season in Florida can whip up sudden and fierce thunderstorms with heavy downpours, strong winds, and intense lightning. On average, Floridians experience 60 stormy days per year–not bad for a state dubbed "The Sunshine State."
Florida is particularly exposed to the ravaging effects of hurricanes because it's a peninsula surrounded by water. Hurricane season typically runs from June 1 until November 30. This vulnerability can be even more pronounced along coastal areas during storms, regardless of whether they make landfall. In comparison, Alabama experiences less destruction caused by hurricanes than the Sunshine State because it has a smaller coastline. But when storms do make landfall, it can be devastating.
For central and northern Alabama, these parts of the state will be cooler in winter than in the southern parts. You'll likely see some icing and light snowfalls, although they won't necessarily stick around long. And this part of the state is part of "Dixie Alley," an area prone to tornado activity during spring and fall.
Outdoor Recreation
Whether you live in Alabama or Florida, outdoor recreation opportunities abound! Both states are filled with ways to explore the great outdoors, from hiking and biking trails to campgrounds and canoeing adventures.
Florida has an advantage for beach lovers, as it offers more than 1,000 miles of coastline running from the roaring Atlantic to the quieter Gulf of Mexico. But Alabama has its own coastal charm, with the beautiful Gulf Coast and plenty of offshore islands to explore.
With over 175 state-run parks, trails, and sanctuaries to explore, plus 11 national parks like the Everglades National Park and Castillo de San Marcos in St. Augustine, Florida is a haven for outdoor adventurers looking to hike, bike, swim, or camp. Aside from its stunning beaches, the state protects vast inland natural areas such as Ocala National Forest, Apalachicola National Forest, Osceola National Forest, and the Okefenokee Swamp.
Alabama's outdoors promises an activity to appeal to many thanks to 48,000 acres and 22 state parks. Birdwatchers flock here to explore the Alabama Coastal Birding Trail, while spelunkers get their thrills by taking guided tours through Cathedral Cavern or Majestic Caverns. For those looking for an adventure, there's no better place than Pinhoti Trail. This hiking trail stretches 337 miles over various challenging terrain.
Culture
Alabama and Florida are "southern states" but have different cultures, beliefs, and lifestyles. However, many residents feel a strong sense of pride in their home state.
Florida is a melting pot of diversity and culture, no matter which way you drive, north or south. Southern hospitality reigns supreme in the Panhandle and northern regions, with friendly locals offering sweet tea and signature southern cooking. Miami's Latin influences can be experienced in the architecture, language, music, and cuisine. Head towards St Petersburg or Tampa for a more beach town-like atmosphere, while island living on Key West offers something that cannot be found anywhere else.
The "Deep South" beckons and welcomes you with its proud heritage, timeless drawl, and renowned hospitality in Alabama. Jazz music originated here, and Alabama has an illustrious musical tradition. The state is also known for its Civil Rights Movement legacy. Numerous museums and monuments honor this significant history. You'll also find unique attractions like the US Space & Rocket Center or Barber Vintage Motorsports Museum.
Choosing between Alabama and Florida
Each state has its charm and appeal, and it's up to individual preferences to decide which state suits you better. Ultimately, the "better" state depends on what you're looking for. Florida will have more choices if you are looking for a relaxed beach atmosphere. Still, Alabama's real estate options will be more affordable if that's a priority. Whichever state you choose, it will surely provide an unforgettable experience.